After a hearty breakfast at Four Queens, we hit the road to Utah.
First, we owe Avis a bit of an apology. Not a complete apology, mind you, because the scenario at the airport was unforgivable, but because at the Four Queens, Avis has a booth, and our intrepid leader (my Lovely First Wife) went right up to Ranesha and explained that the Equinox was going to mean the total destruction of our marriage and could we trade it for something bigger? And that's how we got switched into a Ford Edge, which is a measurable amount of more comfortable. Our marriage is saved. For now.
(Ranesha also gave us some really good pro tips, which I will share in the closing Pro Tips post next week. Stay tuned, boys and girls.)
Nevada, for the most part, looks like something very bad happened here.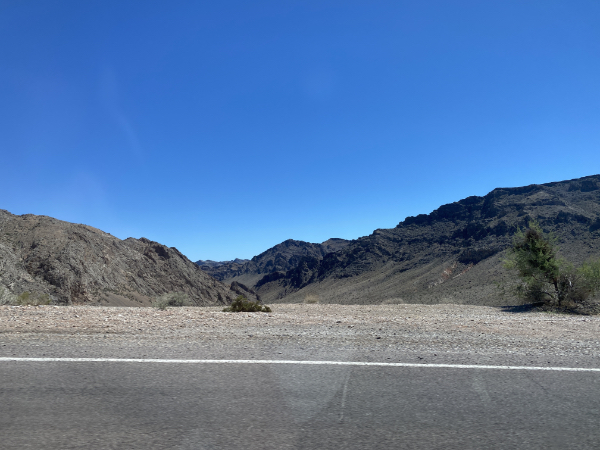 Don't get me wrong, it's beautiful and majestic, but it is sere.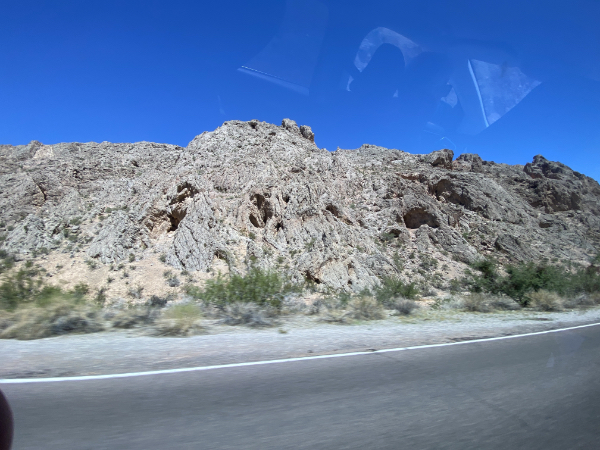 Here's what it's like to drive through this.
My Lovely First Wife is the mastermind behind all our travels [vid. sup.], and her birthday trip is no exception. In fact, part of my birthday present to her was to stay quiet while she dove into ALL THE RESEARCH KENNETH, producing an actual spreadsheet of all the places we were going to, could go to, eat at, stay at (and for how long).
The first thing on the list of potential visits was a Nevada state park, Valley of Fire, which was 30 minutes off I-15. Sure, we all said, let's do it.
Oh my.
It's Nevada's oldest and largest state park, and it is stunning.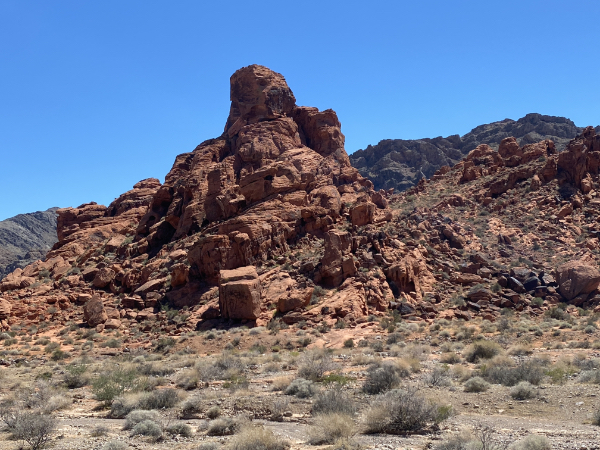 The red sandstone outcroppings in the middle of all the gray limestone is what gives the park its name: apparently the setting sun lights them up like they're on fire.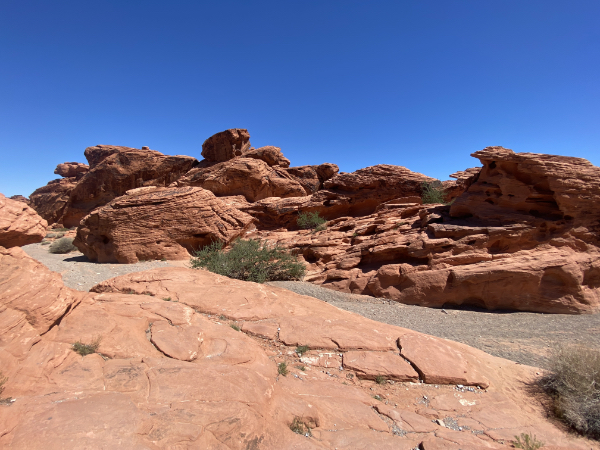 It was brutally hot, of course, and there were notices everywhere that most of the hiking trails were closed, as if we were going to go hiking. But there's plenty to see via comfortably air-conditioned vehicles, so off we went.
Petroglyphs! I am a sucker for petroglyphs, and there were petroglyphs. Here's the ladder and platform to view one of the sites: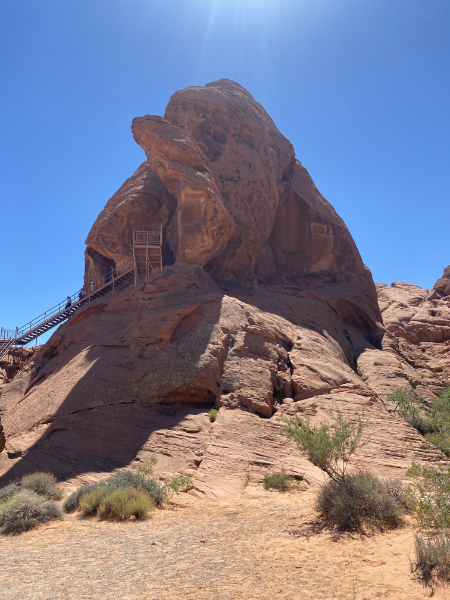 No, we're not sure how the artists got up there to scratch through the "desert varnish" to create these images.
You will now have some scrolling to do,.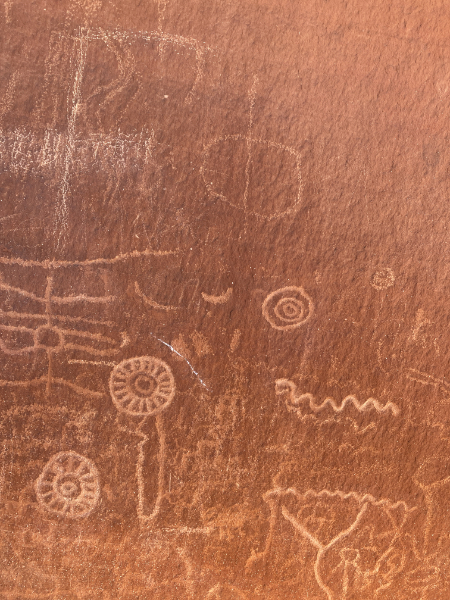 The "varnish" is a layer of cyanobacteria, lichens, and such, that slowly transform the surface of the rock into a dark layer that can be scratched/chipped off.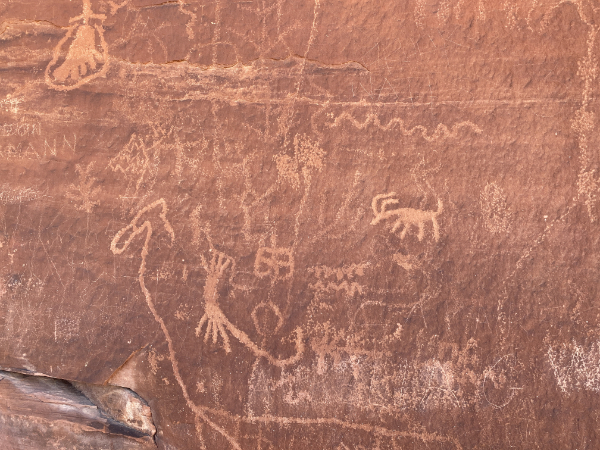 Bighorn sheep, other animals geometric patterns, evidence of atlatls, scribbles galore.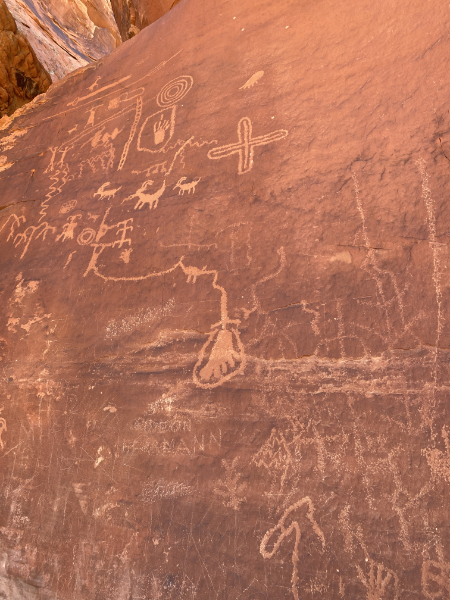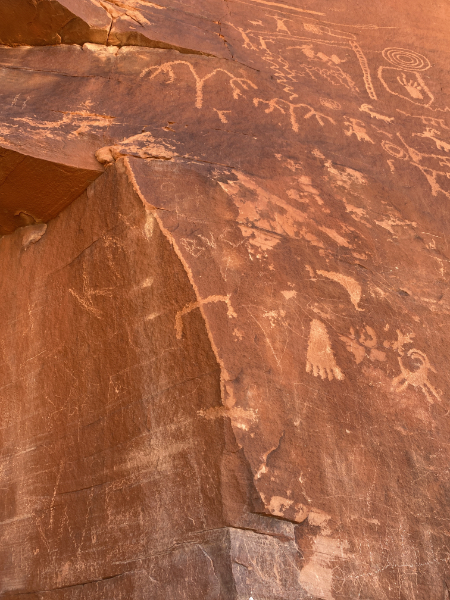 That long diagonal line impresses and amuses me: some ancient artist decided it would be a glorious thing to use the corner of the cliff as an element in their art. (I think it's a lizard?)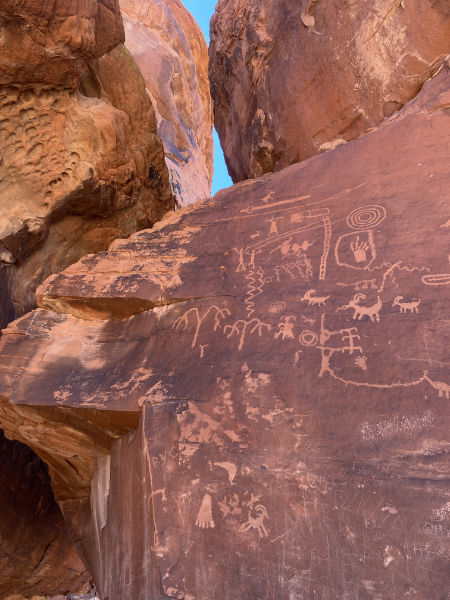 Here's the deal: No one knows why people did this. My personal theory is that it could have been bored kids, but most reasonable anthropologists assume they're cultural or spiritual markers. But truly, it's all guessing. In the visitor center I bought a very well written book on rock art, and right off the bat the author says they don't know the purpose of these things.
But at base level, it's all about Making The Thing That Is Not, right? Humans do that.
Shades of Antelope Canyon…
On the way back to the car, I came across this ring of debris, obviously left behind some pool of rainwater.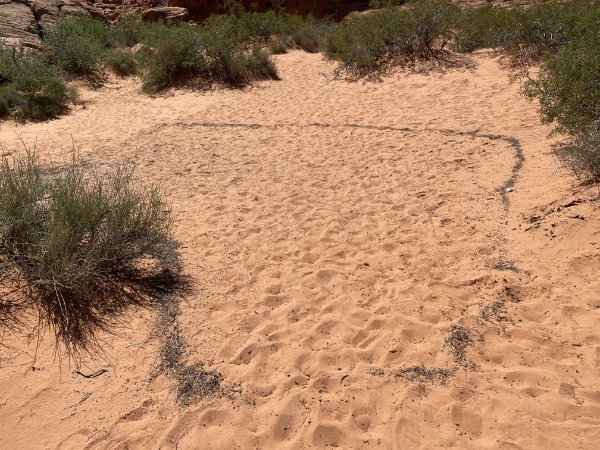 I neglected to get a closeup, but about half of the material was small animal droppings. At the visitor center, there were three adorable baby white-tailed squirrels scrounging around the bird feeder, but the only photo I got was not good enough to show how cute they were.
So here's one I stole from the intertubes: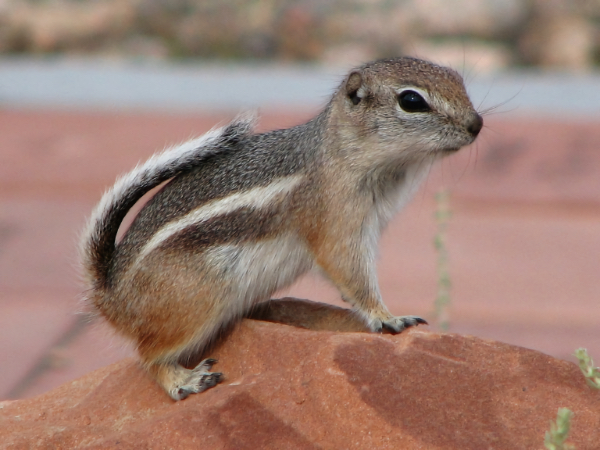 Now imagine this in an even cuter baby format. Squee!
One of the most curious things about the rocks in Valley of Fire are the wind-holes.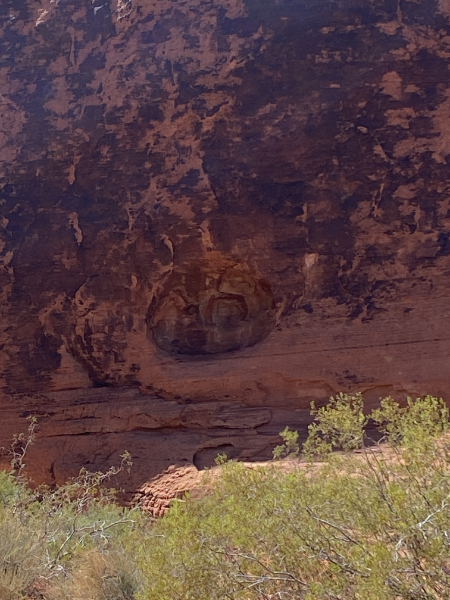 These are literally little eroded pockmarks that the wind then churns into large, nearly circular holes. Some are practically caves.
The variety of the rock is neverending.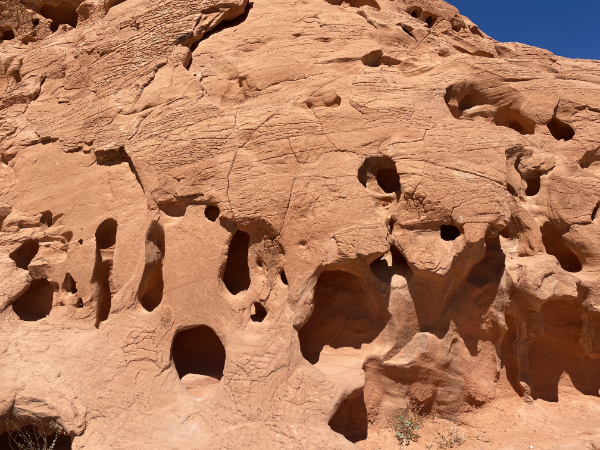 After a stop at the visitor center, we headed on to Utah, cutting through a corner of Arizona to get there, and through the Virgin River Gorge.
This photo does not begin to capture what it's like to drive through this man-made pass. It was awesome. Here's a map, not that it will help: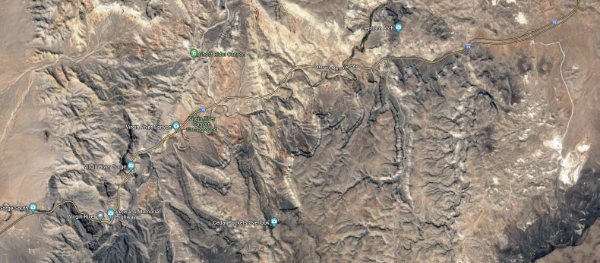 Finally we arrived at our AirBnB in Toquerville, our basecamp for the next two days. This is the view from our back porch.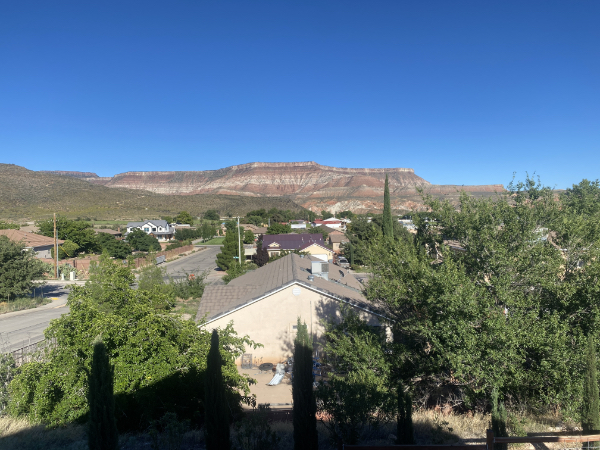 A quick run to a grocery store for provisions, a satisfying supper, and then sleep. Next: ZION NATIONAL PARK.