Before we get started, a few amusing bits.
Early in the trip, the girls joked about starting a company to sell "organic firewood." This was in response to all the deadwood lying around our national parks and forests. Much merriment was had. Then, after I enjoyed the desert sage which is abundant hereabouts, I contributed "sage-infused organic firewood." The sage is — it goes without saying — "ethically harvested." We're now casting about for a brand name.
Second amusing bit: In the first AirBnB we stayed at in Toquerville, the young man who owns it has decorated it with those fun "bad national park review posters" which — if you haven't seen them — are truly a hoot. After only four days on the road, I have challenged my fellow travelers to come up with our own.
Me, in Bryce Canyon, in the alpine forest: "These are the crummiest Christmas trees I have ever seen."
The Lovely First Wife, also in Bryce Canyon: "Have y'all considered putting up a Holiday Lights drive-through exhibit like they do at Calloway Gardens in Georgia?"
Leave your own in the comments!
Okay, boys and girls, here we go: Bryce Canyon National Park.
We have found, and most park documentation backs us up on this, that the best way to deal with these huge parks which are linear, i.e., one road from entrance to an end, is to drive to the end and stop at the overlooks on the way back. For the most part, this is because the overlooks are on the left going out and on the right coming back.
Of course, if there are stops on the right going out, then by all means stop. Here we are at an overlook in the middle of some 4,000 acres burned in a wildfire several years ago. It's striking.
Full confession: When I took the above video in landscape mode, I thought I saw that the phone was framing it in portrait mode anyway, so I did the rest of them in portrait. I won't make that mistake going forward.
You might think, if you're that kind of person, that you might get bored looking at endless vistas of erosion, but you'd be that kind of person, wouldn't you? It is absolutely amazing that each and every park — even though it's the same geological layers and the same erosion — is strikingly different. Bryce Canyon tends to the "You want hoodoos? I got yer hoodoos" style of erosion.
For example.
Some close-ups.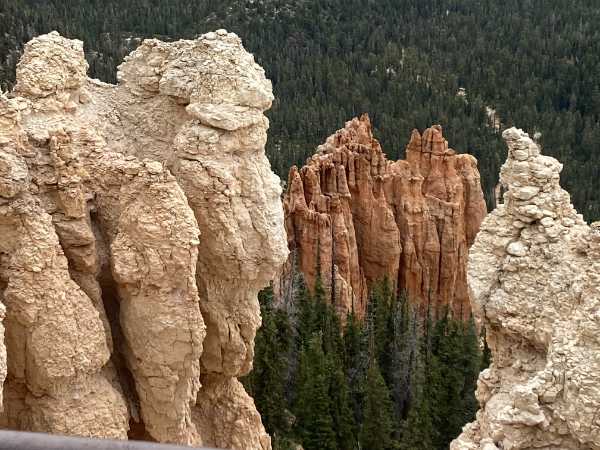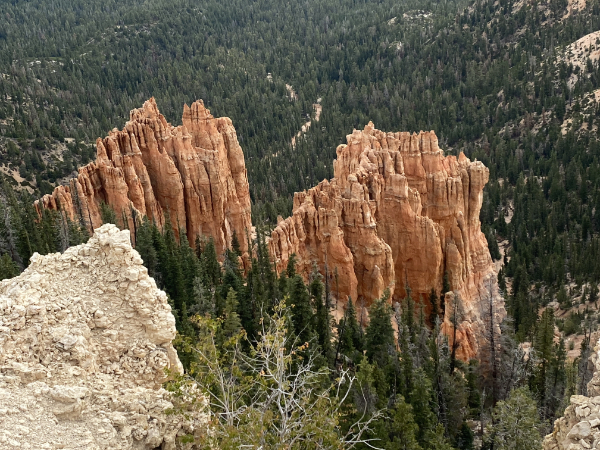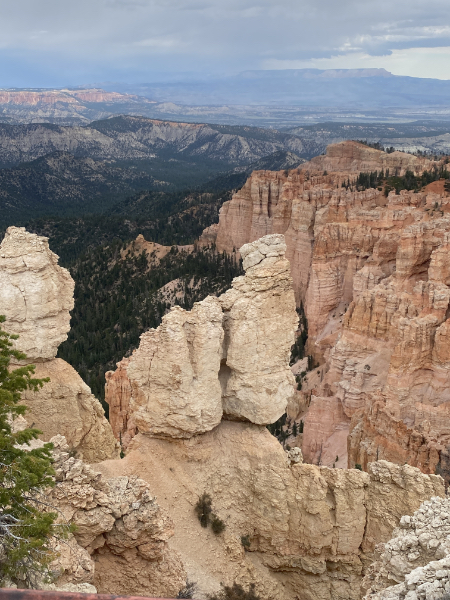 And then there are canyons where the forests have begun to take over. And yes, we were being chased by thunderstorms.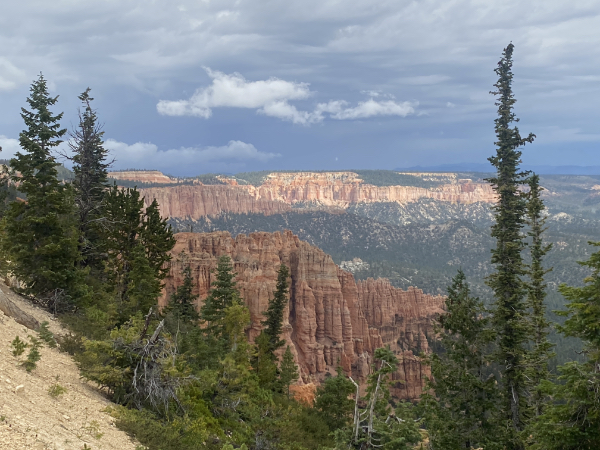 Flowers.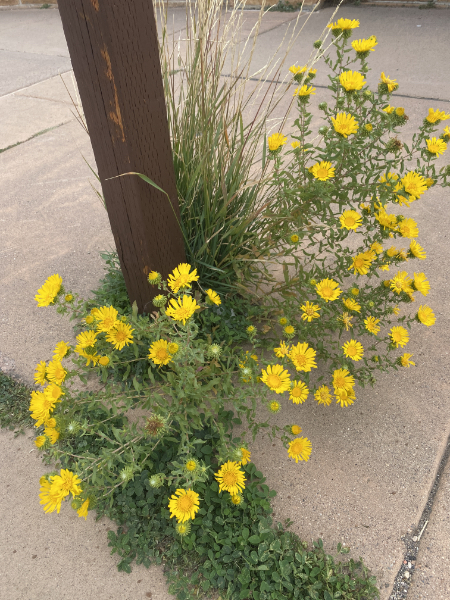 This was a beautiful view — notice the white spot down there?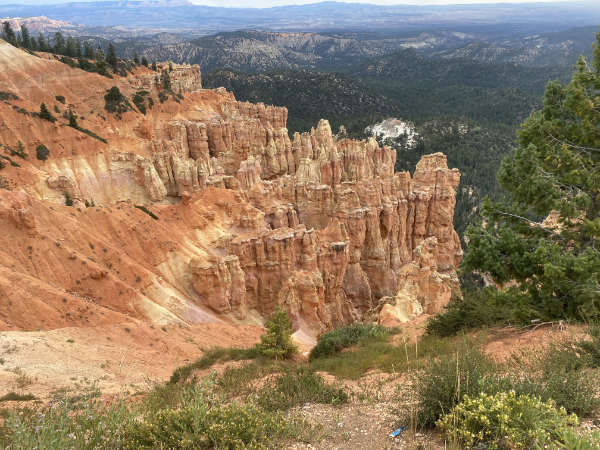 A closeup. It's shots like this that make me wish I had an actual digital camera with which I could really good zoom shots.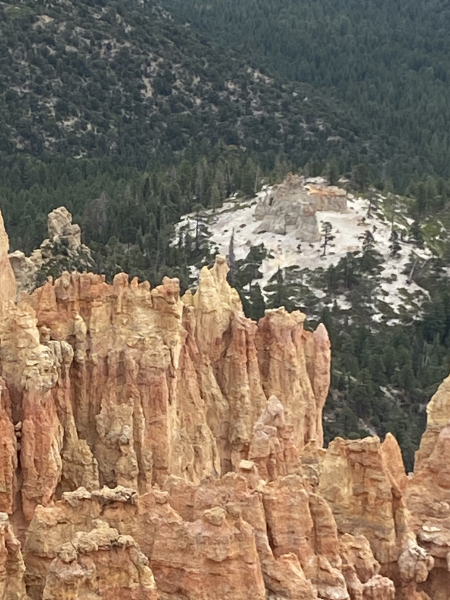 Generally the Park Service is very good with their informational plaques at each stop, but somehow no one thought to include a note telling us the name of the white outcropping. Since this was at Ponderosa Point, some of our party decided that this must be called The Ponderosa. I suggested that the overlook might be named after the ponderosa pine that clusters all around, and that we could stop at the visitors center on the way out and ask what that white castle looking thing was called, to which the ranger would in all probability say, "We call that the White Castle."
More flora. Where's a ranger when you need them to identify plants?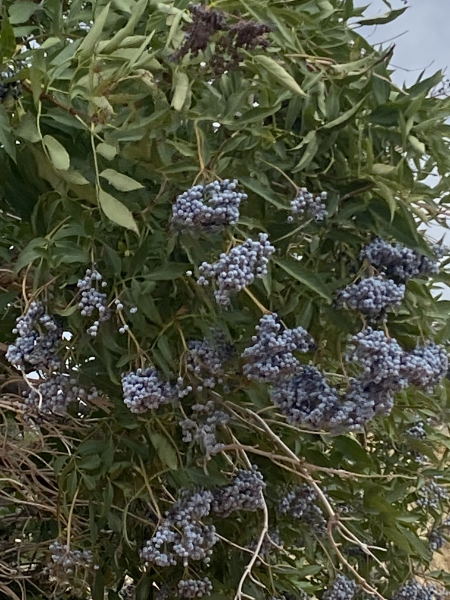 A hoodoo. Yes, the word is as funny as you're thinking. Yes, the hoodoos themselves are as amusing as you're thinking.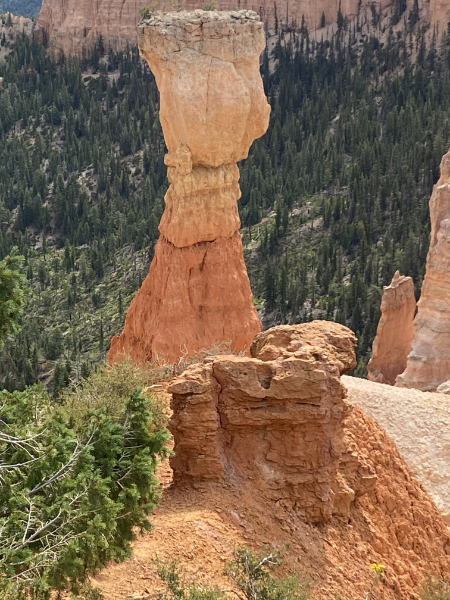 This fine fellow was greeting all the visitors at one of the overlooks. He literally strutted around the area, regarding each of us with a critical eye and showing absolutely no fear, posing willingly for the humans. He was joined by a friend/mate; both seemed unconcerned that we were near them.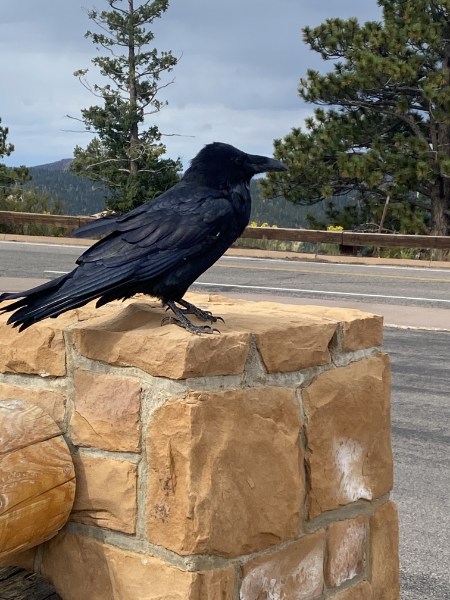 The arch at one of the overlooks. Remember back at the Valley of Fire, the explanation for the circular "caves" in the rock? This is what happens when that bowl-shaped erosion breaks through a wall, and then the gully deepens it.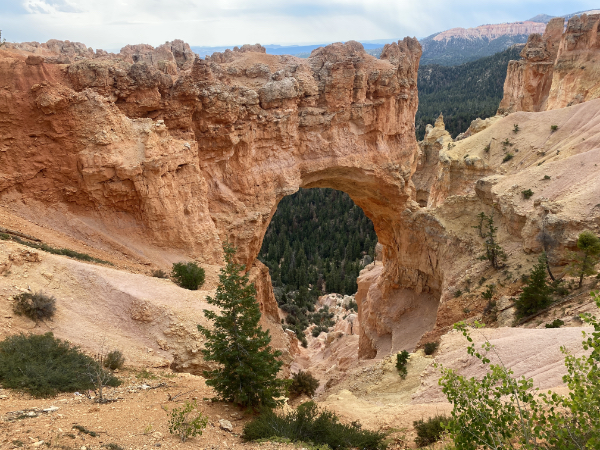 The eroded rock takes on an infinitude of shapes.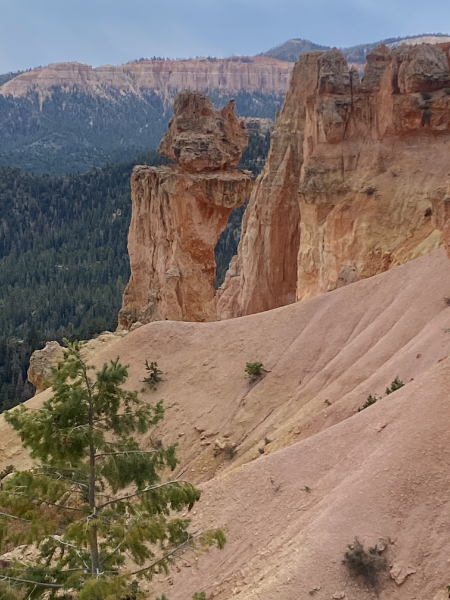 Flowers.
Remember that these vistas are all along the same road, looking in the same direction.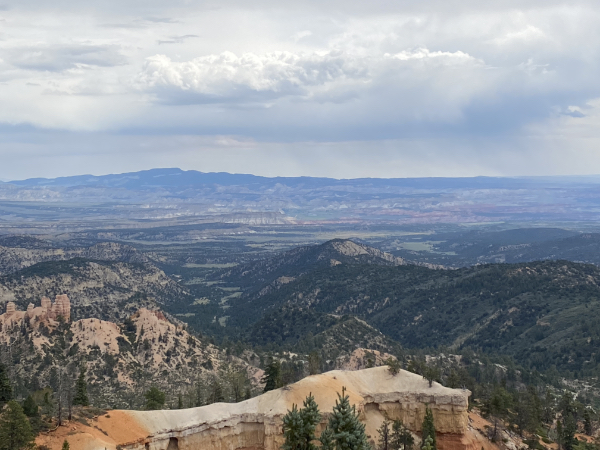 This is the bark of the ponderosa pine. It is not merely strikingly beautiful, it's evolutionarily functional: The thickness of the bark protects the pine from the inevitable wildfires sparked by lightning.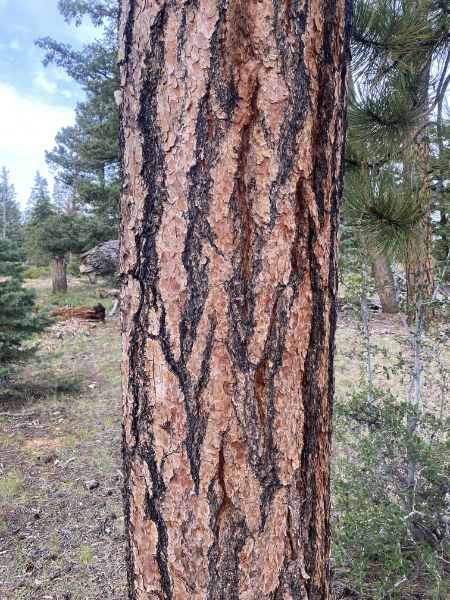 And here's a ponderosa standing grandly before us.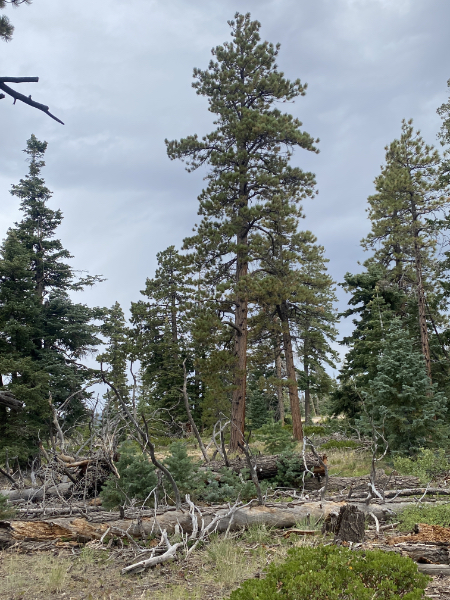 One of the other pines in the area is the bristlecone, the kind that can live for over a thousand years. Why are they called bristlecones?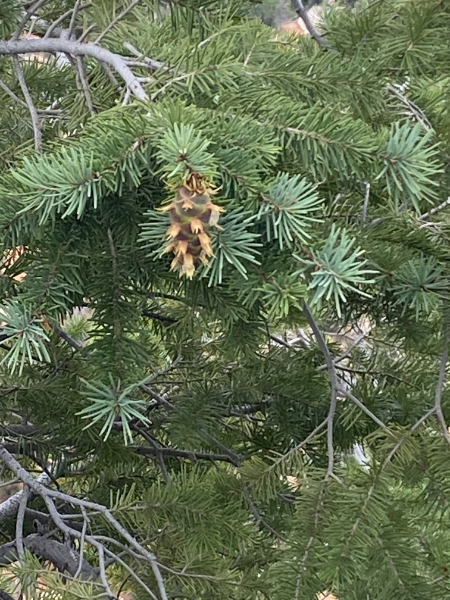 Here's a dried one.
And here's a bunch of them on the ground.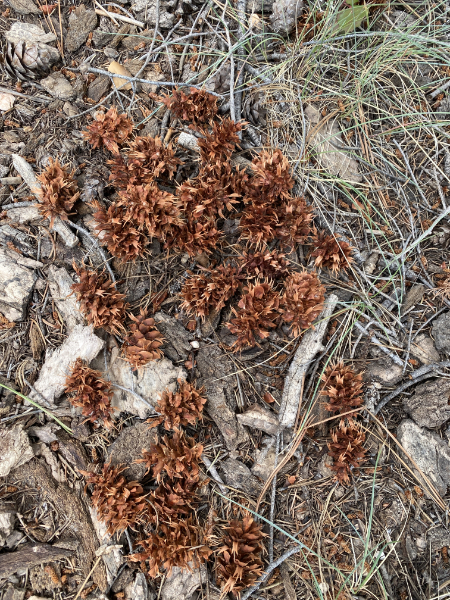 You may have noticed in the photo above that I appear to be wearing gloves. You bet your sweet bippy I'm wearing gloves when it's 50-something°, which it was, plus windchill factor — plus multiple layers and a coat.
The rain was getting closer.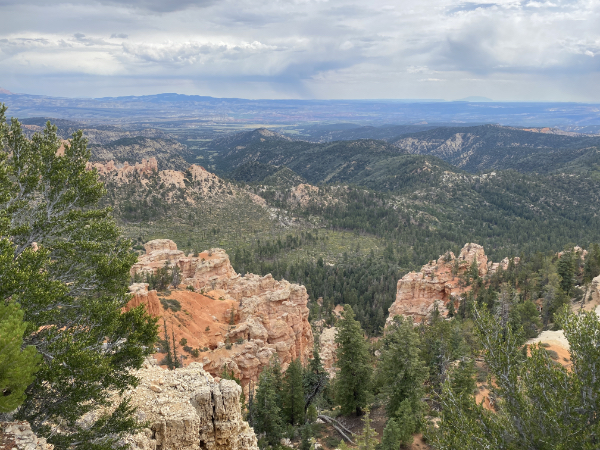 You could see it coming.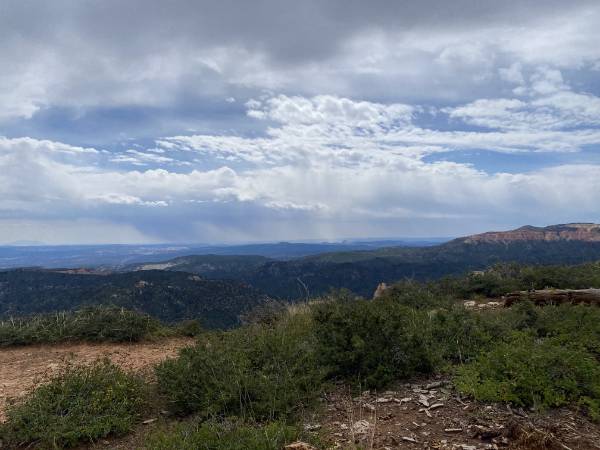 More hoodoos.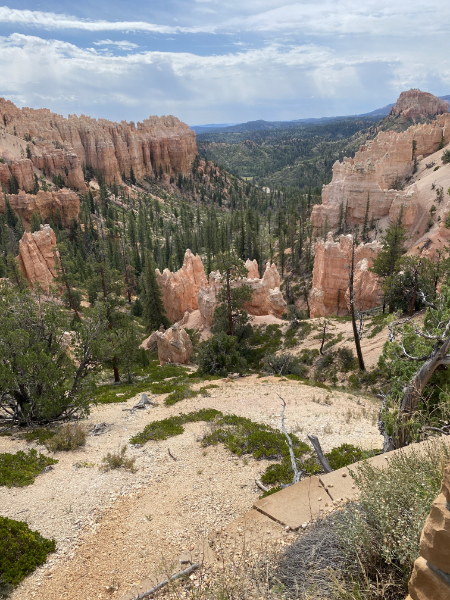 A particularly fine specimen if you know what I mean and I think you do.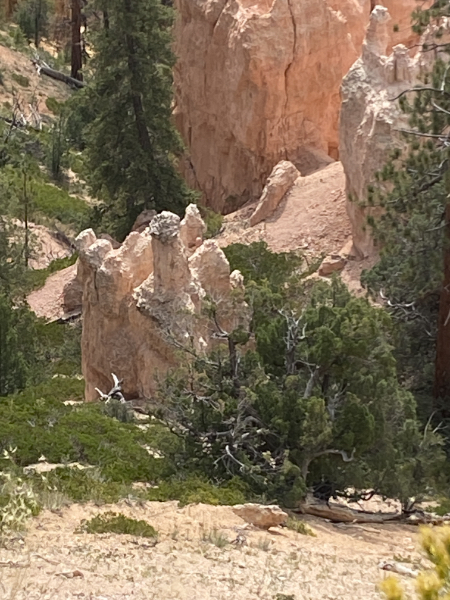 All this time we're working our way back towards the entrance of the park, stopping at each overlook, while the rain got closer and closer.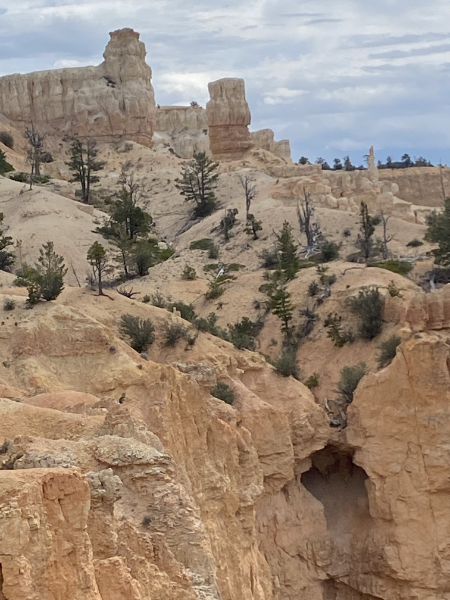 Here, the bit on the right is more technically a reef rather than a hoodoo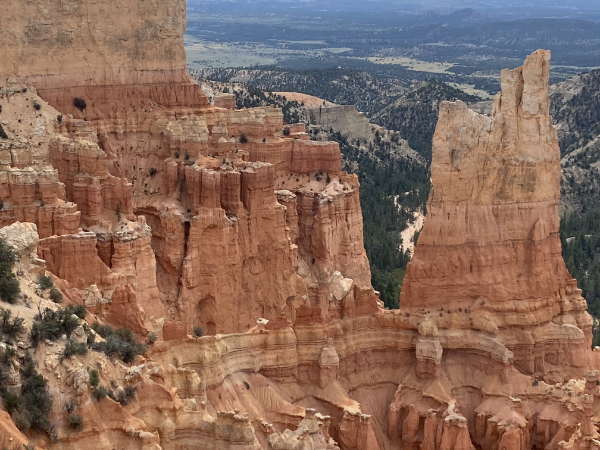 It's hard to tell in this photo, but those little white curly bits are fluffy seedpods.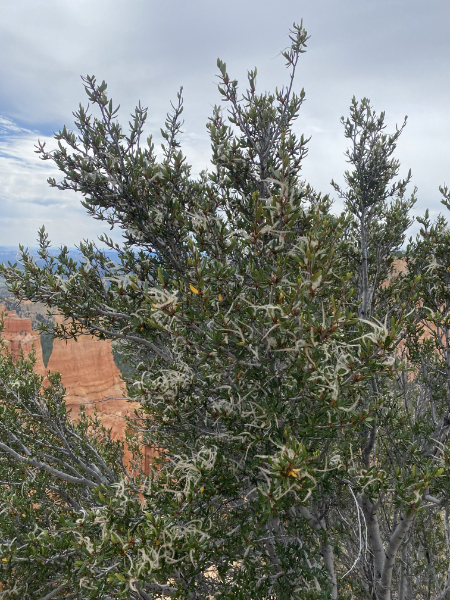 That is not a road you see in this canyon; it is a wash, i.e., a dry riverbed waiting for some foolhardy hiker to be in it while it rains upstream and releases a flash flood on them.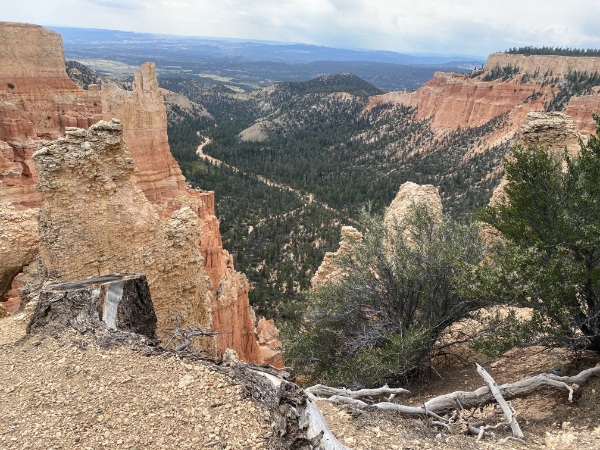 These little flowers have done their thing and left only dried sepals behind.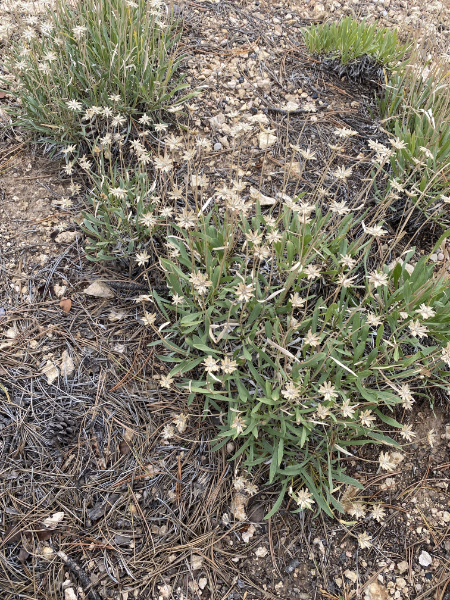 "Vertiginous" is a word we don't get to use often enough.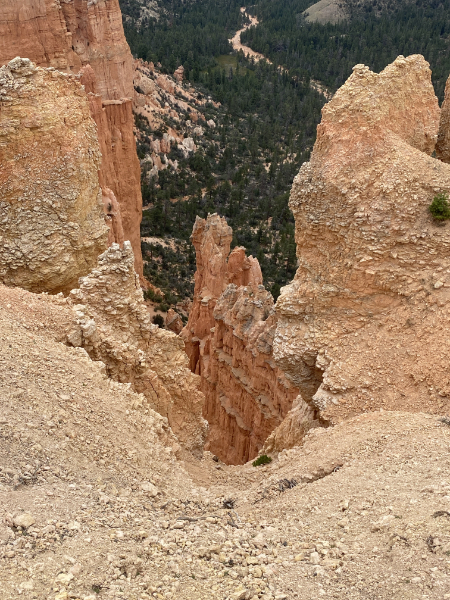 I was really grooving on the different, complex ways the landscape erodes.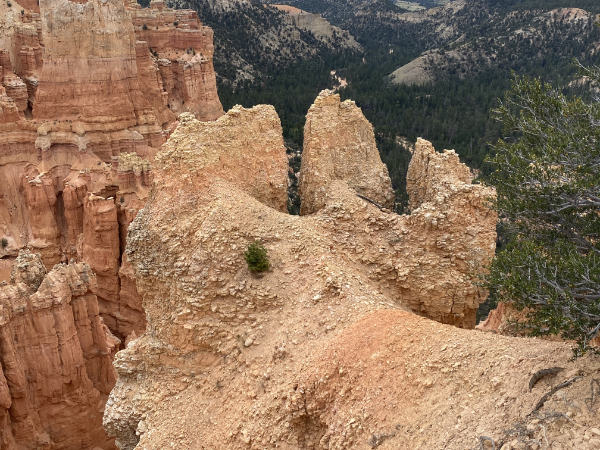 At this point, I urged my fellow travelers to skip the next overlook and go straight to Sunset Point, where "Thor's Hammer" is one of the main hoodoo attractions.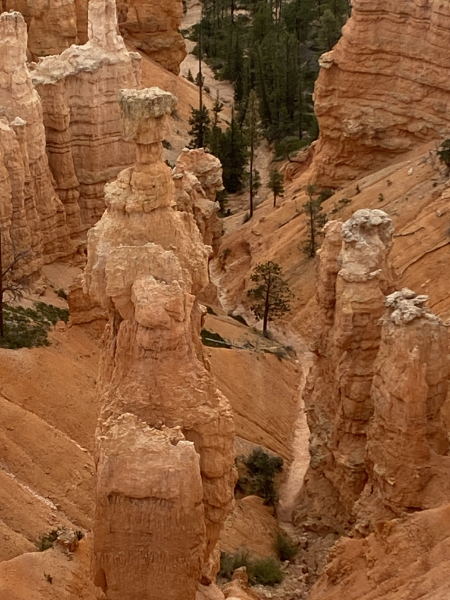 Here's a panorama of that area. It was beginning to spit rain. Notice the really stupid tourists beginning to hike down into the canyon as it begins to rain.
More panorama of Sunset Point. You will notice the wind.
We made it back to the car just in time for it to start to rain really hard. Pity about the hikers, though. As the signs say all around the park: Your safety is your responsibility.
We hit the road for Torrey, our next lodging. It was not a straight shot in any sense of the word. We kept stopping for new landscapes.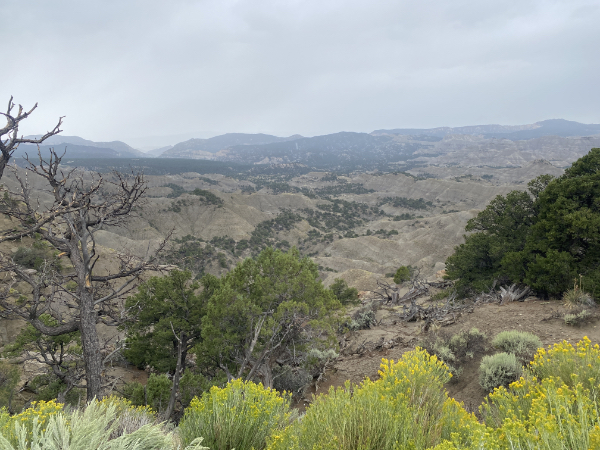 Here's the panorama, complete with rain.
My Lovely First Wife decided that we would stop at the Escalante Grand Staircase National Monument visitor center so she could get a stamp for her passport. I got socks.
They have an honest-to-goodness dinosaur skull there.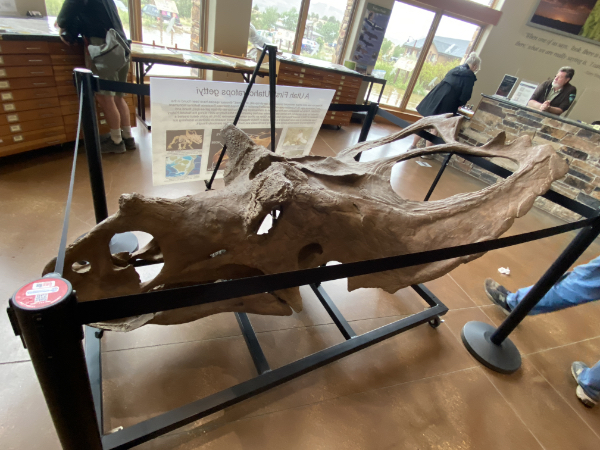 As well as a western collared lizard.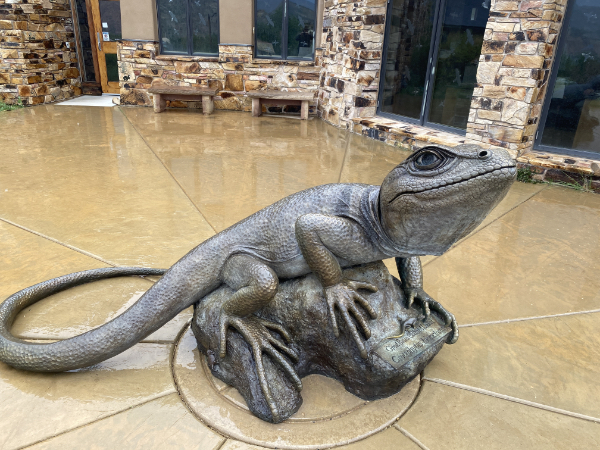 The ranger there told us that in Escalante there was only one place to eat, but she was mistaken. There was Circle D. We pulled in.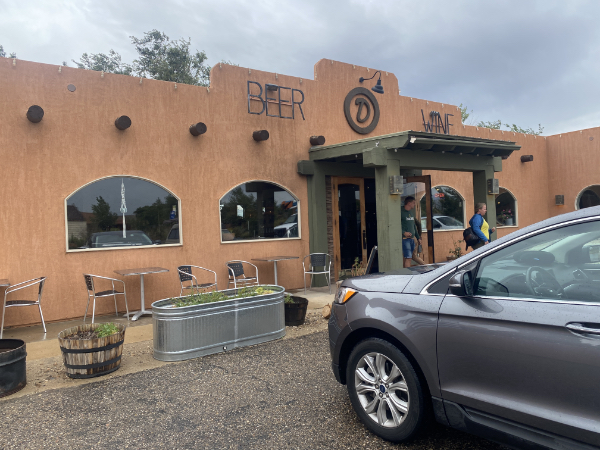 Remember Showdowns yesterday? Circle D was the same kind of delightful surprise. Here's the brisket sandwich with bacon, onion straws, and amber ale BBQ sauce.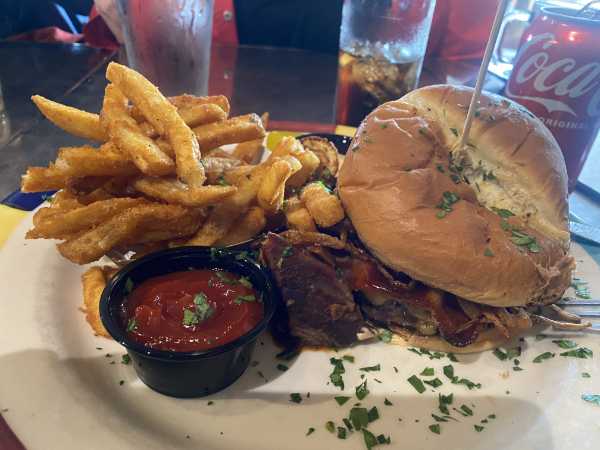 It's insane how good the food is in the middle of nowhere here.
The park ranger had also told us to continue on Hwy 12 and gave us instructions for getting off on something called Satan's Backbone. Thank goodness we missed the turn. Hold that thought.
Look at this cut-through on the side of the highway. I got this shot because we had pulled into an overlook…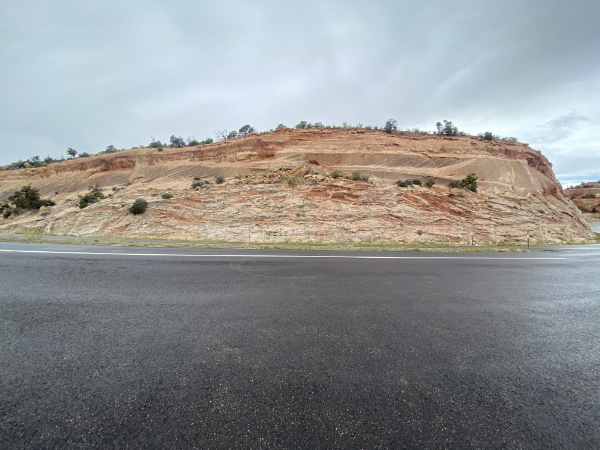 …for this view.
See that ribbon of a highway with the tiny little cars on it? That's where we were headed. Looks fun, doesn't it? Hold that thought.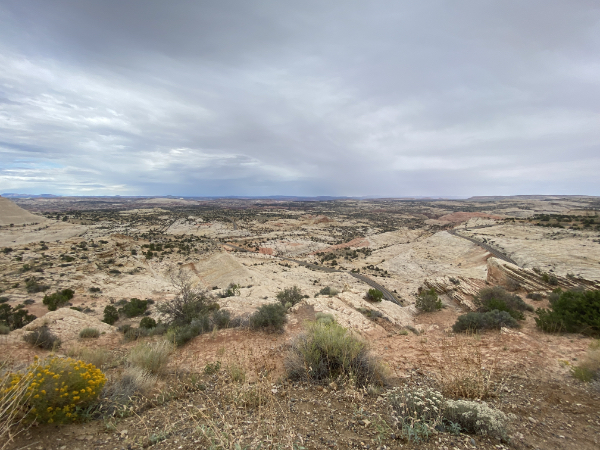 This is where I really wanted a quality zoom on a quality camera. The sheer volume of interesting shapes and patterns cannot be captured without one.
Not that I didn't try.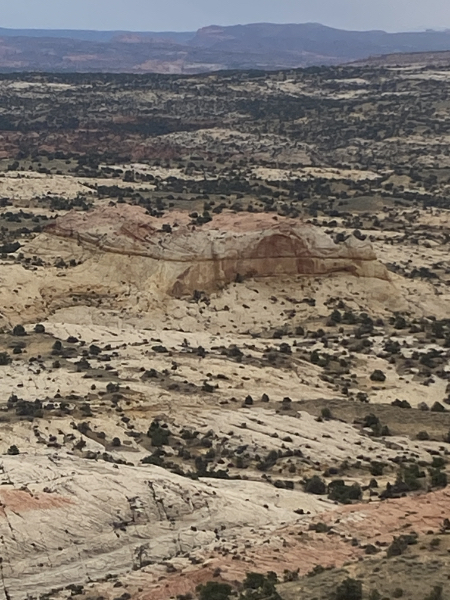 Remember how fun Hwy 12 was going to be?
But wait — there's more. Waaaaayyyyy more.
Even worse (sound up)
Still shots for those who were too nervous to ride along.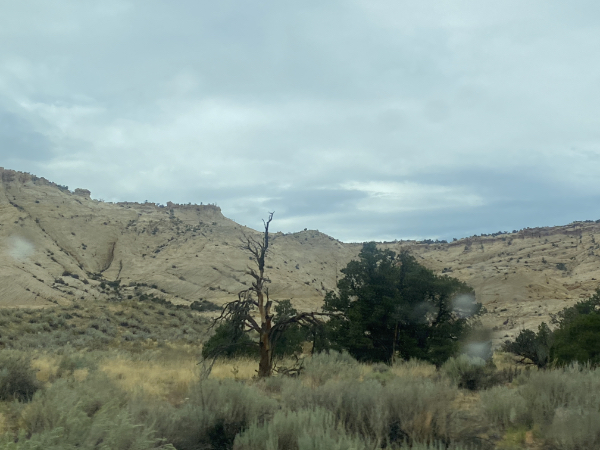 At the first overlook, we pulled over. Have we been telling people we've met who were traveling in the opposite direction to take Hwy 12? Yes, yes we have.
The area was posted as "open grazing," and there were cows.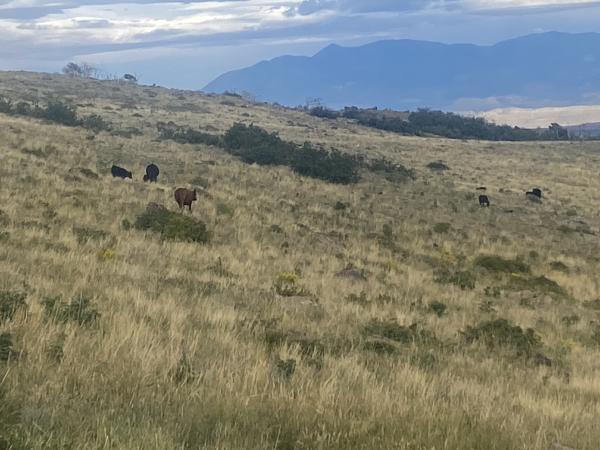 Some lovely grasses…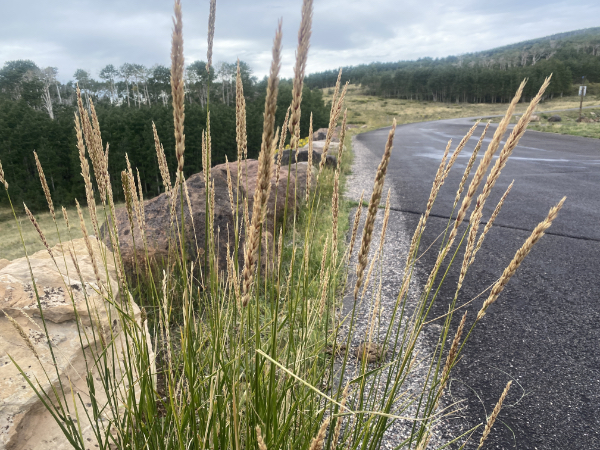 …but mostly cows. Our count was three deer and one cow who just blithely trotted out into the road and stood to look at us.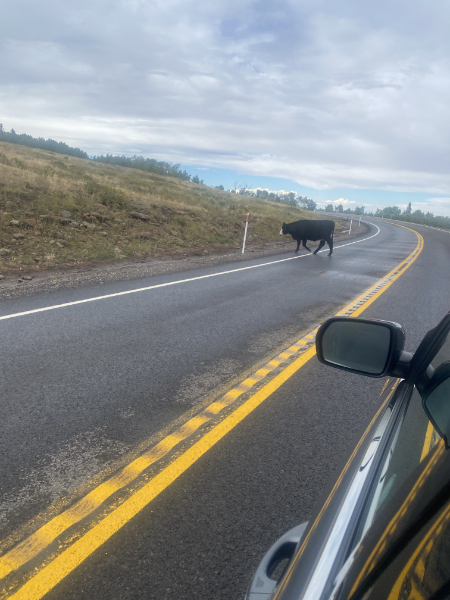 We drove on to Torrey, checked into the Rim Rock Inn, and went to sleep.
Next: ARCHES NATIONAL PARK