Another insanely beautiful day — I am running out of superlatives.
Dawn at our AirBnB.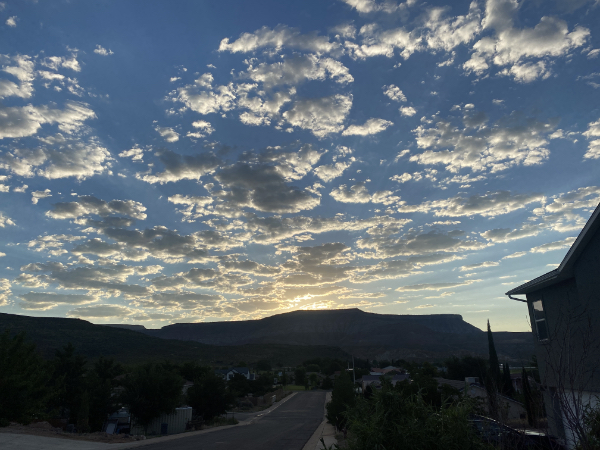 A friend came out to say goodbye.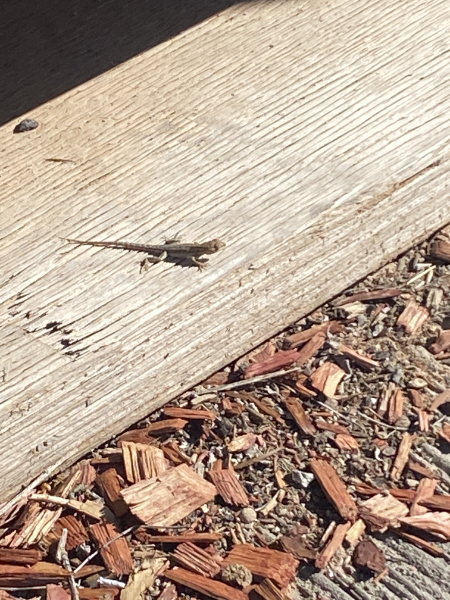 (He was joined right after this photo by a larger friend, whom he promptly chased off.)
And off we went.
Our goal was Bryce Canyon, but here's the thing about traveling like this: When you're not being herded from one cathedral to the the next ruin, you can make decisions on the fly, and it was decided we'd stop at Kolob Canyon.
Kolob got its name from the planet closest to the planet God lives on, according to the Mormons who settled Utah. And here I was thinking it must be a Paiute word.
It's not a long drive-through, but it is beautiful.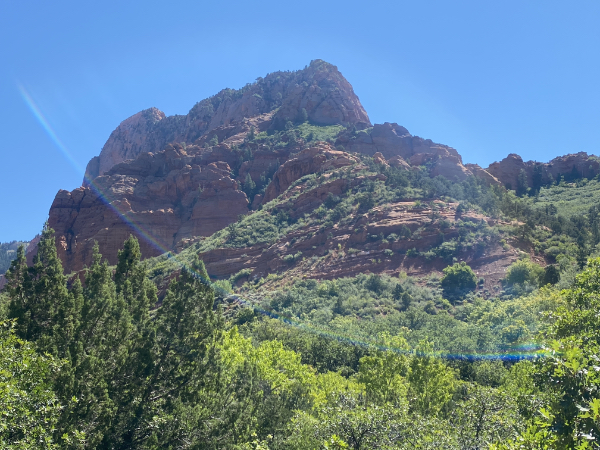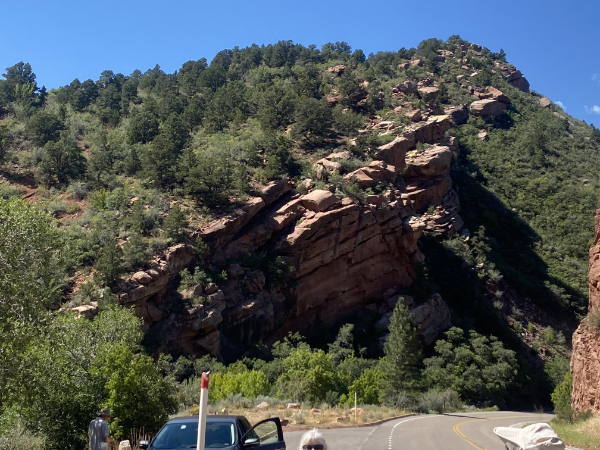 One curve in particular made us all gasp.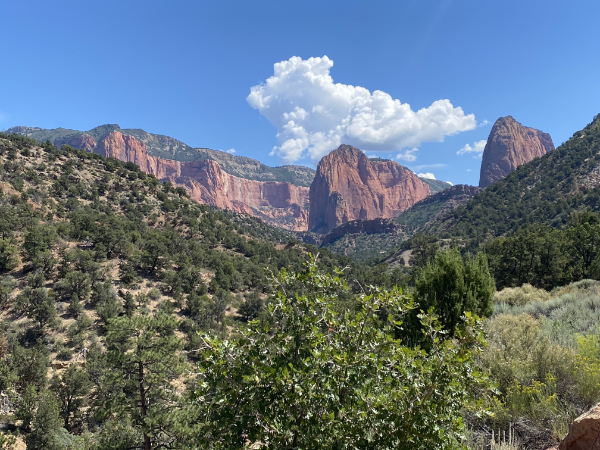 The thing is that even though the geology is the main attraction, the rest of your surroundings are equally beautiful. I found myself almost subscribing to PlantSnap just so I could name the flora I came across.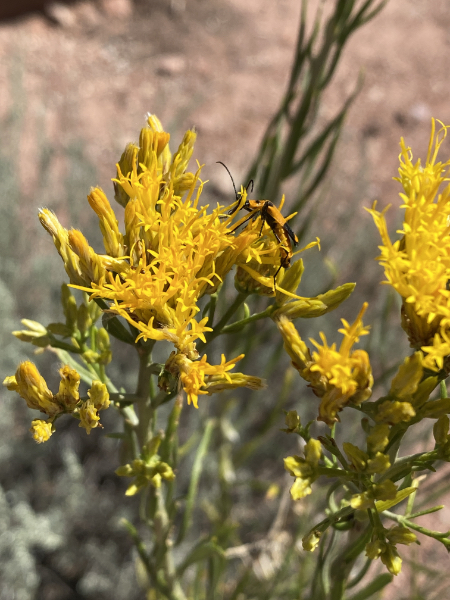 And this cloud will earn me praise in the Cloud Appreciation Society on Facebook.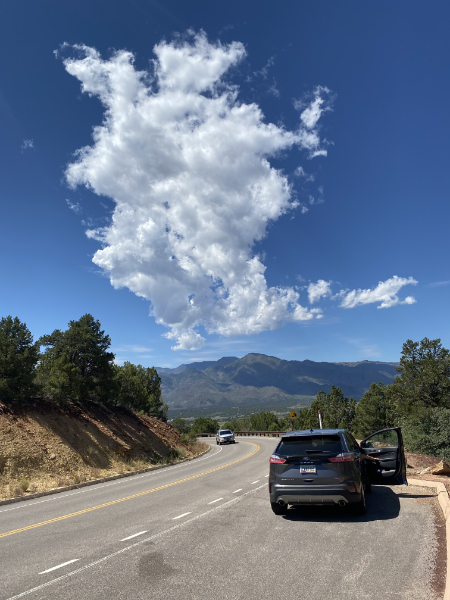 The park ranger at Kolob, upon learning we were headed to Bryce Canyon, advised us to take the "back road" through Cedar Breaks National Monument rather than the quicker — but boring — interstate. He was not wrong.
Utah has thoughtfully provided pull-offs for you to stop and marvel.
Here too were beautiful plants.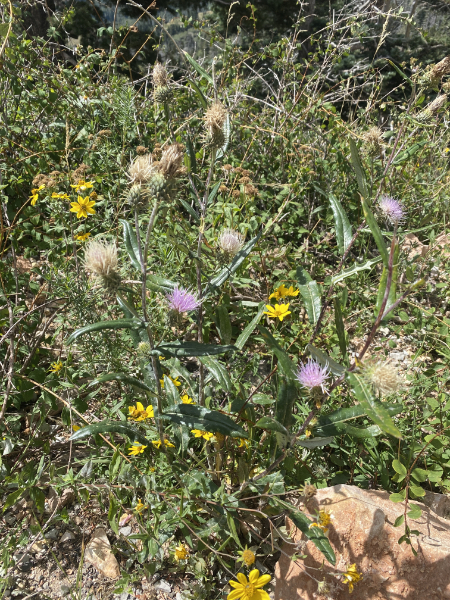 At least I knew these were thistles.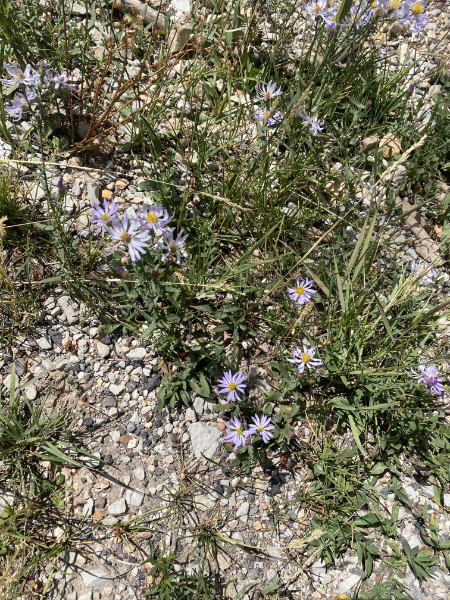 Asters of some sort?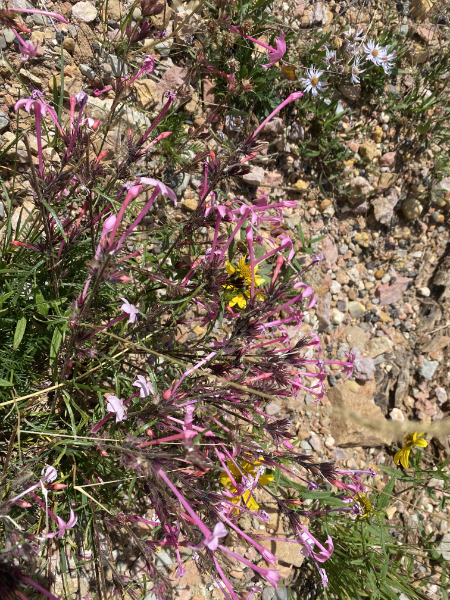 No clue. But the vista was impressive.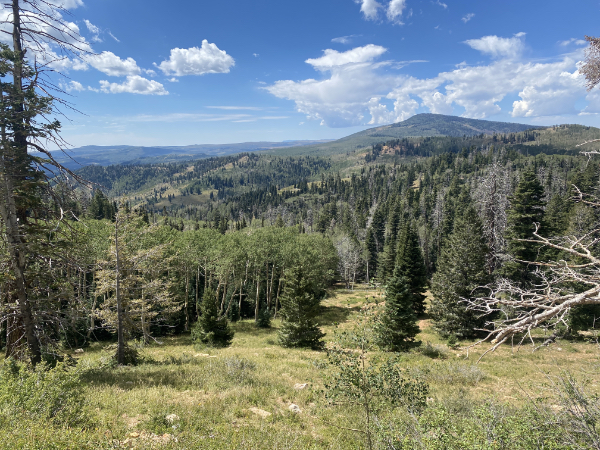 There is little-to-no cell reception in these places, which was not unexpected. However, I had never seen — instead of bars — an SOS mode. I didn't try it, of course, but that was a new one on me.
Marc and I had a discussion as to whether the white-barked trees were aspens or birches. A quick search told us that aspens have oval leaves with a tapering point, while birches had heart-shaped leaves. Our specimens were inconclusive, so I went with the fun fact that aspens grow all over the continent, while birches are limited to the eastern and northern parts.
We arrived at Cedar Breaks, and it is worth the trip. Here I need to say that if you don't have a National Parks pass, get one, especially if you're a senior citizen. You just breeze through any gates, and the pass will pay for itself in a very short time.
My Lovely First Wife has been collecting these little badges that you put on your walking stick. I don't have a walking stick, so I decided I'd start collecting national park socks. So far I have three pairs. Whee!
We drove through, stopping at each overlook.
Sunset Point.
More plants.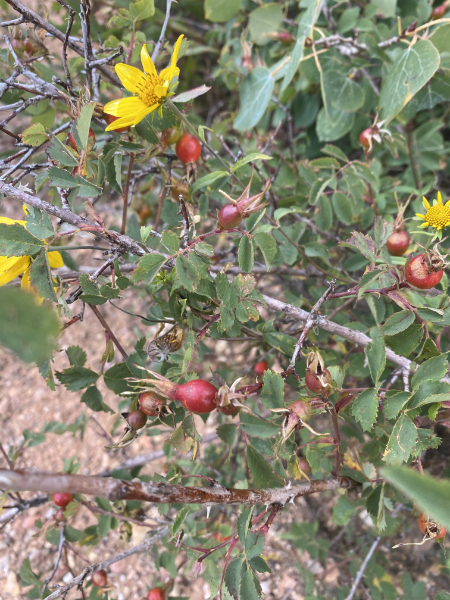 I did learn from a ranger who showed up that this is elderberry.
And this of course is yarrow.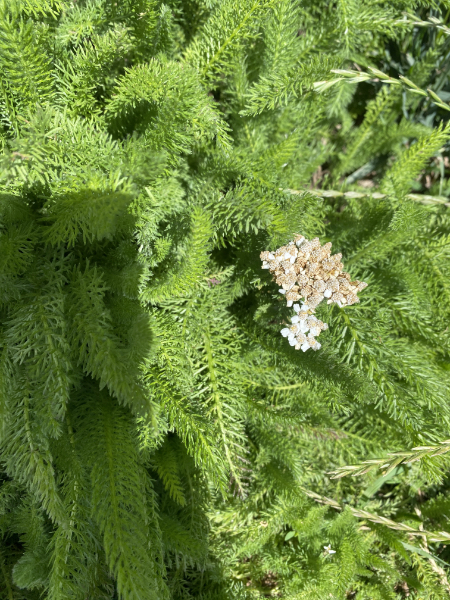 On the other side of the road from Sunset Point is a mountain meadow, and there were sheep being herded. (The government leases land for grazing.)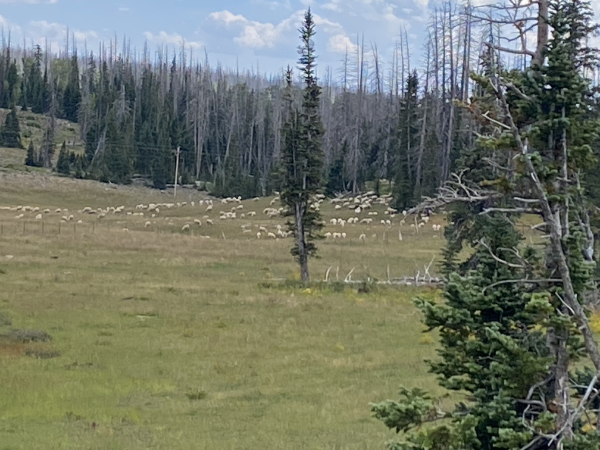 Next stop was Chessmen Point
Where are the chessmen? I think these were them.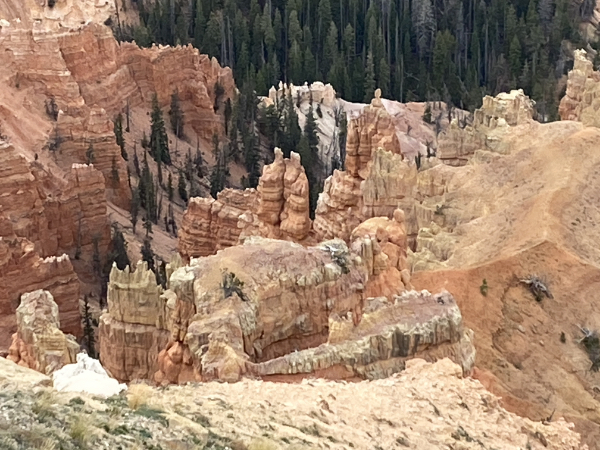 A white thistle.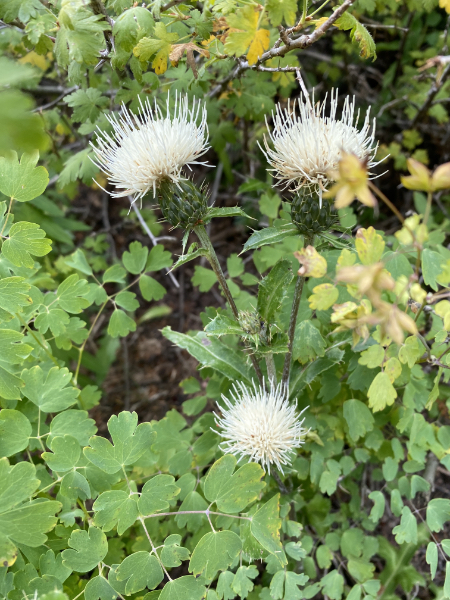 The views continued to be satisfying.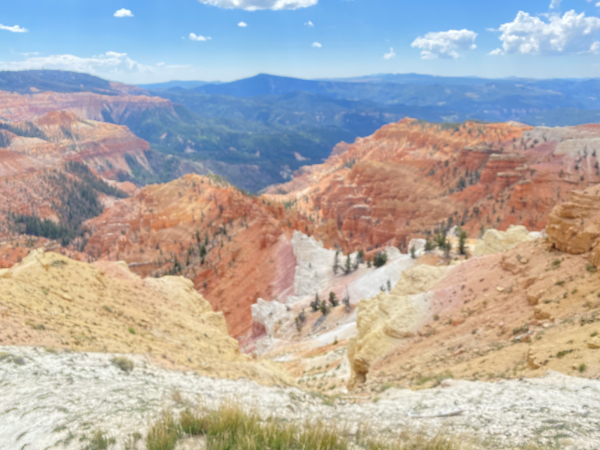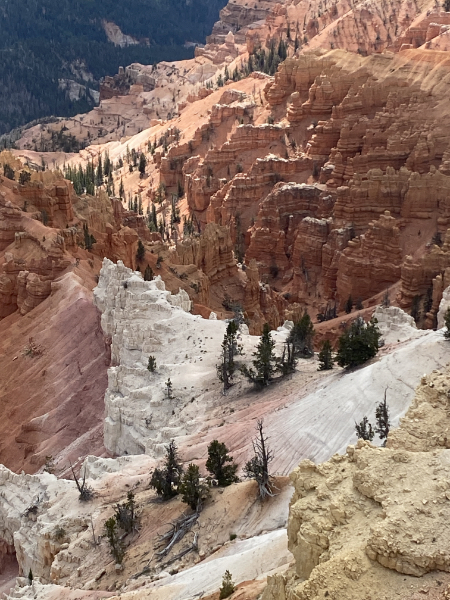 We then made our way to Bryce Canyon National Park, which is celebrating its 100th birthday. (We were at Grand Canyon for its 100th in 2019.)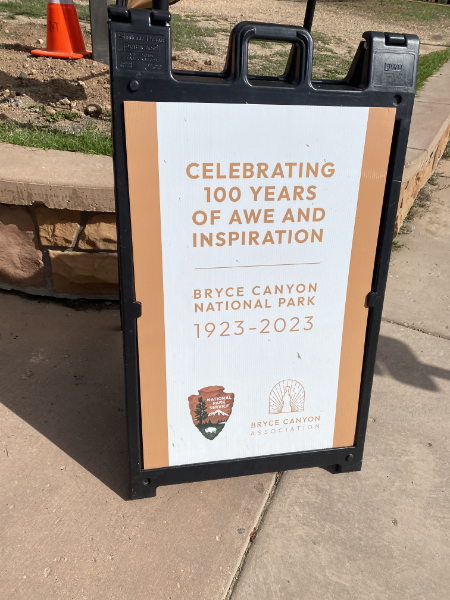 In keeping with our "no tour guides" mentality, we decided we would go ahead to the night's lodging, the Bryce Pioneer Village, then return to drive through the park at night.
Hold that thought.
The view from the parking lot.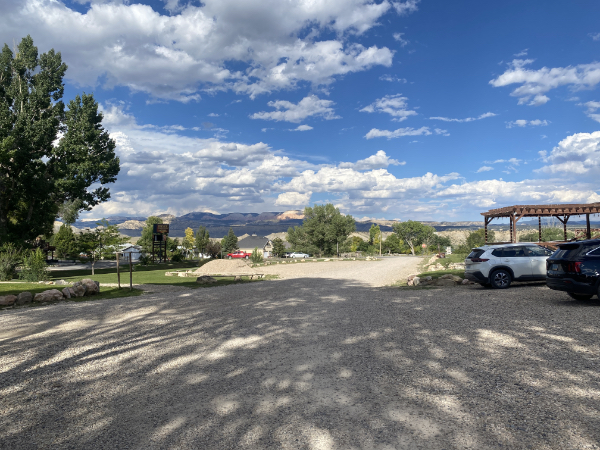 My Lovely First Wife had expressed concerns about the Pioneer Village; she didn't know from the booking info how adequate it might be. Hold that thought.
We checked in, went to our room, and were greeted by this handsome fellow, who obligingly allowed himself to be rescued and release.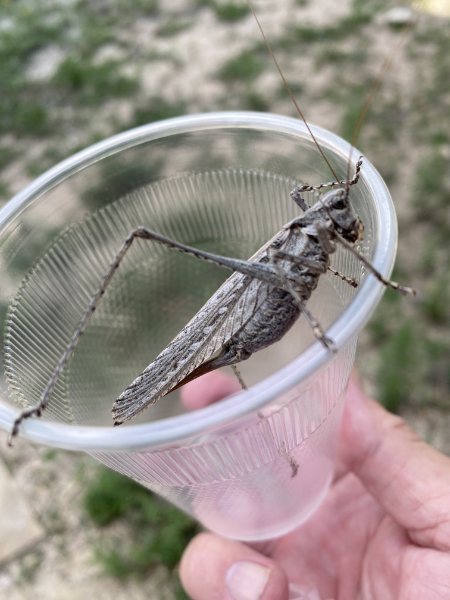 Here's the sun setting.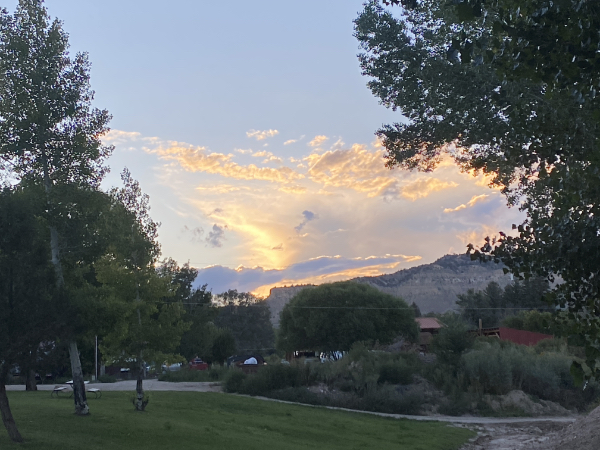 And here's the storm in the east catching the setting sun's rays.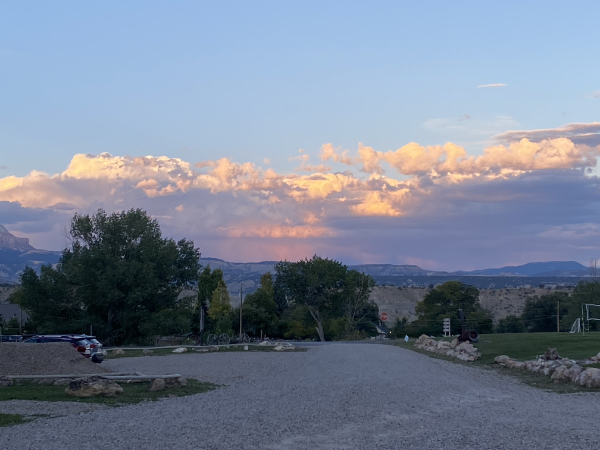 Okay, remember that thought you were holding about my Lovely First Wife's qualms about Bryce Pioneer Village? It has a restaurant called Showdowns, which both billboards and LED sign proudly proclaimed had "live country music." The building was a very barnlike structure. Got that in your head?
You're wrong. I had the mushroom and brie bisque for supper; Marc had the rainbow trout with veggies. The cocktails were prime. The musician sang soft pop songs from the 60s–90s. It was divine.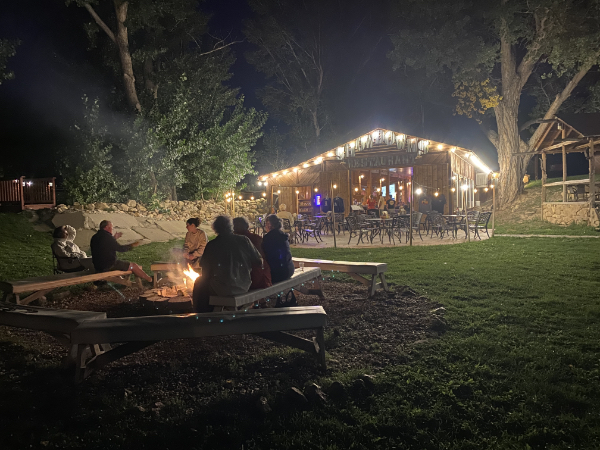 And remember that other thought you were holding, in which we were going to go drive the park at night? Pfft. We decided very early in the evening just to enjoy our beers and cocktails, eat a leisurely dinner, then go sit by the fire pit and just chill.
Perfect.
Next: BRYCE CANYON, FOR REAL