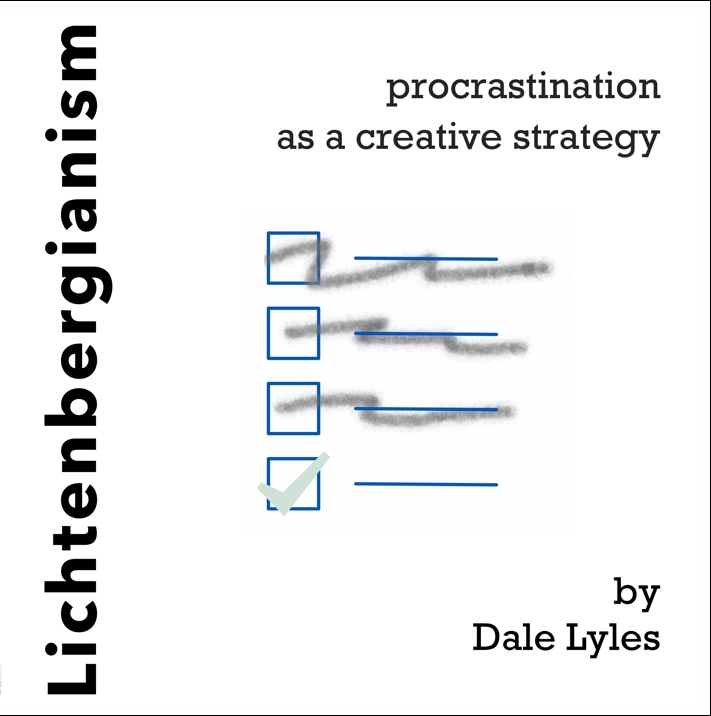 I'm double-posting here, because that's what us self-marketers do.
From Lichtenbergianism.com:
It's almost here! On Friday, November 17, you will be able to give me money via Amazon, Barnes & Noble, and other venues!
In return, of course, you will be receive your very own copy of Lichtenbergianism: procrastination as a creative strategy, first edition!
BUT WAIT, THERE'S MORE!
As a special promotional deal, anyone who buys the book from Amazon on launch day will receive a couple of bonus gifts. From me, you will receive an autographed Official Lichtenbergianism Precepts Bookmark and an invitation to join the Lichtenbergianism: Doing the Work group on Facebook, where you will have access to my advice and guidance on any of your ABORTIVE ATTEMPTS.
Also, several of my friends are offering freebies of their own: things like chapters from one of their books and other goodies.  You'll have the opportunity to request one of these.  (A page listing these goodies is forthcoming.)
How do you avail yourself of this treasure trove?
Buy the book on Friday, November 17, on Amazon.
Email your purchase receipt or a screenshot of same to dale@Lichtenbergianism.com.
I'll send you a link to the form to claim your bonus items. Easy!
This is so exciting! Start spreading the news.