And we're off![1] When my Lovely First Wife turned 60, we flew to San Francisco, rented a car, drove back across the country to New Orleans, and took Amtrak back to Atlanta. It was a very wonderful trip.
Now, ten years later — you do the math — we[2] are going to drive all over Utah to see a great many of the national parks there: Valley of Fire (state park), Zion, Bryce Canyon, Capital Reef, Arches, and Canyonland. I, who do not enjoy driving, have been assured that this will be glorious.
So we got up at 5:30 a.m., flew to Las Vegas, and here's Day 1.
You get off the plane in Vegas and are reminded immediately what weird place this is.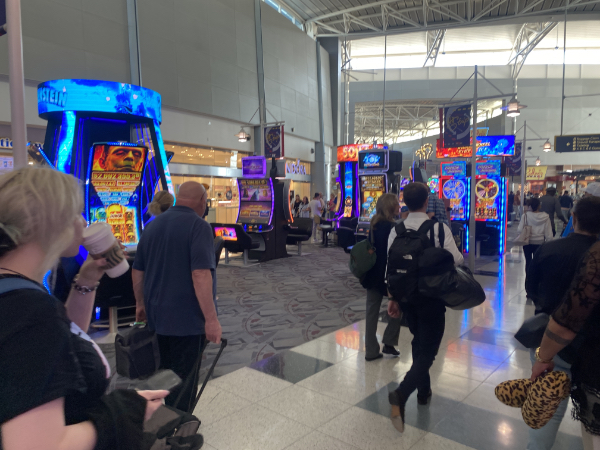 I will say this for Nevada, they have a commitment to public art that is admirable. I'll try to get some photos along the interstate of the beautiful statues and murals they have. In the meantime, have this horned toad from the airport.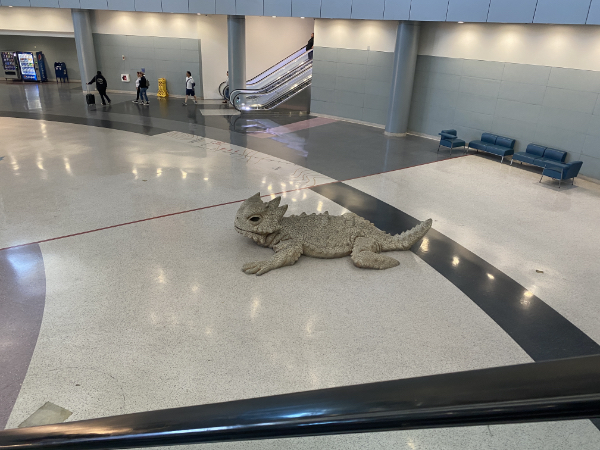 The shuttle to the car rental reminded us of the Vatican.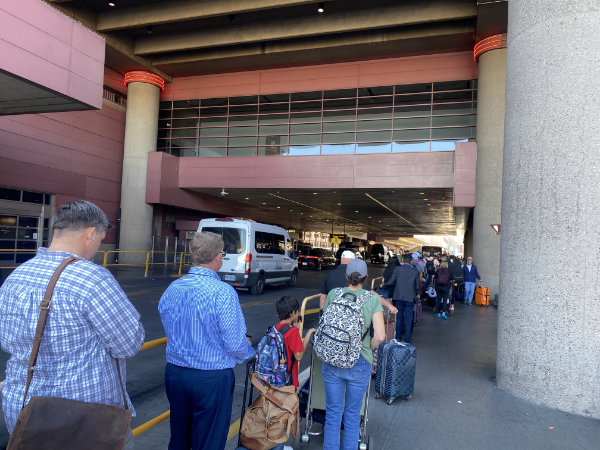 Tons of people standing in line… But it moved quickly. In fact, it took less time to get onto the shuttle than it did to stand in line to pick up the rental car. I won't shame the rental company for their astounding inefficiency, but they were astoundingly inefficient. (Avis — it was Avis.) We ended up with an Equinox, which is what I drive at home, and no, it is not large enough for the four of us and our accoutrements. Stay tuned for that excitement.
Our first stop was the Hoover Dam. We were there ten years ago, but Marc/MF had never been and it's worth seeing more than once, so off we went. At that point, we grabbed lunch and I would be remiss if I didn't post a photo of Mary Frances wrangling a 12″ hot dog — technically an entire kielbasa, you make the jokes — into her mouth.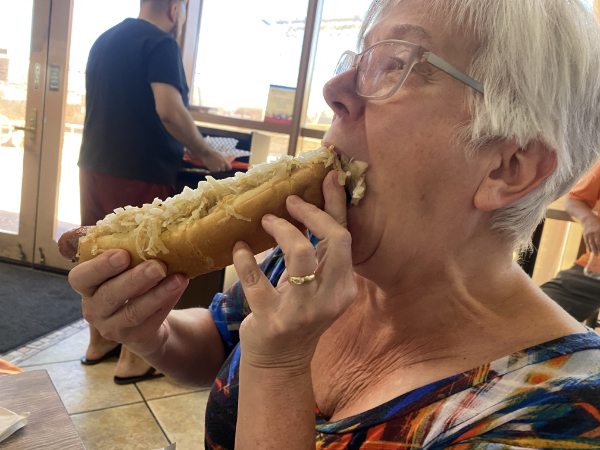 As I said in my post at the time, the Hoover Dam is just amazing in every regard: engineering, history, aesthetic, you name it, and the dam is just incredible.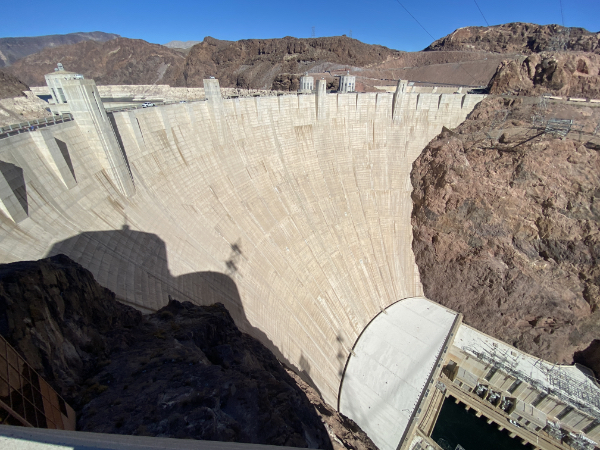 It was designed to be beautiful, an Art Deco masterpiece.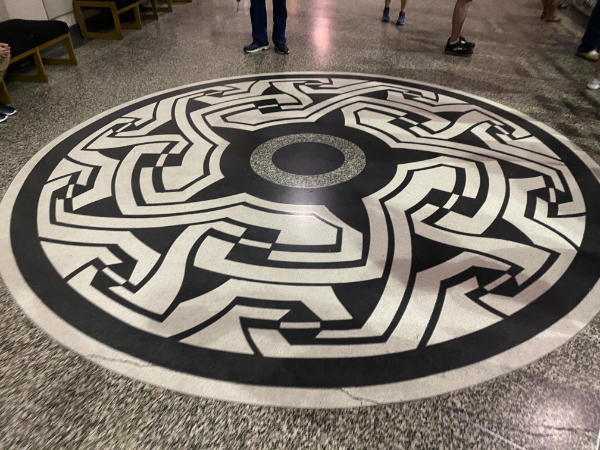 We took the full dam tour, of course. Here's the ventilation tunnel that peeks out of the dam. You can look out over the downstream Colorado River and risk losing your phone to the 300 foot drop to stick it out of the louvers and take a photo.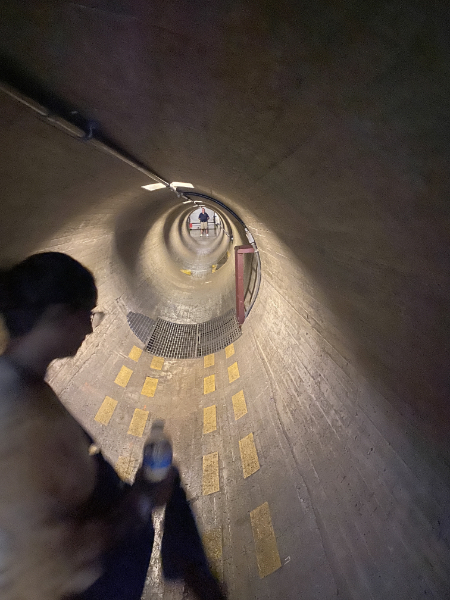 (This is actually looking back into the dam.)
One thing I really like about the Hoover Dam is that 90 years later it's still in perfect shape, but any little glitches that come up have been resolved exactly like you and I might in our own workplaces: low-level kludges that would have you hanged and quartered at Disney. For example: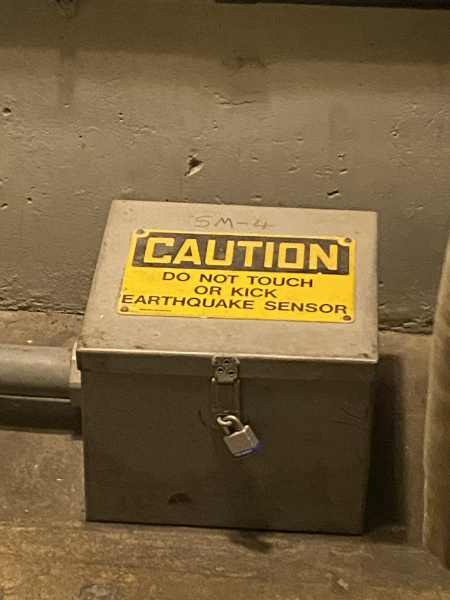 This is right there on the floor where us tourists can touch or kick it. They've fixed that problem by sticking a motion sensor light and camera onto the wall above it. Perfect.
You will have read about how the water level of Lake Mead is disastrously low.
As our tour guide explained, yes, the water level is low, but it's not disastrous. The dam was never meant to be full, and all those years that it was were an anomaly. The Bureau of Reclamation (which operates the dam as a self-supporting facility) is satisfied with the current levels. (Of course, the areas that have grown up depending on that water for irrigation and living are going to be brought up short at some point.)
Done with the dam, we drove back to Vegas and checked in to the Four Queens Hotel & Casino. Here's the view from our room.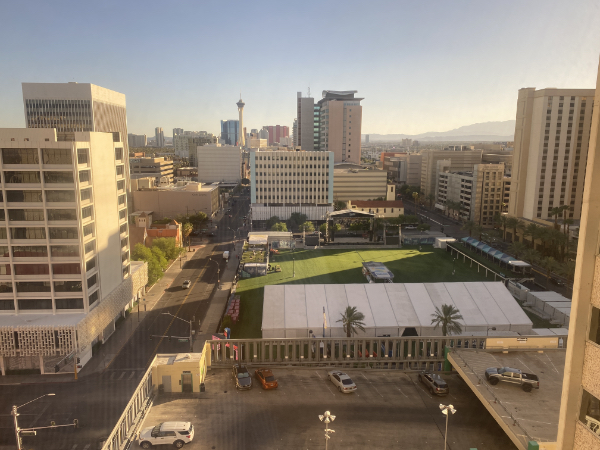 We barely had time to freshen up before we hopped an Uber down to the Bellagio, where we had tickets to see Cirque du Soleil's O. The title is a pun on the French for "water": Eau, and OMG this show is literally unbelievable.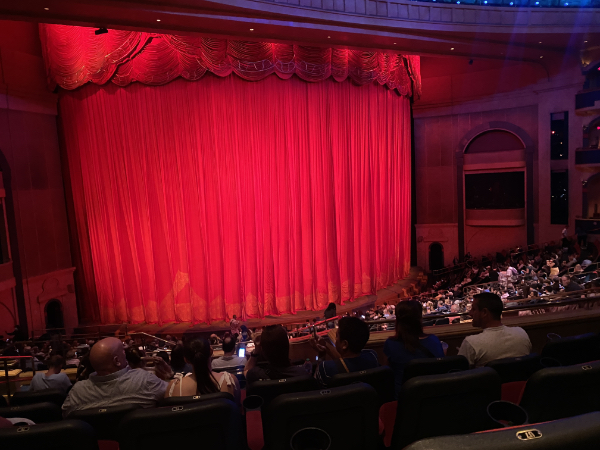 The stage is a pool of water that is sometimes 30 feet deep for high diving gymnasts, and sometimes a walkable surface. Set pieces emerge from the water, seemingly by magic. Boats and horses fly. Performers appear, sink into the water, and are never seen again. Performers emerge from the water from nowhere. The big red curtain in the photo above? When the show actually starts, those curtains collapse and swirl and billow into a vanishing point upstage in a gasp-inducing swirl of fabric and music.
After it was over, we all had the same thought: We should just turn William Blake's Inn over to Cirque. Can you imagine what they could do with "Blake Leads a Walk on the Milky Way"?
The Bellagio, like all of Vegas, is a bit over the top. Here's their "garden" in the lobby.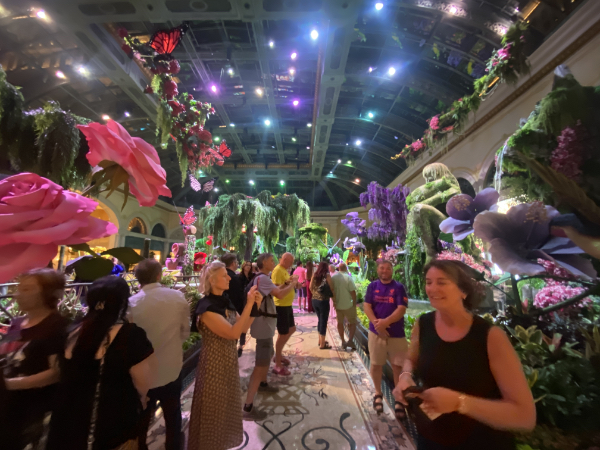 We were all starving at that point, so we Ubered to Herbs & Rye, a highly respected steakhouse and cocktail bar.
Cocktails, you say? This place has all the greats that you may have encountered from my home bar.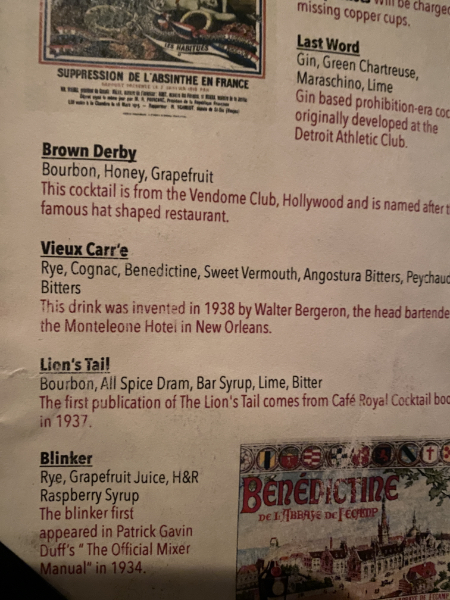 All the greats were there, although of course my favorites were unavailable because of the mysterious worldwide shortage of green Chartreuse.
As it happened, it was Marc's birthday, so he got a delicious kind of brownie/bread pudding dessert. We all shared.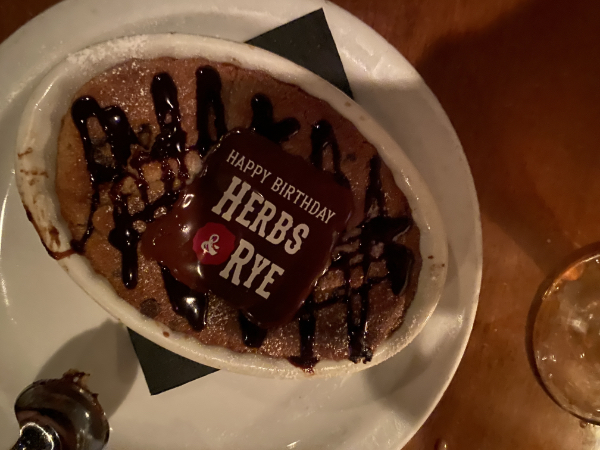 We headed back to the hotel and were immediately sucked into the Fremont Experience, a dazzling extravaganza that ten years ago was right outside our room.
That ceiling? It is in constant psychedelic motion.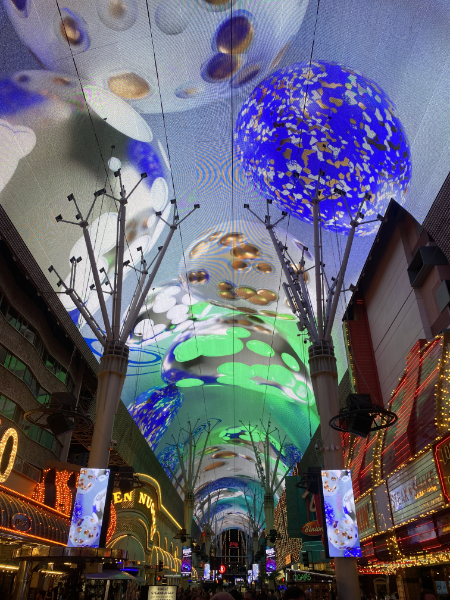 Unbelievable. Live performers, street vendors, and of course the casinos on every side. And remember, this was a Wednesday night. (The Fremont Experience was created to attract attention back to the older north end of the Strip, and it seems to have done the trick.)
At that point, it was after midnight, which meant for us Newnanites it was 3 a.m. EDT, so we retired.
Onward to Utah!
—————
[1] Standard disclaimer: For my readers — all three of you — who are inclined to rob us while we're away, we have our usual security measures in place.
[2] Our intrepid fellow travelers Marc and Mary Frances are with us.