In which a Woman fulfills her Dream of Driving across This Great Land of Ours, accompanied by her Husband, who Hates to Drive
Our original plan was to wander round Vegas today, see a show tonight, then head out to Hoover Dam tomorrow and thence to the Grand Canyon, but it was decided by some in our party to go ahead and do the dam today.  Fine with me.
It's been a breathtaking day, it truly has, so far, but further reports will have to wait until after my 105 MINUTE LOMI LOMI MASSAGE YOU GUYS.
One reason I hate to drive is that my legs turn into planks of wood, and it's just not a comfortable feeling.  So by my calculations, if I have a great massage today and another one when we get to Santa Fe, I may just survive this without a wheelchair.
Lomi lomi is a massage method rooted in Hawaiian spirituality.  I encountered it completely by accident in Newnan (!) when I went in for a massage at my then-current place.  I was given James Leipold and told that I'd probably find him a good fit.  James—young, fit and gentle—did not disappoint.  He explained briefly what lomi lomi was and then set to work.
By the time he finished, I was hallucinating. It was amazing, and I was hooked.  I worked up to a massage twice a month and probably would still be doing it if he hadn't moved away to become a chiropractor.  Whenever he came home to visit family, he'd call and I'd drop everything to take a session with him.  (He and I recently reconnected; he's now practicing in Asheville.  Time to visit North Carolina!)
So, when I decided to get a massage here, I figured such a sybaritic place ought to be crawling with lomi lomi specialists.  I was not wrong.  I'm pretty sure the booking was a scam ("The only lomi lomi session we have is 105 minutes…") but I'm okay with that.
More later, starting with Hoover Dam…
————
Hoover Dam.  It is everything that has ever been said about it.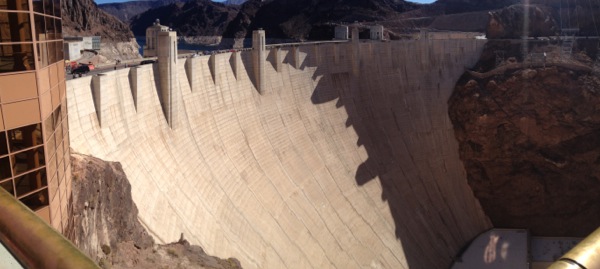 The postcards just take themselves.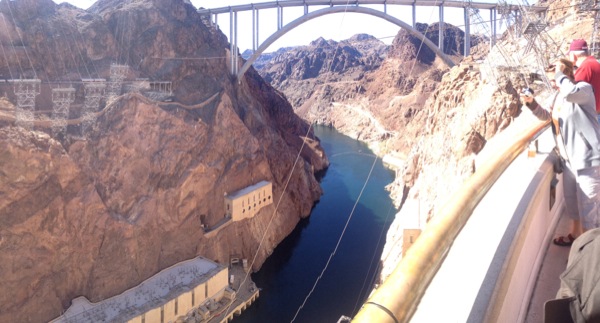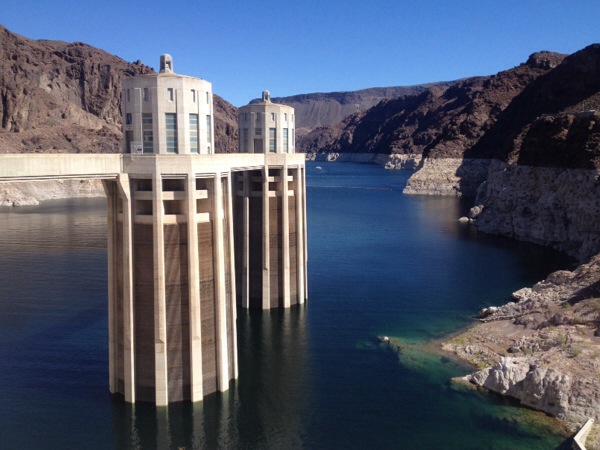 For those of you with bets in the pool: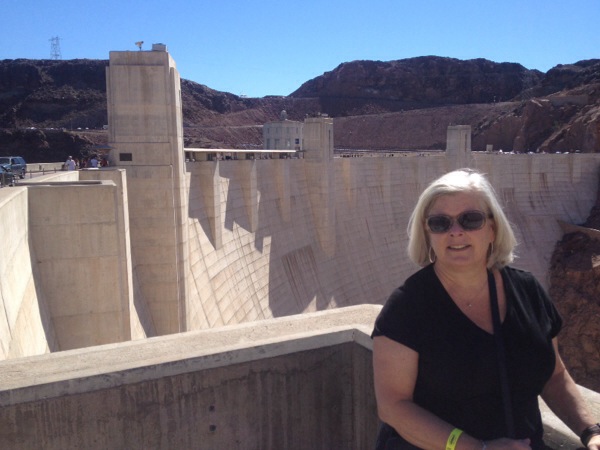 She's still alive.  This is only Day 4, however, not even halfway through.
The most amazing thing to me, other than the sheer chutzpah of the engineering, is that they made it pretty, and deliberately so.  A focus of national pride during the Depression, it was designed as a tourist destination from the very beginning, an Art Deco masterpiece.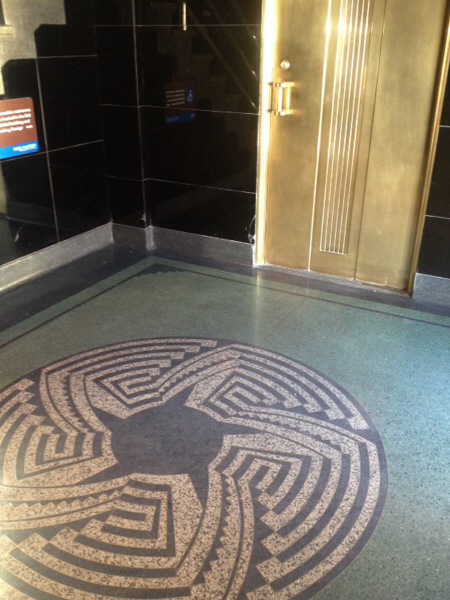 That, my dears, is the original men's room, which is housed in the first turret on the top of the dam.  The floors everywhere are inlaid with terazzo, based on Native American motifs.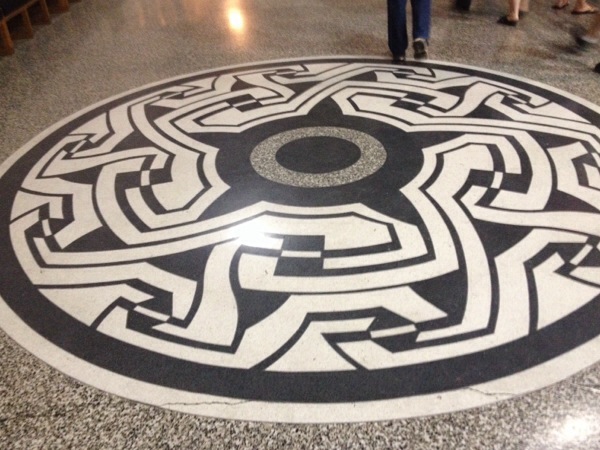 That one is in the turbine room.  You will also find them in the tunnels throughout the dam: tours of the entire facility were always part of the plan.
And here is the turbine room: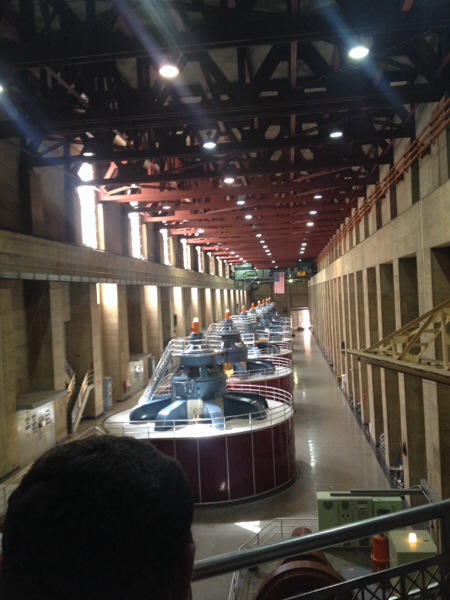 The dam is self-supporting, still selling its electricity to various municipalities throughout the southwest.  However, it is not a major contributor to the grid.  All the videos, etc., told us that its output can support a Million people </dr_evil>.  That isn't a lot.  In fact, they don't sell anything to Las Vegas, which uses more electricity than any other city in the world.
In very good photos of the dam, you can see four little shield-shaped portals. These are air holes to provide fresh air for the miles of tunnels that honeycomb the dam.
And here we are at the upper left of those ports: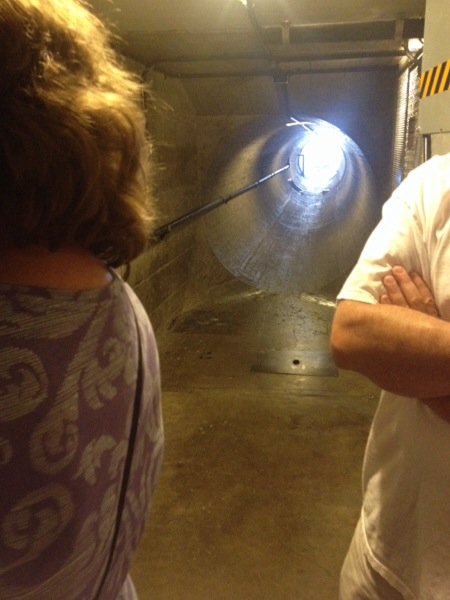 And here's the view from that view: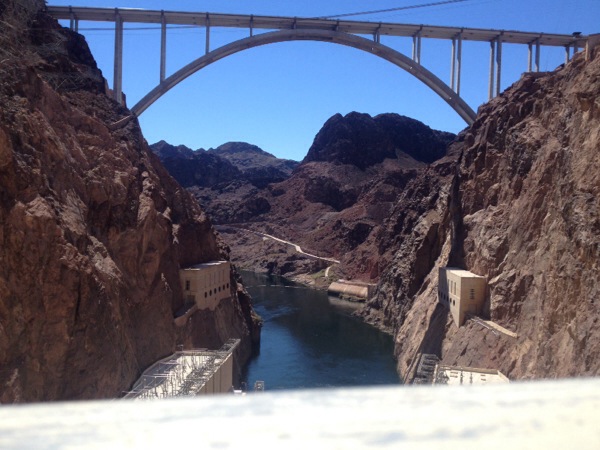 All those tunnels were/are for engineers to go through and check on the cracks, necessitated by the settling of the dam.  In the old days, they got there by descending stairs.
Hundreds and hundreds of stairs.  Have I ever mentioned my acrophobia?
And speaking of acrophobia, other than the thrill of walking across the dam itself, there's the new bridge to deal with.  It just opened in 2010, reducing the travel time across the Colorado River on US 93 from over an hour across the dam to a minute.
Like the dam, it was designed as a tourist attraction as well as a functional thing.  There's a walkway across the bridge accessed by a lovely entrance pavilion. It has lots of informative panels to explain the hows and whys of the building of the bridge.
And as you can tell from the photo up top, it's high.  So I hope you appreciate the panic I had to suppress in order to take this for you: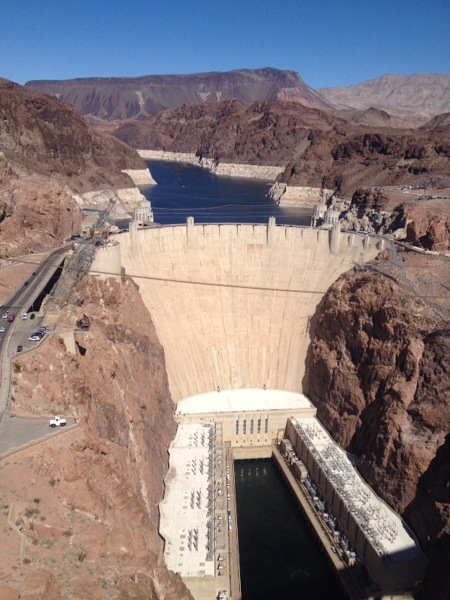 It's very hard to capture the wild beauty of those mountains with an iPhone, but I think this last one does.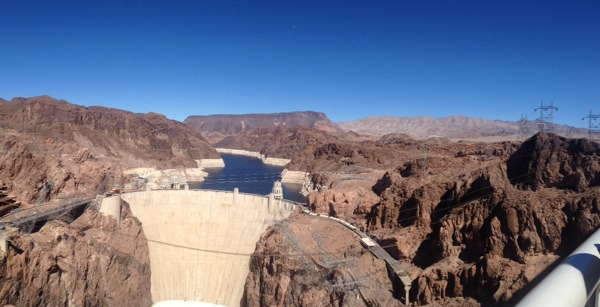 —————
I found the pretty people in Las Vegas: there was a herd of them at the Encore Resort's Beach Club.  Young, toned, drunk, preening… I had to wade through them to get to the spa.
Inside, the resort is gaudy/New Orleans whorehouse.  The spa is a hysterical temple to sybarism: other than the entry lobby, there was on the men's side a "den" check-in area, a locker room, a "serenity' room to wait calmly for your therapist, bathroom with all the necessary toiletries, showers, steam bath, sauna, giant jacuzzi pools, heated lounge chairs, and surround showers.
These last require button pushing, and since I had left my glasses in my locker I was completely unable to make them work.  I figured out the power button, and that the screen demanded that you pick some kind of setting, and which button make water come out of the rainfall shower, but that only lasted a few seconds, and I never could get the side showers to come on at all.  It was pathetically laughable.
After indulging in some of the easier-to-manage pleasures of the place, I went to the serenity room to await my Experience.  I will spare you those details, except to say that the approach to the massage room was down a walkway, surrounded by river rocks, in an enormous salon.  Paths led  off to the side to the massage rooms, and at the end was a gilded Buddha.  Mercy.
—————
While I was indulging myself, my lovely first wife was at the TixTonight booth back at the hotel, selecting a show for the ultimate Vegas experience™.  She was hoping for Cirque du Soleil's O, at the Bellagio, but it was not available, so she went with Cirque's Zumanity, at New York New York.  This is Cirque's racy "exploration of sensuality."  Hey, best of all possible shows, right?  Hot, tight athletes doing unspeakable things in acts of exquisite beauty.
Meh.  It was a bawdy cabaret with few of Cirque's trademark features.  When we were treated to actual acts, they were gorgeous, and the clowns/zanies were consistently amusing, and our drag hostess was polished, but overall it was pretty limp, if you know what I mean and I know you do.  The commercial for the show was far more sensuous than the show itself.
Beforehand, we had strolled along the Strip, looking for something to intrigue or amuse us.  Alors, we found it not.  I did buy a new earring, having left the hotel in the morning without one and feeling naked without one.
You know how sometimes you get all excited about the debauchery you can get up to—getting thoroughly intoxicated, seeing a naughty show, getting married by Elvis, having to take a cab back to the hotel and the coming to retrieve your car in the morning—you know how much fun that is?  I'm sure it would be something really interesting to blog about. If we had done any of it.  Which we did not.
So either we're old and boring, or Las Vegas is just an ultimately uninteresting place, awash in faux-Dionysism designed to titillate the unsophisticated.  I'm going with the latter.