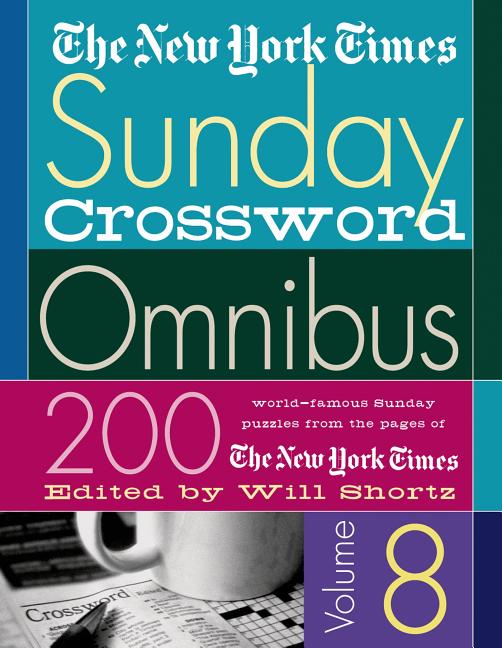 To keep my brain busy while we watch television in the evenings, I do crossword puzzles, and not just any crossword puzzles but the New York Times Sunday crossword puzzle, which is as everyone knows the most hardest of the week's puzzles.
I have mentioned before that there's some weird hippie woo thing going on with me and the puzzles, because too often to be random[1] it happens that something will occur while I am solving the puzzle that refers directly to some clue/answer in the puzzle, and usually as I am solving it.
After sixteen months, I just finished volume 8 (pictured to the left), and here are the weirdnesses that I noted.
Part 2:
9/9/21, #125: We're watching The Good Fight, and Audra McDonald refers to Al Capone / as I am reading 57A: 1920's tax evader
9/12/21, #126: Ted Lasso says, "I'm doing breathing exercises" /as I see 55D: It breathes
9/14/21, #127: Marie Kondo show; main person Lorri says she's saying "goodbye" to her past life / as I see 86A: Goodbyes
9/27/21, #132: Watching the Tonys, "Broadway's Back," a medley from Jagged Little Pill / as I'm solving 99A: "[ALANIS] Unplugged" (1999 album)
9/28/21, #133: 114D: Tony winner Salonga was a presenter on the Tonys
10/25/21, #143: I had just finished the puzzle when a character on Grantchester, an American lieutenant, says his grandfather had gone up against the Red Baron in WWI / 70D: Manfred von ______ (The Red Baron)
11/5/21, #151: Watching a rerun of Life in Pieces; little Sophia lists all her "bad words," ending with the "F-word": Fart / as I am seeing 52D: Toot
11/7/21, #151: Skit on SNL, something about a cable cancellation with Kieran Culkin / 142A: Many a phone caller, ON HOLD
11/8/21, #152: Curtis Sliwa had just lost the election for NYC mayor / 74D: Guardian Angels wear
11/22/21, #155: Watching Tick tick boom; he's in the diner, woman says, "The trash needs taking out" / I had just solved 28A: Busboy's job, sometimes
12/1/21, #160: After attending our daughter-in-law Kristin's PhD defense panel today / 4D: Researcher's goal, perhaps
12/29/21, #171: Watching Emily in Paris, where one of the main characters is named Alfie / 119D: Alfie's residence
1/2/22, #172: The week before, my friend Chas was on Jeopardy; the answer to the Final Jeopardy was the Arno River / 21A: River spanned by the Ponte Vecchio
1/11/22, #174: Watching Big Bang Theory; Sheldon says, through Penny's door, "Are you whispering 'Don't make a sound'?" / right as I hit 41D: Faint sound?
1/20/22, #176: Dwayne Hickman had just died / 119A: Sitcom character with "many loves"
2/3/22, #183: Watching the Beijing Olympics / 81D: Skater ____ Thomas
2/6/22, #184: Watching the Beijing Olympics / 70D: Top prize, GOLD
2/7/22, #185: An Olympics ad for Celsius soda / 34A: Quote, part 3, CELSIUS and 109A: Quote, part 7, DRCELSIUSCOULDSAY
2/8/22, #187: Watching the Beijing Olympics / 56A, Barcelona Olympics quest
2/10/22, #188: Still watching the Olympics / 97D: Olympian Johnson
2/14/22, #190: I'm wearing my Acadia National Park t-shirt / 1A: Acadia National Park locale
2/20/22, #192: Watching Sean White's final interview at the Olympics; he's asked about not winning a medal / as I am solving 70A: Fail to medal
One final false alarm: 3/3/22, #198: Episode of Home Economics, Connor has to step in to partner his housekeeper in a salsa competition / 8A: Latin step, but alas, it was SAMBA, not SALSA.
So over the course of sixteen months, I had thirty-three bizarre coincidences, and that's out of 100 puzzles. That's a pretty high woo-to-reality ratio, people. You'd think I would have won the lottery by now.
—————
[1] Of course it's random. But it's still weird.