I've blogged about this once before, but the serendipitous overlap between the New York Times crossword puzzle and my life is often unnerving.
I have a big fat book of Sunday puzzles that I work through while we're watching TV, and here are some of the occurrences. (This also happens with the daily puzzle I do online.)
On March 23, we were watching Stanley Tucci's Italian travel series Searching for Italy. In the first episode, he visits Sicily and meeets a woman winemaker, whom he describes as "groundbreaking," just as I'm reading the clue to 41D: GROUNDBREAKING PERSON. [#60, Sounds of the Past]
March 24, with Sicily still in mind, 56D: SITE OF A 1943 ALLIED VICTORY. The answer is Palermo, the main city of Sicily. [#61, Yule Get Over It]
March 25, we're listening to some comedian tell the story of a girl who stole syrup from the hotel breakfast bar as I'm reading the clue to 87D: HOTEL FORCE [#62, Beans, Beans, Beans]
April 7, we're rewatching the first episode of Ted Lasso, wherein Rebecca asks Ted if he'd like a tour [of the team facility] and he responds, "I'd love to see Abbey Road," as I'm reading the clue to 27A: PLASTIC ___ BAND. [#69, Leading Singers]
April 21, we're watching Shtisel, and the clue to 32A: LEUMI is one of the themed answers, wherein the clue is a word in another language leading to a pun, so that SALATA >> GREEK SALAD. Leumi is an Israeli bank >> HEBREW NATIONAL. [#73, In Other Words]
(Be patient; this is leading to a really bizarre conclusion.)
May 3, I had just returned from a burn weekend, where the cocktails I served used FOUR ROSES bourbon [30A: BLENDED WHISKEY, OR A VALENTINE'S GIFT] and on the drive home, the phone randomly played 74A: "THERE IS NOTHING LIKE ____." [#75, Railroad Crossings]
June 5, we're watching The Kaminsky Method, ep. 22, and in the background of a scene is a billboard from Kaminsky's upcoming movie, The Old Man & the Sea. 76D: PART OF A HEMINGWAY TITLE (SEA), 101D: PART OF A HEMINGWAY TITLE (OLD MAN). [#85, Personal Score]
July 4, we're watching A Capitol Fourth on PBS. The military band played the Olympic Games fanfare on bugles as I was solving 10D: BASE CALLER, and the B-roll footage of our great nation threw up an elk for 41D: PLIABLE LEATHER. (Who knew?) [#96, Rare Birds]
July 5, the last episode of Ted Lasso, he exasperatedly cries, "If God had wanted games to end in ties, she wouldn't have invented numbers." The title of the puzzle is Rational Numbers. We then watched the third episode of Worn Stories, wherein one of the stories is an astronaut. The soundtrack included "Major Tom," and I got 45A: 1983 DAVID BOWIE #1 HIT. [#97: Rational Numbers]
July 15, we had just returned from a trip to New Orleans, where I had bought the fabulous Thomas Hamann piece, "Ikarus I," and the puzzle hit me with 89A: SON OF DAEDALUS. [#101, See O2]
And now, finally, the exciting conclusion — or is it?? — to this series of weird coincidences.
Yesterday, August 29, I was tootling around Facebook and came across this post from an old friend, David Hammett, who had taught math at GHP for several years and still returned to help run the game show segment of the math tournament.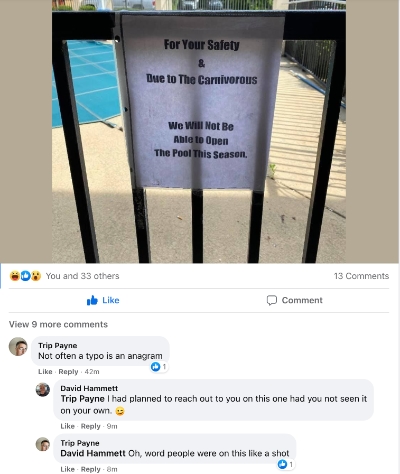 I had seen the image several times, but I had not quite made the connection that CARNIVOROUS was an anagram of CORONAVIRUS, but David's friend Trip Payne did. Duh.
As fate would have it, the puzzle I completed on Saturday night was called Commanders in Fiche, wherein the themed answers had the last names of our presidents anagrammed, e.g., PRESIDENT OF THE LUNAR SOCIETY? >>JIMMY CRATER, etc.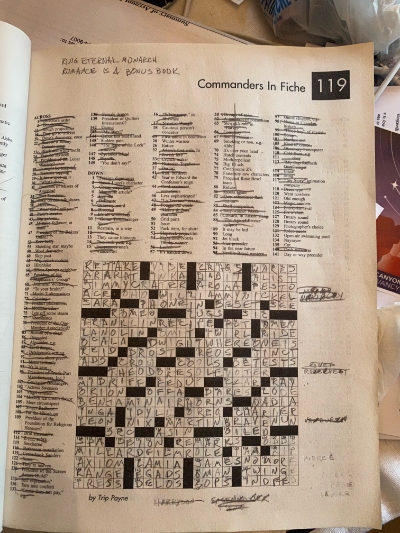 Are you ready?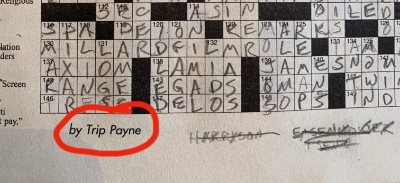 ::cue Twilight Zone theme::