This past week my Lovely First Wife and I took off on a trip. Normally I blog our travels, but since this trip was mostly my Lovely First Wife's pilgrimage and I didn't anticipate anything actually exciting, I decided against it.
But now the truth can be told.
We were headed first to Wetumpka, AL, and then to Laurel, MS. The more discerning among you are nodding your heads sagely in recognition of the Lovely First Wife's fangirling of Hometown and Hometown Makeover, HGTV's charming shows hosted by Ben and Erin Napier, an adorable young couple who have made bank by first renovating homes in their hometown of Laurel and then the downtown area of Wetumpka, revitalizing tourism in both.
How can I put this? The real masters of those two shows are the cinematographer and editor: when you're actually in those two lovely towns you realize how much was just off-camera. Like, a lot.
Laurel, for example, is not this quaint little town. It's big, really big, and just out of shot of the quaint main street area on the show are concrete and glass office buildings. Wetumpka has a lot going for it and really does seem to be leaning in on its artsy persona, but again, there's a lot you didn't see on the teevee.
(Fun fact: the Chamber of Commerce lady featured in Hometown Makeover is a bundle of energy and used to teach art at Poplar Road Elementary here in Coweta County. Also, in both towns, the food was very good, so if you decide to go we have recommendations.)
For its part, Laurel has a whole district of stunning 19th-century homes that are not in need of Ben and Erin's help.
And both have torn up the very streets we were there to see.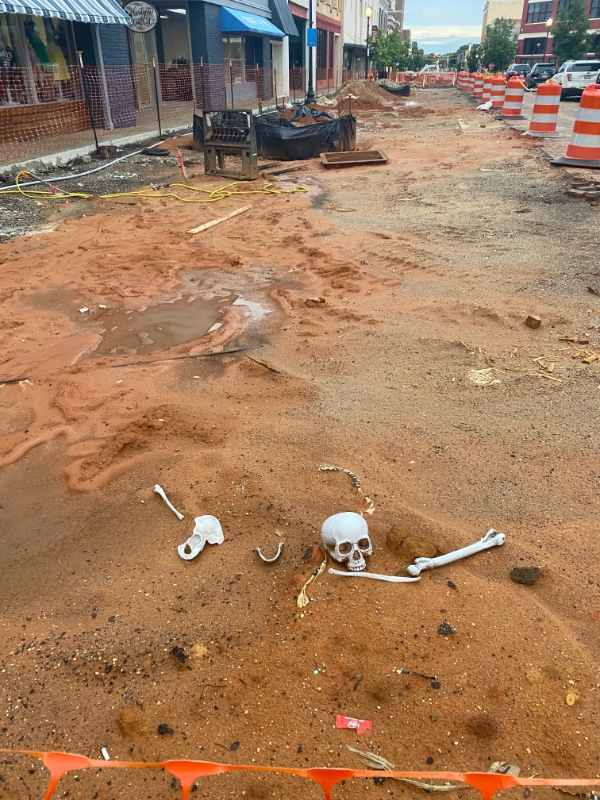 To be clear, I am denigrating neither the towns nor HGTV's artful presentation of them, but I would advise anyone thinking it would be fun to make the pilgrimage to consider that — perhaps since the reality has been transmogrified into entertainment — being content with the entertainment rather than the reality is a choice they might want to make.
Particularly since the drive is mind-numbingly, butt-numbingly boring. We're talking two of the poorest states in the nation, and some of the poorest areas in each, so the charms of Wetumpka/Laurel are more than counterbalanced by the shuttered main streets we passed. I was angrier than I needed to be on a pleasure jaunt.
But let that pass. Part of the plan was that once we got to Laurel we would decide whether or not we would press on to New Orleans, which we did. Here's where the hilarity ensues.
My brain was fried from driving through Alabama and Mississippi, folks, so it should not have been a surprise when we arrived at Old No. 77 Hotel & Chandlery on Tchoupitoulas St. in New Orleans on Wednesday that I had made reservations via Hotel Tonight for Thursday. It took a while, but Roberto at Hotel Tonight finally straightened it out. (It just now occurs to me that all I had to do was make an additional reservation on the spot for Wednesday night. As I said, my brain was fried.)
How fried was my brain? At 4:30 in the morning, I awoke, suddenly concerned that I had misremembered my license plate number on the parking form. Was it 3441 or 1134? Even more suddenly I realized that it didn't matter because we weren't in my car. I had filled out the form for the wrong vehicle.
I slipped on my kilt and some shoes and went down to the front desk, where the desk clerk actually giggled at my dilemma. I didn't blame her.
Needless to say, my Lovely First Wife's car was already booted.
The desk clerk sent emails to correct my mistake, and I returned to the room, where my Lovely First Wife also giggled at me. ::sigh::
ANYWAY.
Here's the point. We had a great time in New Orleans: fantastic food, phenomenal cocktails, and I bought a new hat that does not make me look like Kid Rock.
I also bought a Picasso.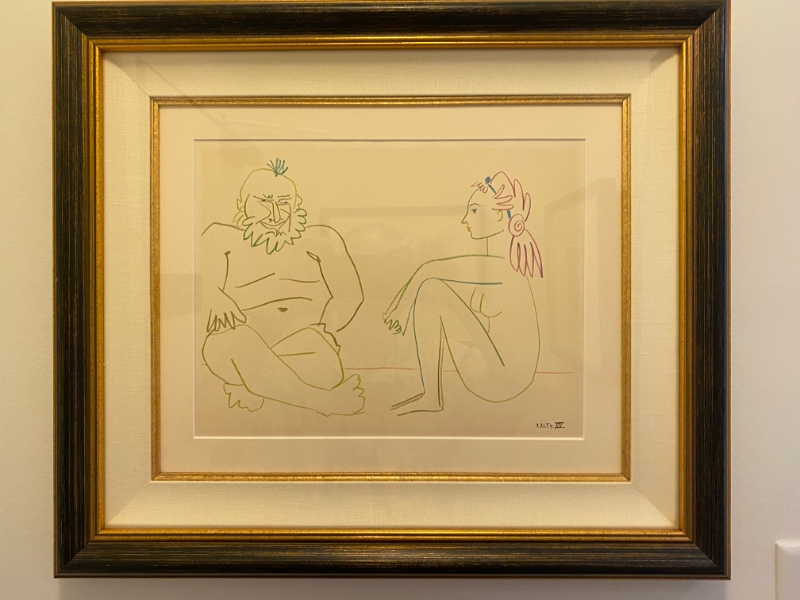 It's Woman and Clown, a lithograph, about 12"x9", and so enamored was I that this is all I know about it. (It's being shipped, so I'll have more details once I can really give it my full attention.) I bought it because the figure of the old man resonates with my whole 3 Old Men burn theme camp thing, and that is dear to me.
But first I bought this: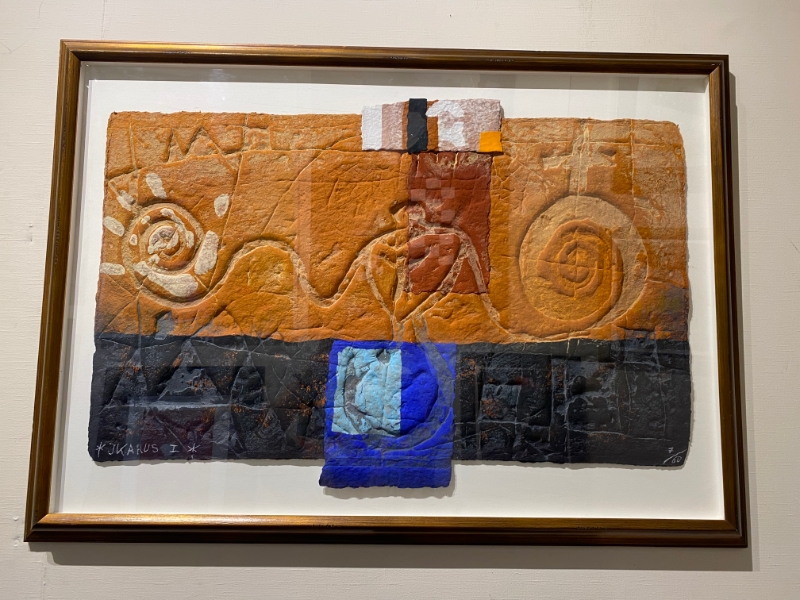 We were on Royal Street, stopping in galleries that had stuff that appealed to us, and inside the Elliott Gallery there was a stairway over on the side, kind of hidden around a corner, and on the wall of the stairway was this piece, about 3' x 2', unlabeled and unpriced. I had been looking at a Miró lithograph, but this piece struck me. I inquired the price, and — this was before I had bought the Picasso — it was affordable. I bought it.
Here's the brilliant part. I had assumed the scrawl in the lower left was the artist's signature, but his name is actually Thomas Hamann. The title of the work I had just bought was IKARUS: Icarus.
And yes, I decided on the spot to splurge and return to Windsor Fine Art Gallery to buy the Picasso as well.
So this has been a very exciting trip after all. Now we're heading home. Via interstate, thank you.
Random postscript: I have received more compliments on my kilt everywhere we've been than ever in my fifteen years of wearing one. Thanks, Utilikilt!