This morning we headed down to Coney Island.  I'll explain why in a minute.
The train went out over the East River and slowed to a crawl, so I was able to get a shot of the Brooklyn Bridge, and if you look very closely you can see the Statue of Liberty in the far distance.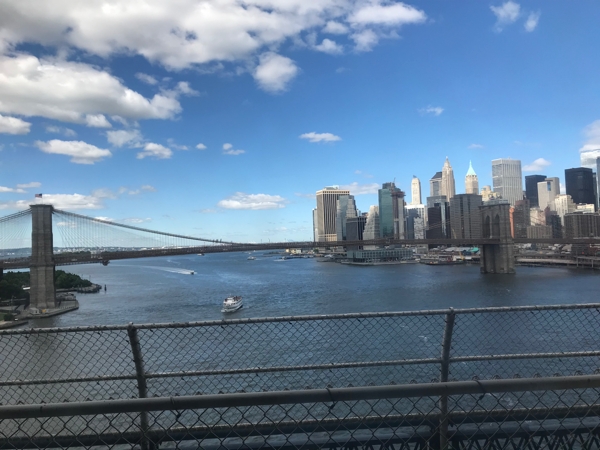 So why Coney Island? Forty years ago, I wed my Lovely First Wife in Roanoke, VA.  When she and her hellion brothers were children, there was an amusement park called Lakeside, and you may well imagine that taking those four children to an amusement park was a trial and a tribulation, so it didn't happen often.  Naturally, if one of the siblings went to spend the night with a friend or something, the others would taunt him on his return by telling him that they had gone to Lakeside in his absence.
It was decided that it would be great fun to do that, then.  After the reception, we headed back to the family home where we hooked up with the wedding party and relatives, and many of us headed to Lakeside, where we proceeded to ride all the rides.  The roller coaster was particularly memorable, since the operator tumbled to the fact that we were a wedding party and let us zoom on through three complete cycles.
Thereafter, we celebrated major anniversaries by hitting an amusement park with as many as would join us: Six Flags, Disney World, Wild Adventures.  When I planned this trip, the LFW suggested we go ride the Cyclone for our anniversary.
Coney Island: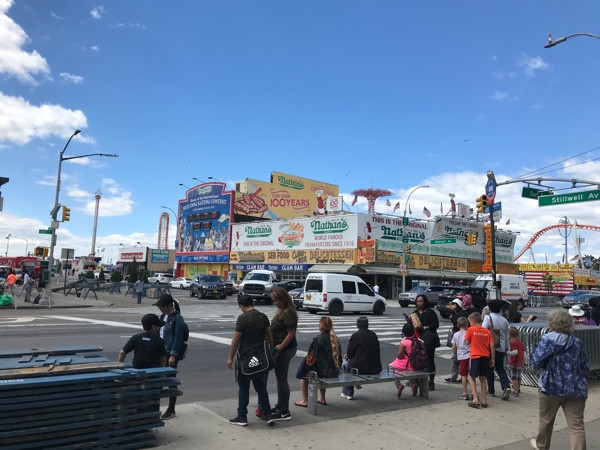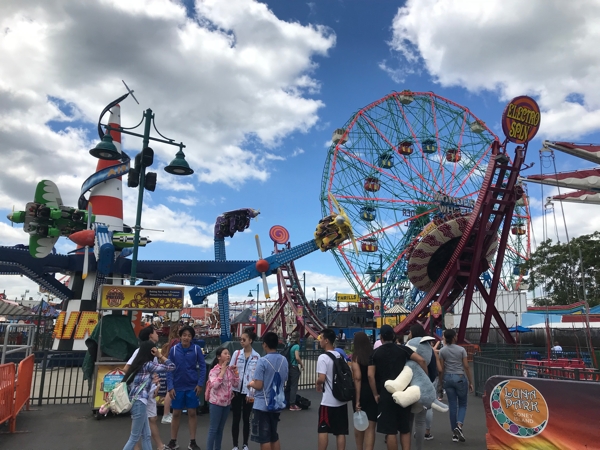 It's pretty fabulous.  The weather was gorgeous, and it was not crowded at all. We noticed that the Muslim families were dressed to the nines — mothers in beautifully embellished hijabs, the little girls in sparkly ballerina dresses, men in exquisite suits.  It was puzzling until I remembered that it was Eid-al-Fitr, the end of Ramadan.
I will pause to say that every time we're in New York that the astonishing diversity is inspiring.  You constantly hear other languages, see other cultures; at the Coney Island subway station, notices of schedule changes were posted in English and Russian. It's fun and affirming that our country is, indeed, a nation of immigrants.
Our goal: the Cyclone.

Another view: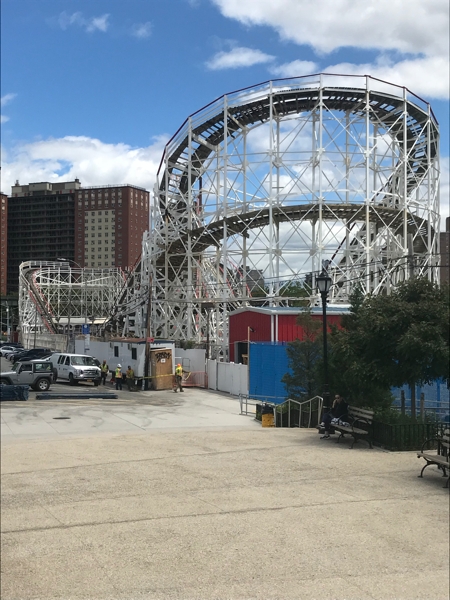 It opened on our Eldest Son's birthday, 90+ years ago.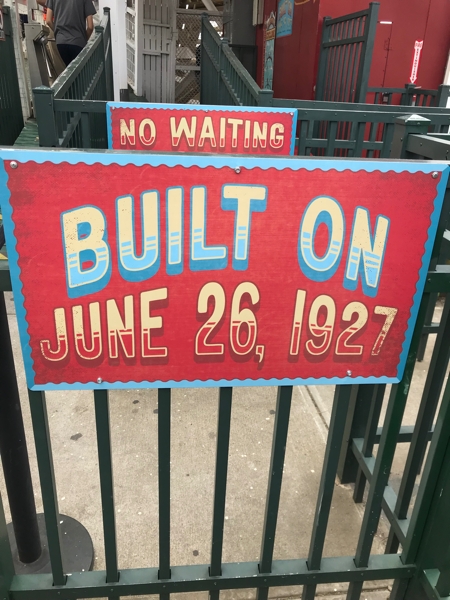 There was literally no line.  I had had some concerns that a wooden roller coaster was going to be a little rough on the old spine/sciatic nerve, but lo! they have super-padded the cars, so much so that we felt stuffed in.  But it worked — the ride was thrilling without being painful. Happy 40th, honey!
Off to the Boardwalk: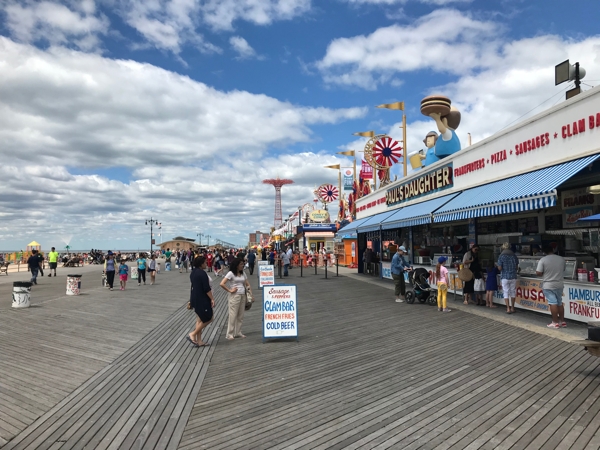 The view from the pier: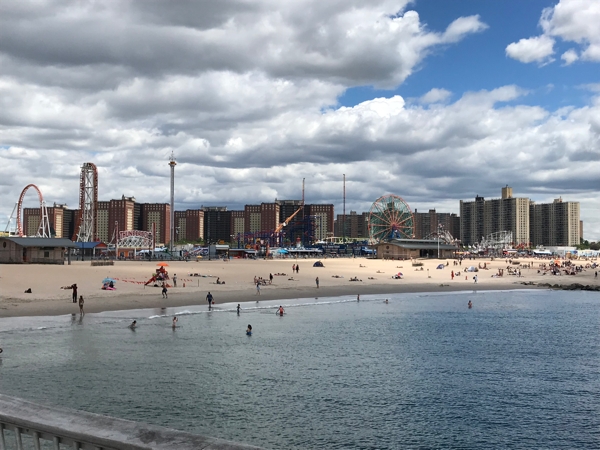 We had a hot dog at the Original Nathan's — so there's someone's bucket list checked off — and then headed back into the city to go to the Met Breuer, in the former Whitney on Madison Ave.
There we saw the exhibit Life Like: Sculpture, Color, and the Body.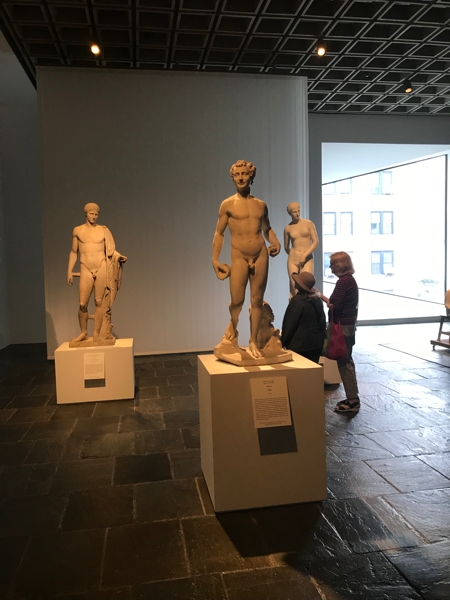 A very challenging show: a constant dialectic between the classical ideal of beauty (perfection/white) and… whatever the artist/culture did in opposition.
But first, Jeremy Bentham.  (Go look him up.)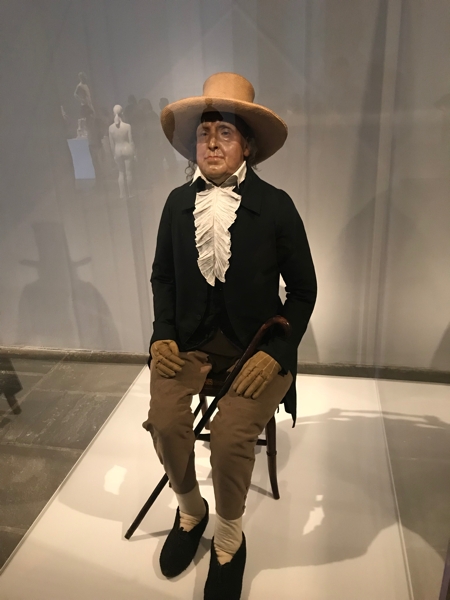 For me, the exhibit resonated in many ways.  For example: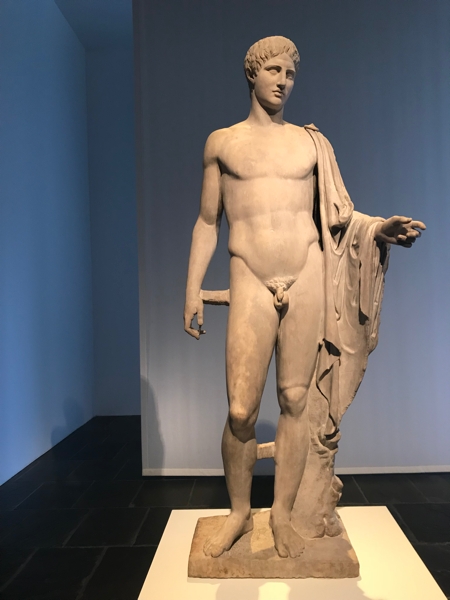 First, the Praxiteles — the ultimate in physical male beauty.  Young, fit, perfectly proportioned.  What's not to like?
Those who have been reading this blog for a while will know that I founded my burn theme camp, 3 Old Men, as a response to this image of ideal beauty, and here's why: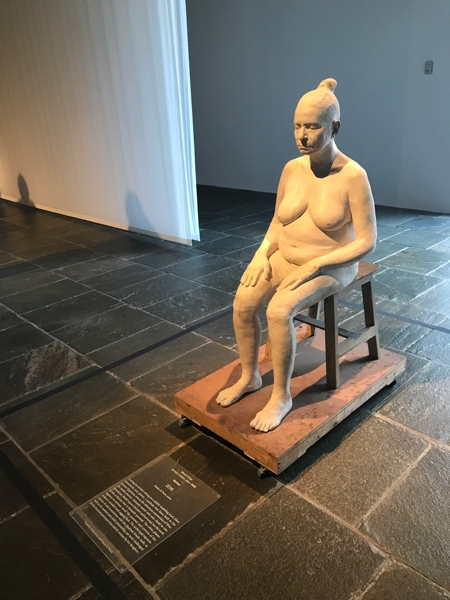 We as a society are taught to avert our eyes from bodies that are not perfect: young, fit, ideally proportioned.  But that's where we end up, all of us.  3 Old Men rejects that impulse.  We reclaim the image of the aging male body as one of authority and power.  We got to where we are through trial and struggle, and we have things to teach and to offer.
So yeah, this exhibit had a lot to say to me. (And I to it, truthfully.)
Our show for the evening was Symphonie Fantastique, a Basil Twist performance, more about which in a moment.  The point is that the venue, HERE, is in the Village, which means… BARS!
We went to Amor y Amargo.  Oh my. It's a tiny little place; twenty people would be a crowd.  The owner, Sother Teague, is an amiable hobbit-like man, greeting everyone as they enter, bringing them menus, mixing the drinks.  Everyone there hung on every word he said; one of the groups were clearly bartenders themselves, there to learn.
And the cocktails… What can I say?  Perfection. I had a Sharpie Mustache, served in a little bottle with a mustache on it. It was brilliant, and I don't remember what was in it.
I was bold enough to ask him if he could make a Smoky Topaz and advise me on it, but alas, he had no barrel-aged gin.  So I made bold again and said that in Prague the same thing had happened and the bartender there had invented a drink that would please me in the same way — could he perhaps do the same?  This was early, only just 6:00, so he did have the time.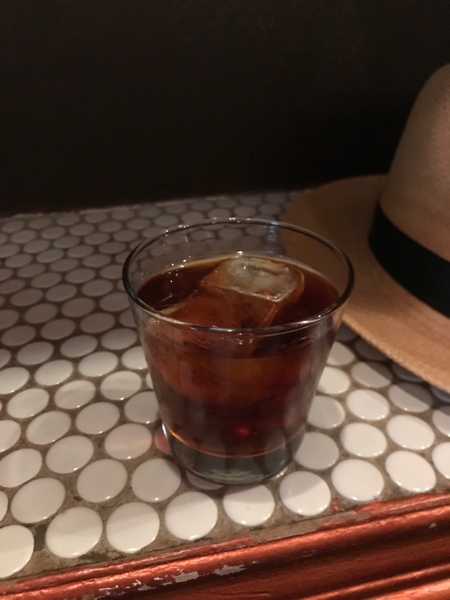 I'll have to be bold again and contact him for the recipe — he used genever, rye, both chartreuses, and it was glorious.  I went back to the bar and showed him the recipe for the Smoky Quartz, the results in Prague, which also used genever as a base.  That was cool, I thought.
I bought three bottles of bitters — ALL THE BITTERS, YOU GUYS — lavender, hopped grapefruit, and one called Saturnalia.  I just liked the sound of that.
Our plan to was to head to Death & Co. a couple of doors down, but it was already backed up. We put our name on the list and then started walking over to Eldridge St to a new place that Sother Teague had highly recommended, the Bar Goto. He said that if he had only one night in town, that's where he'd go.  The owner is a former bartender at The Pegu Club, another on my list, so off we went.  Of course, after a fifteen minute walk, as soon as we were seated, I was messaged that we were up at Death & Co. — I messaged our regrets.  Next time.
Bar Goto was phenomenal, both cocktails and food.  Highly recommended.
Then a cab over to HERE. Basil Twist is a puppeteer of renown, and his Symphonie Fantastique was a huge hit twenty years ago. This is a revival and has been reviewed very positively.  Essentially, Christopher O'Riley, the host of NPR's From the Top, comes out and plays the Berlioz symphony on the piano while behind him in a giant aquarium pieces of fabric and tinsel swim and swoop in striking lighting.  This was our avant garde piece for the trip, for sure.
The first and last movements were the best.  The slow movement is my least favorite slow movement ever, and the visualization did nothing to change my mind.  The fourth movement, March to the Scaffold, was actually disappointing.  There were some gorgeous moments, and overall it was worth the adventure.
So I left my card with a note to check out William Blake's Inn.  You never know when Basil Twist needs new inspiration.