Thursday, July 14
We're at Hartsfield-Jackson Airport, waiting to board our flight to LaGuardia, a/k/a the Trash Heap, for a very long weekend in New York City. I have begun my preparations: allergy meds, Afrin, special air pressure earplugs. I hate flying. Its cramped and my ears hurt and I can't hear for 24 hours after landing.
But off we go.
This is in celebration of 40 years of marriage to my Lovely First Wife, and so I've jampacked our schedule because that's the way she likes to travel. Six shows, the Met Museum, MOMA, a trip to Coney Island. Probably a visit to the Tenement Museum.
I had researched the top craft cocktail places, leaving a tab open in the browser for weeks. Yesterday I decided it was time to make some choices — the list had 50 bars — so I scrolled down and copied names, addresses, and hours of operation for my top five or six.
Then I had the scathingly brilliant idea of mapping this in Google. Hey, I'm Benevolent Placement Overlord™ for the Georgia burns; I can do maps. I put our hotel on it. I did a layer and put all the theatres in it. I did a layer and put all my bars on it.
As I said on Facebook, does anyone else see the problem here?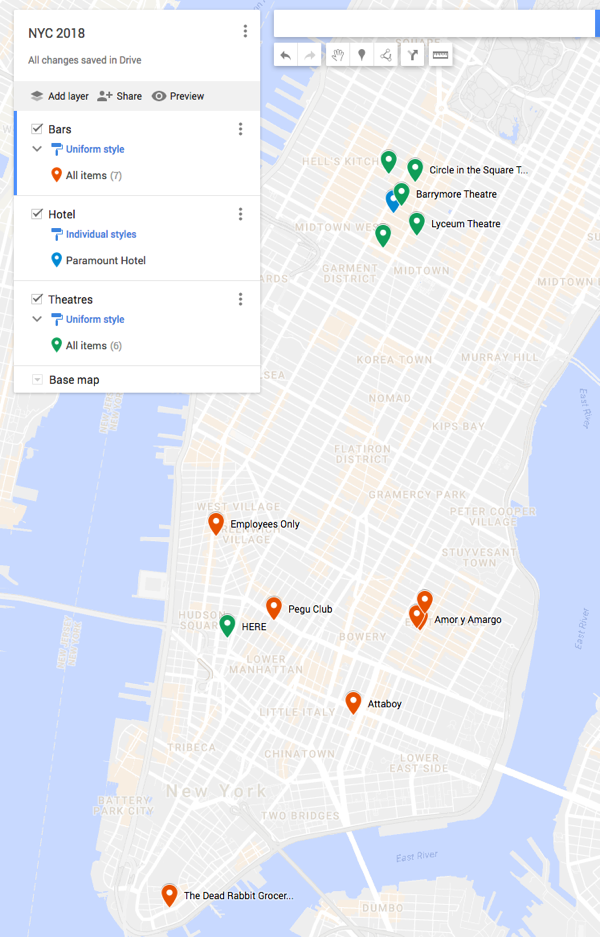 ::sigh::
After all these years of traveling, I have learned a new thing: wherever you think you're going to end up at the end of the day, that's where you want your bed to be. As it is, it's a 20–30 minute subway ride from our hotel to any of the bars. Why are they all in the Village? Why are none of them in the Theatre District??
And I learned this shortly after the 3:00 pm deadline for canceling the hotel reservation.
So this is not going to be my Manhattan bar trip. Alas.
—  —  —
We arrived at LaGuardia around lunch, caught a cab into town (LGA is in Queens), and headed to our hotel, the Paramount on 46th/8th.[1]
Our room was ready, so we dumped our stuff and caught a cab to the Metropolitan Museum of Art.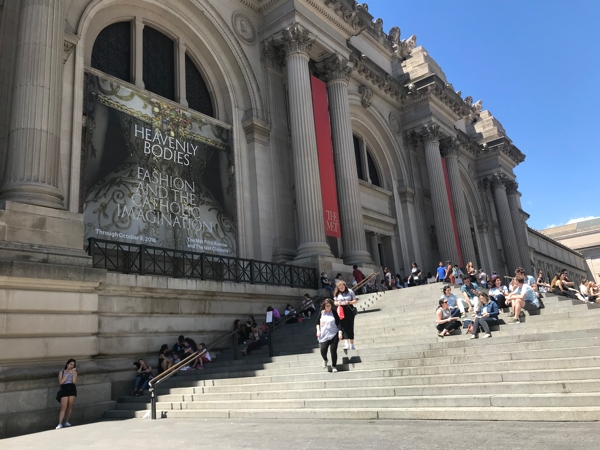 We had a street vendor hot dog for lunch, then headed inside. Our main goal was to see the Heavenly Bodies exhibit.
It's staged in the Medieval Art gallery, so first we got to see some cool objects.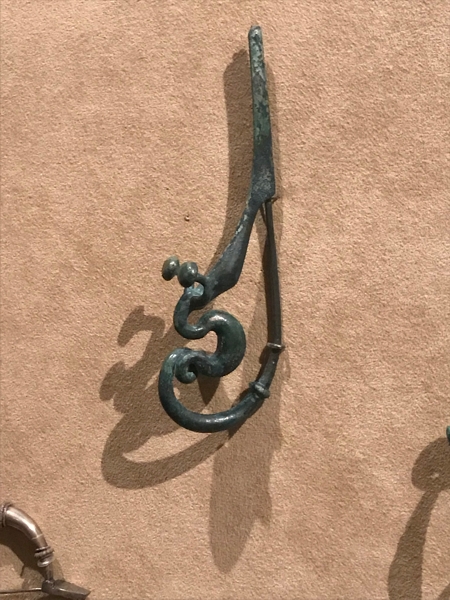 This is a Celtic brooch.  So is this: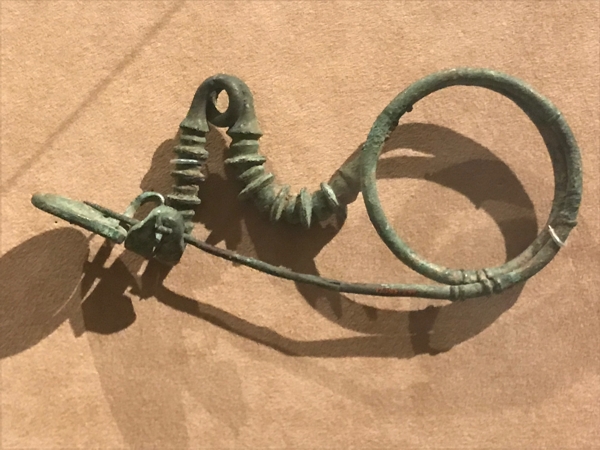 The shape and decoration of these items fascinated me because of their surrealist form; they look as if the metalworker just squirted out a form.  I'd love to know more about the style.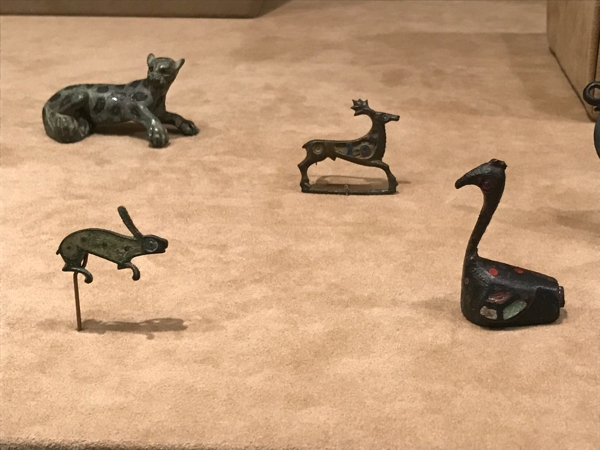 Fun little animal figurines, fully in line with the ideas we encountered in Santa Fe's Museum of International Folk Art.
Heavenly Bodies is a quirky exhibit, the best part of which is the runway of designer gowns/coats/cassocks based on the habiliments of the Church.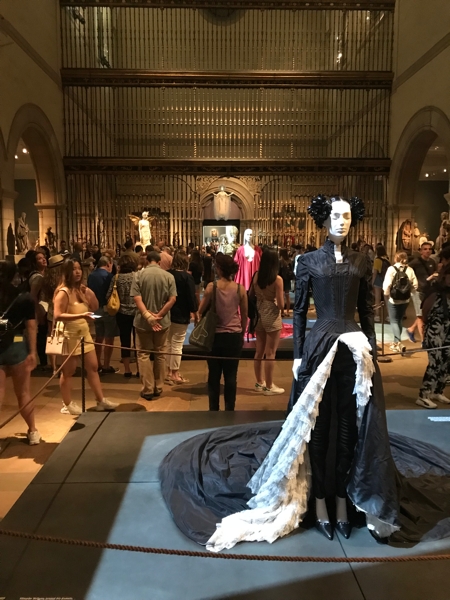 My favorite: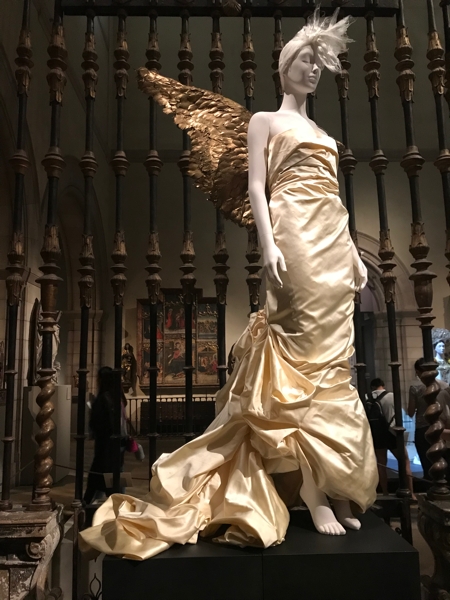 No, don't ask me who did this.  I wasn't taking notes.
There are actually three parts of the exhibit.  The second is in the downstairs Costume Institute, and there we found a opulent display of actual papal garments. (The third part is up at the Cloisters; we won't be making the trip.)
Here's part of a cape: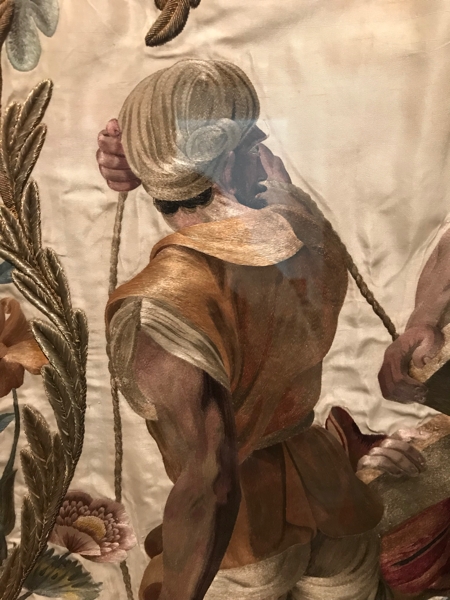 This is from a garment from an early 19th-c. pope. Look more closely: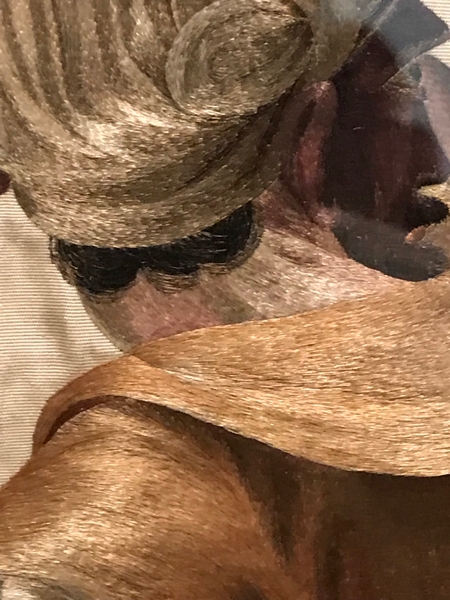 That's embroidery, not paint.  At this point, we were a little repelled by the intricacy and enormous amount of work that went into these items, doubtlessly made in workshops by very poor people who were paid very nearly nothing to create these things.  By the time we got to the papal tiaras, we called it quits and headed up to Modern/Contemporary Art.
There was a William Wegman exhibit with a charming video of him trying to get his Weimaraner Man Ray to catch a golf ball in his mouth and then drop it into a coffee can. It was hilarious but we decided to move on before the poor dog succeeded.  We immediately heard the *clunk* of success behind us.  Life.
I rather liked this: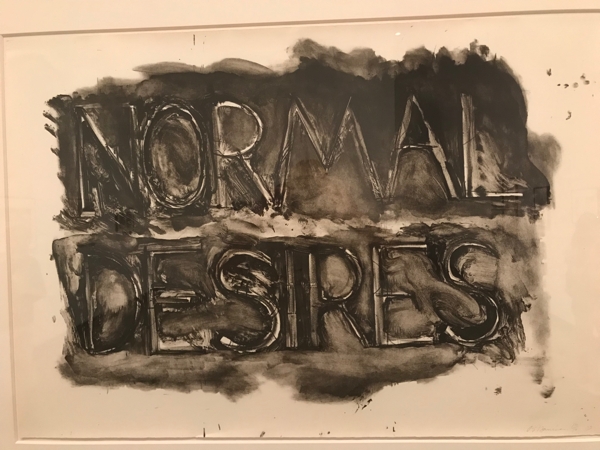 There was an exhibit called History Refused to Die: Highlights from the Souls Grown Deep Foundation Gift.  It consisted of work by self-taught African-American artists from Alabama. So much to like: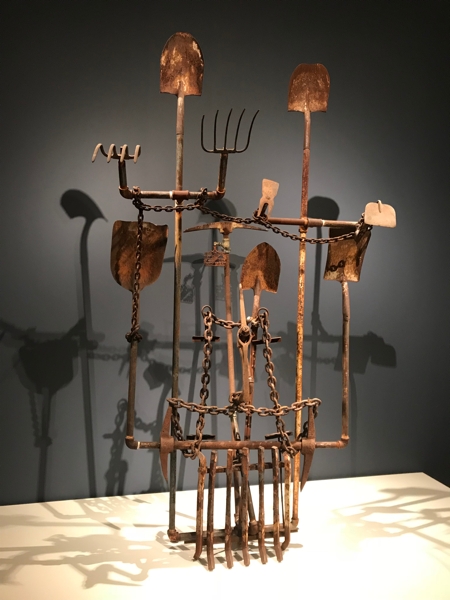 "400 Years of Free Labor," by Joe Minter.
Then there were the Gee's Bend quilts: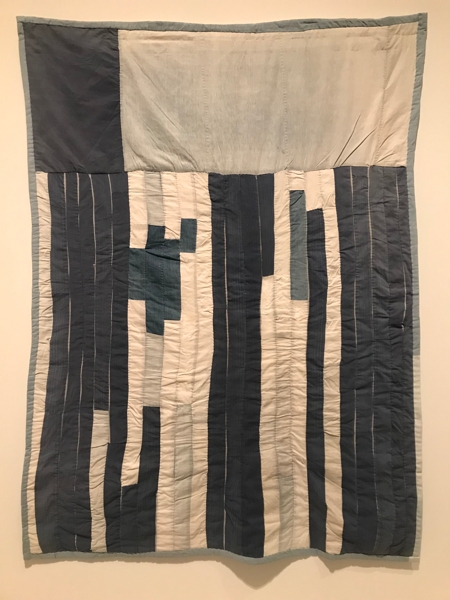 There was so much more truth in these shabby, pieced-together masterpieces than the copes and albs and surplices and capes downstairs that it hurt.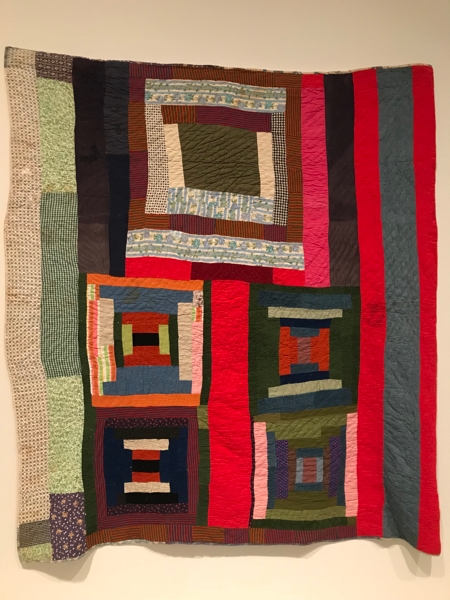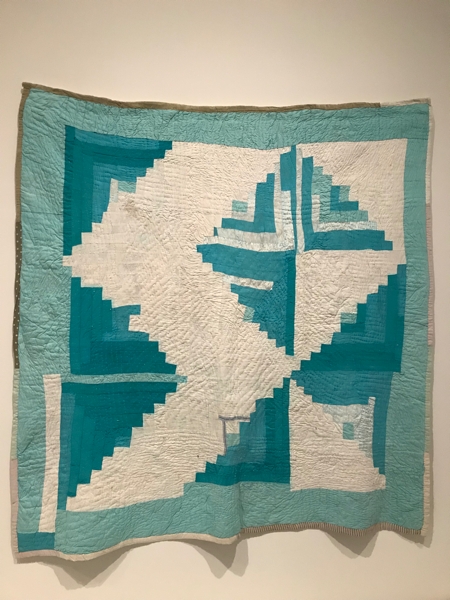 Then it was back to the theatre district to meet up with my nephew Matthew, who works at Simon & Schuster converting print books to e-books.  He had had a late lunch, and we had an early show, so we just had drinks and appetizers at some forgettable little place down there.
And then we had The Play That Goes Wrong. I booked it expecting a pleasantly silly evening a la the Farndale Avenue plays, but holy crap — this show is a force of nature. From the preshow antics (pro tip: don't sit on the aisle in the first few rows if you are an able-bodied male) to the cataclysmic finale: every moment, every line goes horribly, horribly wrong.  You think Noises Off was a shambles? Multiply that by 100 and you have some idea of what PTGW is like.
The cast is astounding, portraying members of a college theatre troupe who have somehow landed a berth on Broadway.  "For those of you who were involved in the box office mix-up, we're sure that you will enjoy Murder at Haversham Manor just as much as you would have Hamilton."
The script is goofy as hell, with Murder being a lame send-up of Agatha Christie that we barely get a chance to follow as wall sconces refuse to stay on the wall, doors refuse to close (or open), props are misplaced, lines are muffed, and actors disabled. Some critics complained that it was all a bit heavy-handed, to which I say pttttfffft. Yes, some of the bits were a bit long, but the thing is as fiendishly constructed as anything Christie ever wrote. An actor running into a post holding up a bare-bones platform ("the study") is funny; doing is a second time is funny; just avoiding it a third time is great — and then in Act 2, running into it and knocking it down, sending the platform (and the actors and rolling furniture on it) plunging — that's comedy gold.
Anyway, have a couple of drinks and see it.
—  —  —  —  —
[1] For those who are not familiar with the layout of NYC, streets go across and avenues go up and down. Streets are East or West, divided by 5th Ave.  You say the street first, then the avenue. Of course, New York messes with you by naming some of the avenues like Park and Avenue of the Americas, but they're really just 4th and 6th.  (Madison Ave is an outlier, having been carved out between 4th and 5th a long time ago for property development purposes.)