Note: this is being written after our return.  Somehow there's not an hour available for blogging when one is enjoying NYC.
One last adventure from Friday night: we were returning from Symphonie Fantastique and, as is my practice whenever I'm in the Village at night, I could not locate the nearest subway stop. So we did what we always do, and that is head east until we hit Broadway. This time, we were on Houston St, and I know that's a stop on multiple lines, so off we went. (In double-checking the map, it seems there was a station just north of HERE, the performance venue, which would have led straight to the hotel.  Oops.) We eventually found the Houston/LaFayette station and down we went.
The plan was that we hop on any "orange" train that came through (i.e., B, D, F, or M), hop off at 34th/Herald Sq (three stops), transfer to an N, R, or W train, get off at 49th, and we were home.
What some of us heard was "get on a B or D train," so when an F train pulled in, I hopped on and turned to see the rest of the party looking idly about her as the train doors closed.
As we pulled out, I looked a the couple sitting there and said, "Well, 40 years was a good run, I guess."  We laughed all the way to 23rd, which was their stop.
My phone had like 3% battery, so I used that to text the LFW that I would wait for her at Herald Square.  I also took a photo and got off an Instagram/Facebook post so everyone could share in the adventure.  Responses were hilarious.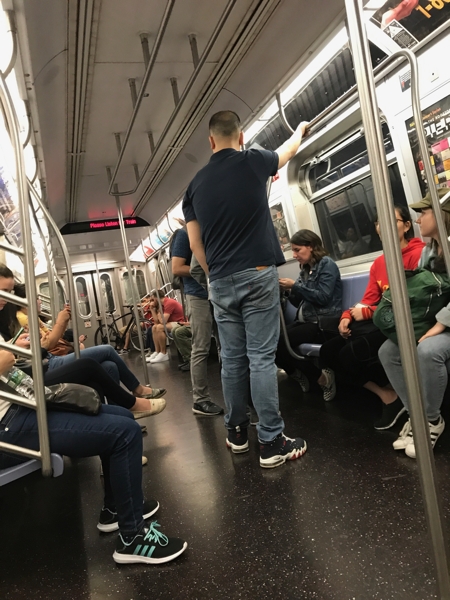 I didn't have long to wait until a D train pulled in — without anyone I knew on it. Ah, I thought, now she thinks only an F train will do, so I settled in for the wait.
Fortunately, the next train was an F, and there was my beloved Lovely First Wife. The rest of the train ride was uneventful.
Saturday
Our first stop was the Museum of Modern Art, aka MOMA. We saw two exhibits there. The first was Bodys Isek Kingelez: City Dreams. Kingelez worked in the Democratic Republic of Congo (then-Zaire), making what he called "extreme maquettes" of fabulous/fantasy buildings, images of hopes he had for his burgeoning country's future. Gaudy and impractical, they provoke in an American viewer sensations of Vegas and Miami and Coney Island.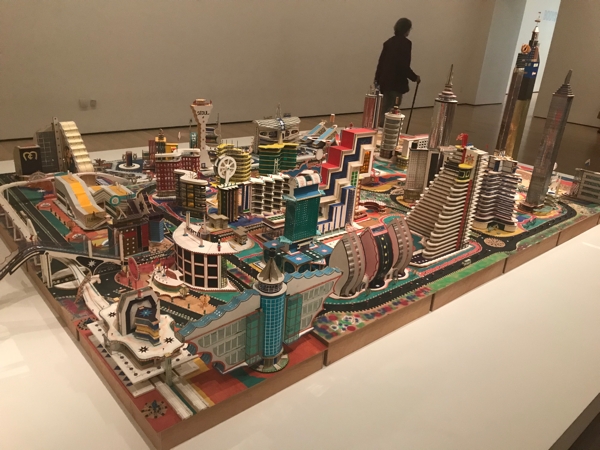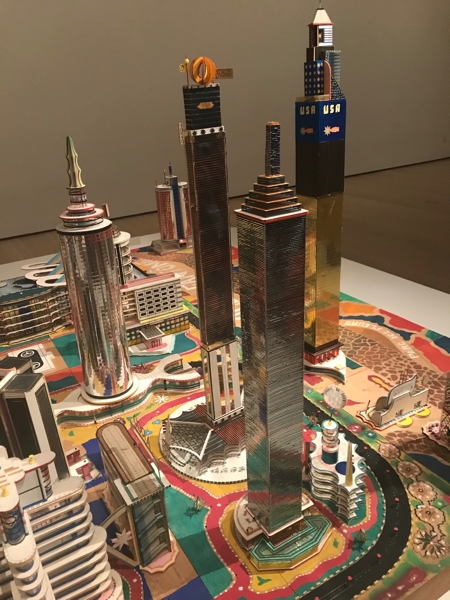 Everything is brightly colored.  Everything is clean. Everything is exuberant.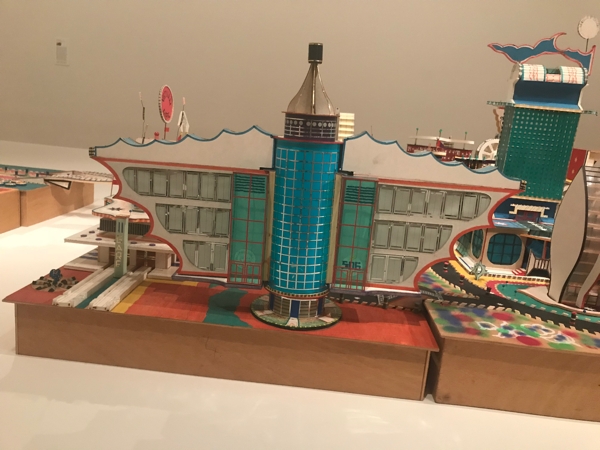 I posted this city to the Alchemy Facebook group with the caption that this was my new plan for the burn; the hippies needed to step up their game.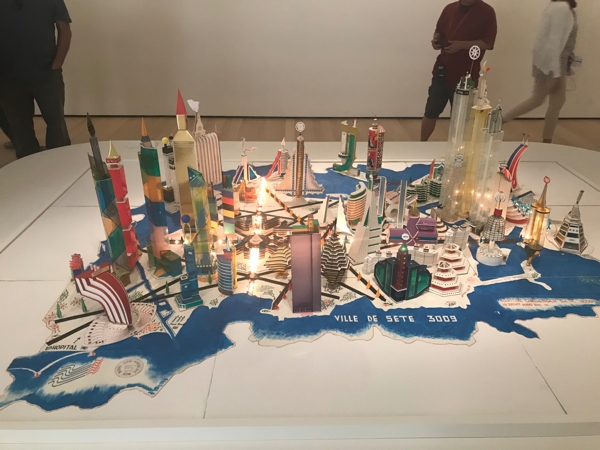 The other exhibit that we saw was Adrian Piper: A Synthesis of Intuitions, 1965–2016. This one was odd. At first fascinating, it soon became just weird and impenetrable: her obsession with numbers and ratios and patterns and scientific randomization was just opaque. You looked at all the handwritten notebooks — pages and pages and pages of "data" — and you might as well have been looking at the Koran. Her work really gave off a "somewhere on the spectrum" vibe, but that of course is my personal response.
The actual pieces were nice, though: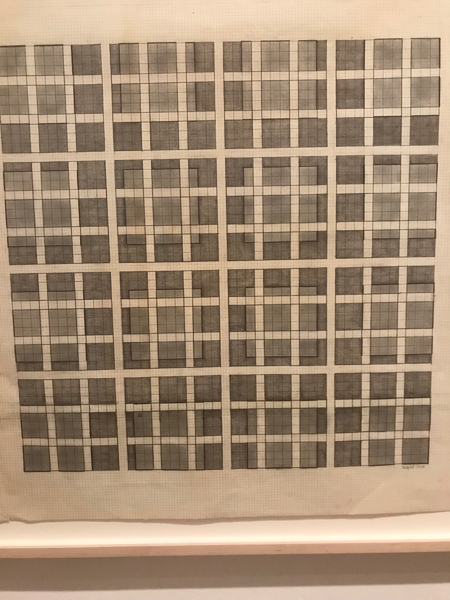 No we didn't stroll the rest of the museum: we've been before and had a show to catch.  Plus, gift shop/bookstore time!
Look at this: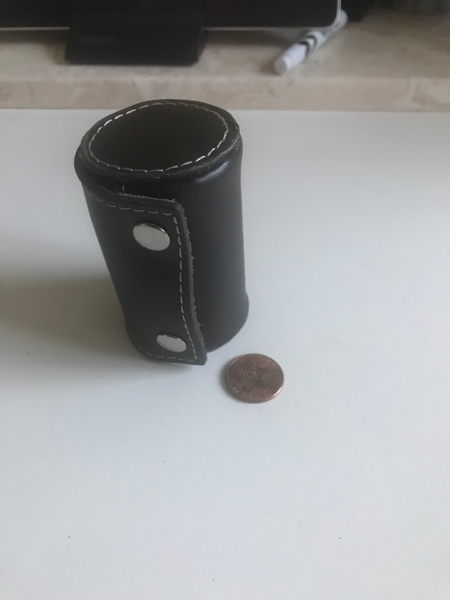 A little leather case, and inside: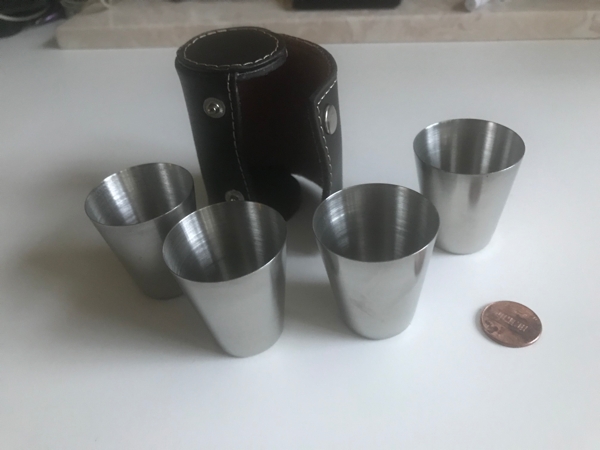 Four little stainless steel shot glasses! For $10, it's a worthy addition to one's burn equipment, I thought.
And then the notebooks, ohhh, the notebooks: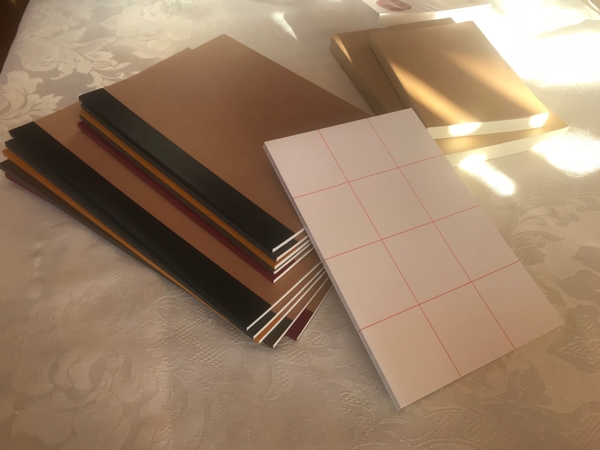 The white one with red squares — every page is like that.  I have a challenge for myself on that one.  The two in the rear are the smoothest paper I've ever felt; the sets in the front are lined journals. These last ones are Japanese, of course.
Normally I resist adding new Waste Books — I definitely do not need them — but these were beautiful and affordable: I think I spent $15 on the Japanese all told, and for my personal challenge, $8 was not too much for the grid journal.
Lunch, and then…
Travesties, by Tom Stoppard, is not an easy play. If I were asked to select a play from Stoppard's oeuvre to direct for Broadway in this day and age, I think I would have gone with Jumpers, given its themes of shifting morality and brutal utilitarianism.  But for some reason Roundabout chose Travesties and snagged Tom Hollander to play Carr, the central character and completely unreliable narrator of his memories of Switzerland during WWI.
As I said, Travesties is not an easy play.  The language is thick, the ideas are thicker. Time shifts, time repeats, time resets. Stoppard flings limericks, Oscar Wilde, Karl Marx, Dada, music hall and more at us, fast and furious. This might explain the directorial decision to have the cast machine-gun their lines rather than take their time to make them accessible and — I don't know — funny. Plus, it was so cold in the theatre that I was forced during intermission to go next door and by a Brooklyn hoodie. So that happened.
A short break, with dinner, and I don't even remember where.
The evening show was Once on This Island, by Flaherty & Ahrens (Ragtime, Lucky Stiff, et al.) and it was magnificent. Circle in the Square's stage has been transformed into a post-hurricane disaster area: sand, water, rain, wind, a downed telephone pole. The cast begins by picking up all the trash that's been blown onto the beach; their pre-show cellphone speech was epic. The producers felt, quite rightly, that after the recent devastation in the Caribbean it would be tasteless to stage the show as prettily as the original production, and so the villagers are dressed in ragged, mismatched shorts and shirts — you know, like poor people; there's a nurse (Lea Salonga) and a doctor from Doctors Without Borders. It leads directly into the islanders' relationship with their voudou gods, which becomes much more of a thing in this production.
The plot is essentially Little Mermaid — the original, not the happy ending Disney version — and the beautiful cast delivered a powerful gut-punch of a show. As the islanders begin to tell the story of Ti Moune, four of them transform into the four gods of love, earth, water, and death who hover over the story like Homeric deities, only with a lot less spite. At first donning whatever is to hand to effect the transformation — a tablecloth, mosquito netting, boat paint — they return to the stage in full regalia and move the story along. There is some powerful powerful stuff going on in this production.
This show is a must see. Try to get seats in the far end of row D.
Cocktails somewhere, and then to bed.  No subways involved.