Flying across Texas is not as bad as driving across Texas, but it's a close second: we flew into Dallas (nice little airport — sorry, Texas, but ours is just bigger in every way), had a layover and lunch, then flew into Austin to let some people off and other people on, and finally landed in El Paso.
Then we got into a car and drove back across Texas.
Oh sure, it started out with that thrill you get when you see the mountains…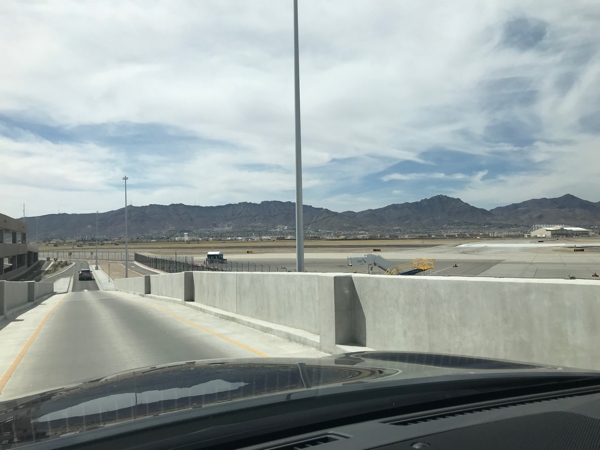 …but then you turn left and drive straight back into Texas for three hours.  After our GPS got us to a WalMart and then back onto US 180, she fell silent.  We thought maybe she had died of boredom. Every hour or so she'd tell us to "bear left," but since there was only an arroyo to turn onto, we think she was messing with us.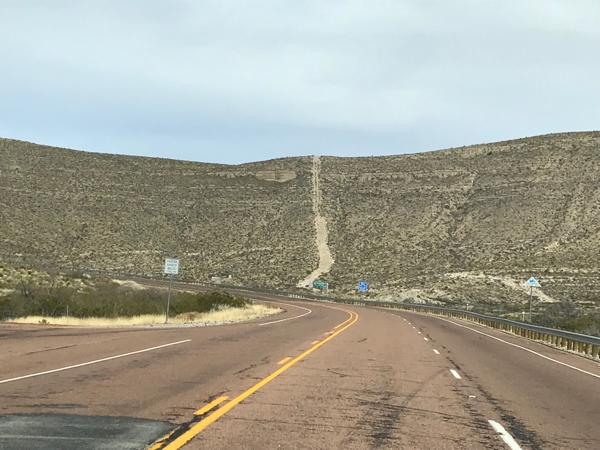 This was the interesting part.
By the way, the last time we were in Santa Fe, not realizing it was 7000+ feet above sea level, we had a touch of elevation sickness, so this time we got a prescription for a drug that's supposed to assist with that.  We started taking it before getting on the plane in Atlanta; our doctors disagree in their dosage, so this will be a test.  The bottles came with the now-standard warning label that drowsiness may occur with the use of alcohol or marijuana, and I'd like to say that the single glass of chardonnay I had at lunch was effective.
On the plus side, I finally used Afrin® before getting on the plane, and my ears did not explode like they always do.
And if you thought the last two paragraphs were boring, you have some idea of what driving east on US 180 is like.  Once out of El Paso, it devolved into a two-lane road.  Fortunately, there were enough straightaways and passing lanes that getting stuck behind an old man in a little red truck — swear to god — was not a problem.
For a couple of hours, we were intrigued and awed by this: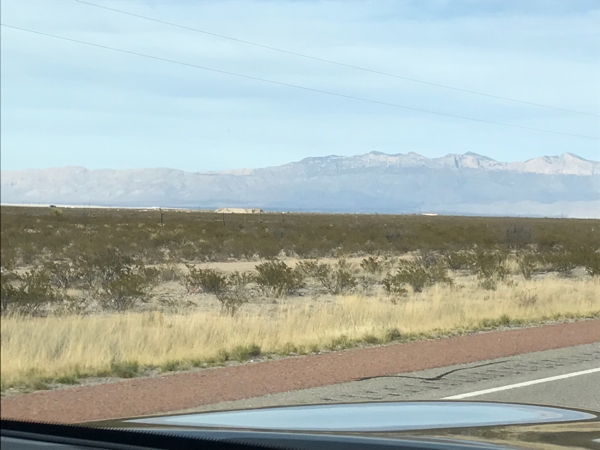 That is the Guadalupe Mountains National Park, and it loomed large.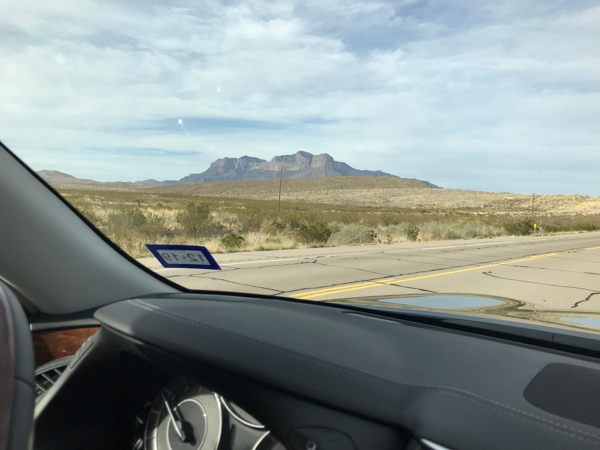 It was beautiful, and not because it was the only thing on the horizon. Note: you think you're seeing the setting sun or something light up the top, but it's the actual color of the rock: white limestone (?).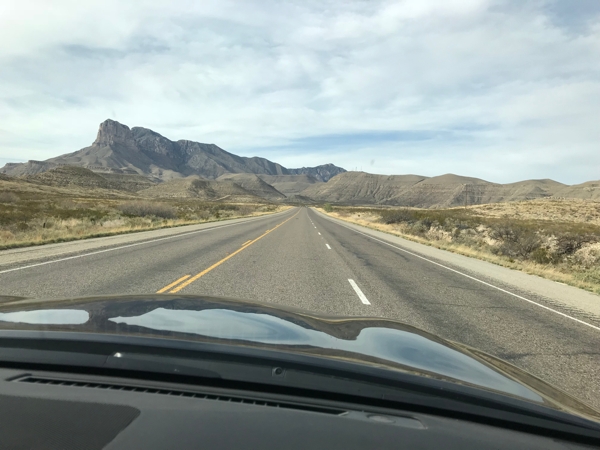 The highway actually went up and through the mountains.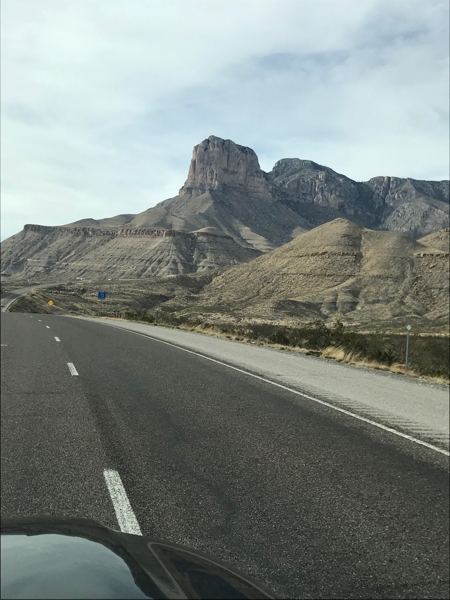 And then we were past it and back to wondering how much longer it was to Carlsbad.
There was one moment of excitement: your tax dollars have built a Customs/Border Patrol stop in the middle of nowhere, and we hit it on a day when they were stopping everyone. "Are you U.S. citizens?" we were asked, and I restrained myself from flashing my fupping passport or answering, "Da, tovarich." But white privilege being what it is, my cold "Yes" was hardly even necessary before she waved us on.
re: how much longer it was to Carlsbad — the GHS display told me that it was 5:10, we were 45 miles out, and we'd be there at 5:20. It was inexplicable, until we finally crossed into New Mexico and the time flipped to Mountain Daylight Time: suddenly it was 4:10, and I was left wondering why it was going to take us over an hour to go 45 miles.  (It's also probable that the time change going north to Carlsbad is the reason the LFW's guide book claimed it was only two hours from El Paso — do not be fooled.  It is three.)
Finally we got to our Comfort Suites hotel, right by the mighty Pecos River.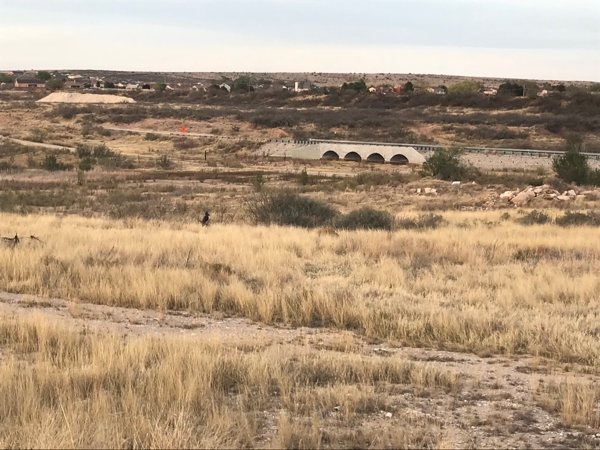 That's it. There is currently no water in the Pecos River.
We dropped our things, dragged ourselves to dinner at the lovely Yellow Brix downtown (remember, it was after 10:00 EDT), and then collapsed.
The moon was full over the mighty Pecos.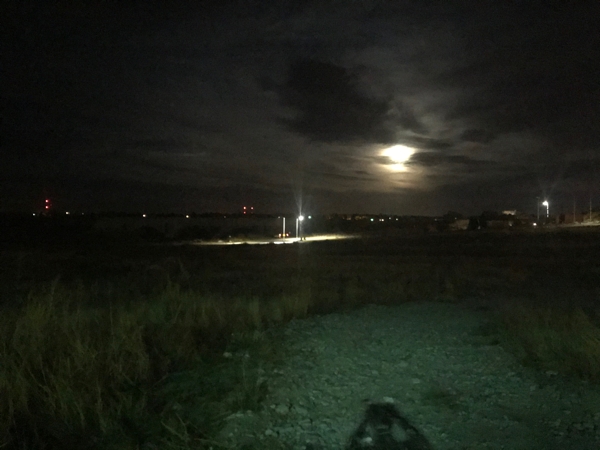 Tomorrow will be moderately more interesting.