Here's the thing about cross country capers.  One has to pack light, which is not our wont.  We tend toward the Three-Hour Tour Method.  One never knows when one will need one's lamé gown, after all.
Packing light means eschewing multiple changes of evening clothes and going with less than enough to get you through: a handful of t-shirts, a week's worth of socks, that kind of thing.  I even went out and bought the nifty travel shirt and pants you've seen in every photo of me, the kind that can be rinsed out in the sink at night and be dry by morning.
For the rest of it, however, not having enough to get through means that at some point… one has to do laundry.
So here's my protip for the day:  don't pack light.  Because unless you're spending 48-72 hours in a single place one week into your trip, YOU WILL NOT HAVE TIME TO DO LAUNDRY.  Many hotels have laundry rooms, by which they mean one washing machine and one dryer—and everyone else who packed light will be there ahead of you.
There are laundromats, of course, but THEY WILL NOT BE NEAR YOU, NOR WILL THEY BE IN A NEIGHBORHOOD YOU WANT TO BE IN AFTER DARK.  Think about it, boys and girls: they're where people who do not own their own washing machine or dryer live.  You know.  Poor people.
::sigh::
It took till 9:00 this morning, but I have clean, dry socks.  Learn from my mistakes, oh my children.  Pack for the Three-Hour Tour.
—————
So we set out for Shreveport this morning.  Here's a photo: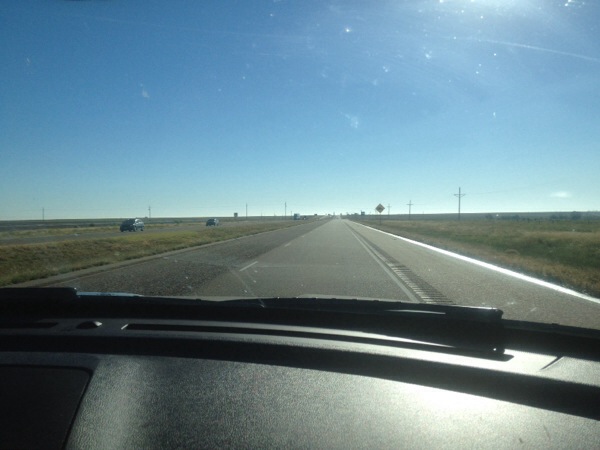 There you go.  That's it.  Texas.  I'm sure Texans would point to that vast plain with pride, suggesting that it's a feature, not a bug, but these are the people who elected Ted Cruz to the Senate.
We've been playing "guess the crop" for  miles.  To be fair, at least there is agriculture, unlike our earlier trek to Santa Fe.
Here are some random thoughts on the road.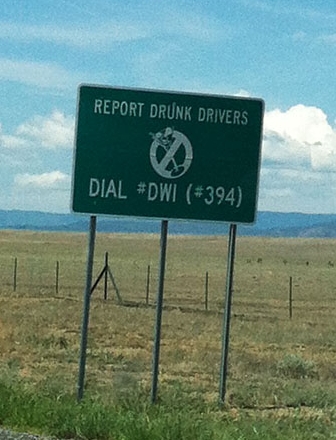 This is back in New Mexico, but I wasn't able to snap a photo as we whizzed along.  Personally, I thought the graphic was being over-hopeful about the suavity of their drunks.  A bottle of PBR or a flask of MD 20/20 might have been more apropos.
Lots of DWI signs in Texas too, but they don't have the same savoir faire. (How do we know geeks created the iPad and its dictionary?  It flags "savoir" as unknown/misspelled, while "faire" is perfectly acceptable to those who spend their time at Renaissance Faires.  Honey, please.)
In fact, I am a little concerned about the criminal nature of Texans.  They clearly need more divine intervention/redemption than the rest of the nation based on the number of God billboards alone.  It seems to be a critical area of concern from what I can see.  Bless their hearts!
Sign of the day: the small orange rectangle that informs you that HITCHHIKERS MAY BE ESCAPING INMATES.  (Vid. sup.)
Second-best sign of the day, at the Texas Travel Information Center: "Rattlesnakes are present in this area.  Please treat them with respect and caution."  Well, okay then.
Perhaps this billboard is up in Georgia now, but this is the first time I've seen Dr. Pepper 10 advertised with the catchphrase TASTETOSTERONE: the manliest lo-cal soda. Swear to God.
Fortunately for Texas's lowlife problem, there exists the Full Armor Biker Church.  Swear to God.
Ft. Worth offers the world's only twice-daily cattle drive.  I appreciate the effort, boys, but really…
Addison has the Mary Kay Museum.
For lunch, we got off at Vernon and headed to downtown based on a lead from the About Me app, but it was boarded up, as was most of downtown Vernon.  Further down the list was Mic's BBQ, so I clicked on it and was directed through some residential areas back to the previous exit, where we pulled up here:
Believe me, the photo makes the place look almost respectable.  We bravely went in, and were delighted. Wanda, the owner, was pleasant and fun, and her food was excellent.  Of course, this is Texas, and when they say BBQ, they mean cows, not pigs like Cthulhu intended.  (Geek alert: the iPad didn't even blink at "Cthulhu.")  Still, it was very good, so yay, Wanda!
It's now 5:30 pm CDT, and that's all I got.  Because of laundry issues, we have another two hours till we reach our hotel in Shreveport, booked through the Hotel Tonight app—highly recommended.
—————
I'm going to be fair to Texas: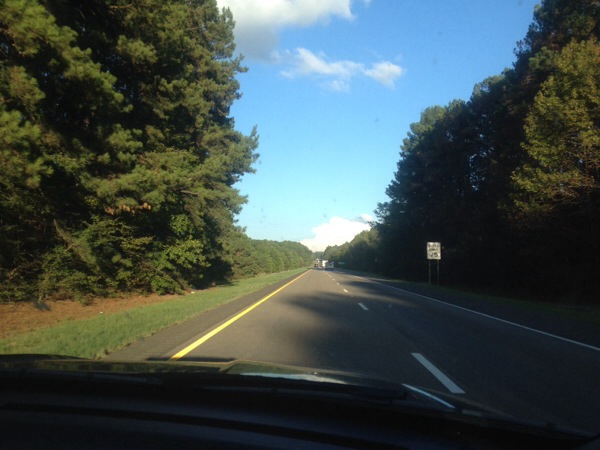 Here we are east of Dallas, heading towards Louisiana, and it's a lovely area indeed.  (There are four or five Texases (Texoi?), actually.  Everyone knows that.)  We've actually been on I-20 (!) since Ft. Worth.  If we weren't heading to New Orleans, we'd just truck on to Atlanta.
—————
Dinner at a nice little seafood restaurant, Ralph & Kacoo's, right near the hotel.  Nothing exciting from the bar.  I had hoped to make fabulous cocktails a recurring feature of this blog, but no place since San Francisco has had a bar worth mentioning.  The restaurant in the Four Queens Hotel & Casino in Vegas at least had a bartender who was able to make a Barnum Cocktail using my instructions, but since then it's been simple gin and tonics.  Oh well.