A couple of apologies: first for posting a day late — you'll understand why by the end of this post.
Second, I must apologize for slandering the mighty Pecos River. When I asked the desk clerk at the Comfort Inn about the lack of water, he seemed to be a little miffed and told us that back up at Church St. there was an actual River Walk that people really liked.  I acknowledged my mistake as gently as I could, but the bottom line was that the water in the channel could only be seen when crossing directly over the stream (as we did when we left town that afternoon).
Our first stop was Carlsbad Caverns. Do this thing! The approach is through a canyon which is more spectacular than the photo looks: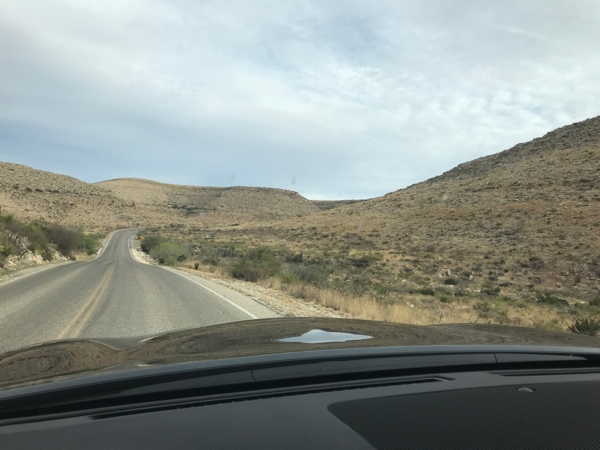 What you're not seeing is the 122 caves underneath, almost none of which have been fully explored.  (Not even Carlsbad has been fully explored.)
Isn't this nice?  It's where the rangers live.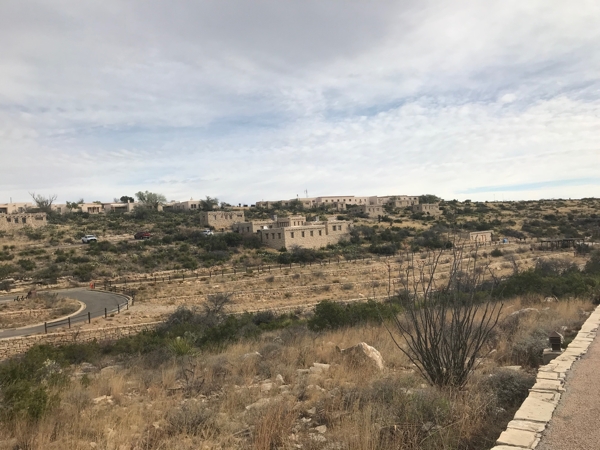 Eventually you reach the entrance, and this is the view from the top of the ridge:

And here's the entrance/museum/gift shop: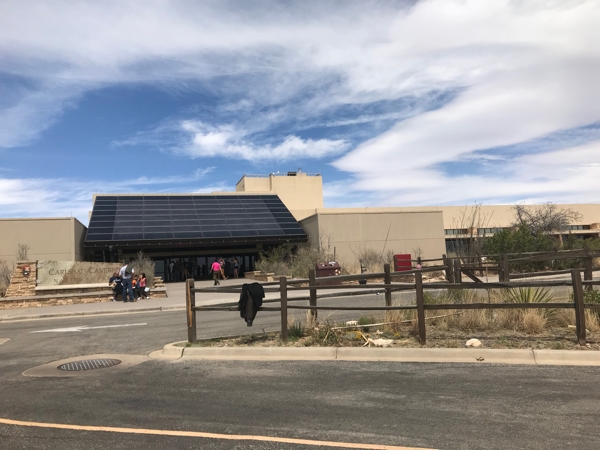 So far so good.  A pleasant and short drive, easy parking, and we get to take the King's Palace tour at 9:00.
Only not.  We were greeted along the way and again in the lobby with the announcement that the elevator was out of order, and when we stepped up to the counter we were told exactly what that meant: rather than a 60-second ride 75 stories down into the earth, we could hike the "Natural Entrance" to meet our ranger.  That would take about an hour, so they'd moved the 9:00 tour to 10:00 to give us time to hoof it.
And of course, they reminded us, we'd have to walk back out the same way.  Oy.
The walk didn't concern us as much as the time.  The plan was to do the tour 9:00–10:00, move on to White Sands, and then to Albuquerque in time to try one of the craft cocktail bars I had so carefully researched.  If we did the cave tour, it would add two hours to the schedule.
So of course we went into the cave.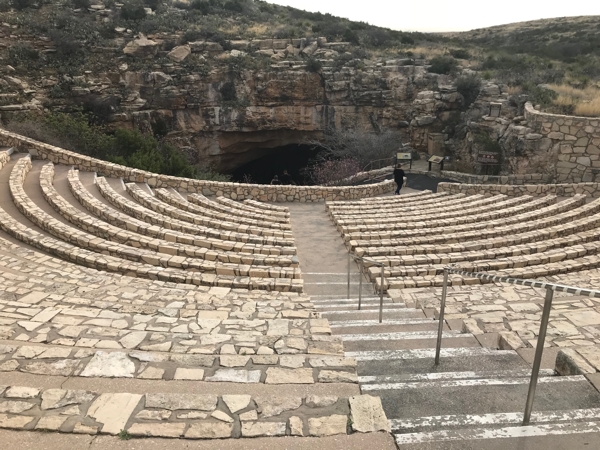 This is the amphitheatre where you sit and watch a bazillion bats fly out at dusk.  The bats are not in residence at the moment; they decamp to Mexico for the winter and won't be back until May.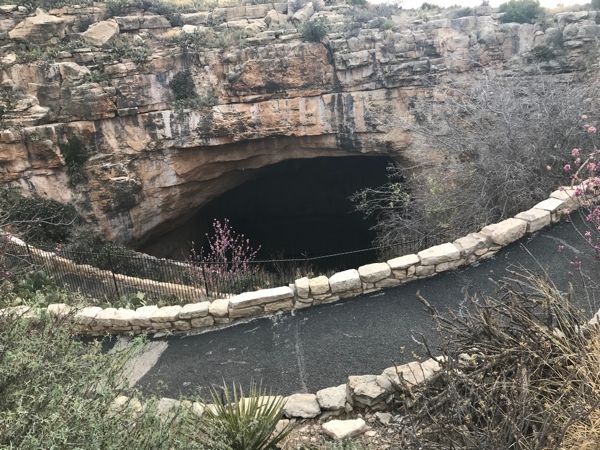 And…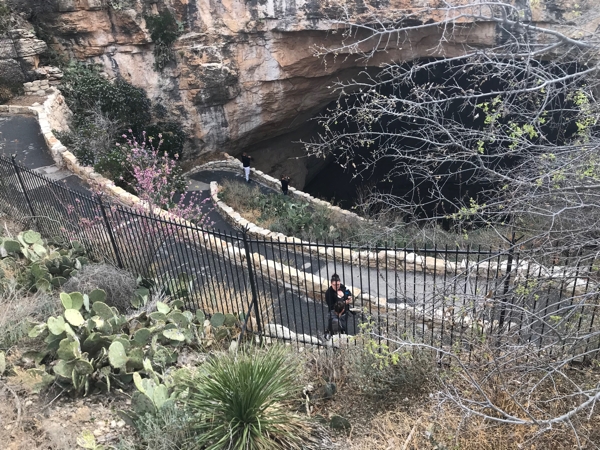 Switchbacks.  Lots and lots of switchbacks. More switchbacks than you have ever dreamed of encountering.  More switchbacks than Lombard Street in San Francisco times 100.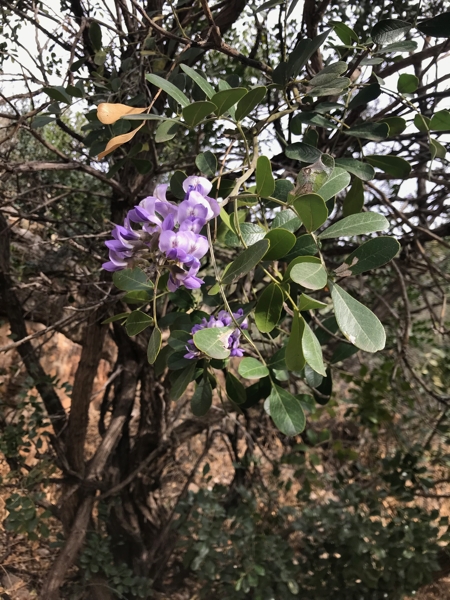 This is Texas mountain laurel in bloom.  It's quite lovely.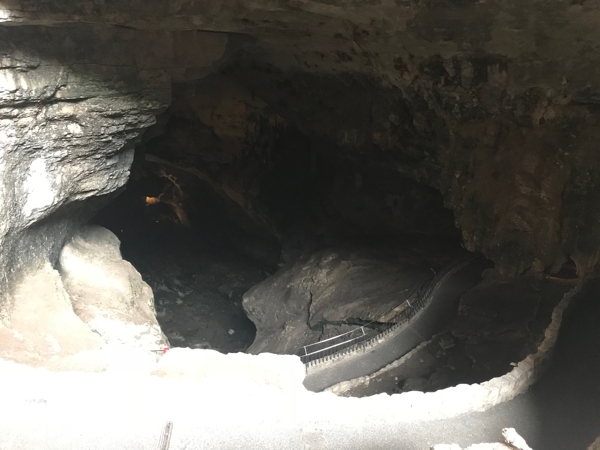 Halfway down into the entrance.
The bats were not in residence, but the cave swallows were.  I was previously unaware of the cave swallows, but about 50 years ago a colony of 2,000–3,000 cave swallows took up residence in the entrance.  Here's a video:
Obligatory selfie.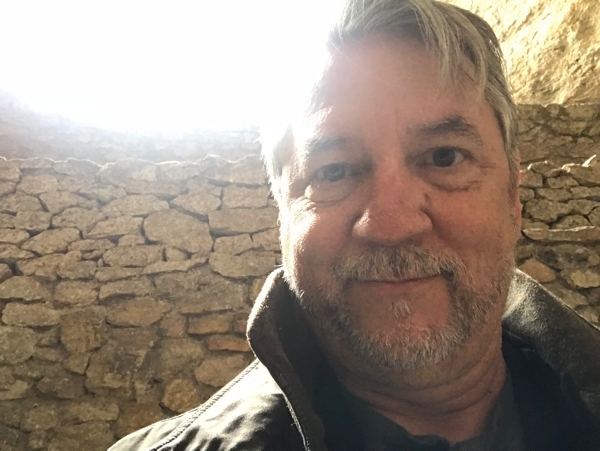 Looking back at the entrance once we were down: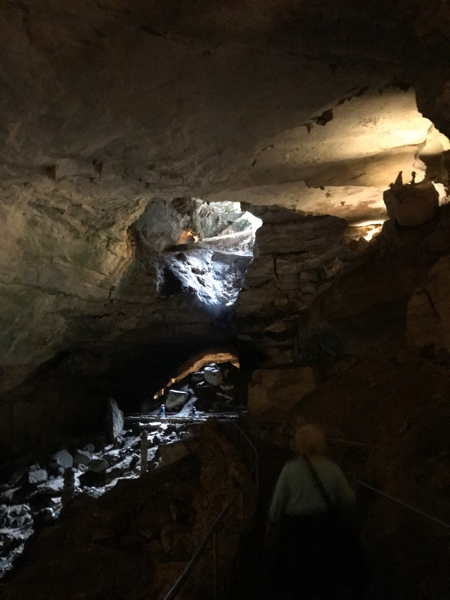 …and then…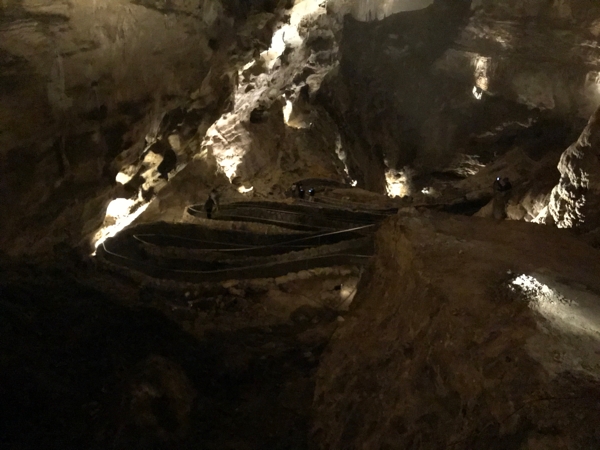 … more switchbacks.  Steep switchbacks.  Remember, we were trekking downwards 75 stories.
Cthulhu showed his presence early: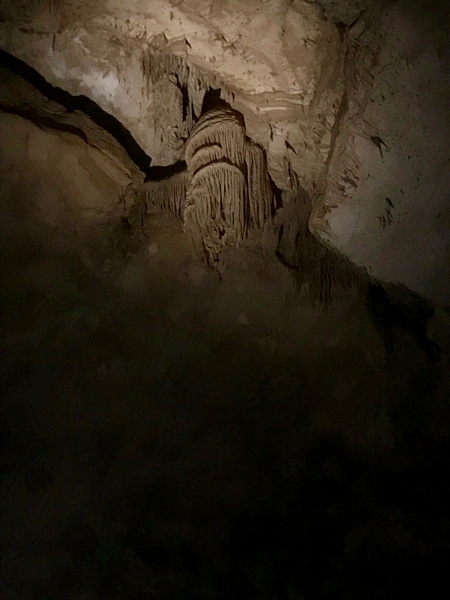 More switchbacks.  It was interminable.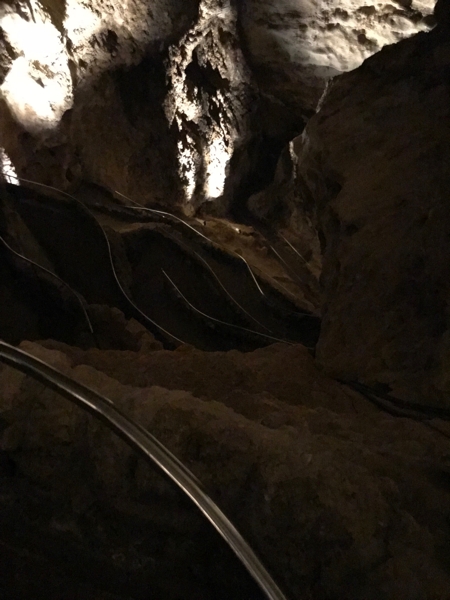 Down and down and down. Eventually we reached the snack bar/restroom area where we were to meet Josh, our ranger for the tour. The first people we encountered, though, were maintenance people emptying the trashcans.
Ah, we said, and how did you get down here? They hemmed and hawed.  When pressed, the man smiled and said that he could neither confirm nor deny the presence of a service elevator.  When pressed, he said he would not want to risk the public on it, so apparently it's in bad shape. The LFW said bluntly that she was willing to offer money, and he at least laughed.
Finally we gathered round Josh, a bright, good-looking young man, who was an excellent tour guide: just the right amount of information at any given point, and with a clear passion for the cave.
Here's what we saw on the tour:
Words cannot describe the vast spaces, the intricate constructions, the overwhelming multiplicity of forms that you see in this cave.  I recently read Breaking Open the Head (Pinchbeck) in which the author— pursuing/studying modern shamanism — convinced himself that we are surrounded by multiple dimensions inhabited by beings of alternate energy and they are somehow responsible for life as we know it, i.e., intelligent design of some kind.
However, unless the aliens had a hand in every molecule in the cavern — and Pinchbeck would probably say that's the point — you have to confront the fact that randomness will produce an infinite number of forms, and if those forms are self-replicating, then evolution is mind-boggling but not unpossible.
That was a lot of deep thought, so have a naughty formation: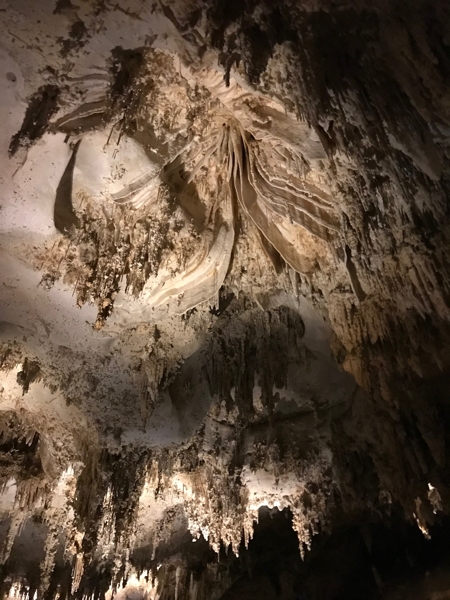 Have a cute doggie: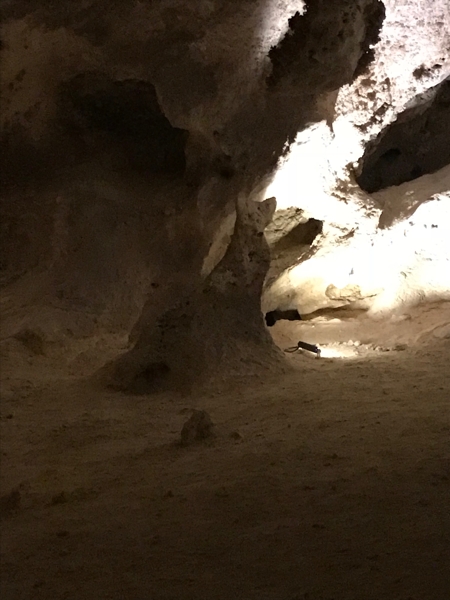 And one last tribute to Cthulhu: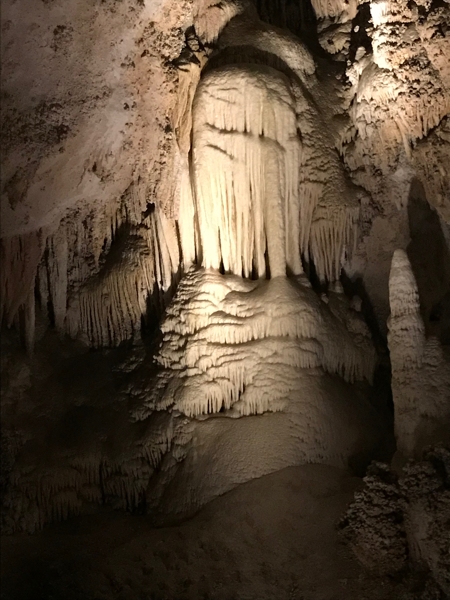 The climb back up was, shall we say, a lot more strenuous than the trip down.  I feared for some of the people we saw going down: frail elderly, people with toddlers, and obese Americans.  I began to formulate the theory that the park people were not making the risks clear so that at least someone would collapse and die, scandalizing the nation and prompting an uptick in funding. Sneer if you like, but hey, we were right about there being a service elevator.
Then, nearly three hours late, we hit the road to White Sands Monument, three hours away. Lots of boring landscape, although the little town of Artesia seems to be a happening place.  Multiple pecan groves, people, although there were not any places to stop and sample them.  (They wouldn't have been open on Easter afternoon anyway, I suspect.) The landscape changed into foothills, finally giving us actual trees and a river. Up up up and over a mountain and then steeply down: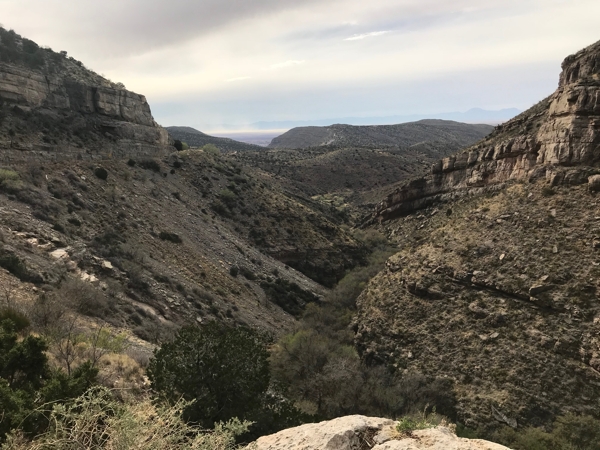 This was on the way down.  See that white patch in the distance? That's 275 square miles of white gypsum sand dunes.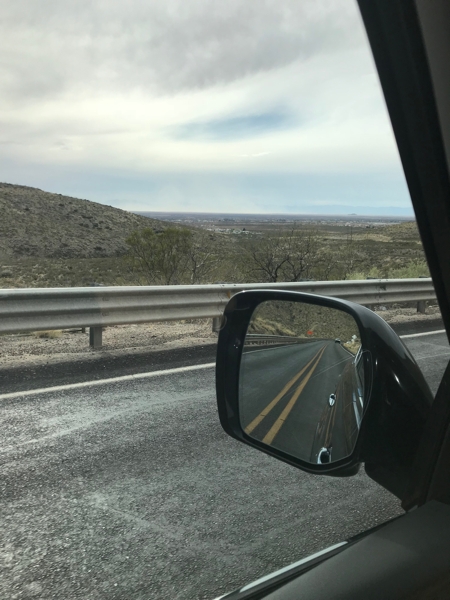 That is not rain in the distance.  It's wind blowing sand around.
Finally we popped out of the mountains into Alamagordo, then through and on out to White Sands.
The road into the Monument: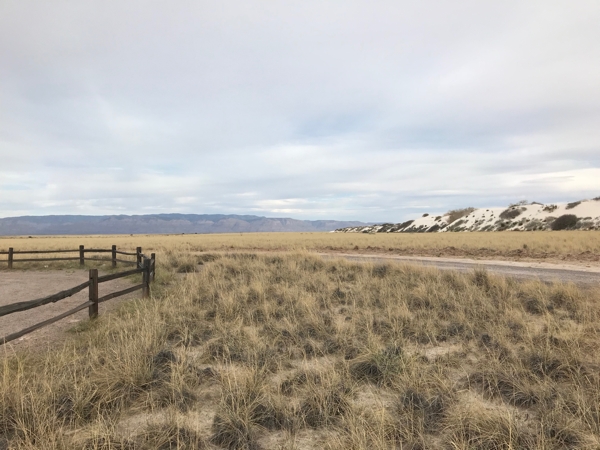 The way this works is that the solid rock of gypsum…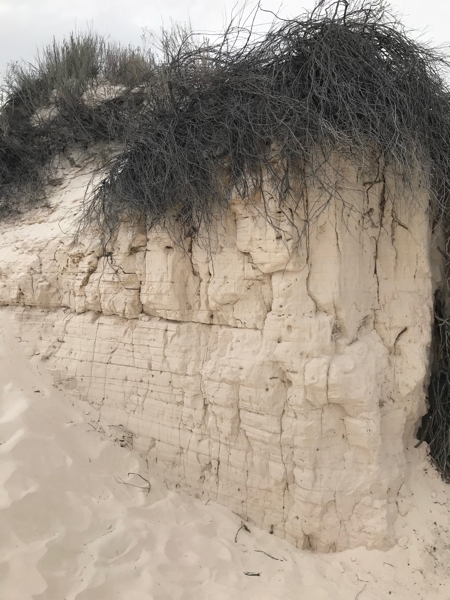 …is eroded by the wind.  When it rains, the sand will form crystals…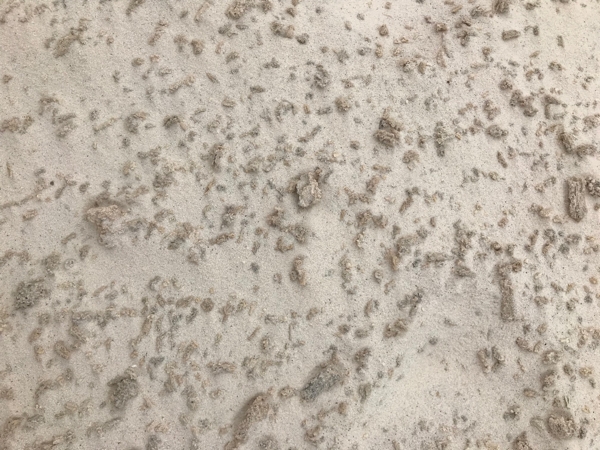 …which will erode back into fine, fine sand: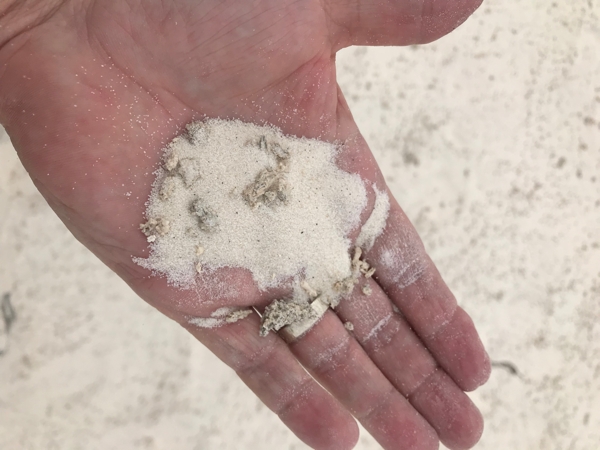 You will have noticed that yes, I drew a labyrinth.  I wish we had had more time; there was a sunset walk led by a ranger that I would have like to gone on, if for no other reason than to see the mice and lizards and foxes and critters.
However, we had another THREE AND A HALF HOURS to get to Albuquerque, and that's if we didn't stop to eat.  Not that I'm complaining, but we didn't stop to eat after Carlsbad either, so that meant for the entire day I was eating out of the snack bag.  And do I need to point out that there were no cocktails involved?
To cut a 1000-word post short, we sped through empty landscapes, not stopping for dinner, and arrived in Albuquerque after 10:00 pm.  No time to write, no time for cocktails, no time for anything but collapsing, then sleeping late.  And that's why I didn't blog yesterday.
The sunset was, however, lovely as always: