Back to the Falls!
Today we do the American side, which is smaller and in some ways better organized and enjoyable than the vast Canadian north.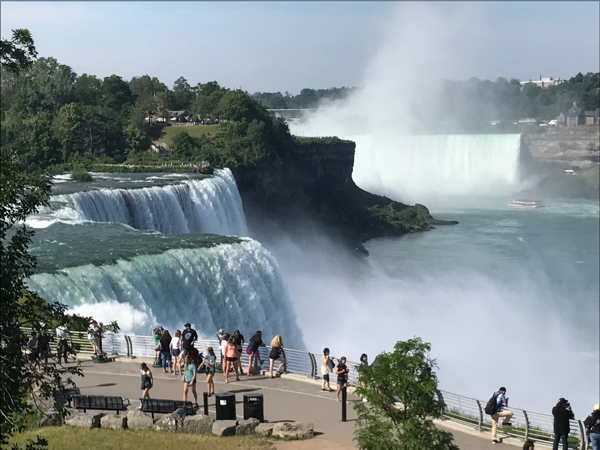 You can compare the views from the two countries, and clearly Canada wins on scale and scope.  But there is much to admire from this side as well.
We arrived early and went straight to the Maid of the Mist ticket line and almost literally walked straight onto the boat.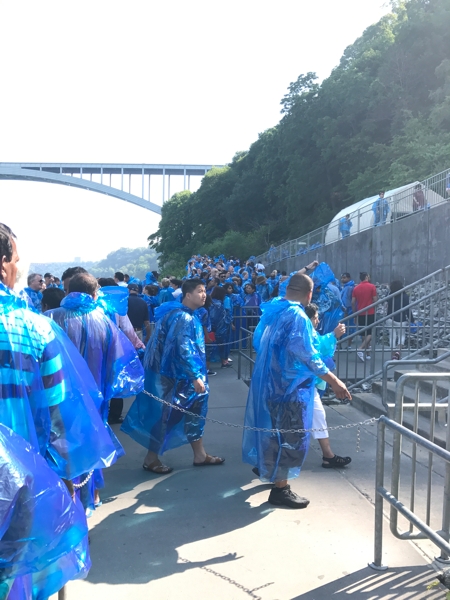 On the Canadian site, all misters wear red ponchos.  I have a video from up on the cliff of tourists entering a tent and emerging as blue Minions; it's very amusing.
What can I say about the Maid of the Mist experience?  It's just overpowering.  You are taken past American Falls…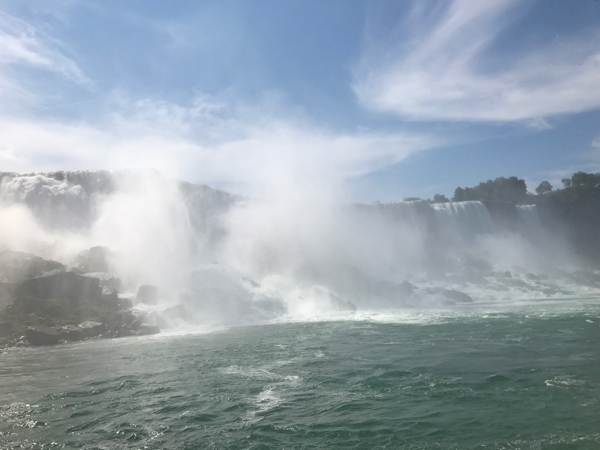 …past the yellow Minions doing the Cave of the Winds thing at Bridal Veil Falls on Goat Island…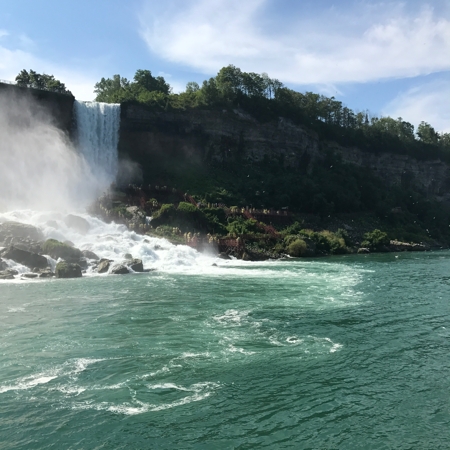 …over to Horseshoe Falls in Canada.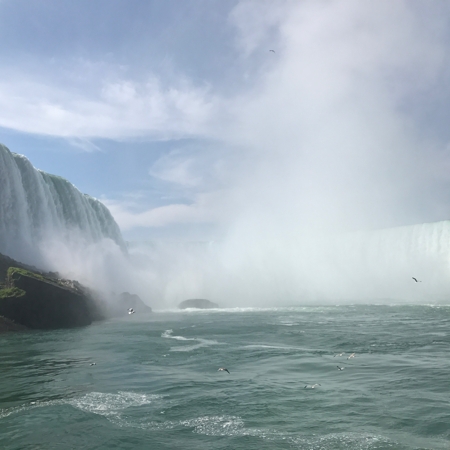 You get up to the middle of the arc of the horseshoe…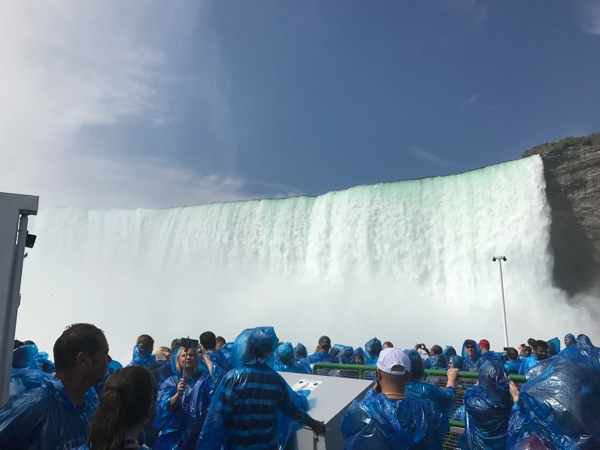 …where you of course get fairly wet.  I chose not to wear my hood because my poncho experience on the other side was not positive.  I was fine.  Keeping your cell phone dry can be a challenge, but I have more than a few photos of the ride (and a couple of my pocket) and I've experienced no ill effects.
You are mesmerized.  There's no other word to describe it.  Technically the Niagara River is a strait, a narrow body of water connecting two larger ones, Lakes Ontario and Erie in this case, and what we're seeing here is a fifth of the world's supply of fresh water falling over a cliff—and you can't stop looking at it.  It won't let you look away.  It never stops, it's always the same, it's ever changing.
After the ride, you can go back up top or you can "visit the Dalai Lama" as we termed it: climb a wooden staircase up to the edge of American Falls with all the other blue Minions: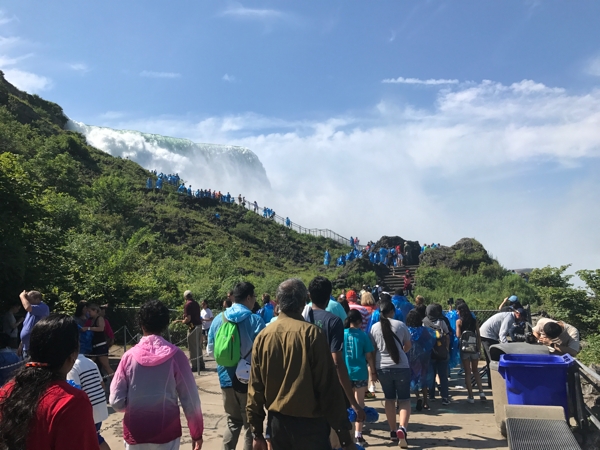 It's slow going: everyone wants to stop and take photos, and the stairs are wide enough only for one lane going up and one coming down.  Totally worth it: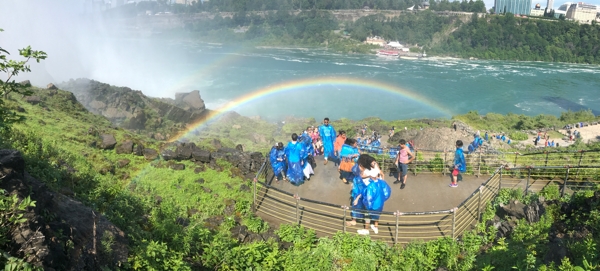 Pro tip: if you do the American side before noon and the Canadian side afternoon you will always see rainbows.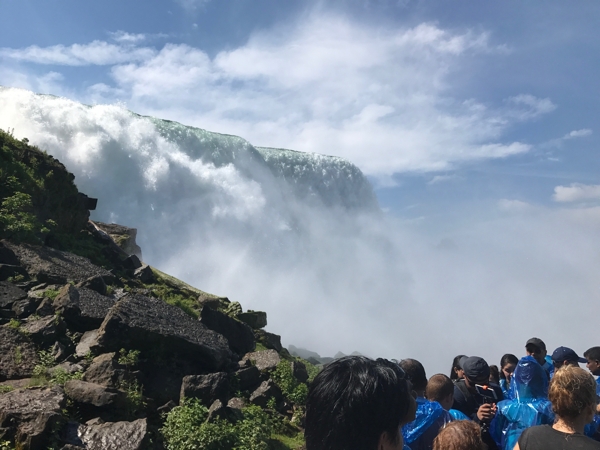 Finally we took the elevator back up to the observation deck.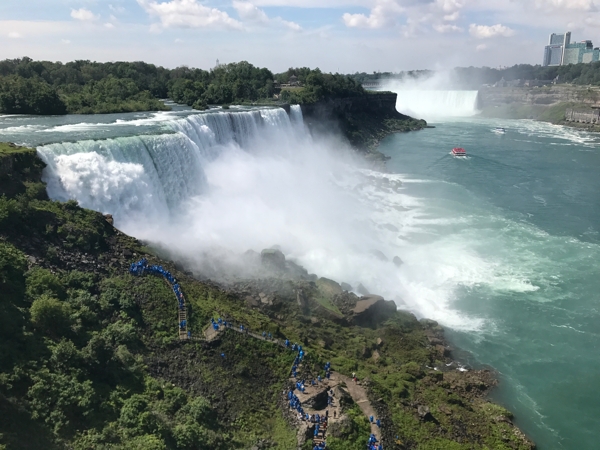 See the blue Minions?  We were there.  (You can recycle your poncho or keep it as a souvenir.)
We got tickets to see the iMax movie about the Falls after I double-checked with the info station that it was in fact an informative and well-made film about the falls and not a lame animated juvenile beaver.  With water spraying on me.
It was in fact an informative and well-made movie, although it focused more on the daredevils who braved the Falls more than the geological history.  It is nonetheless worth seeing.
From there we drove over to Goat Island, the island that divides the Falls.  I cannot explain it, but I've always been fascinated by the idea that this island just sits there between two huge cataracts ever since National Geographic used to run regular articles about the Falls.  So over we went.  (There are no goats, which I found both inexplicable and deplorable.)
We grabbed lunch at the Top of the Falls restaurant, which I mention for two reasons…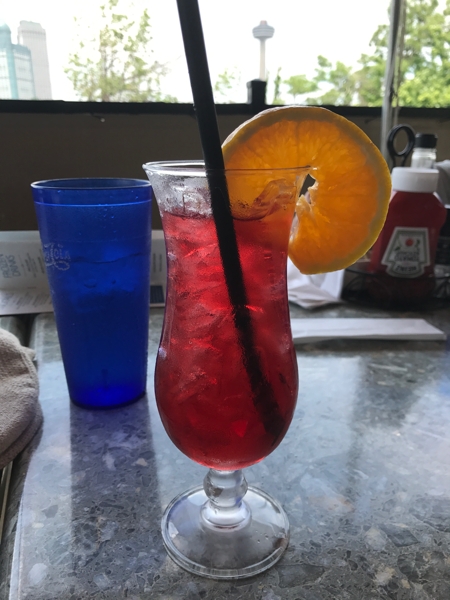 …the Old Fort Niagara (vodka, cognac, cranberry juice, grenadine), and…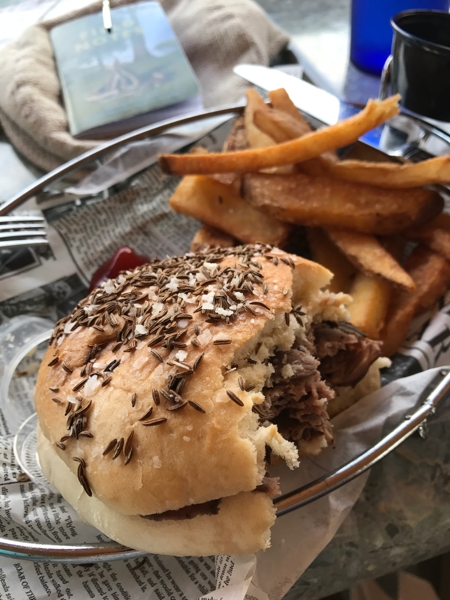 …"Beef on Weck," a western NY specialty.  It is thinly sliced roast beef on a kaiser bun sprinkled with caraway seeds and sea salt, with horseradish and au jus.  It is very very good, and I don't particularly care for caraway.
Goat Island is undergoing a bit of renovation, and one thing they're doing is native plant landscaping.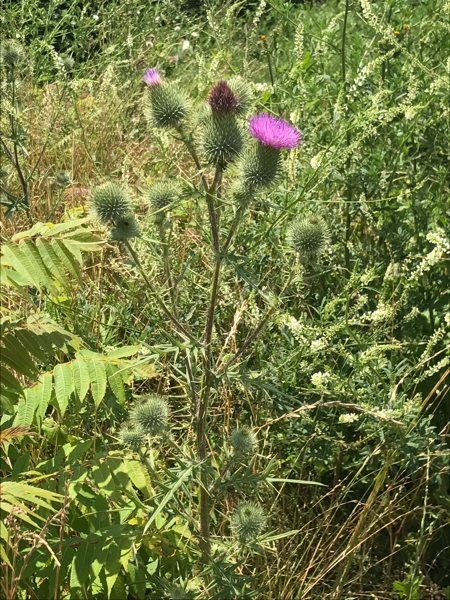 Scotch thistles, my favorite.
Over on the American Falls side of the island, I shot this video at Bridal Veil Falls:
Below you can see the yellow Minions who have gone down to the Cave of the Winds experience.  We had that on our list to do, but by the time we finished lunch there were three long lines to stand in under the blazing sun.  We had to walk away with much regret.
We began the trek back to Medina, stopping at the Whirlpool State Park.  All that water that comes over the Falls?  After it turns the corner from Niagara, it all enters a very narrow gorge, and the rapids there are Class VI, unnavigable.  About 4200 years ago, as the Falls eroded their way upstream and chewed their way through the escarpment, the river intersected with a loose sedimentary layer and catastrophically washed it all away.  (Truly, they think it may have happened in a couple of hours.)  It left a large, circular pool that the rapids empty into with some violence.
Here are the rapids: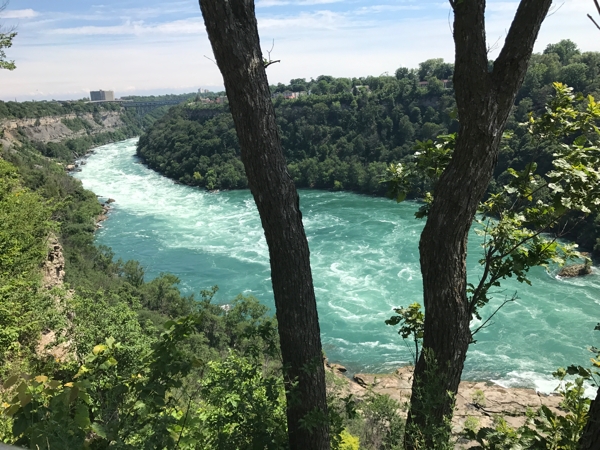 And the whirlpool: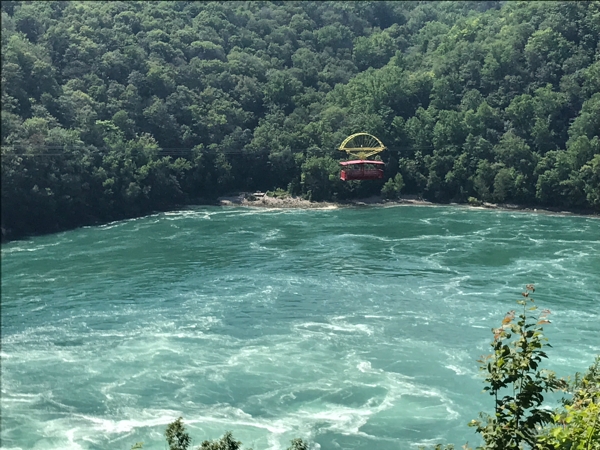 The Canadians run a cable car over the thing and have since the early part of last century.  Oy.
The park itself is your basic overlook, part of the Niagara Gorge Hiking Trail.  Again, native landscaping: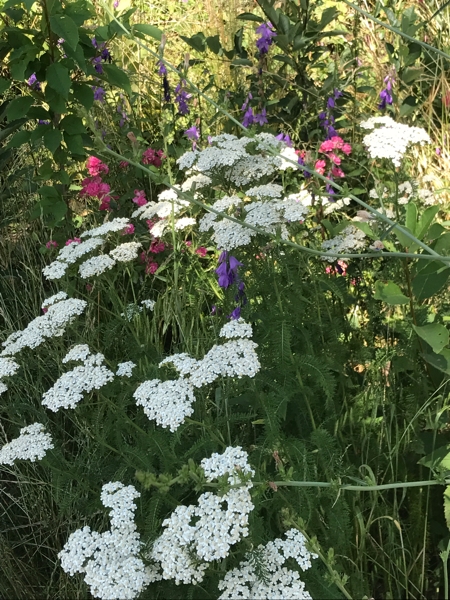 Once we made it back home and freshened up—including a groundhog sighting in the back 40—we set out to explore the nightlife of Medina. You might very well snicker, but we had a great evening.
First up, 810 Meadworks, a small meadery that's fairly new.  The owner/brewer, Brian, welcomed us and talked us through our sampling.  My lovely first wife does not care for mead, but the rest of us did, and we ended up with three meads each to sample and share for a total of nine meads.  And Brian's wife makes craft chocolates to pair with them, and I strongly advise you to go for that option.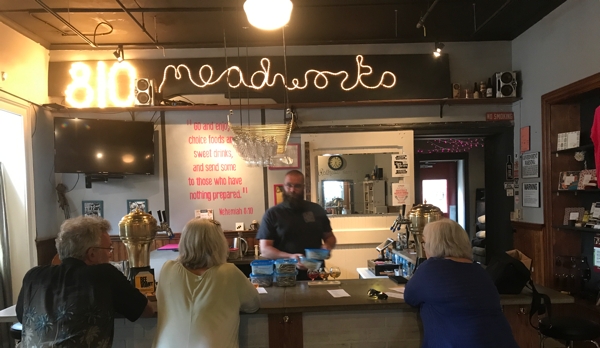 Behind us is the complete brewing equipment.  In fact, we entered through that room.
Here's my tasting flight: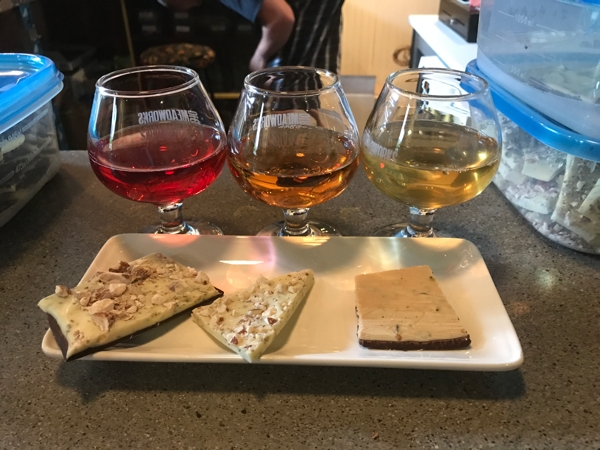 l to r: Raspberry Mead (wildflower honey w/ raspberry); Jewel of the Newell (wildflower honey w/ pomegranates & oak); 21-Bean Salute (clover & buckwheat honey w/ vanilla beans & coffee beans)
I failed to record the chocolates, but they were delicious on their own and perfect complements to the mead.
Since some may not be very sure what mead is exactly: it is fermented honey.  You would be forgiven for thinking that such a think would be unpalatably sweet, and some meads are, but these were not.  Brian had dry, semi-sweet, and sweet meads.  These three were all semi-sweet.
Yes, we ended up with a bottle each of Jewel of the Newell and 21-Bean Salute, which oddly the LFW liked.
So if you're keeping track, that's a bottle of vodka, a bottle of gin, three bottles of NY wine, and two bottles of mead.  But who's counting?
We asked Brian for a restaurant recommendation; without hesitation he recommended Zambistro over on Main St, which would have been our first choice via Yelp anyway.
There the food was amazing.  No photos, alas, but it was the equal of anything we've had in Atlanta or on the Danube, for that matter.
After dinner, we crossed the street to Fitzgibbons, an Irish pub that opened in January.
The decor is amazing—I wish I had gotten a photo of the wall to the right, all carved wood.  More Bree than Dublin, it was a fun place.  We had a quick whiskey before heading home.
On Main St, Medina, NY: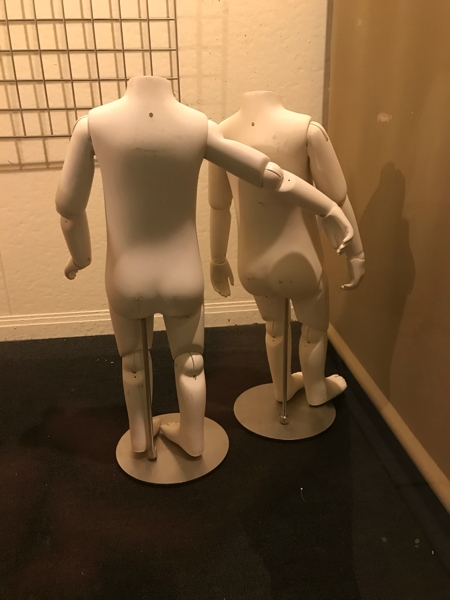 Well all right then.