We had plans to do several things before leaving Toronto but we got a late start and had to pick only one.  We opted to head to the Art Gallery of Toronto, which was designed by Frank Gehry—who grew up in the neighborhood.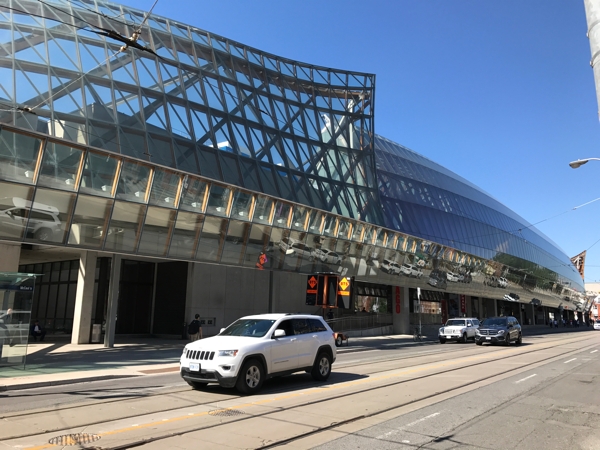 It is in the shape of an overturned canoe.  Make of that what you will.
Around the corner is the Design Museum: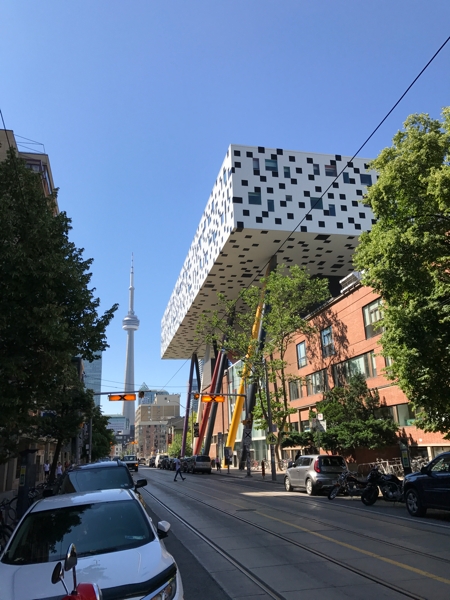 The top part is classrooms.  (The CN Tower is in the distance.)
Huge courtyard inside, very traditional national gallery space, but with Gehry: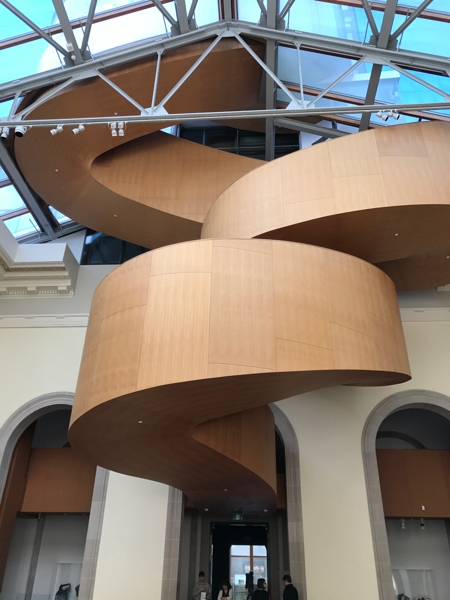 We were there to see the Georgia O'Keeffe exhibit, which was of course wonderful.  We had been to the O'Keeffe Museum in Santa Fe back during our Great Cross Country Trip, which was nice but not comprehensive: most of her work is in major collections elsewhere.  This exhibit pulled together an overview of her career and was phenomenal.
Here's a great quote from one of the walls: "Whether you succeed or not is irrelevant, there is no such thing.  Making your unknown known is the important thing—and keeping the unknown behind you."
Whenever we go to a museum, especially to exhibits like this one, we will pick out the piece that we would welcome as a gift.  "You can buy me that one for my birthday."
Here's mine, a graphite/chalk sketch from 1943, Untitled (Abstraction):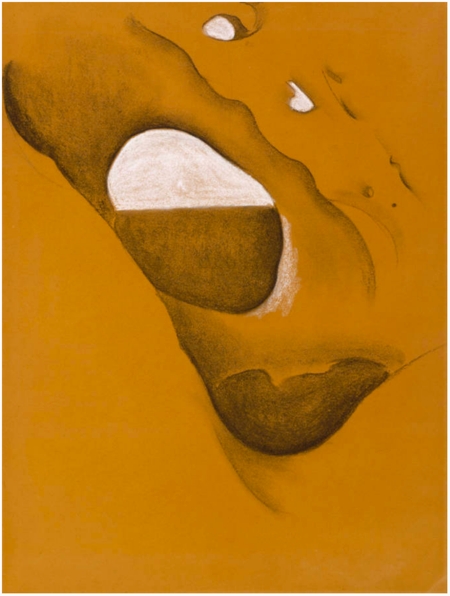 Encountering it up close, as one does as one walks around the exhibit, it was just a nice abstract sketch.  Later, as I wandered back through, I looked over at it from a distance and was smitten.  You can buy this for me.  (Contact the O'Keeffe Museum in Santa Fe.)
On the fourth floor was an exhibit of contemporary art which consisted of pieces by either aboriginal or immigrant Canadians responding to the 150th birthday of their nation.  There were some very interesting pieces, some of them more political than others, of course.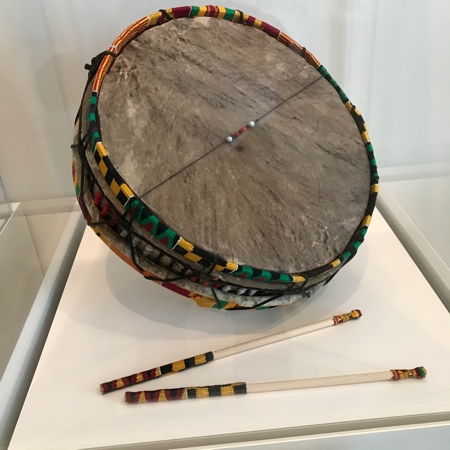 This is not a drum.  It's wooden.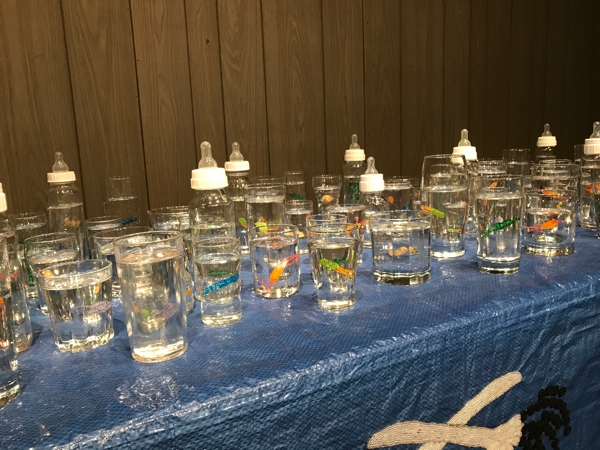 The pertinent details on this one are hard to see: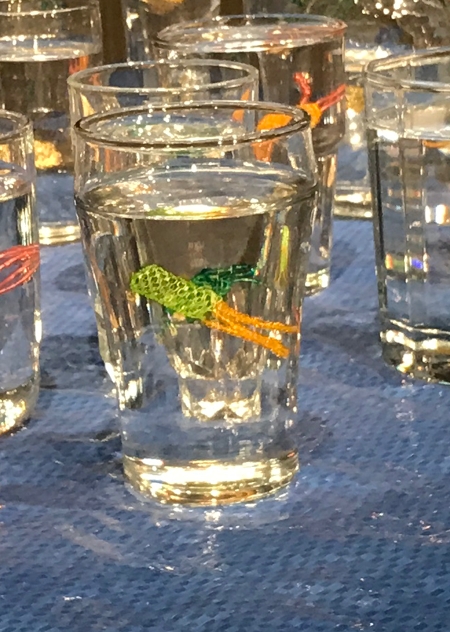 The artist has made beaded bacteria and put them into acrylic "water."  The installation represents the contamination found in the water of the reservations of the First Peoples across Canada.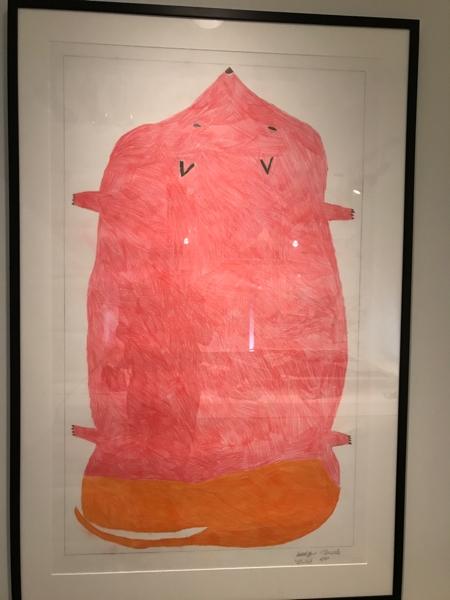 The title of this coloured pencil on paper is Lemming Buttocks are Dirty (2013).  I liked it.  (Yes, I giggled.)
Then it was time to rush back to the hotel, dig the car out of the subterranean parking lot, and DRIVE TO NIAGARA, KENNETH.
But first, as we blundered our way around Toronto looking for a recommended Thai restaurant that does not seem to exist (what is it with Canadians giving directions to non-existent restaurants??) we came across this: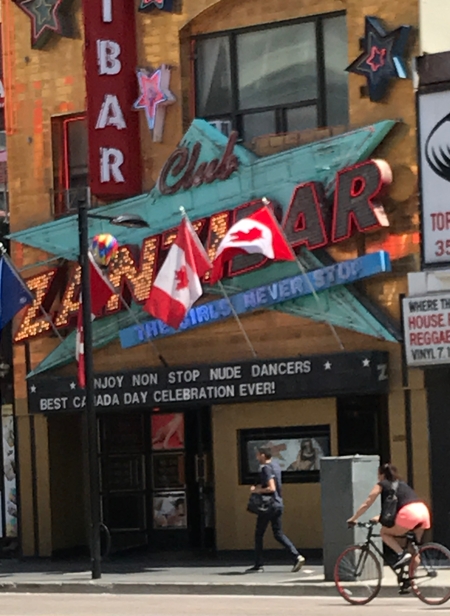 Oh, Canada.
Your daily inner twelve-year-old alert: The Queen & Beaver Pub, Mr. Softy & Delight, and "hand-pulled noodles."
Since this is Day 4, travel dialogue was not as jolly as you might have come to expect.  There was an extended discussion of oral hygiene involving little brush thingies for flossing that may or may not have involved the phrase "ridged for her pleasure" and devolved from there.  Otherwise, we just slogged it to Niagara with the one lunch break.  (Harvey's is a great burger/salad place to stop at.)
Pro tip: going to the Falls on the 4th of July is possibly a bad idea.
And it was a bizarre shock to arrive at the main intersection and see this: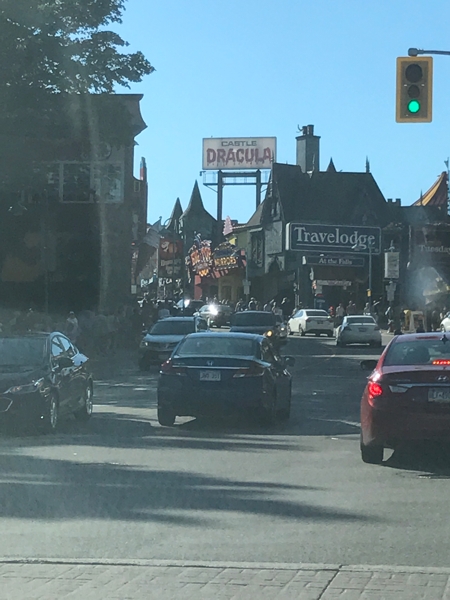 Completely Gatlinburged.  Oy.
I jokingly posted this photo to Instagram to wish people a Happy 4th: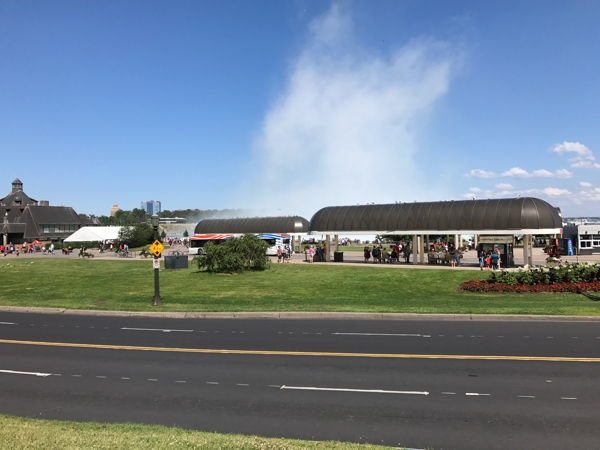 The LFW's original plans were to go on to Medina, NY, then come back to the Falls, but we convinced her it made more sense to stop on the Canadian side while we were there.  We were wrong: we arrived so late that there were no tickets to all the things we really wanted to do.  However, the views are spectacular: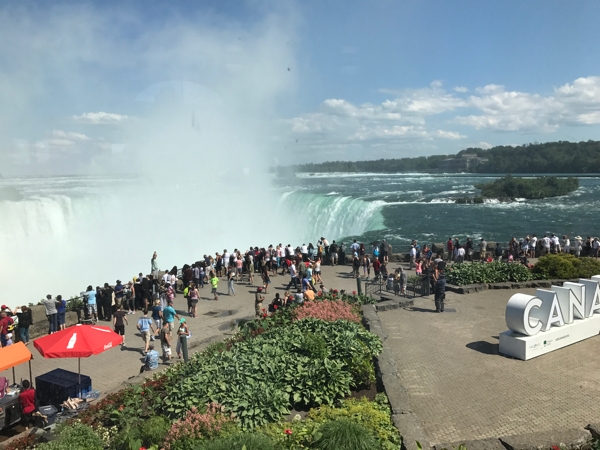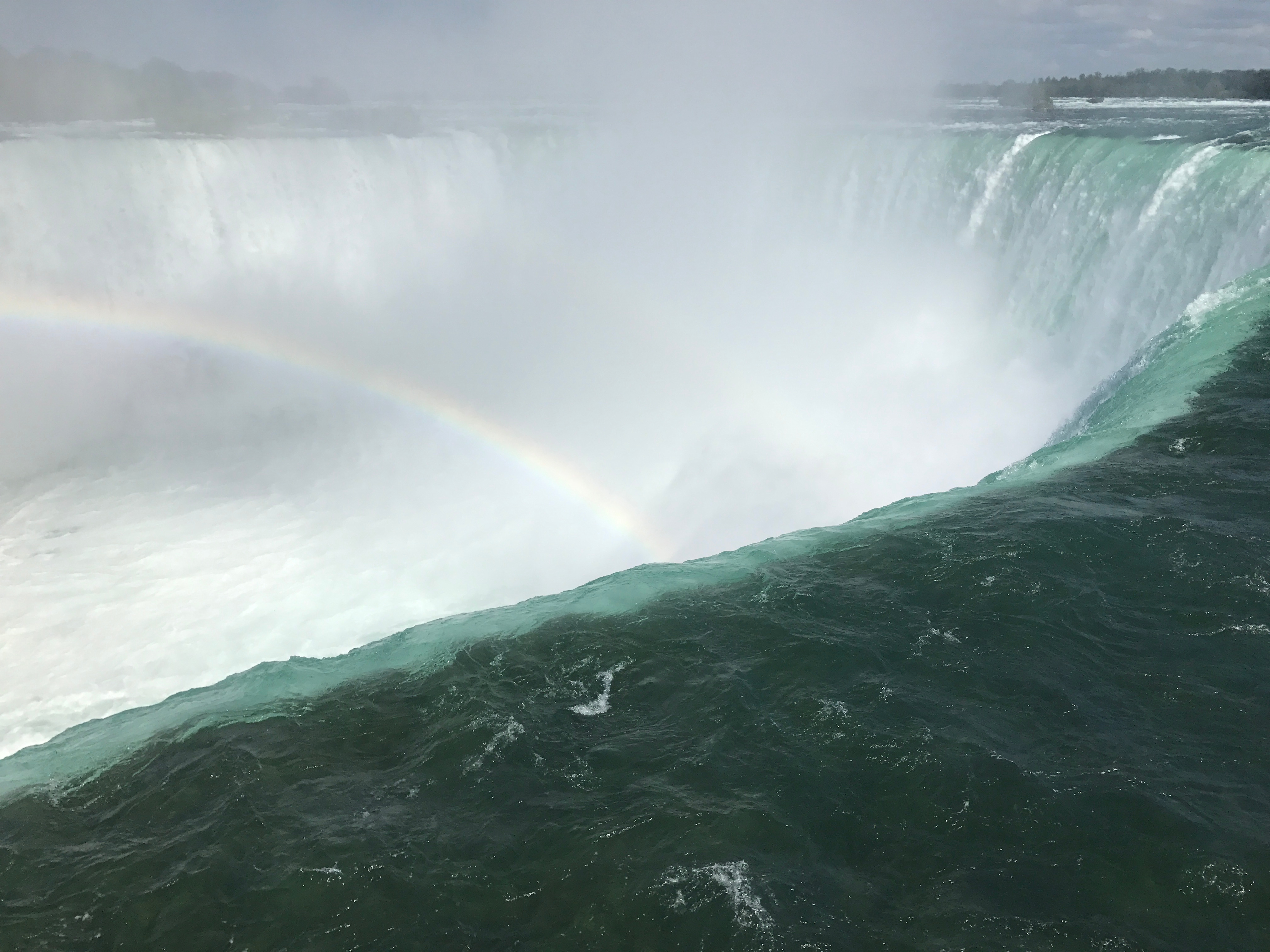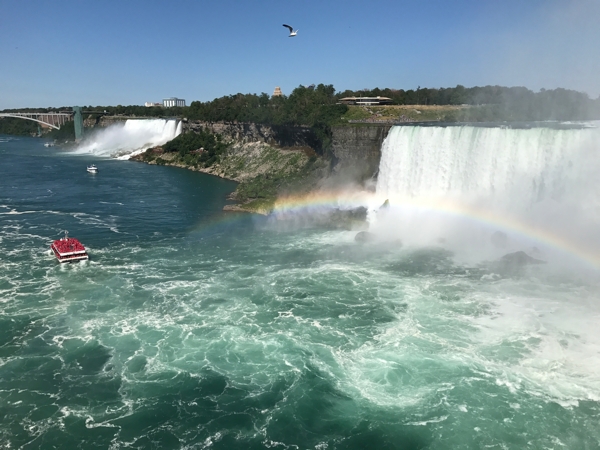 Then we made the error of deciding that we would go ahead and at least see the movie.
You should understand that at the Grand Canyon, there is a National Geographic IMAX movie about the Canyon and how humans have interacted with it that is first rate and astounding.  It would be great, we thought, to be able to sit in a cool, dark theatre and learn something about the Falls in a similar fashion.
Our first clue that this was not going to be the same was being handed a poncho as we entered the theatre.  And then there were no seats.  We all stood and watched an amazingly lame animation of a young beaver who was being assigned a 200-word essay on the Falls as punishment for some misbehavior on a field trip.  A book falls on his head and he's whisked back in time, etc., etc.
The storyline was choppy, historical/geological context was minimal, and the target audience must be the 8-year-old school crowd.
And the ponchos?  After the short cartoon, the doors opened into the next room, where we all went in and stood on a round grated platform, where we were subjected to a 360° film experience that involved water.  Oy.
When it was finally over and we were making our way to the exit, I pulled off my poncho and with it the new earring I had bought at the Art Gallery just that morning.  I felt it go, and of course it fell straight through the grate into the waters below.  We looked for it briefly, but at that point I was over it.  Feh.
Then we drove to Medina, NY.  It was completely adventureless.  Or at least my brain was so dead that I didn't register anything.
Our view of Lake Ontario as we arrived: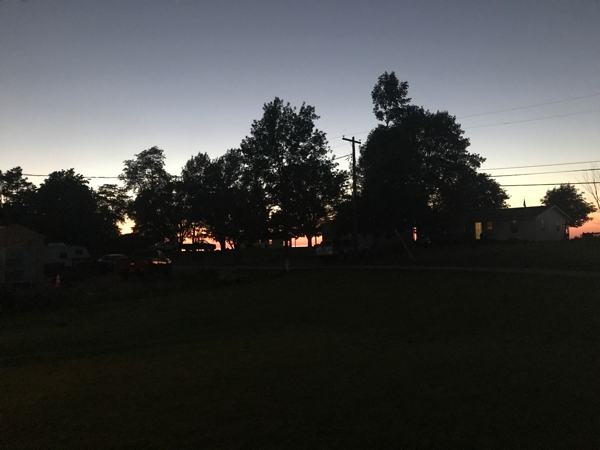 Onward!