Ugh.
This past spring I replanted the grass in the labyrinth — again — so that it would look reasonably beautiful for the spring equinox.  That was a mixture called "contractor's seed," and it was a blend of winter rye grass and fescue.  Guaranteed, etc.
The winter rye sprouts quickly and is lovely, but it is a short-term seasonal solution.  After a few months, it dies.  No worries, because then the fescue sprouts and establishes itself, right?
Not so much.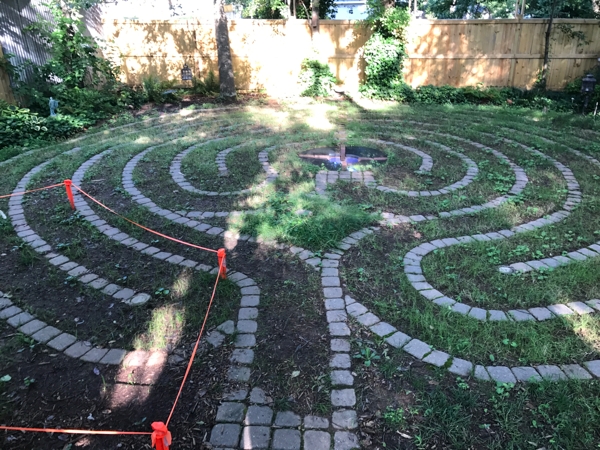 Even worse, I was gifted a bag of seed from a grass specialist, which three weeks ago I planted in a test patch visible in the above photo.  This seed is zoysia, and I have misgivings.  Yes, it provides a lush, thick carpet of grass, but it will also devour anything in its path.  Our front yard is zoysia, and before we installed my parking place there was a brick walkway which I had to laboriously uncover at least once a year from the zoysia's encroachment.
Still, this seed was professionally advised, so I thought what the hey?  Plant a test patch, see if it's actually going to come up in the shade, and then I can decide from there.
Behold: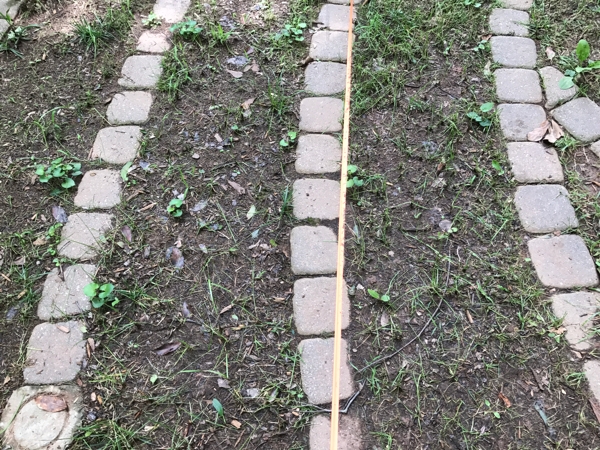 The two paths on the left have been seeded with zoysia and watered every day.  The path on the right is untouched.  There is no difference, Kenneth.
Right now, of course, the entire labyrinth is essentially mud, between last week's rain and the daily watering.  I've turned the daily watering off for a while to see if that will allow anything to come up for air.
Maybe I'll just kill all the grass and go with plain dirt.
Ugh.