As you no doubt will recall, last Easter I was called upon to come up with a signature cocktail for our traditional Easter luncheon with friends, the result of which was the suspiciously tasty Jellybeanitini.
This year, on Saturday, I got the cryptic text message that I was to bring a cocktail called "Who's Your Bunny?"  Well, all right then.
I figured I had two options: silly and sweet like the Jellybeanitini, or dark and mysterious.  I bought both chocolate caramel bunnies and Peeps as garnish for either eventuality.  But by the time I finished my rounds at Kroger, I was pretty sure it was going to be the latter, and in the end I used neither candy.
If I were a real blogger, I'd have photos of every step in the process, but I'm not and so I don't.  I don't even really have a good photo of the drink itself, and it's too early in the morning to make one.  Although—and hear me out here—it occurs to me that I could pour one and not drink it.  Crazy talk, I know, but sometimes it's radical thinking like this that moves humankind forward.
Hold on, I'll be right back.
—————
That was difficult, but I have prevailed.  And now…
Who's Your Bunny
dipping chocolate (I used Ghirardelli's dark)
chocolate sea salt
1.5 oz brandy
.75 oz blood orange juice
.75 oz Amaro di Angostura
.5 oz creme de cacao
.25 oz Chambord
2-3 dashes chocolate bitters
Melt the chocolate, then dip the rim of the glass into it.  Immediately dip a quarter of the rim in the sea salt.
If you're feeling frisky, go download a Playboy bunny tattoo design and create a fabulous garnish by piping the melted chocolate into that iconic shape.  After it hardens, brush more melted chocolate onto the tips of the ear and where the eye should be; sprinkle with sea salt.  (When you're piping the shape, extend it downward into two prongs, then glue it onto the glass with piped chocolate.)
Shake the other ingredients with ice, pour and serve.
The rabbit garnish is not really necessary and actually gets in the way of drinking it, so feel free to go with the simple elegance of the rimmed glass.
The drink is kind of sweet with bitter undertones, and the chocolate/chambord flavors lurk just in the background.
I've saved the photo for last, because this was outrageous.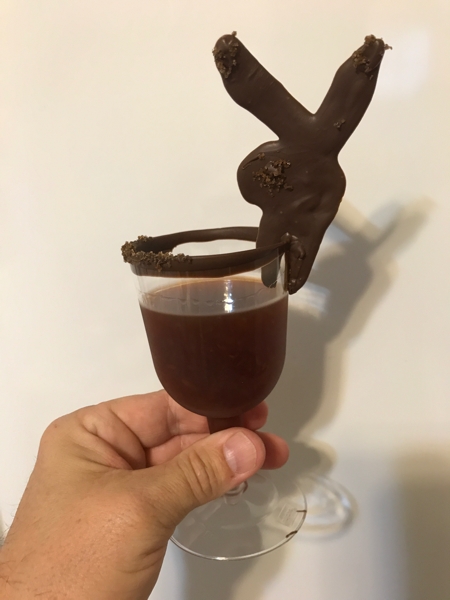 Yes, that's a disposable plastic wine glass. Sue me.  Here's close-up of the bunny: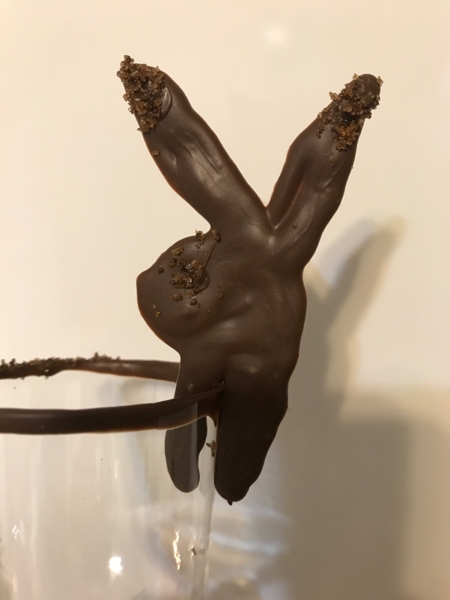 Pro tip: to transport these things safely, use painter's tape to tape them to a tray.