I know, it's a horrible name no it's not it's adorable.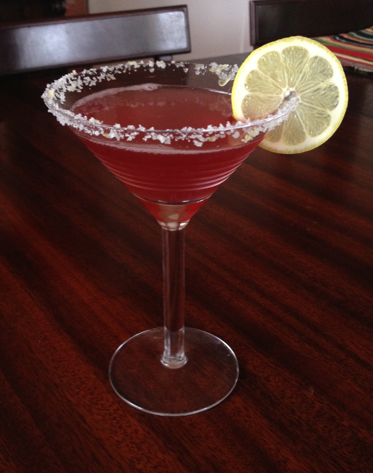 For our Easter luncheon gathering, I was requested to come up with a "signature cocktail."  I was going to be lazy and steal something from the intertubes, but I didn't like the sound of most of them.  Have you ever considered dissolving jellybeans in vodka?  Someone has, and it's not a pretty sight.
The idea of a jellybean cocktail was appealing, though, and so I set about creating one.
Lyles' Guideline #1 for Cocktail Creation is simple: go first for whatever has been flicking about your consciousness.  That would be orgeat, an almond syrup which shows up in several forgotten cocktails but which is not available at most of your Krogers.  When I came across some at the Decatur Package Store (of course), I snagged it.  (The linked article suggests it's easy to make, but anything involving three layers of cheesecloth automatically becomes "involved" in my book.)
What does one use it for?  Mai Tais and other tiki drinks—of which I am not a fan—use it, and so does the very old Japanese Cocktail, a very tasty concoction.
Long story short: a serendipitous excursion to the grocery store for supplies and a couple of trial runs later, I had the Jellybeanitini.  I'm as proud of the name as I am of the drink.  (A quick googling reveals that the name already exists, so I can only be proud of coming up with the name independently.)
The Jellybeanitini
1.5 oz brandy
1.5 oz cranberry/blueberry/blackberry juice (yes, that's a thing)
.5 oz orgeat
.5 oz lemon juice
almond/lemon sugar

to make the sugar: 1/4 cup of sugar, 1 tsp almond extract, zest of 1 lemon
Rim the martini glass with the sugar.
Combine all ingredients in the shaker with ice, shake, and pour.  Garnish with a lemon slice or lemon peel.
It's kind of a hybrid between a Cosmopolitan and a Sidecar.  Yes, it's sweet, but it also has the citric acid overtones that the really good jellybeans have, plus the mystery of the almonds.  It's worth having two.