Well, that turned out nice: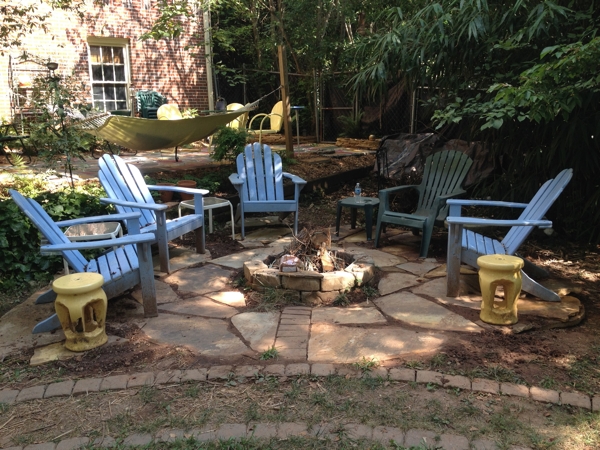 There are a couple of interstices that I have to plug—naturally, chair legs ended up going right where the stone ends—but otherwise it's done.
When such things come back on the market, I want to plant creeping thyme or some such in the joints.
Have I said recently how much I love my back yard?  All of this—the labyrinth, the fire pit, the stone walls, the compass point sculptures, the patio, the hammock, the work tables—has come about since September 1, 2008.  Before, it was just weeds and scrub grass.  (The Child was not an outdoors kind of kid, at least not at 24 College St.) Then, for some reason, I decided to build the labyrinth.  It really was a Close Encounters kind of moment.  All the rest has followed from that.
I've learned some things—or at least had them confirmed—through my experience in transforming that space.  Grand plans can be awfully fun, but slow organic growth is usually a better way to go.  Nothing is permanent: if something doesn't work, change it. Rip it out. Discard it.  Improve it.  Whatever it is, it will grow back.  Unless it doesn't.  Make the space conform to your needs, not to some Platonic ideal of what the space "should" look like.  Be alert to what is missing and fill the gap with meaning.
At this point, there's only one more major project to achieve, and that's replacing the old bamboo fencing with something more permanent—and taller, for privacy issues.  (For kicks, click on that link—the difference in the firepit area is wonderful!)  Ideas for said fencing are already bubbling up in my head…