I'm going to brag on my music, which I don't normally do.  Bear with me.
Last night, in the labyrinth, I put on my headphones and gave a listen to "Fly and fall" (mp3) because I wanted to hear what it sounded like under the full moon, which was doing this incredible Dance of the Seven Veils with clouds and fog after the storm earlier in the evening.
Here's what I heard:  it sounds like—I suppose because it is—a commercial for a new luxury car.  Daedalus is very proud of his achievement in sending his son skyward every year, and it shows.  Icarus is sleek, gleaming, fast, and sexy.   The monitors onstage would show this neatly packaged vision of the Event.
For example: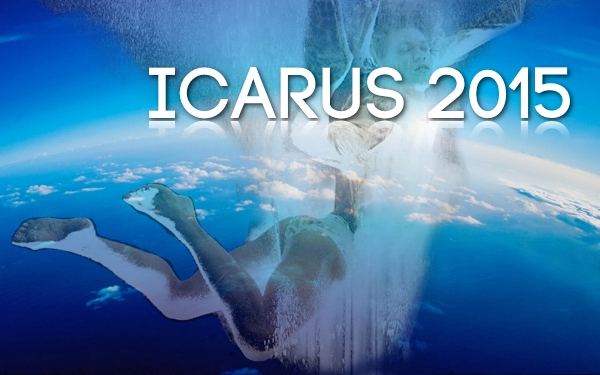 Cool, huh?  Yes, I spent time on that image (Icarus image credit here) instead of hammering out orchestration issues in "My mother, bored and pampered."  Or napping.
Only at the end, in the unexpected key lurch, do we hear Daedalus's actual excitement and pride—and with "just as surely fall," his fear—for his son.
I do hope that I get hired to direct this thing.
In other news, Scott, make a note: I just noticed that in this annual Event, Daedalus is no longer making the flight himself.  That's probably a point for Icarus to make in the great debate in Dream Four.