No Burning Man today—instead, we travel.  We'll start out at the High Museum, mainly because we are members but haven't been in a while.  Then we'll settle in at the Embassy Suites up at Cobb Galleria for the weekend so that we can take in the American Craft Council show in a leisurely manner.
This is the third year we've done the show, and it's always mindblowing.  Those who have been around this blog for a while will remember my purchase of the large bell for the labyrinth (and its stand when I realized I didn't have anything in the back yard from which I could safely hang the thing) and of the small sculpture in our living room, Traveling Together.
Last year, I bought a gorgeous Native American flute: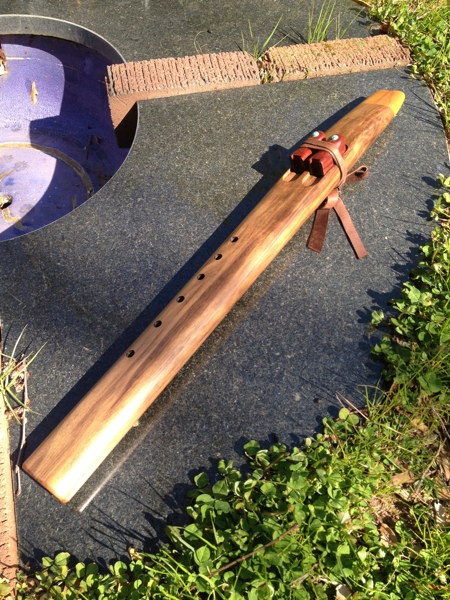 Lovely deep tone, but very difficult to play since the finger holes are in a straight line and not curved ergonomically.
Otherwise, last year, we were a little disappointed to find that the jewelers had proliferated at the expense of other, more interesting stuff.  I bought an earrings for me and a bracelet for my lovely first wife, but there was no art piece that demanded to be purchased.
I'll have a full report tomorrow.