This weekend my lovely first wife and I went up to the American Craft Council Show at the Cobb Galleria.  My goodness—beautiful, beautiful things!  Do yourself a favor and mark your calendar for next December or January to make plans to attend.  Then save your pennies, because you will need them. These people are not weekend arts show exhibitors—they are professionals.
The best plan is to plan to see the show two of the three days.  The first day will overwhelm you, and then the second day you can go back to absorb more and to make saner, less impulsive purchases.  Not that this plan saved me at all.
I made a couple of smallish purchases, a hand-marbled silk tie and a nifty little stylus for my iPhone/iPad.  (Yes, I know that Steve Jobs disapproves.)  That was yesterday.  We spent the night at the Embassy Suites, and here's a tip: eat lunch at Stoney River or Canoe or another nice restaurant, but eat dinner at the sports bar there in the hotel.  The food was good and there's not an hour-and-a-half wait to get in.  In fact, there's no wait.
So today we went back.  I had in mind to make a major purchase; my plan was to go back through the hall and narrow down my two or three choices to one.
However, I also wanted to take a closer look at everything that interested me, and that's where my plan went awry.  I had admired the work of Ken and Julie Girardini but hadn't gone into the booth to look very closely.  And when I did, I saw Traveling Together and knew that it was my purchase of the show: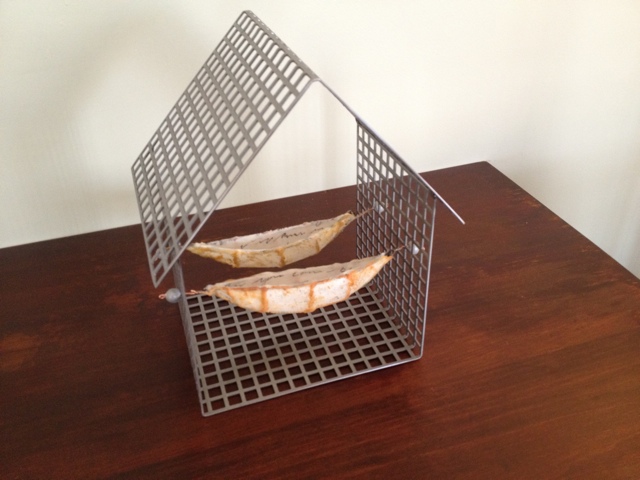 The little boats are cheesecloth coated in wax and shaped over wireframes.  There is writing inside the boats.  It's perfectly lovely.
And then I went a little crazy.  One of my choices that was part of my plan was Ed Kindera, metalworker, who had two main products: steampunk items which were truly amusing and bells, big sheet metal temple bells.  I bought a bell.  And then, when I was toting it to my car and realized that it was too heavy to hang on anything I actually had in the labyrinth, I bought a stand.
To wit: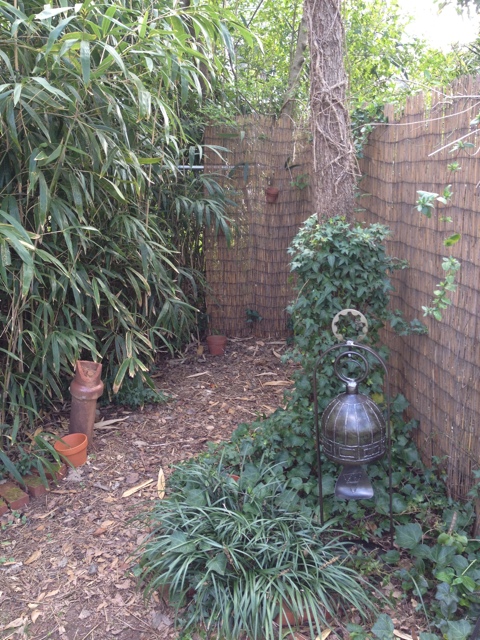 I placed it over a fern that should be taking off this year.  (And if not, it can be replaced with something more vigorous.)  I will probably have to anchor the stand to the ground, because the whole setup is extremely top-heavy.  Here's the bell itself up close: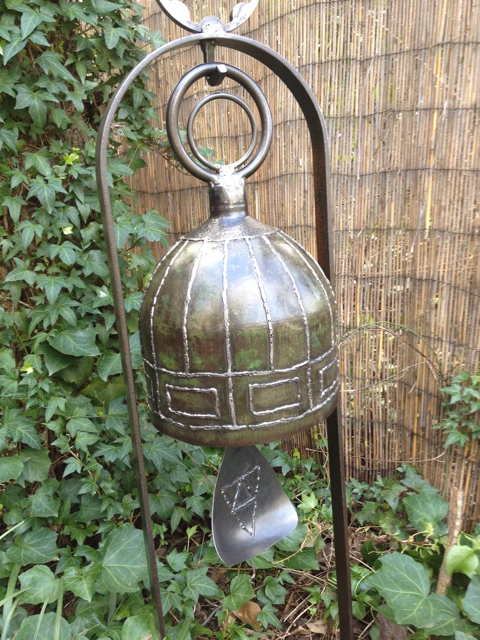 I did not buy a mallet.  For the time being we will use a rubber hammer to strike it.  It works beautifully: the bell has a clear tone that lasts at least 20 seconds.
No regrets on the insane amount of money I spent.  Art is required.
What did I not buy?
One of Valerie Bunnell's mixed media sculptures.  One of Paveen Chunhaswasdikul's steampunk mugs.  One of Scott Amrhein's staggeringly beautiful glass vessels. One of Michael Mikula's rigorously gorgeous aluminum and glass sculptures. Or one of Scott Hronich-Pernicka's fascinating-for-obvious-reasons dichroic glass globes. (That one was close.)
I'm already saving my pennies for next year.
Update on the northpoint: it weathered the rain quite nicely.
Next up: the westpoint… I might actually get around to working on the stone circle.