One of my goals for my winter break this week is to knock off a whole stack of reading from the media center. I finished The Schwa Was Here, by Neal Shusterman, last night. It was very very excellent, honestly funny and thematically rich, a much better choice for the Newbery Award than, say, The Higher Power of Lucky, by Susan Patron (which did win this year's Newbery.)
Today I knocked off The Invention of Hugo Cabret, by Brian Selznick, a thick, black book that is shorter than it looks: it's a combination of cinematic/storyboard pencil drawings interspersed with the actual story. Very clever and well written. The plot leads back to the early French filmmaker Georges Méliès, and yes, you already know who he is, because you know this image: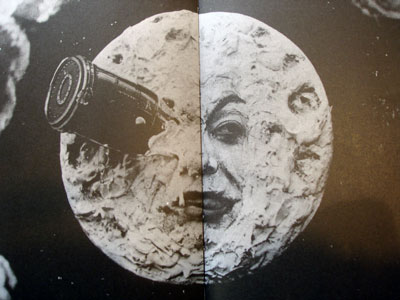 This is from his classic A Trip to the Moon. At the end of the book, the hero Hugo Cabret attends a retrospective of Méliès' films, and the book shows the following images, which I could not find on the internet and so had to photograph from the book.
All of these images struck me as being relevant to our visualization of William Blake's Inn. You can click on each of them for a larger version.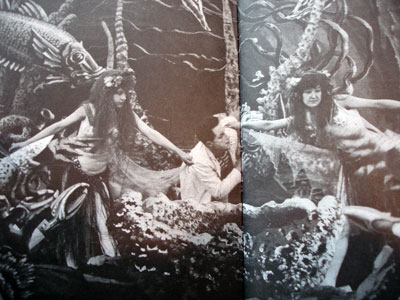 Here we have a scene from his 20,000 Leagues Under the Sea. All the fish were clearly puppets, and as products of late 19th/early 20th century stagecraft, are clearly painted like stage sets of the time.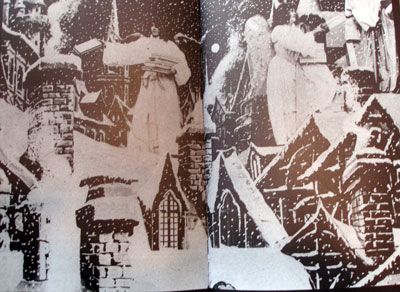 This is the one that actually made the connection for me. I like the way that the painted rooftops are all crammed together, yet they're separately constructed, and it occurred to me that you could create the illusion of movement/travel by shifting them past each other. Rooms in the Inn, constellations in the Milky Way, all kinds of possibilities here. Here's a close-up: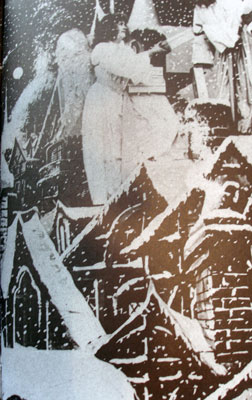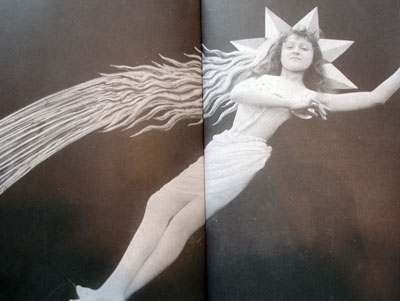 And is this not perfect? It's a comet!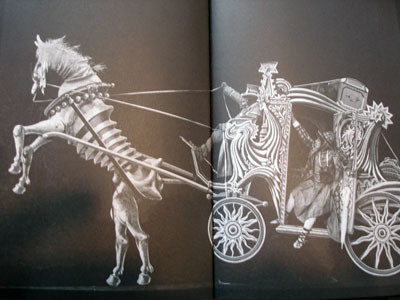 This one was scary, a nightmarish conveyance of some kind. But in detail…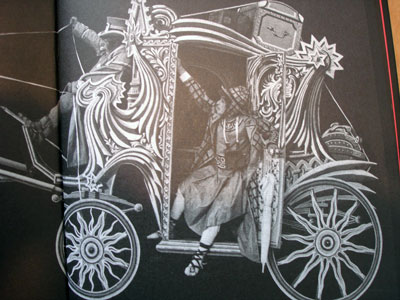 Again, the painted surfaces mimicking three dimensions, the sun motif in the wheel spokes, the combination of humans and artifice. We have two such conveyances to make, the Marvelous Car and the Believe, and I think this image gives us a lot to be getting on with.
All in all, a fortuitous encounter. The book showed up at the book fair this week, and it's so thick, and so expensive, that I was tempted to write it off as a gimmicky play for kid dollars. I did let the media center buy it, though, and I'm glad. It's a good book, well designed (although the drawings are not, upon close inspection, all that good), and life-affirming.