I took nearly 100 photos in Arches National Park.  I shall not post all of them.
Also, I'm almost out of words.
Arches is such a popular destination that they now impose timed entries. Our entry time was 1:00, so we were going to be traipsing about during the hottest part of the day.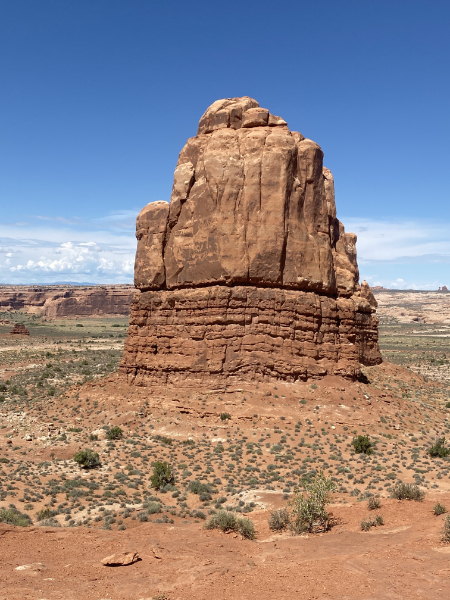 Everything has names. This is the Courthouse. No, I don't know either.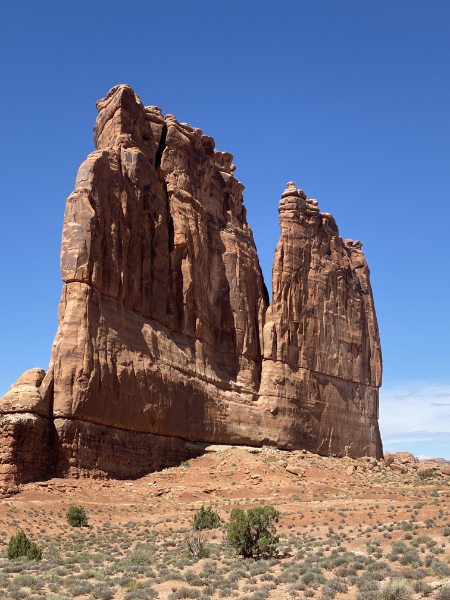 The Three Gossips.
Park Avenue. We named one formation the Donald J. Trump Hand of Destiny. See if you can find it.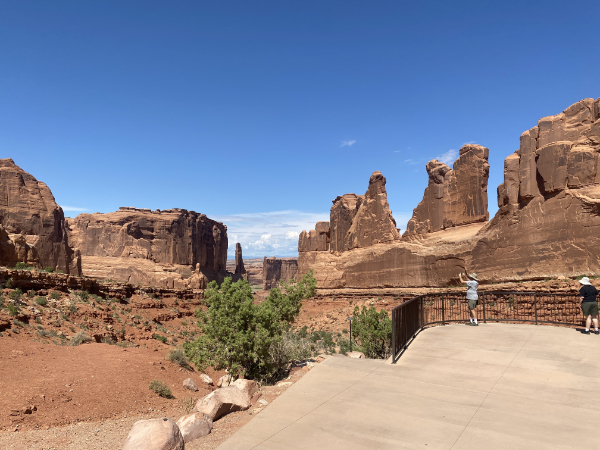 A pretty little yellow thistle.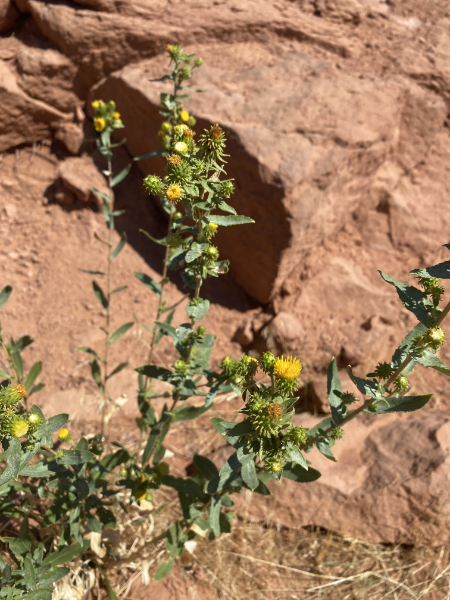 La Sal Mountains + cloudage.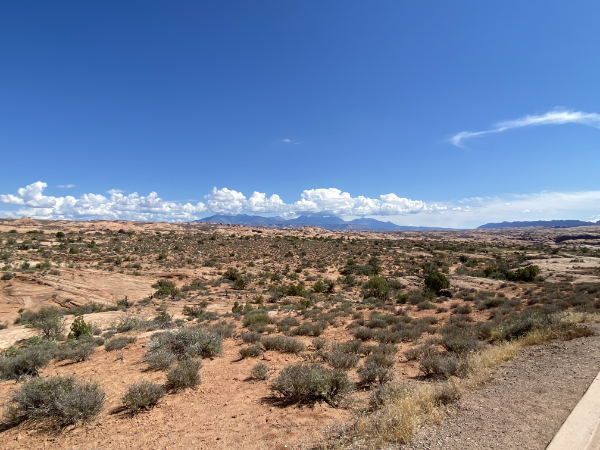 A particularly egregious hoodoo.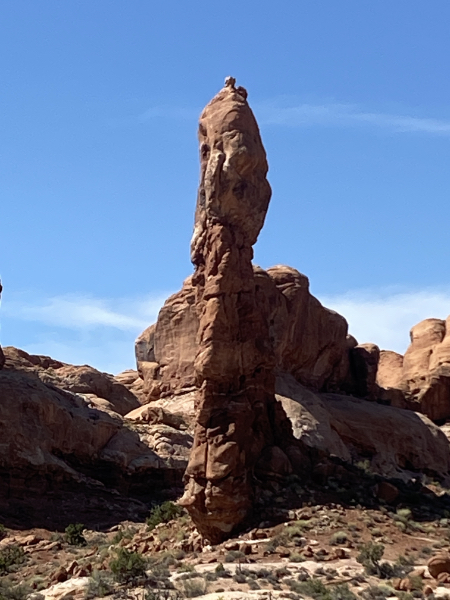 This is Balancing Rock. It's not really balanced, of course; it's all one piece, although eventually the limestone layer beneath the top will erode and it will collapse (as did its MiniMe a couple of decades ago).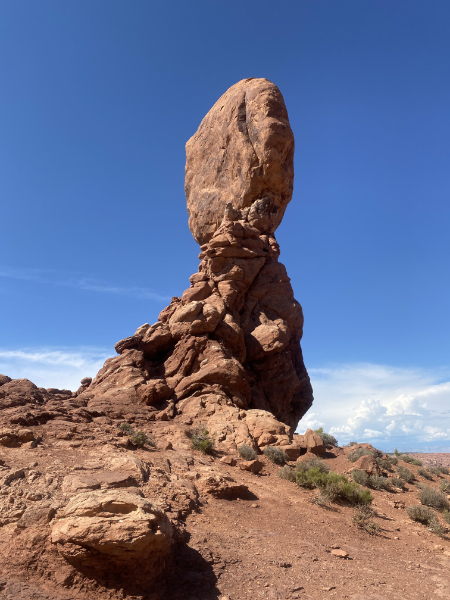 Hoodoos.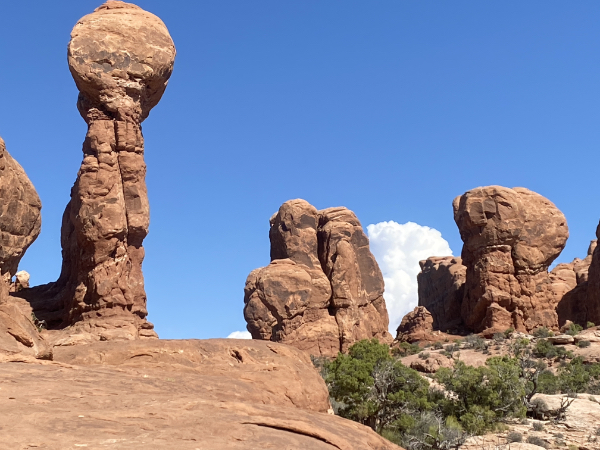 An arch in formation. There are thousands of arches in this park, ranging from little "windows" to the most famous, Delicate Arch. Hold that thought.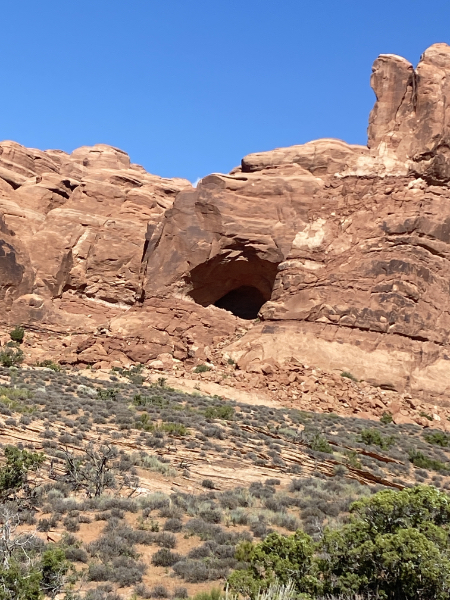 I liked the way this piñon trunk became a barrier for the dirt.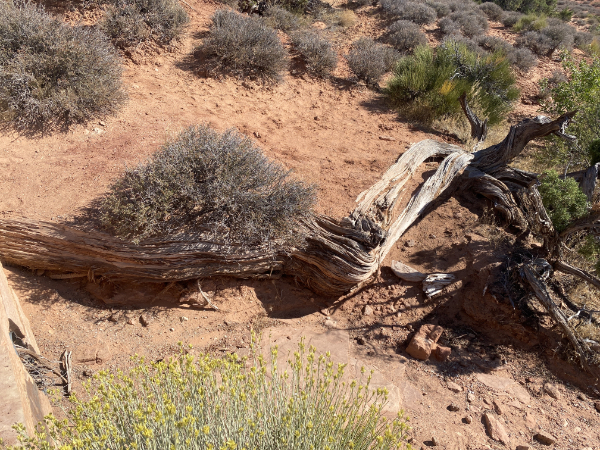 The South Window arch. No one else seemed to be concerned that this massive arch of stone seemed to be resting on a layer of crumbling rock.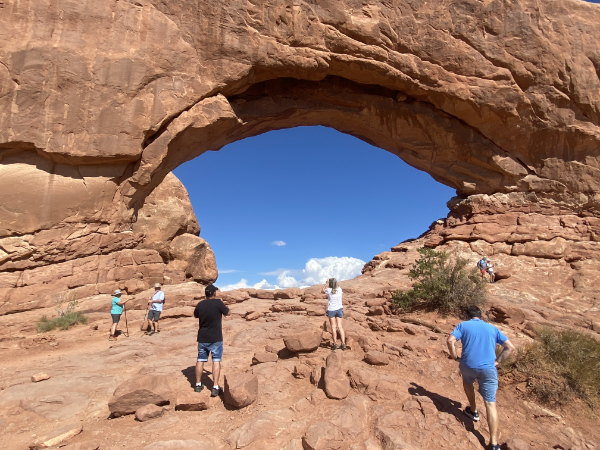 The view on the other side of the South Window.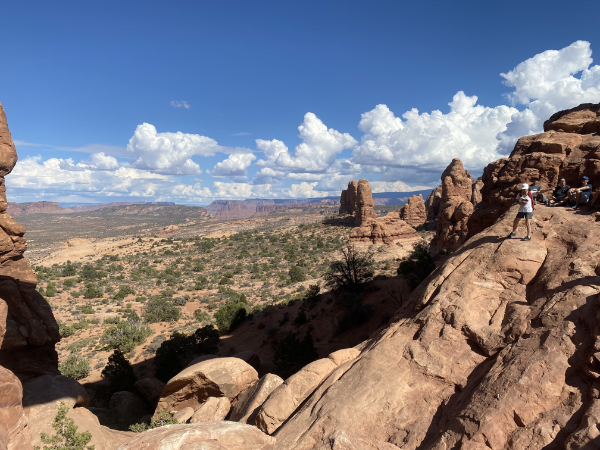 Panorama.
As we started walking around to the North Window, I happened to notice this bit just kind of wedged up there in the South Window.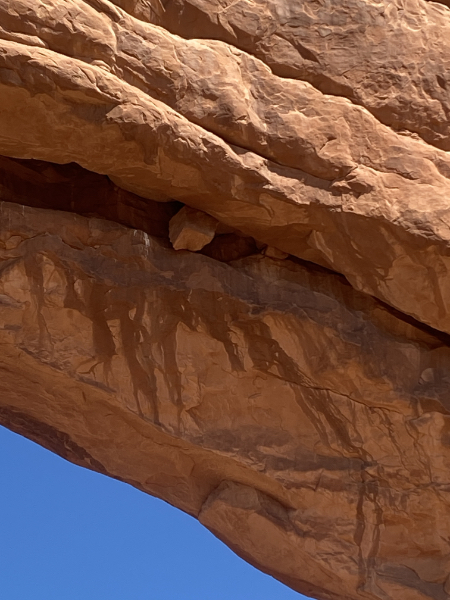 The walk around to the North Window, with cloudage. The cloudage was particularly ebullient today.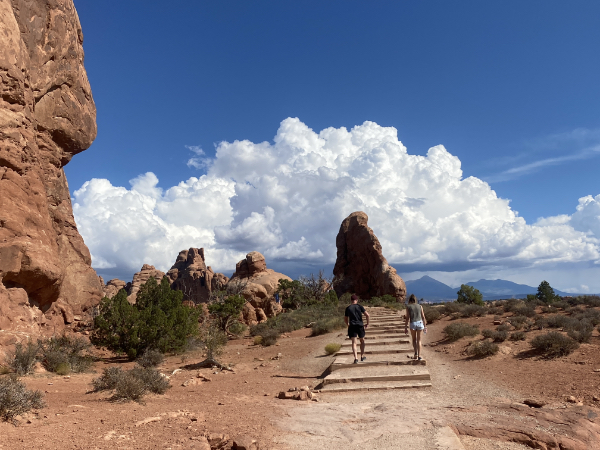 North Window.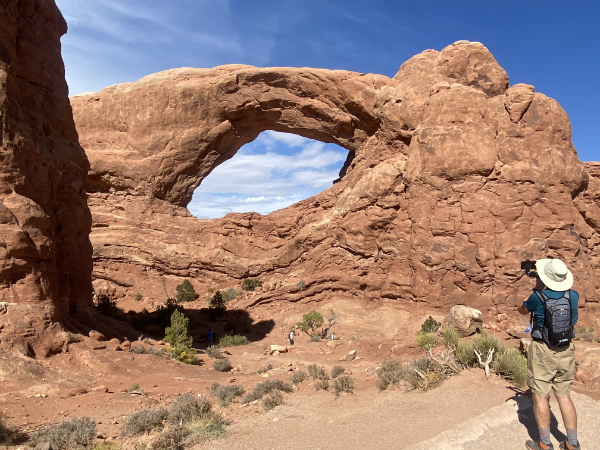 The Turret Arch, which is right there with the South and North Windows.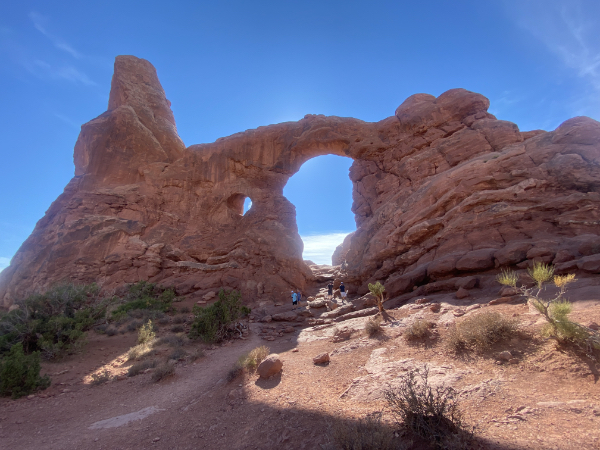 Panorama.
Cloudage, dumping rain on the La Sal Mountains.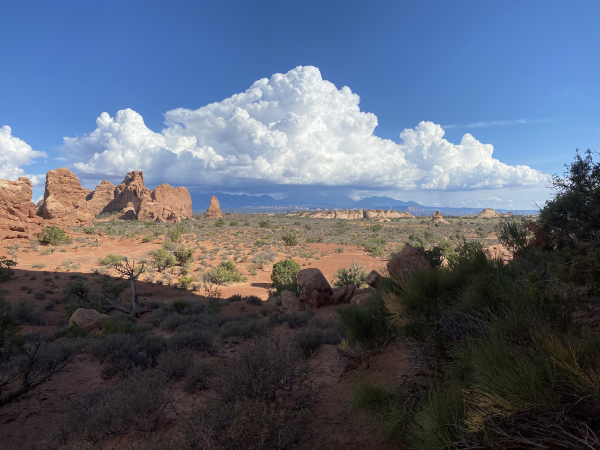 This one is hard to make sense of, but it's the view of the descent from Turret Arch, with the South Window across the way. That's my shadow at the bottom of the photo, and the shadow of the arch midway. It's harder going down than up.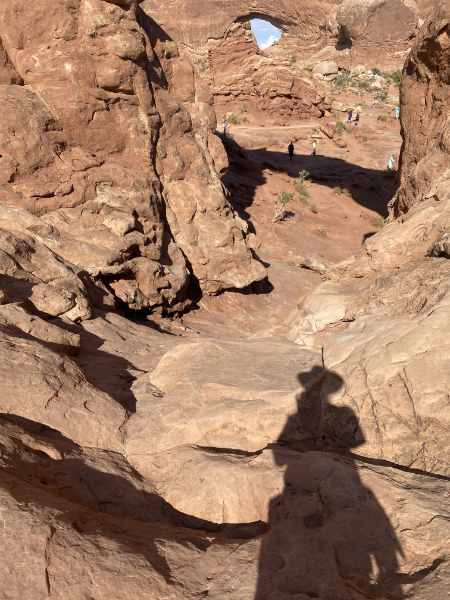 The cloudage just keep getting bigger and bigger.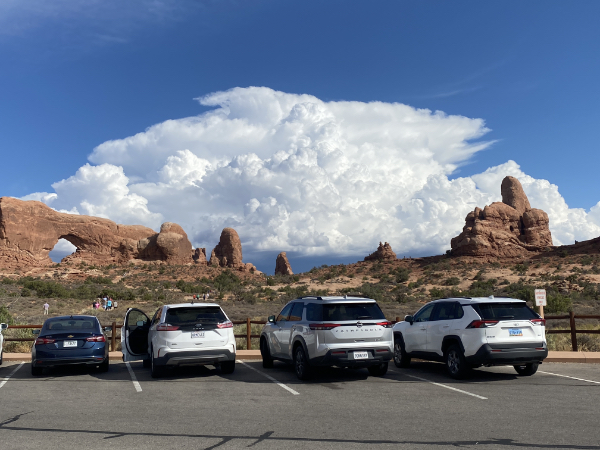 Meanwhile, on the other horizon…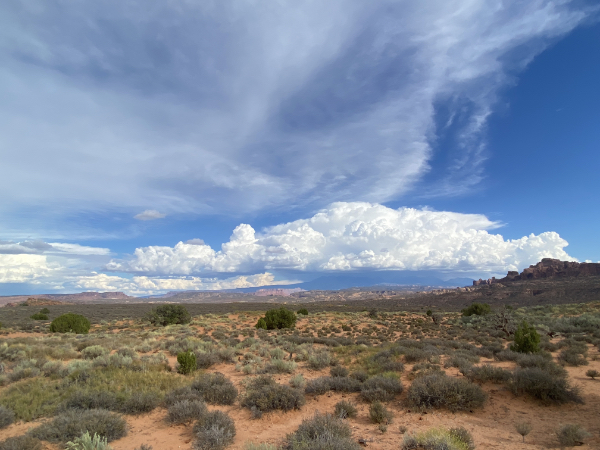 I have to correct an erroneous guess I made yesterday in the Valley of the Goblins. I had posited that the greenish surface on one outcropping was a copper deposit, but that is incorrect. It is actually a layer of volcanic ash that was laid down on a salt bed hundreds of millions of years ago. Chemical reactions turned it greenish.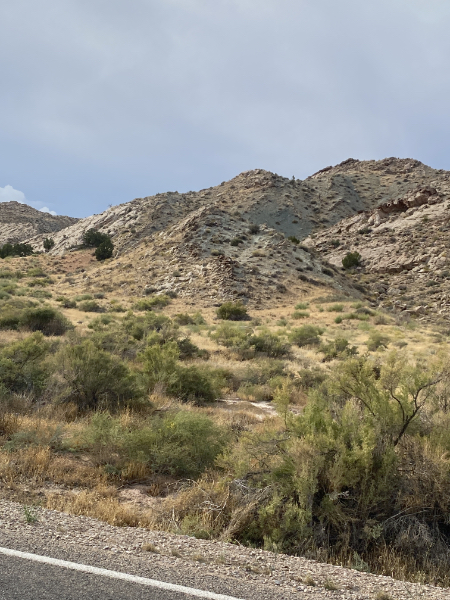 And finally, the approach to Delicate Arch! The most iconic image of Arches National Park, indeed, of Utah itself.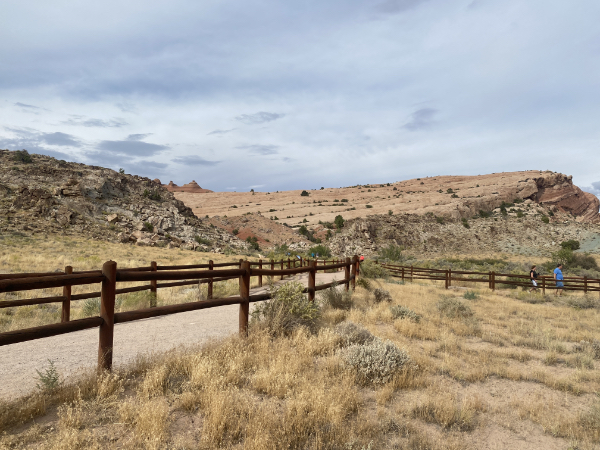 We had some choices. If we turned into the first parking area, it was about an hour's walk up to the arch itself. If we went to the second parking area, there was a thirty minute walk up to a viewing area some distance from the arch. And there was a second path from the parking area, a mere five minute walk to a viewing area.
Since it was the end of a very long, very hot day, we opted for the five minute walk.
Are you ready?
Prepare yourself.
It's iconic.
.
.
.
.
.
.
::drumroll::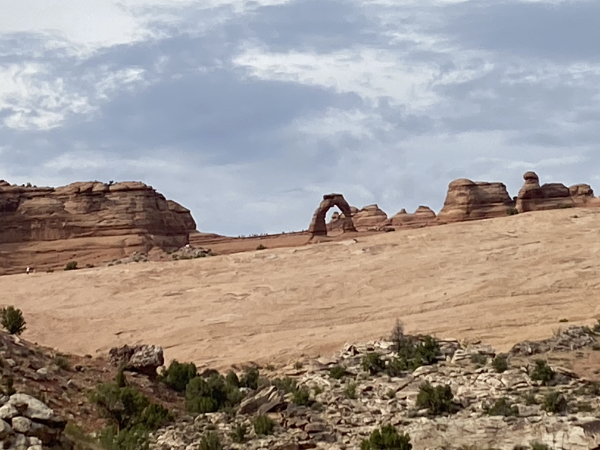 We collapsed in helpless giggles. Here we were at one of the most famous locations in the U.S., and there was no way we were going to get any closer to it. Marc referenced Spinal Tap's Stonehenge screwup, and it was even funnier.
So here, have a closer look at Delicate Arch.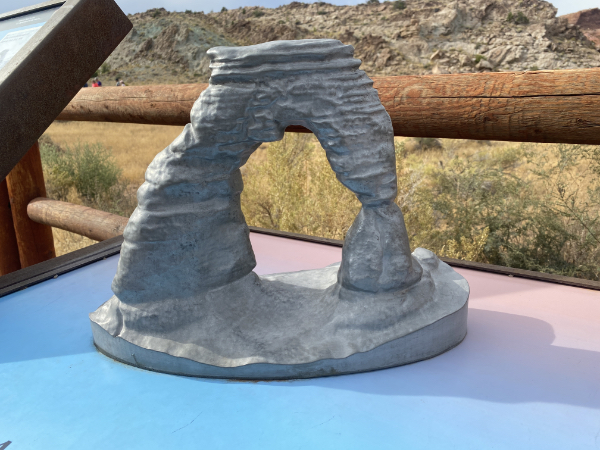 This inspired a couple more Bad National Park Reviews:
"They need to build a road up to that Delicate Arch." — me
"You should move Delicate Arch closer to the entrance so that we can see it first."  — my Lovely First Wife
Moving on.
I am — as you have already surmised — fascinated by the cloudage, especially when it is as magnificent as it was today.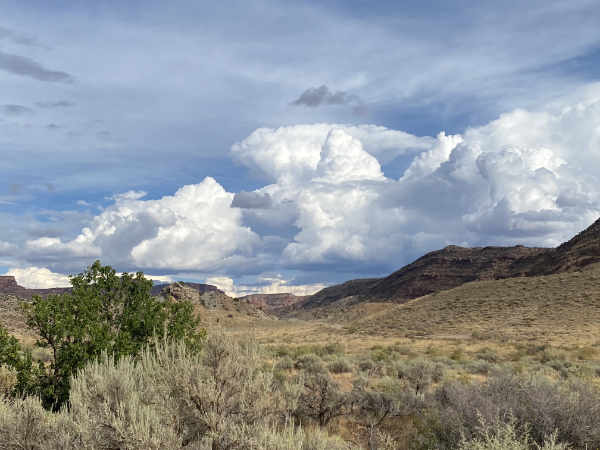 Believe it or not, there was more to see (available by car). Here is the Fiery Furnace.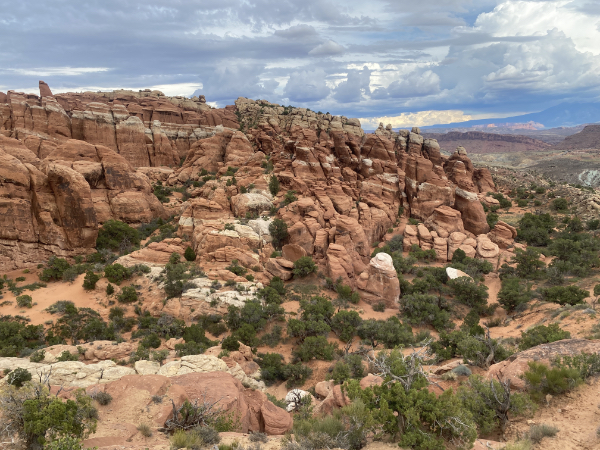 Somebody lives here.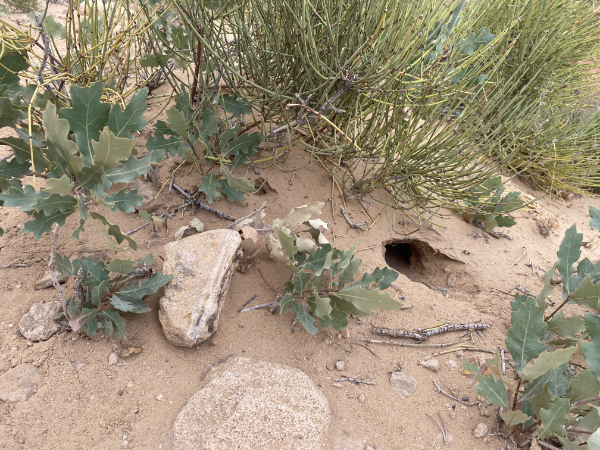 At that point we called a halt, opting to return to Moab, shower, and head for dinner at the Sunset Grill, which is atop a mountain there in Moab. Here's the view of the sunset while we waiting for our table.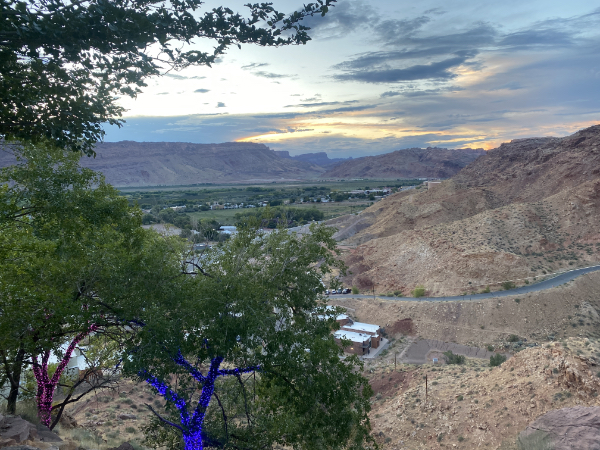 We sat outside on a spacious veranda overlooking Moab. The meal was delicious, especially the desserts. The waitstaff was garrulous and charming. And as we were finishing up, a moth fluttered into our space and landed on Mary Frances. Before she could react by brushing it away, we all cried out for her to freeze!
When she saw what it looked like, she was delighted to have such a gorgeous piece of living jewelry.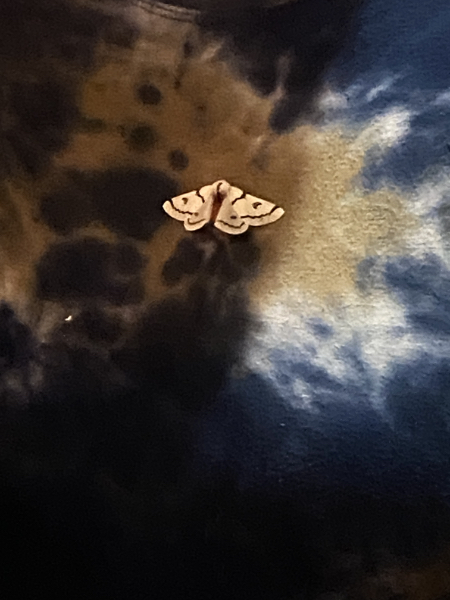 It stayed on her until we were ready to leave. We coaxed it off her onto the table, and it finally flittered off.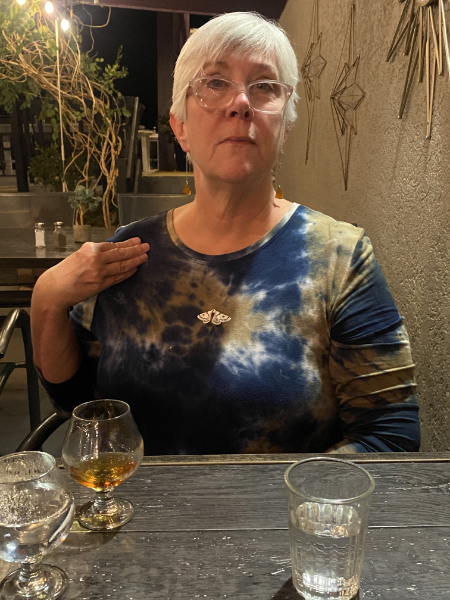 A quick search when we got back to the motel revealed that it was a sagebrush sheep moth.
Here's the view of Moab from our dining area.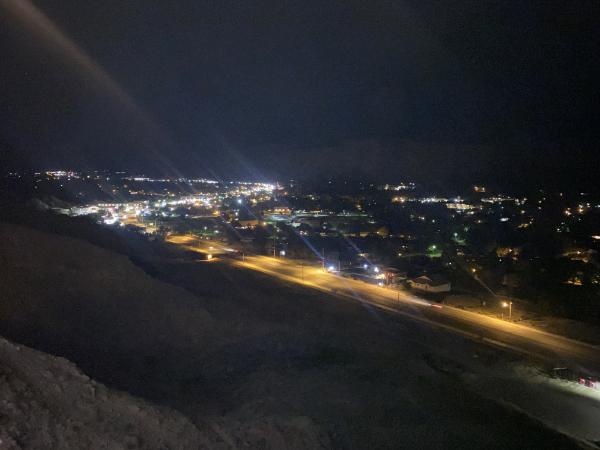 It's not as big as it looks, though certainly larger than Torrey. For one thing, Moab has two grocery stores! Torrey has to drive 90 minutes to their closest grocery store.
Next: CANYONLANDS NATIONAL PARK
—————
Did you guess right?