This trip I have only two pro tips, one of which is so amazing that I hate I didn't discover it years ago.
First, if you're of a mind to go to Amsterdam's infamous "coffee shops," be advised: cannabis is not legal in the Netherlands, it's just tolerated (albeit regulated, and no, I don't know how that works). Also, despite what you might have been led to believe, the offerings in coffee shops are limited to either smokable weed (onsite) or cannabis edibles. You probably have more effective (and legal) ways to explore that part of your consciousness at home.
Second — and this is the big tip — on the iPhone Maps app, did you know you can create Guides? I didn't; I discovered this by accident when looking for the top craft cocktail bars in Amsterdam. If you search for a specific place, a guide pops up below the map, including the ever-mystical MORE…: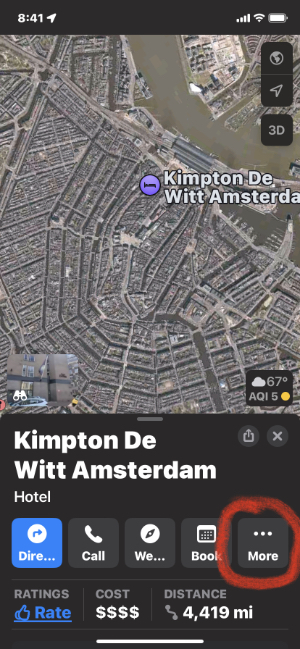 The MORE menu gives you…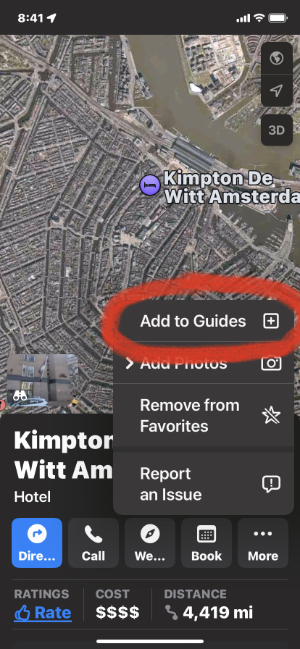 …which gives you…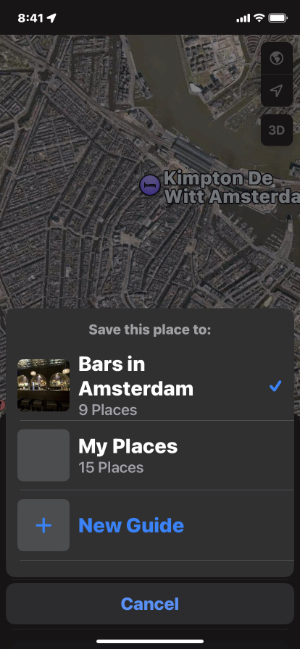 So what you end up with…
…is a handy map that you can whip out at any point in your trek around the city and immediately see if one of your sightseeing goals is nearby! How cool is that?
—————
So what all did I come home with?
Some local gins…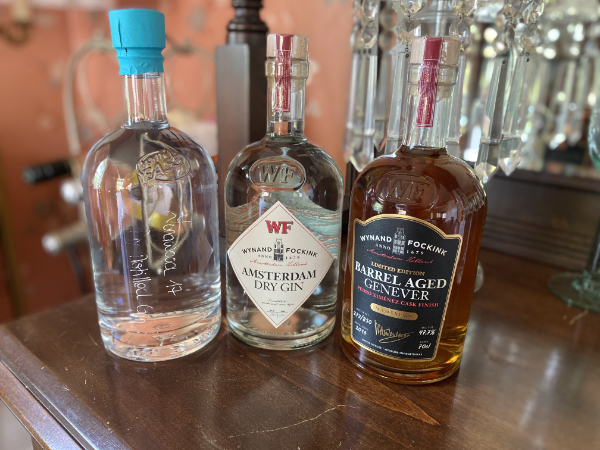 The unlabeled bottle is from a small distillery in Cologne; the scribbling on the bottle says 'Longwood 17." It's very herbal. The dry gin is a bright, aggressive gin, and the barrel-aged genever is a lovely variation on Holland's traditional precursor to gin.
I picked up some sample bottles here and there…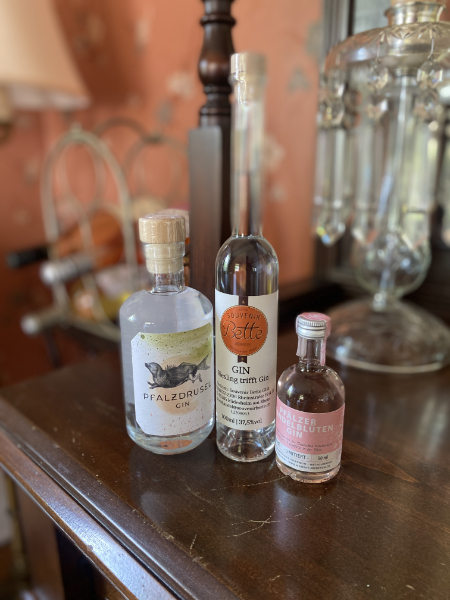 Of course I picked up ink for my fountain pen and some blank books…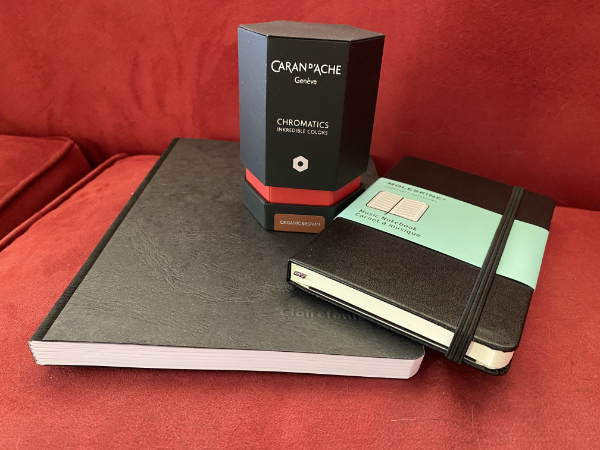 …and the ink, when I finally unboxed it, was a surprise: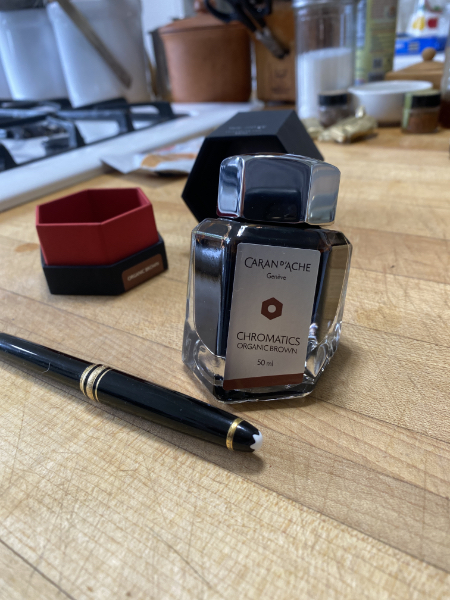 The bottle is as askew as a house in Amsterdam.
After the exhibit on Ursula at Cologne's Museum Ludwig, I had to have the exhibit catalog…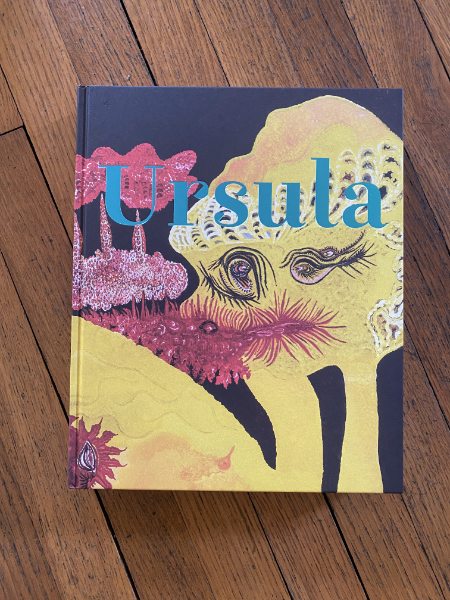 …if only so that I could catch up on all the pieces I had to zip past while my fellow travelers were waiting for me…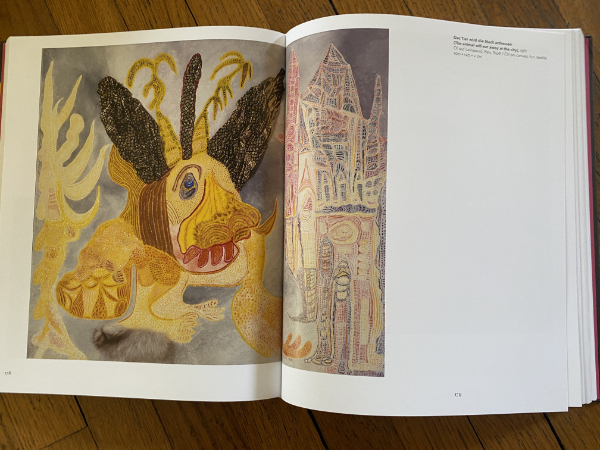 …and while there I saw and could not resist this replica of Hilma af Klint's automatic/seance sketchbooks…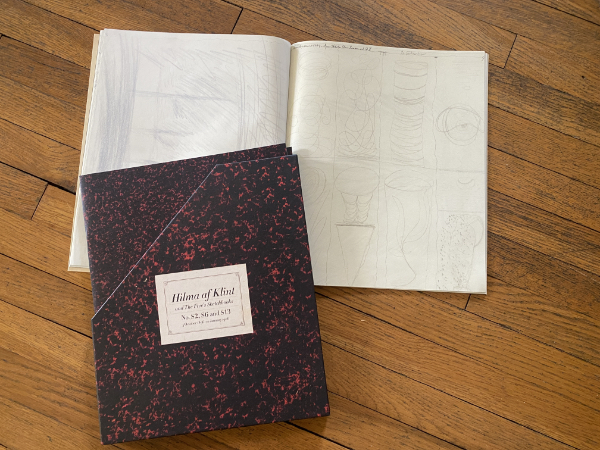 …which are full of peculiar energy.
The biggest purchase, though, was not technically mine. Decades ago we were invited to a Christmas party at the home of one of my Lovely First Wife's coworkers, where we were served a German tradition called Asbachskaffee, i.e., Asbach coffee. This concoction consists of Asbach brandy, flamed with brown sugar; coffee; and a huge gob of vanilla whipped cream and chocolate shavings. What's not to like?
The important thing is that this nectar is served in a very specific cup/mug, and we — for differing values of "we" — have been in search of these things for a Very. Long. Time. Because otherwise, it's just spiked coffee in a Lenox china Christmas mug, right?
So you may imagine our ("our") excitement when one of the onboard entertainments was the making of Rudesheimskaffee, as it is known in Germany, since Asbach brandy is distilled in Rudesheim, where we would be docking that afternoon. (We will skip over the excitement of my being volunteered to be our bar chef's assistant in making a cup, which started with chugging a snifter of Asbach, a "tradition" I suspect my friendly bartender made up for the amusement of the other guests.)
My Lovely First Wife sprang into action. First, to the bar to ask if those mugs were available in Rudesheim. Of course, he said, at the Asbach distillery. Then it was off to find Maria at the front desk, who called us a cab with the advisory that we wouldn't dock until after 4:00 and the distillery would close at 5:00. As it happened, she let us off the ship before the crew even had the gangway up — and away we went in the cab. It was all very exciting, and I really hated that we didn't have internet for the laptop that day.
Anyway, we ended up with…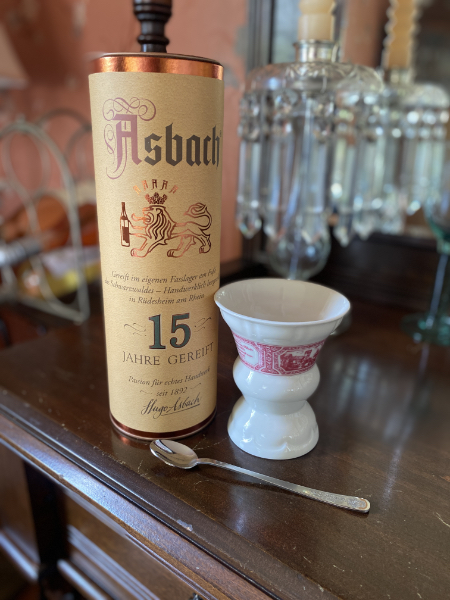 …a bottle of 15 year old Asbach — I eschewed the 50 year old bottle (for €138) — six mugs (and saucers) and spoons. At long last our life is complete.
The story doesn't really end there. Maria told us that we could hit DHL in Cologne the next day, where they would pack and ship our increasingly heavy haul. Alas, DHL does not pack, and they didn't have a box big enough for our stuff, so we fell back on our tried-and-true solution: Head into the TK Maxx [sic], buy a small rolling suitcase, and just check that sucker at the airport. We now have a nearly complete set of small rolling suitcases. I think for our Christmas Market tour in December we're just going to fly over there with an empty bag. Or, knowing my Lovely First Wife's penchant for Christmas decorations, probably two.