The wifi onboard a Viking River Cruise is always iffy, and this time my laptop couldn't even see the wifi server to try to log on. (This was in addition to the new restriction of one device per passenger logged in.) So I was forced to enjoy this trip without the pleasure of sharing my acerbic commentary with everyone at home.
Consequently, this post is just a random collection of thoughts or highlights or snarky comments; there won't be nearly the number of photos as in my usual posts. I'll do a separate post for swag and pro tips.
First of all, the shipboard experience was as usual: luxurious and comfortable. The staff was friendly and helpful, the food was great, and the cocktails were life-giving. The Rhine River as a whole, though, suffers in comparison to the Danube cruise — in the latter we were sailing through the heart of Empire, while on the Rhine we were sailing through the robber barons' constantly shifting fiefdoms. Still, we saw and did quite a few wonderful things.
Our cabin, like last time, was below the water: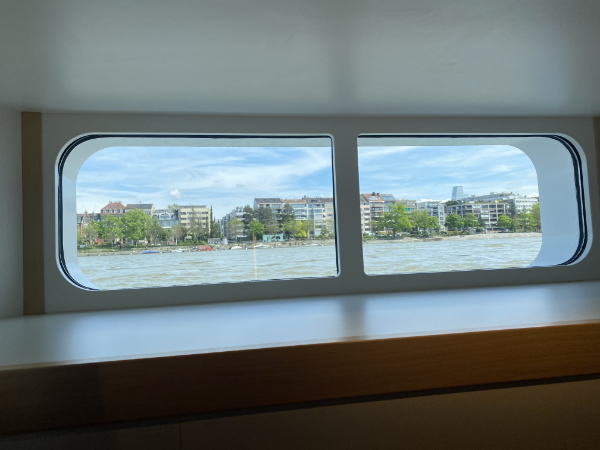 It was always a little thrilling to open those curtains every morning and see what the view might be. For example: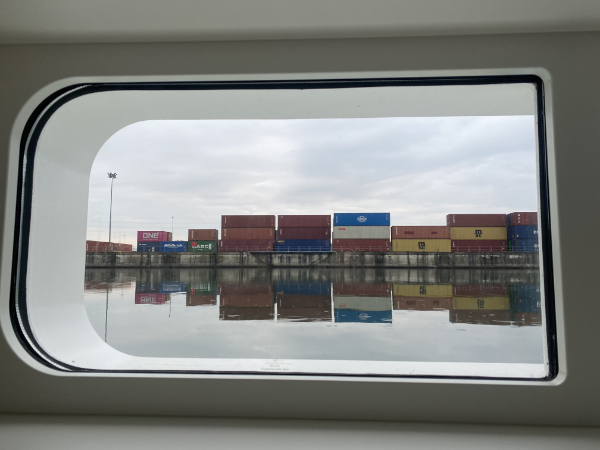 Stanley Tucci tended bar: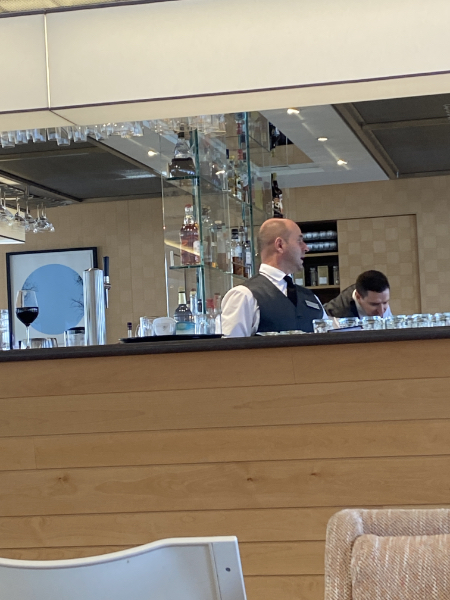 He was very good, remembering everyone's preferences and stateroom numbers after two days. (There were about 170 passengers on the cruise.)
I did my usual Eurotrash look: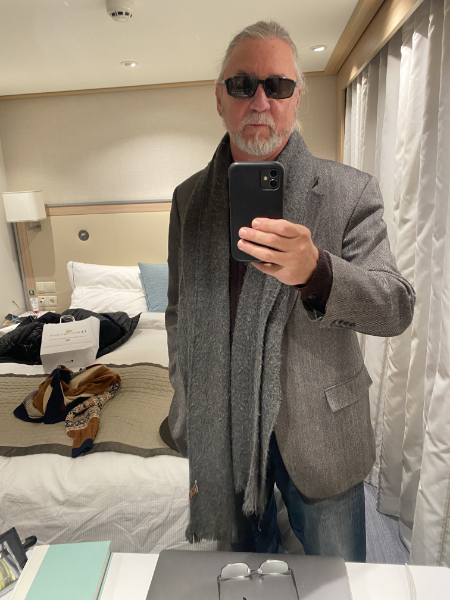 As you can imagine, I was a bit of a rara avis on the ship. I was the only guy with long hair, of course, and I actually dressed a little better than most.
The ship stopped in Breisach (the Black Forest); Strasbourg, France,where we had to delay the shore excursion due to manifestations in town over the retirement age issue, complete with tear gas; Speyer; Koblenz; Cologne; Kinderdijk, Netherlands; and finally, Amsterdam. We felt that the tour really picked up once we reached Speyer; the first two stops felt like time-fillers.
As on the Danube, one day was given to sailing through the Rhine Gorge, which is where all the "castles on the Rhine" are.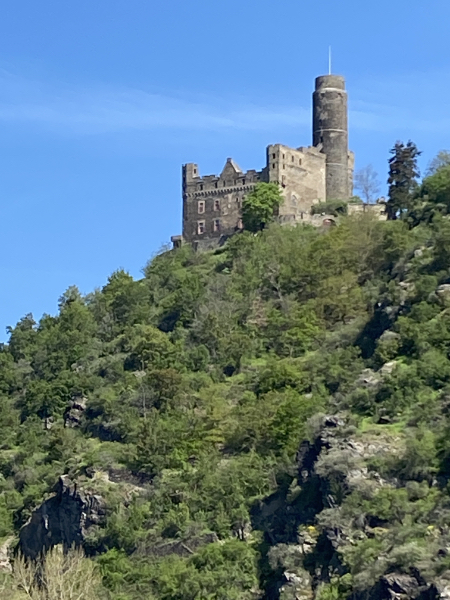 Many are restored; some are actually hotels these days. Back when they were built, they were the centers of power for squabbling noblemen, and they were peppered seemingly every half mile along the river. That's a lot of labor and materials dedicated to beating up on your neighbor, and it's not even your labor if you were the "king" of the castle. (It was never satisfactorily explained how the residents of the castles got their food or water every day.)
The high point of most stops was the churches. Here's a cathedral in Koblenz: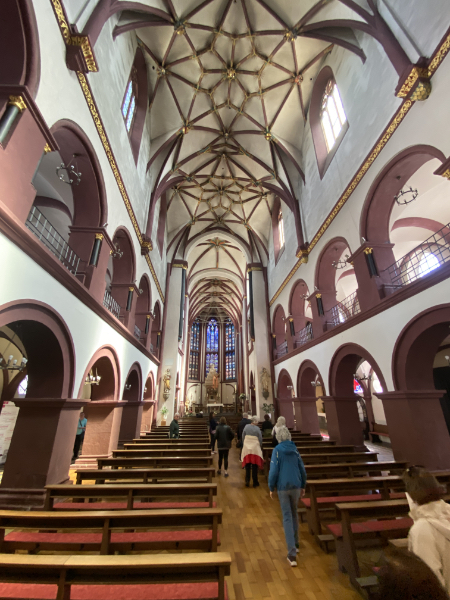 I was impressed by the ribbed vault: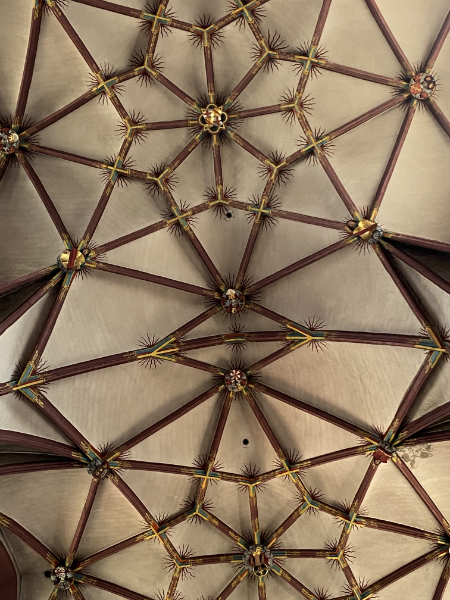 The most spectacular of the churches was of course the Cologne Cathedral, a hallucinogenic über-Gothic pile, which ironically wasn't finished until the 19th century. The stained glass windows in the nave, for example, are clearly Romantic era.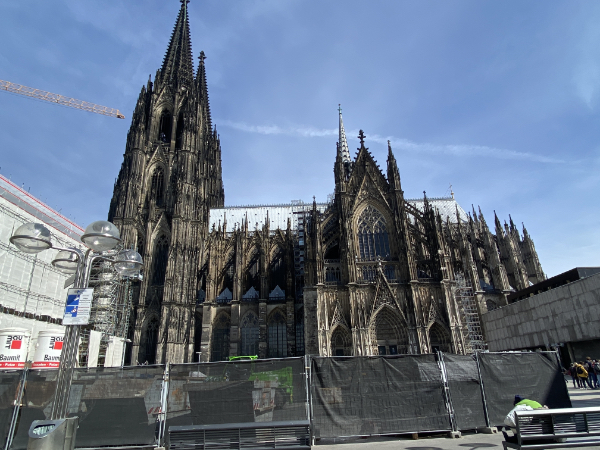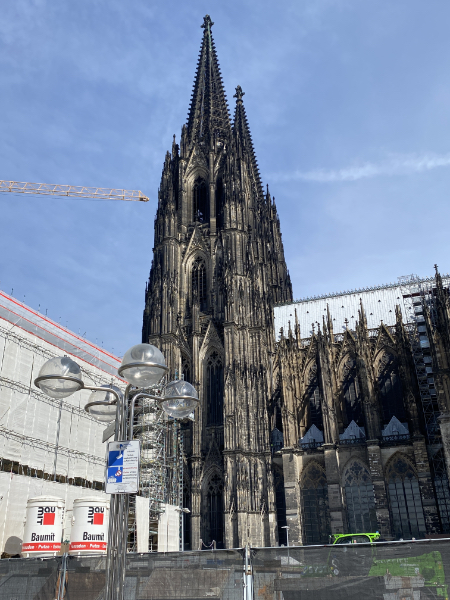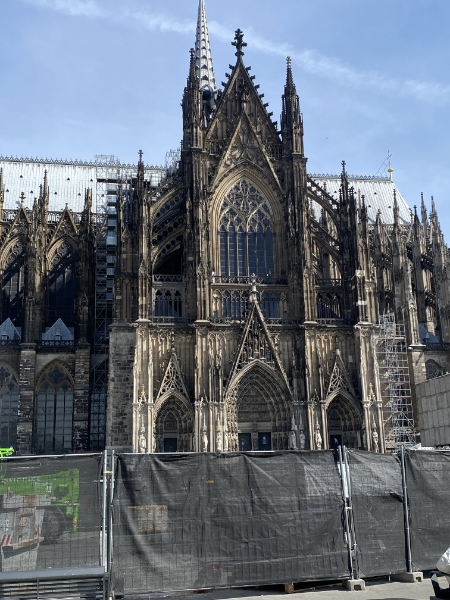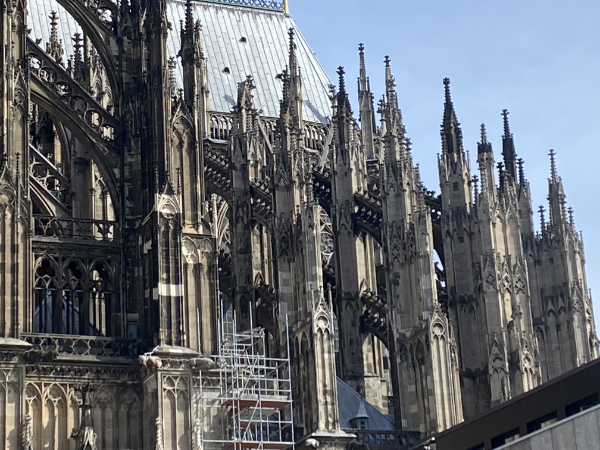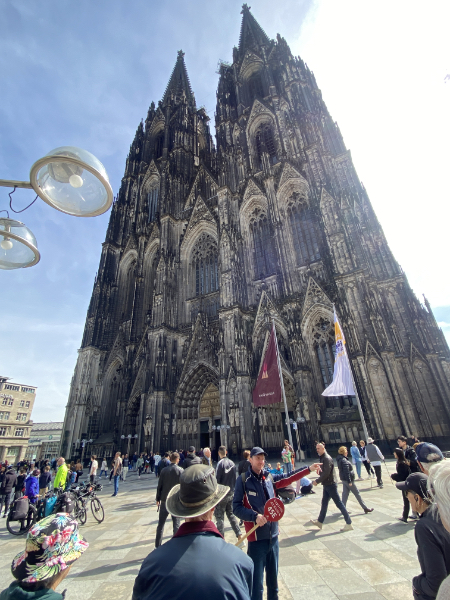 Look at the very top of the towers — see the tiny little finials up there? Here's one up close: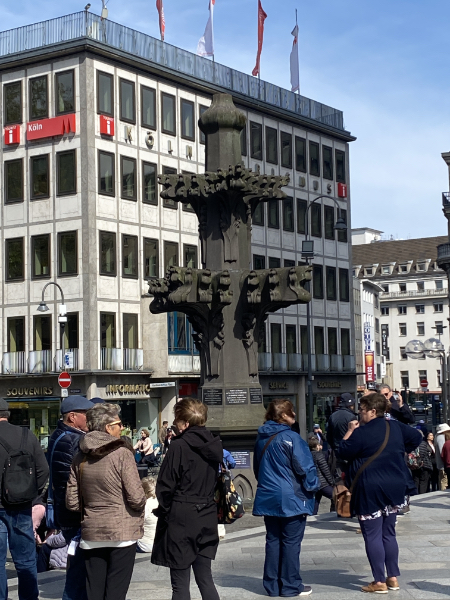 Inside, it's a lot more sedate: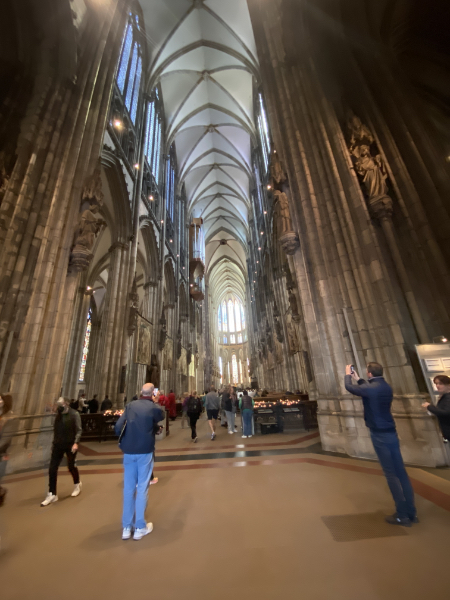 Cologne also has a major art museum, the Museum Ludwig, whose collection focuses on 20th-c. and contemporary art.
I liked this piece: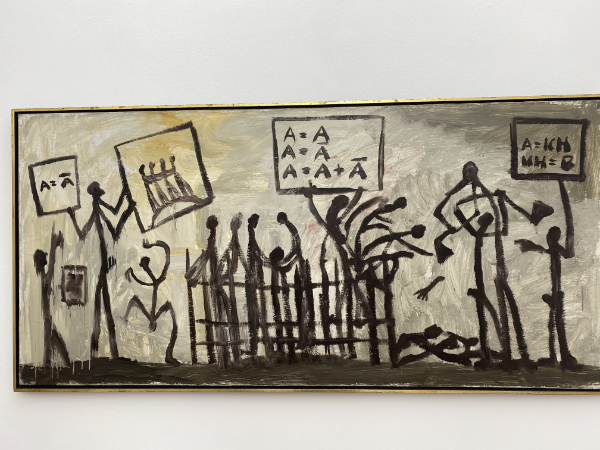 This is "A Possible System" by A. R. Penck, oil on canvas, 1965.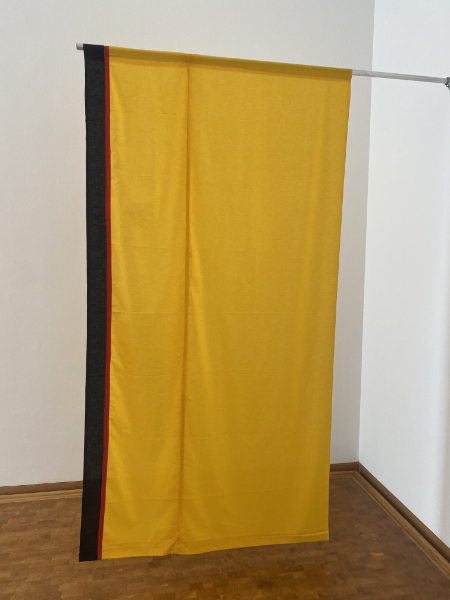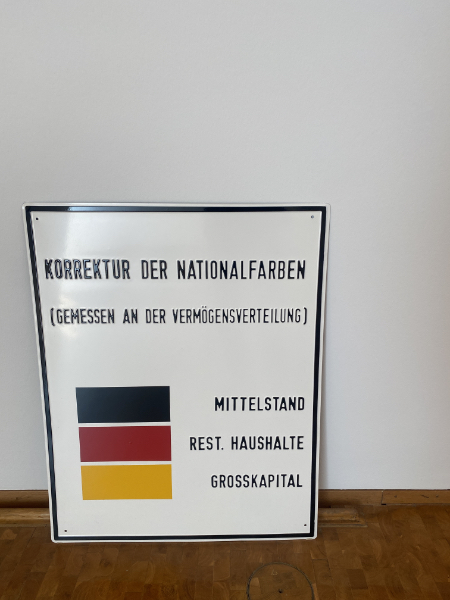 This is KP Brehmer's "Correction of the national colors measured by distribution of wealth," 1972. In it, the three equally distributed colors of the German flag are remeasured for the percentage of wealth owned by, respectively, the middle class, other households, and "Big Capital."
But the highlight for me was the huge exhibit on the ground floor of an artist I had never heard of: Ursula. The actual back end of the exhibit was in an atrium open to the other floors, so when I looked down I saw: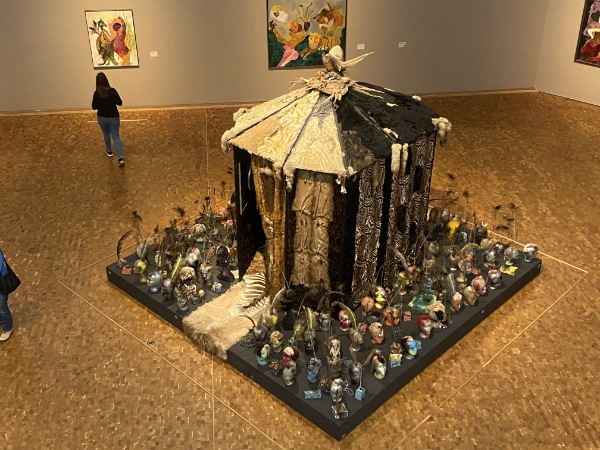 It looks like nothing so much as the Temple from the recent Emergence burn: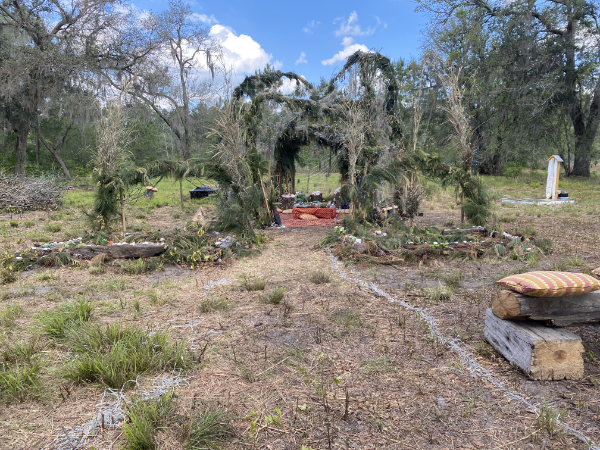 I was intrigued. I finished up the main galleries and headed down to this strange artist's realm.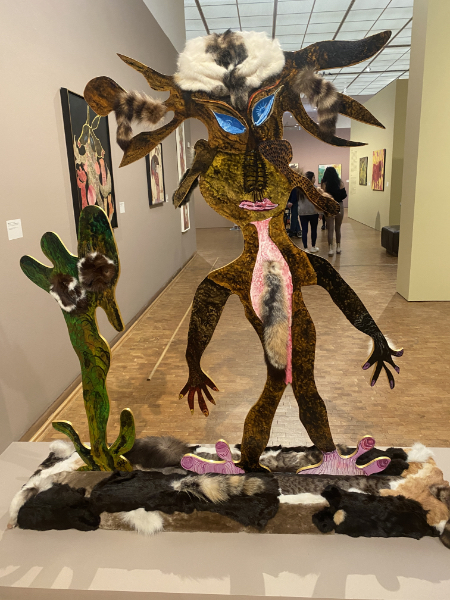 "Wilder Mann." Of course. It's actually two-sided, and the two sides are not the same.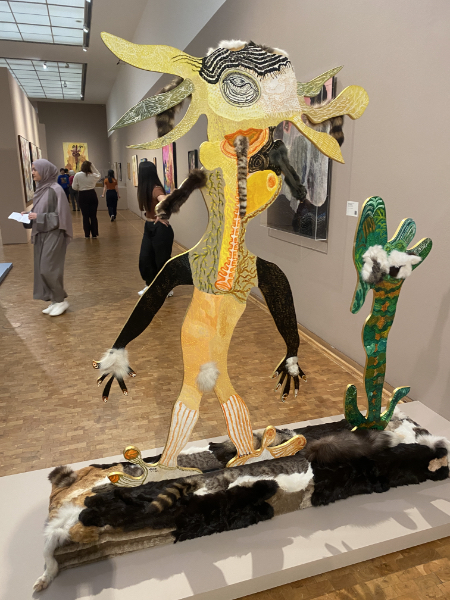 I'll have a lot more to say about Ursula's work over on Lichtenbergianism.com next week — it was a thrilling universe of obsessive exuberance.
The hut, from eye level: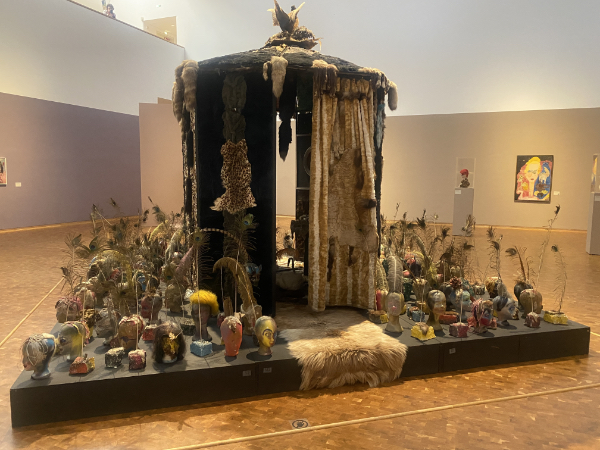 Random bit of fun: At some point in the past, two green-headed parakeets escaped from a zoo somewhere in Germany, and now in Koblenz and Cologne there are flocks of them. Here's a shot of a treeful of them as they came home to roost at dusk, right outside the ship: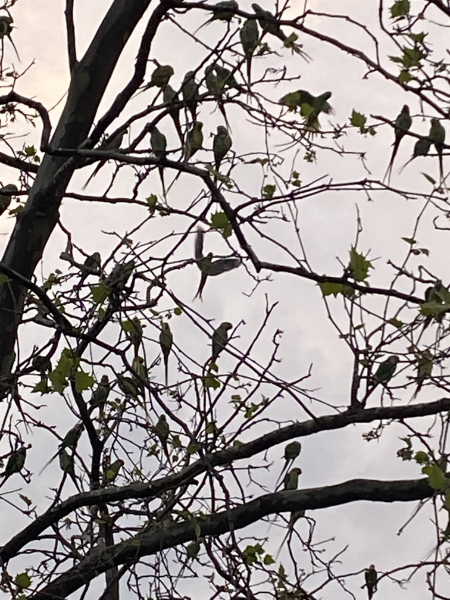 Beautiful plumage.
We started in Basel, Switzerland, and we ended in Amsterdam. Our next-to-last stop was Kinderdijk, a national monument with 17 windmills, still maintained by people who live in them. Two are museums; we explored one of them, and I have to say that I would need to see a photo of the others, which we were assured had been modernized, because the interior was so cramped that I cannot imagine a 21st-c. human wanting to live in them. (Statistically, the Dutch are the tallest nation on earth.) But there's a five-year waiting list to get in to one of them — plus some pretty serious windmill technology training — so go figure.
Amsterdam is a lovely city, and of course, like all cities built on pilings driven into swampland (viz., Venice or Mexico City), buildings there have a tendency to settle out of plumb: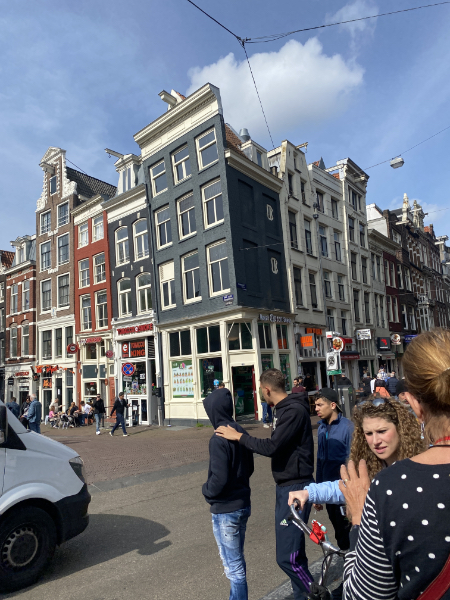 We were in Amsterdam on Sat, May 6, which was World Labyrinth Day. I had scoped out a labyrinth in the Vondelpark, so we set off to "walk as one at one," though we didn't really get there until after 2:00. On the way, I was once again reminded of the burn: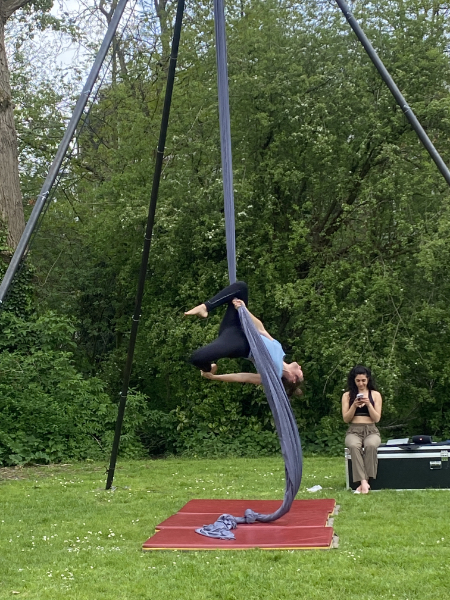 (More than a couple of camps at Alchemy have aerial rigs.)
In searching for the labyrinth I walked right past it twice, since the World Labyrinth Locator described it as being made of "rock or garden," but in actuality it was a hedge labyrinth: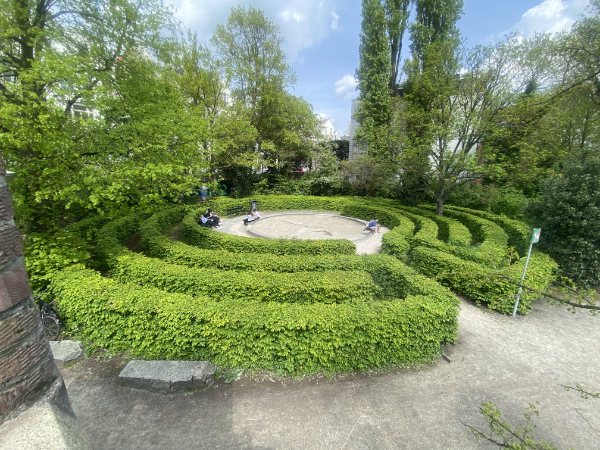 It's not as well-kept at the photo makes it appear. It needs a garden club to get it back in shape. But I got to walk it while my companions rested, and it was good.
Our main goal in Amsterdam was the Rijksmuseum, the repository of Rembrandt and Hals and all those glorious icons of the Netherlands' past. The museum's special exhibit was the Vermeer exhibit, in which most of his surviving paintings have been pulled together from collections all over the world. (Of the 27 works, we had seen seven of them in Washington and New York.) Of course it was sold out.
But the concierge at our hotel told us to get timed tickets for the museum at 9:00 a.m., and then head straight to the ticket desk to see if they actually had tickets left. And they did, so we palled around with Rembrandt until 10:30, and then we bathed in the perfection that is Vermeer. It was a good day. (Ironically, his most famous painting, "Girl with a Pearl Earring," was not in the exhibit; we don't know why The Hague didn't loan it.)
Other high points of the trip include a phenomenal dinner in Rudesheim, a tiny riverside town (more about which in the swag post); our tour guide singing "Alleluia" in the cathedral in Koblenz; teaching the waltz to three or four fun couples on board; cocktails at the Super Lyan bar, one of Amsterdam's finest, which happened to be in our hotel; watching the full moon rise above the river as we sailed along at night.
Next up: all the stuff I bought, and a couple of pro tips.