At 6:42 a.m. tomorrow (Fri) morning, my Lovely First Wife and I will be at Hartsfield-Jackson International Spaceport and Hair Salon. Where are we off to this time, you might ask?
We have no idea.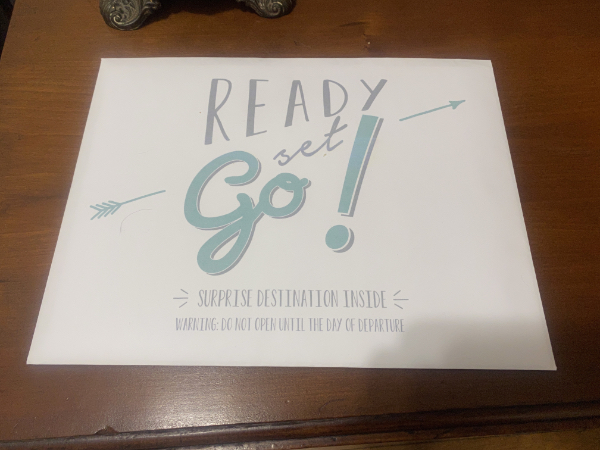 This is the envelope we got last week. We are not to open it until we're headed to the airport, where we will have to print out boarding passes, etc., all on the fly.
It's from a company called Pack Up + Go, which I learned about when a Facebook friend posted that they had signed up for a trip. It's pretty simple: you select the category of trip you want to go on, your dates, your budget, and where you're traveling from.
You also tell them where you've traveled recently, places you'd like to go, places you never want to go, and the activities you like. You can also opt for warmer weather, which of course I did.
Then you hand over your credit card and hope for the best.
I gave this to my Lovely First Wife as a Christmas present, because she loves to travel. (I hate to travel. I like being there, but getting there is invariably a pain in the butt.)
I was semi-inspired by New Yorker cartoon (that I cannot find at the moment) that featured a couple, presumably married, and the woman is saying, "I've prepared a PowerPoint slide show of all the ways I'd like you to surprise me." We'll just say that it resonated with me.
Further, as is well-known in our circles, my Lovely First Wife is an obsessive PLANNER. We joke about her travel books and her lists (while acknowledging that with her along, we don't have to do anything), so this seemed like an awesome way to practice a little malicious compliance: I've given you a trip — but you can't plan for it.
Bwahahaha, as we say in the supervillain biz.
The company sends you an email the week before, letting you know what the weather is going to be like (highs upper 50s, lows mid-40s, no rain) and what you will want to pack (nothing untoward other than a bathing suit for the spa, but it's not a beach). I just a moment ago got an email update on the weather, and now I suppose we pack.
Follow along for what I am sure will be a very entertaining long weekend.