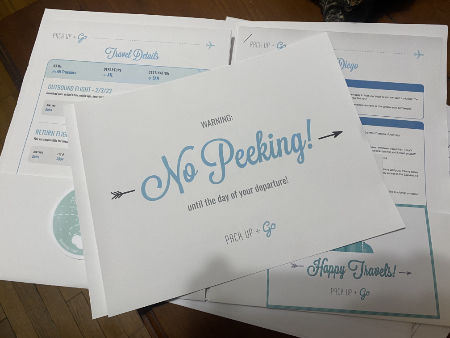 And we're off!
It's already been an adventure: we had only gotten to the corner before we had to turn around to go fetch someone's science magic watch, the one that tells her how many steps to take or something, that we had forgotten somehow.
Where are we going, you ask?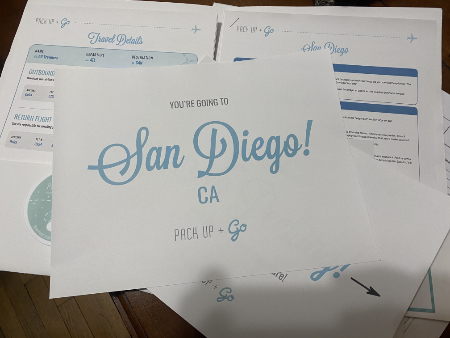 I had suspected that we might be headed there, but the revised forecast for the weekend seemed very cold for San Diego. (Hold that thought.) The irony is that we already planned to come here next year for The Great Cut 2024, so this will serve as a scouting mission.
The packet from packupgo.com is pretty nifty: It includes our hotel reservation, reservations at a couple of restaurants, a food tour, and a reservation at the hotel spa. There are also lists of things to do and places to eat, all within walking distance. (The Pendry San Diego is in the Gaslamp District.)
The flight was miserable — as is always the case these days — but uneventful. We snagged a cab and headed into town, where our room was ready. We ditched our stuff and headed out to get lunch, which we did at The Melt, a good little burger joint around the corner.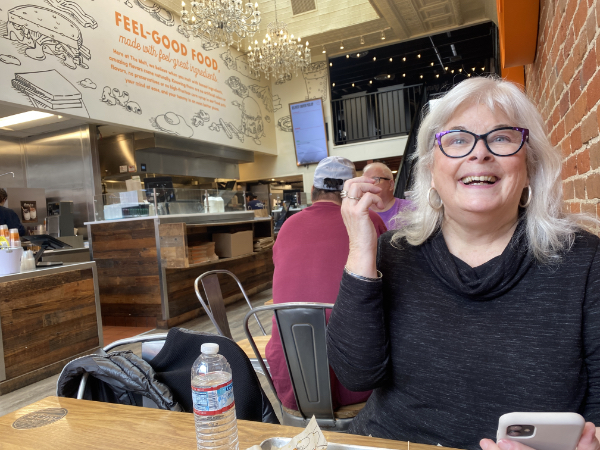 We have now retreated to the hotel to plan out our weekend. (My Lovely First Wife [pictured above] has been frustrated that she has no Top 10 book on which to rely; she's had to meander, you guys.)
More later. The main thing you need to know is that I'm wearing pants because it was supposed to be cold, and it is not.