Sunday afternoon we went to the National Gallery of Contemporary Art. There is a National Gallery of Art, but reviews said the collection was pretty weak, mostly 19th-c. oils. We opted for exciting.
And boy did we get it.
EMST, as it is known, is in a renovated brewery, so it's big and it's industrial. Right off the bat, in the lobby: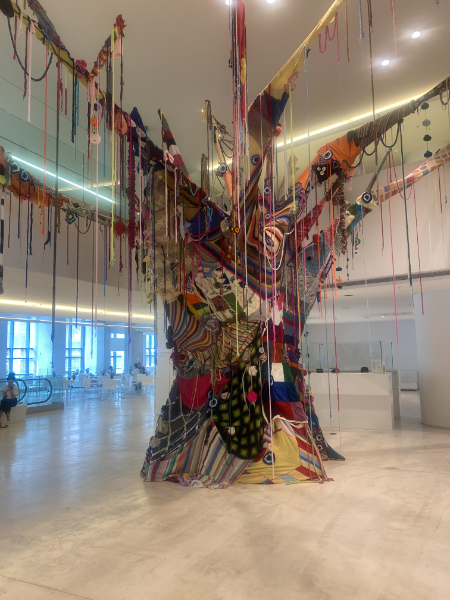 A yarn-bomb tree made up of afghans and community-built additions. Have some details:
The building is five stories tall, and the escalators go straight up. Fun fact: they are motion-triggered, so when no one's around they don't waste energy going up or down.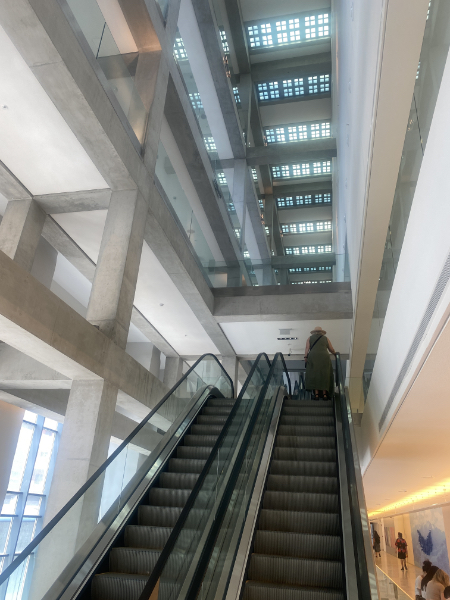 The main collection is on the third floor, and at the moment the works displayed deal with the dispossession of immigrants and refugees, which of course is a major concern to eastern Europe at the moment.
As soon as you get off the escalator on the third floor, you're confront with Fix It,  Mona Hatoum (2004).
It's made of stuff she found in the old FIX brewery as they were gutting it for the museum. It's disturbing and compelling.
Most of the work in this collection was disturbing and compelling.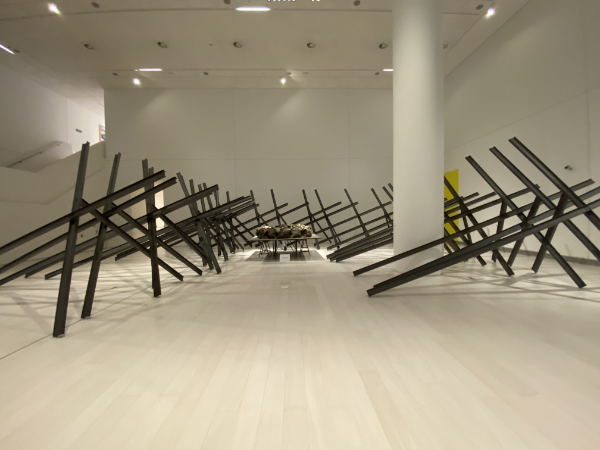 Untitled, Jannis Kounellis, (2004)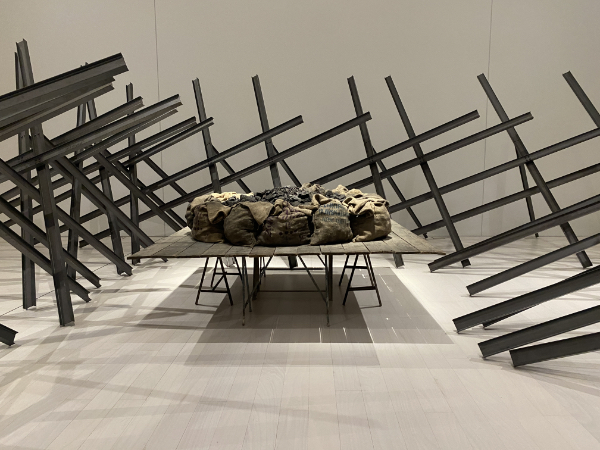 99 Names, Kutlug Ataman (2002)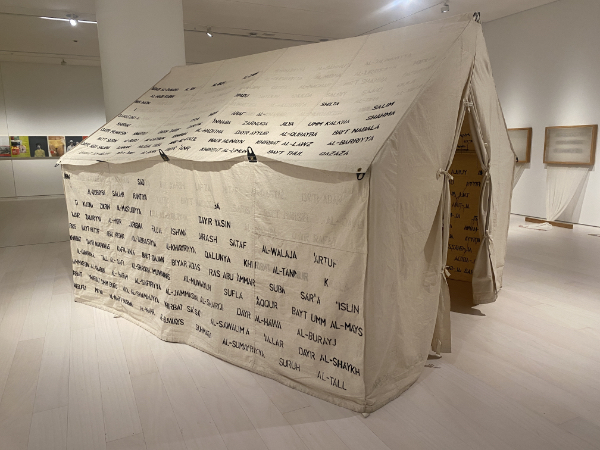 Memorial to 418 Palestinian Villages which were Destroyed, Depopulated and Occupied by Israel in 1948, Emily Jacir (2001)
This refugee camp tent is stenciled with the names of those villages; the artist then invited volunteers to stitch in the names by hand.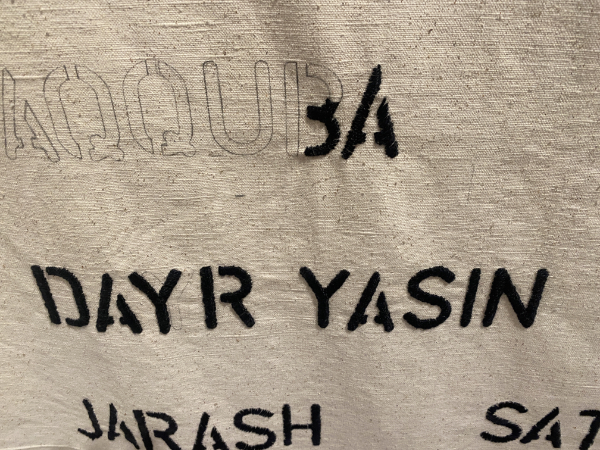 Up on the fourth floor, the art was less confrontational/political, more aesthetically conceptual.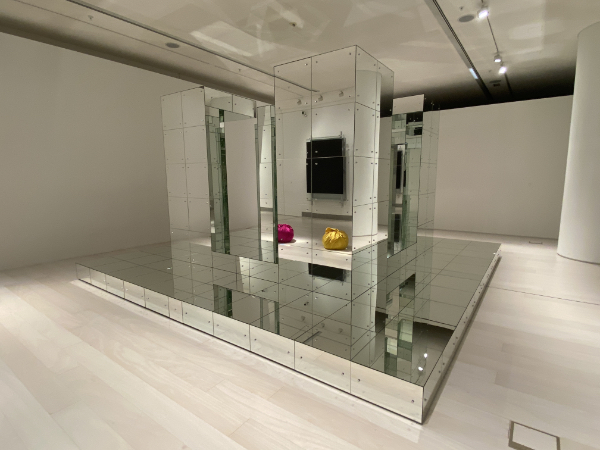 Hebraic Embrace, Lucas Samaras, (1991–2005)
In action: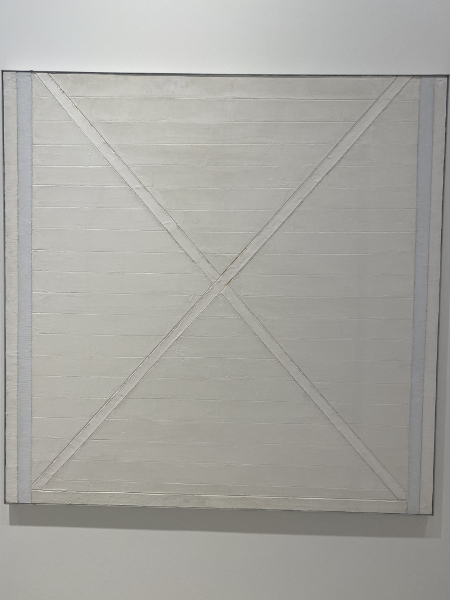 Tolle Blanche, Katzourakis Michalis (1976)
The precise incisions in the medium were what made this piece for me.
Another piece by the same artist: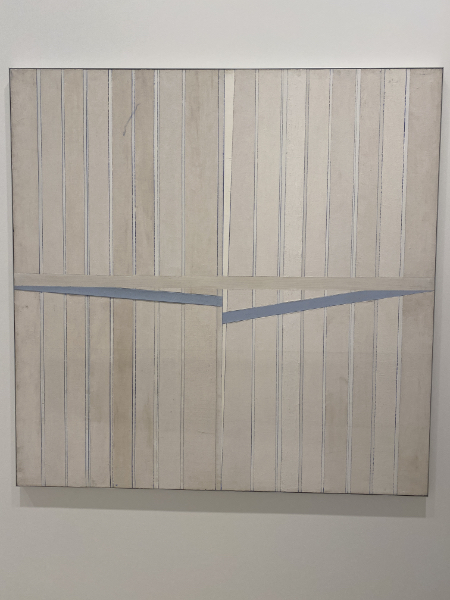 Untitled, Katzourakis Michalis (1978–79)
This piece was sly. You round a wall and see these cool, elegant panes of glass…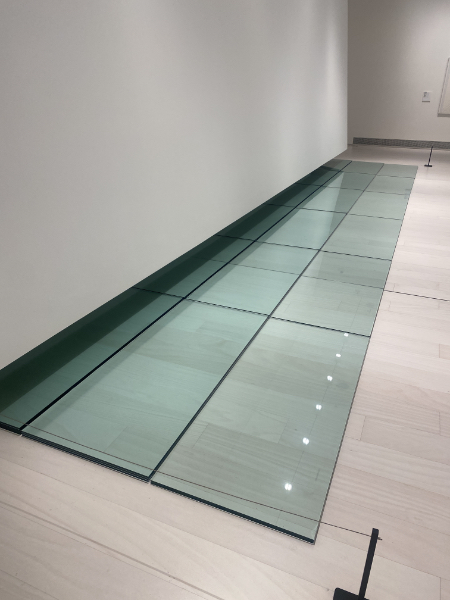 …and then you realize that the "gallery wall" you just walked around is actually part of the piece: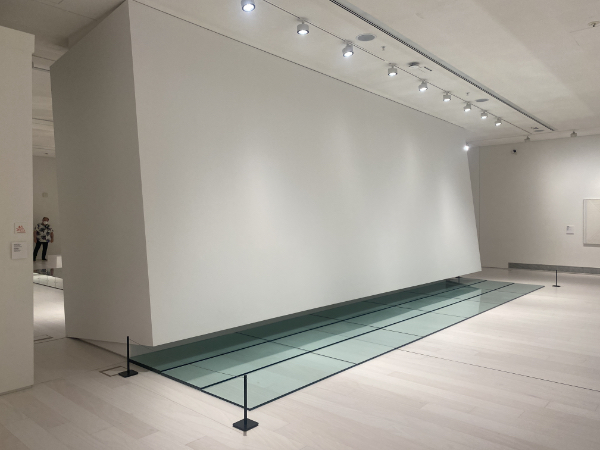 On to the fifth floor.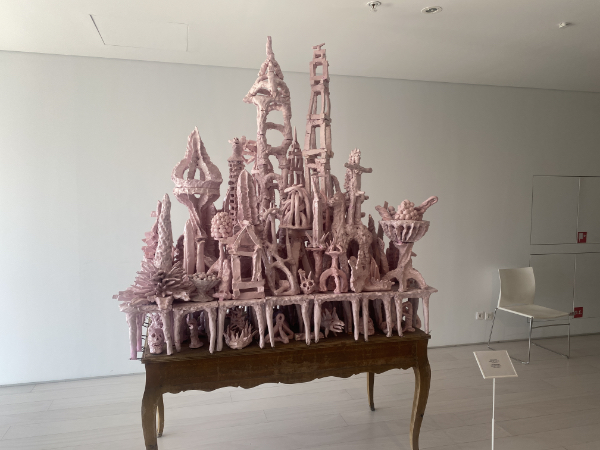 A glacier at our table, Nikos Tranos (2013)
From the label: "The sculptural installation of Nikos Tranos refers to the climate conditions expected to prevail on the planet after a widespread nuclear war. The mutated pink figures […] allude to the colour of the hospital wing where the victims of radioactive poisoning were treated after the nuclear disaster at the Dalichi plant in Fukushima in 2011."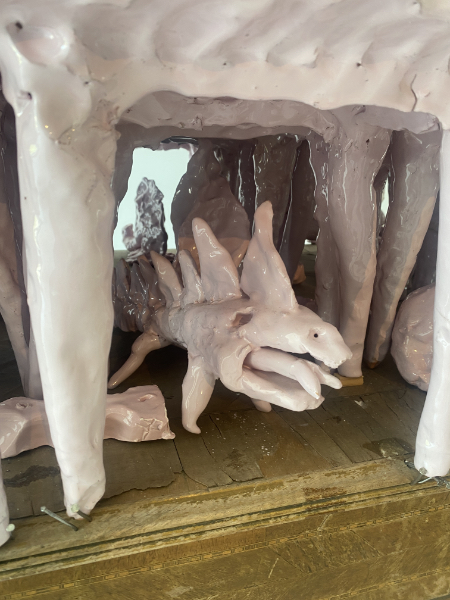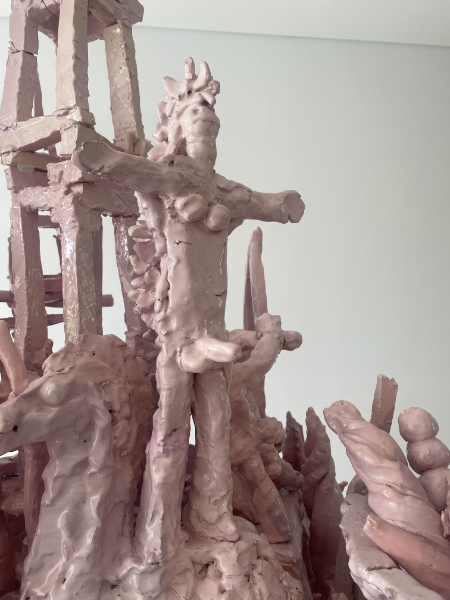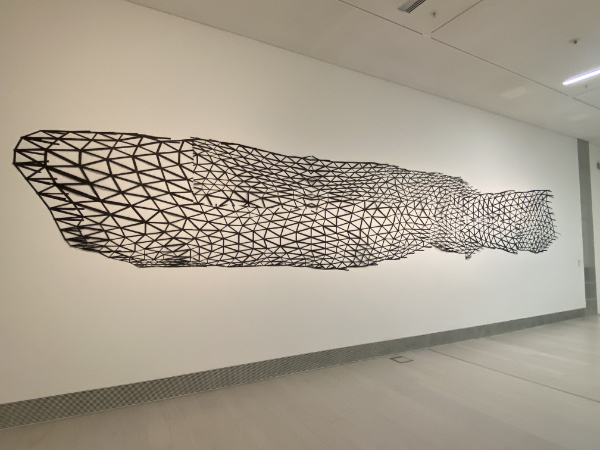 Gate, Nikos Alexiou (2007)
This one is made out of folded paper.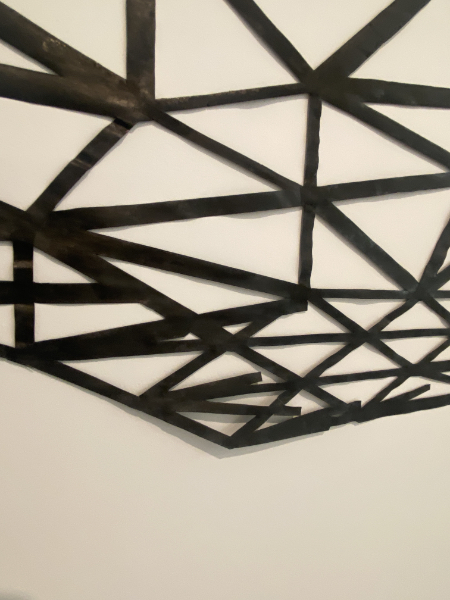 The simplest of materials, the simplest of strategies, the simplest of designs, repeated and varied: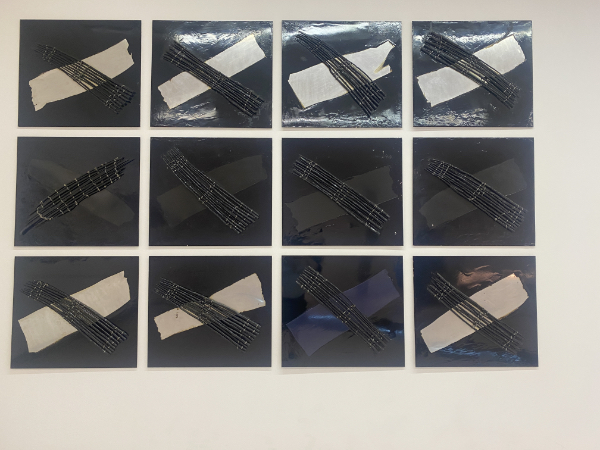 Large liquid, Leda Papaconstantinou (1991)
Made of aluminum, wood, and tar. Detail: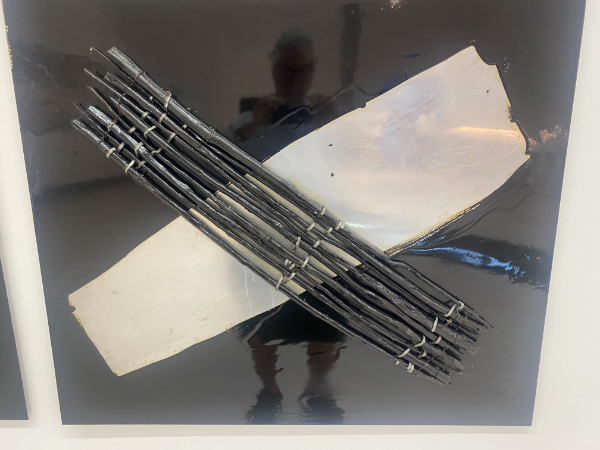 Same idea: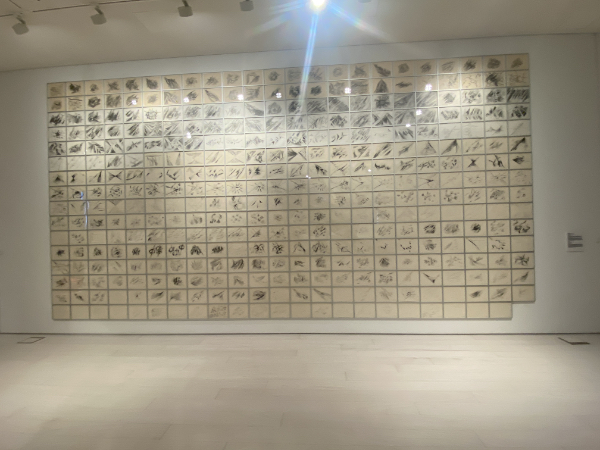 Serial de-re-structures, Bia Davou (1992)
This consists of 367 drawings, created by the artist based on a system of sequential structures, e.g., dots on a grid.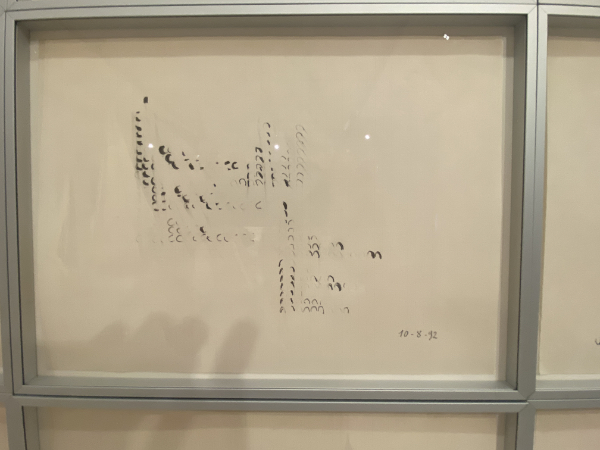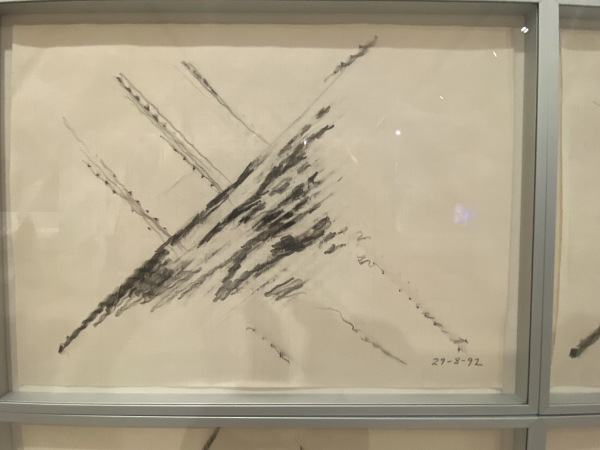 This same artist produced the extravagant Sails:
I liked the textures on this one, the use of the fabric versus the medium: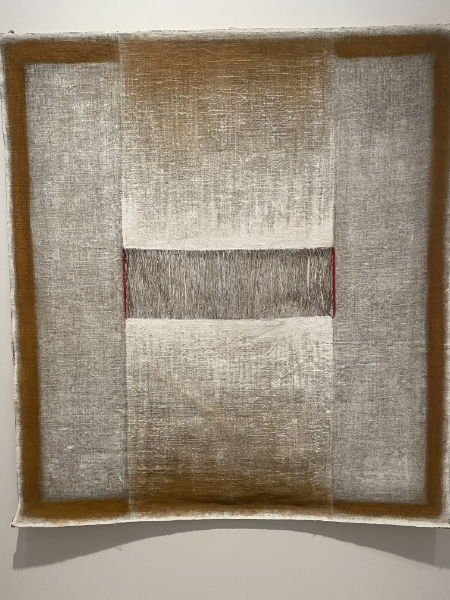 I/1977, Danil (1977)
Detail of that center: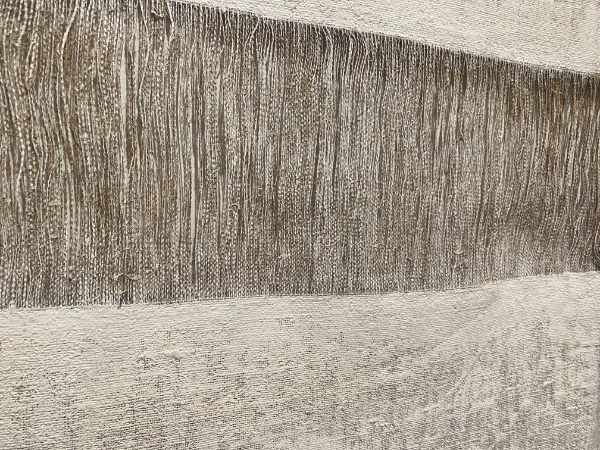 As soon as I saw this piece, I knew that my Lovely First Wife would immediately fall in love with its obsessive categorization and tidy storage of materials.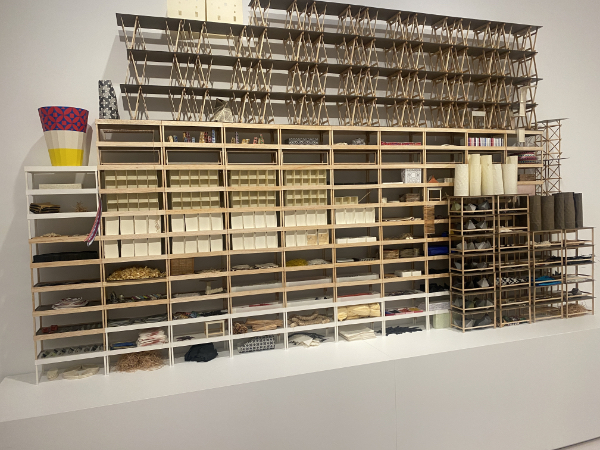 Untitled (Tables), Nikos Alexiou (2007–2011) (He made the wall piece Gate above.)
I was not mistaken.
This piece was lovely:
At Home, Niki Kanagini (1975)
The exhibit's grand finale was grand indeed. You entered a room to find a fenced enclosure.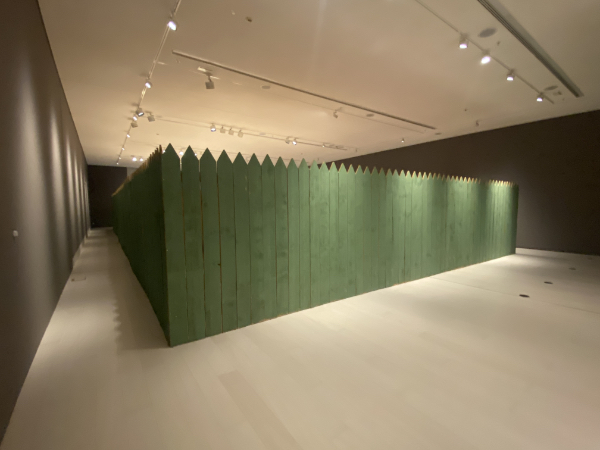 When you walked around to the entrance…
The Boat of My Life, Ilya Kabakov (1993)
This boat was filled with huge cardboard packing boxes. Each of those was filled with clothing, as if packed for a move. On top of each box's contents was a poster board with random objects with cryptic quotes.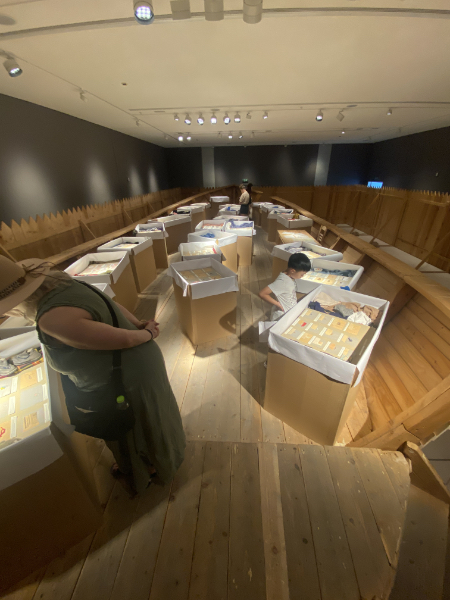 The last box was empty, as if waiting for that final packing.
—————
I'll post this again in my Pro Tips post, but one of the distinct disadvantages of a tour like Gate 1 is that you do not ever get to spend the time in a museum like we did at both the Archaeological Museum and this one. In fact, neither museum was on the tour or even pointed out as we drove past. That may not be a sticking point for you; Gate 1 does a booming business without catering to the artsy types like me, so as always your mileage may vary.
After the museum and a break, we headed to the main district, hoping to find a good cocktail bar.
The Acropolis was looking lovely…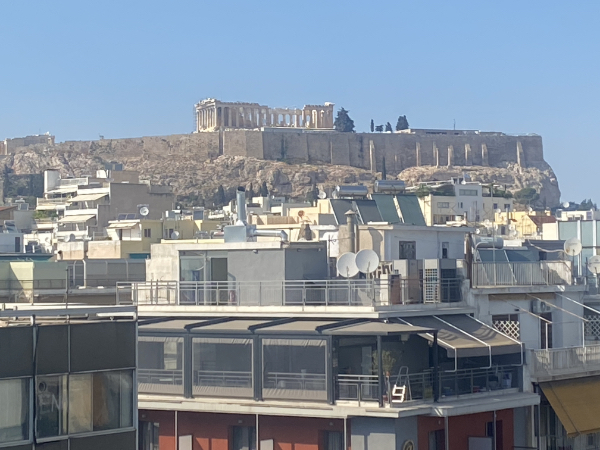 …as was the Temple of Jupiter…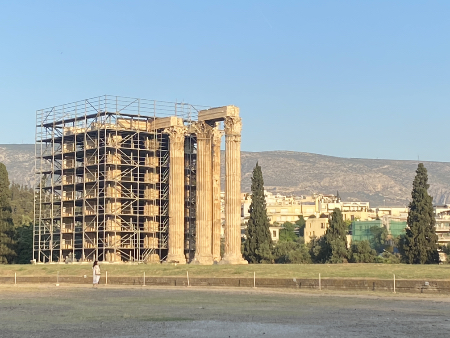 …but as usual, Athens disappointed us with its cocktail paucity.
The ambience was, as usual, fabulous.
And as fate would have it, we ended up not at a cocktail bar but at a wine bar, Vintage.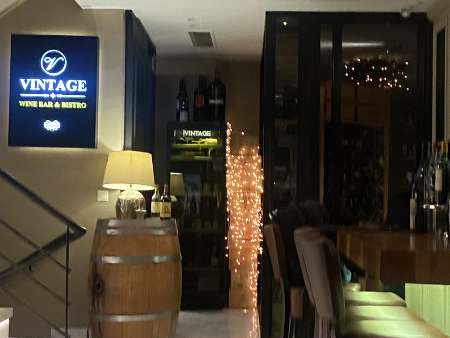 We had a salad, a cheese plate, and the best wines I've ever had ever. They have over 800 bottles from which you can order by the glass, and the waiter/steward will gently quiz you on your tastes before bringing you one amazing glass after another. Highly highly recommended!
Next up: We backtrack to hit Day 3 and Day 4, then Pro Tips!