I know I promised to continue our journey through Greece — Corinth, Mycenæ, Olympia, Delphi, the islands — after I rested up, but it turns out I have a different story to tell. You may want to skip this one and come back tomorrow for the stuff I promised you yesterday.
On the bus all Tuesday afternoon, after Olympia heading to Delphi, I felt twinges of discomfort in my abdominal area, and by bedtime I was in pain. Since I had not had a bowel movement since Monday morning, I presumed it was constipation.
By 2:00 am the pain was serious, so I went downstairs. The front desk did not have any laxatives on hand, and of course the pharmacy was closed. I decided to tough it out the rest of the night, hit the pharmacy in the morning, and give the Oracle ruins a pass.
By 4 am, however, the pain was too much. The front desk called my Lovely First Wife and me a taxi, and away we went down the mountain, zigging and zagging those switchback roads at high speed. (I closed my eyes and lay down.)
We were headed up another mountain to Amfissa and its small hospital. There we were ushered into the ER, where I was treated by a lovely young doctor and her assistant.
I had two sets of x-rays; an ultrasound (for which we had to wait until the technician came in to work); two pain shots; had another, older doctor consult (he was a bit of an asshole; gave off a whole "little lady" vibe to my main care giver); and a very handsome urologist who told me that I indeed had a kidney stone (1 cm); and a whole laundry list of other issues to follow up on when I got back home, not all of them dealing with the kidney stone, which they told me was not actually moving.
Amfissa's hospital is an older facility, and while the care I received was first-rate, we were surprised at the old-fashioned procedures, like my doctor writing down everything in a ledger book instead of typing it into the computer. No one wore nametags nor introduced themselves. (The equipment, I hasten to add, was thoroughly modern.)
When I asked to pay, there was some confusion, but eventually the front office came up with a bill for €89.72.
Eighty-nine euros. In real money, that's about $140. For an ER visit.
But wait, there's more.
We were able to rejoin the tour, literally on the road halfway up the mountain to Delphi, and set out for Itea, a seaside town where we stopped for lunch. I was still not feeling well, and realized that they had not prescribed any pain meds for me.
Then we began the long drive north towards Meteora, during which I was supposed to be catching you up on Monday and Tuesday, but by the time we hit the rest stop on the way to Kalambaka I was retching from the pain. Our fabulous tour director Efi called a cab, and we left the tour again to head to Lamia, where a much larger hospital ER awaited us.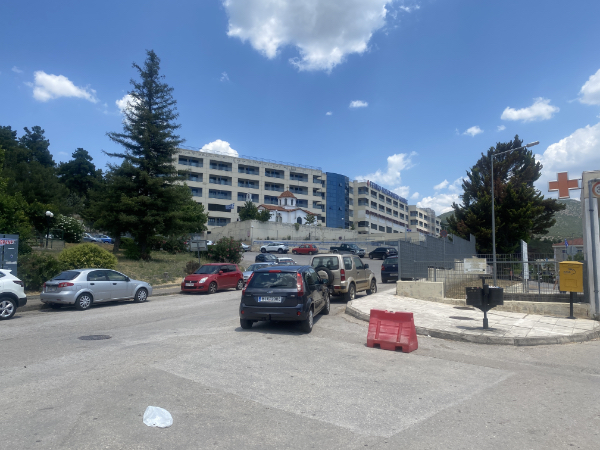 There was I given a CT-scan and held overnight for fluids, pain meds, and observation. (Once again, the medical staff was TV/movie attractive; a flock of handsome EMT trainees watched my IV being inserted.)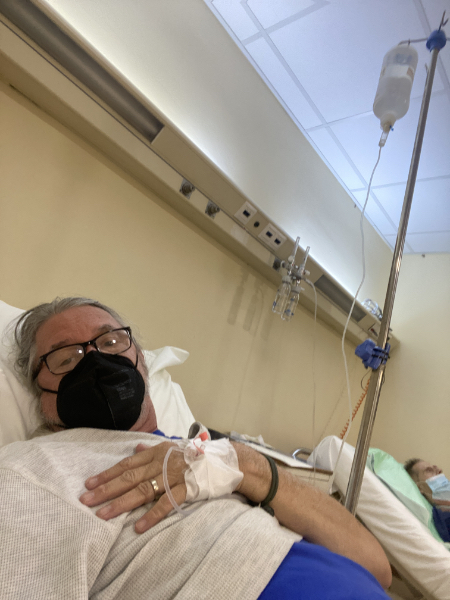 I was put in the men's three-bed emergency ward.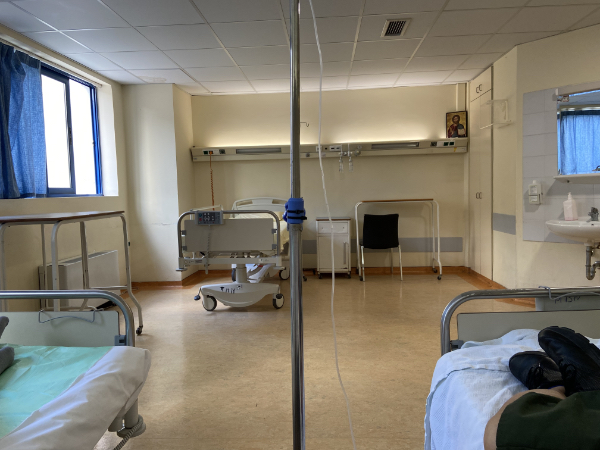 My wardmate was an older man who was not only garrulous but stentorian. He roared constantly; I put in my foam earplugs. Eventually the Lovely First Wife, now becoming best friends with Gate 1's emergency-handling person, was whisked away to the Fthia Hotel.
At one point in the evening, I woke to find a very ill man in the bed next to me, tracheotomy and all. The loud man's treatment was finally deemed satisfactory and his daughter took him home. Quietude descended. I slept, until the pain meds began to wear off and I was back where I started.
They continued to pump me full of antibiotics, pain meds, saline solution, and finally a laxative, which I requested by using translate.google.com. (Yes, our friend Sue had given me a gizmo that translates the spoken word, but did I remember to bring it? Of course not.)
Twenty-four hours after we got there, I was released. Here's a group photo of my team and me — we need vacation shots, after all.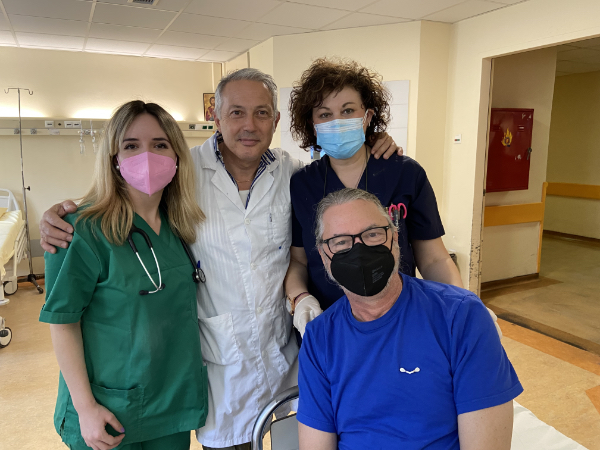 We went to the pharmacy next door, where prescriptions for Ciproxin, Celebrex, and Lonarid cost us €16.
We headed back to the hotel that Gate 1 had found for my Lovely First Wife, the Fthia Hotel. It's small, perfectly modern, and convenient to the hospital, just in case you need to know that. After a shower, a shave, and some snacks, I was feeling just about human.
We are staying the night and working out with Gate 1 how to get back to Athens and fly home as soon as we can, so no Greek islands for you. (And no Cretan labyrinth/Minotaur for me.)
Oh, and how much does an overnight stay in an ER, complete with CT scan and drugs? Zero.
"It's a public hospital."