When last we left our hero and his Lovely First Wife, he had been released from medical care in the ER in Lamia, Greece, and their tour with Gate 1 was over.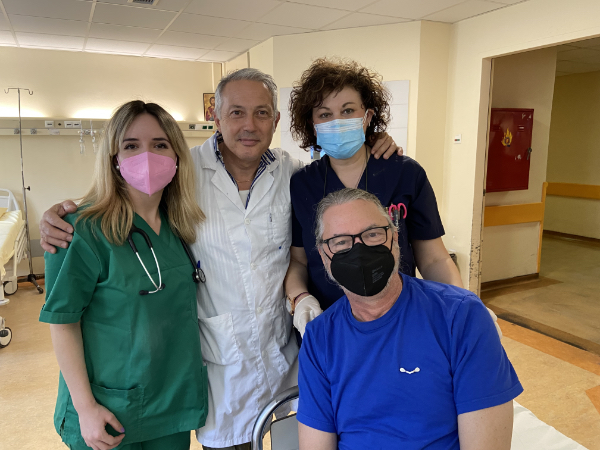 And now, the rest of the story.
What, did you think was going to happen, that we were just going to get on a plane and come home? We considered it. We looked into just bagging it all and coming home, but Delta was going to charge us $2500 to switch flights from our already-booked flight on Monday to a flight on Saturday that by their own admission was not full.
(This was especially galling since the flight we took to get here was overbooked and Delta was offering, if you recall, more than $2,000 for people to hop off, and I'm going to bet right now that the flight on Monday is already overbooked. (And if it is, as soon as they offer people $800 to give up the flight, we're going to counteroffer with $2,500 so they can go ahead and get the plane loaded, and we'll spend another night in Athens.))
So we decided to stay until our regularly scheduled flight. Gate 1 was phenomenal, finding us a hotel in Athens for the rest of our stay, an apparently Herculean task since there was to be an antique car rally in town. (For the record, we have seen no antique cars.)
Thursday night we remained in Lamia, heading downtown to dine and stroll. My shrimp and saffron risotto at the Odos Odeiron: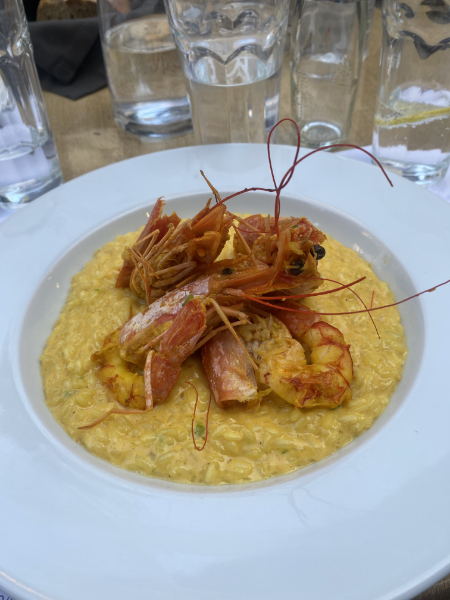 About €10, folks.
The main square was hopping, with families and kids and teens and a fabulous dancing waters fountain.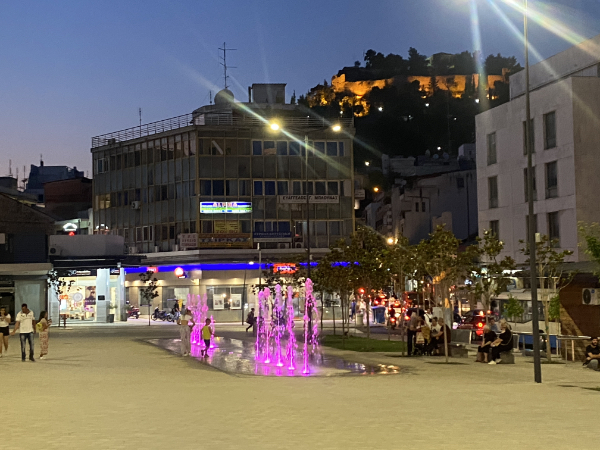 Lamia had been decsribed to us as a "village," but it's a town of 80,000. It's just not on the tourist path.
When we inquired about hiring a cab to take us back to Athens, Ifigenia, the lovely clerk at the hotel, suggested we take the train instead — a suggestion we leapt at. One, it was cheaper, way cheaper, and two, oh my god how much more comfortable!
I booked our tickets online, and it was even cheaper because we are Olds. The first car was first class, but it had only one seat available, so I went for second class in Car 2. How bad could it be, right? The train cars had seats in rows of three with a single aisle on the side. (This is a Very Important Detail.) I selected two window seats facing each other on Car 2 — #56 and #57 — paid with PayPal, and added them to my phone.
Hilarity ensued.
Our cab driver got us to the station super early because we needed to go to the ticket booth to see about checking our luggage, since the website clearly said that each of us could have only one carry-on bag. The clerk was very confused by my request. I typed my question into translate.google. She smiled at my naïveté. There was no such requirement.
Oh.
She told us to find Track 3, and we set about doing that. I imagine that you are thinking we just followed the signage like at the Five Points or Arts Center stations, and we kind of did, if you're imagining signs printed out from your computer and taped to the walls some months —if not years — ago. None of the electronic signs were functioning. There was no signage saying which track was exactly which. There was not even — that I could see — any signage identifying which station this was. So unlike our dear MARTA or AmTrak…
The station is, shall we say, unprepossessing.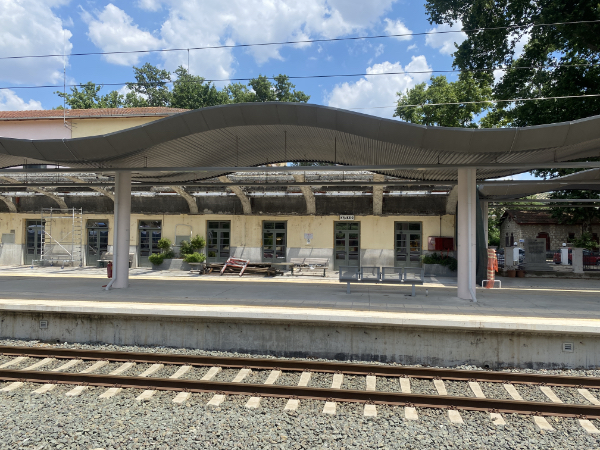 The train, on the other hand, was quite festive, if 30 minutes late.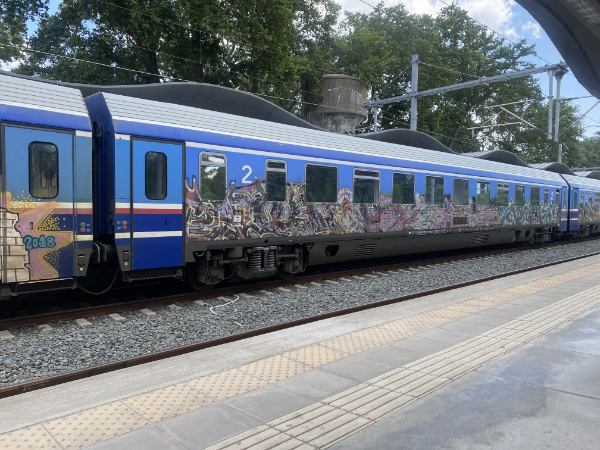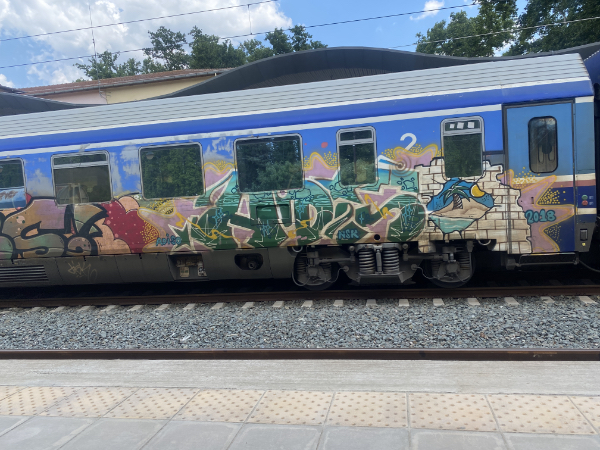 There is an abundance of graffiti on nearly every surface in Greece, but the trains are especially artsy.
So, you remember how the train car had rows of three seats, in groups facing each other, with an aisle all on one side, and I had reserved seats #56 and #57? On Car 2?
First of all, there were no numbers on the cars. No ID of any kind. Trusting in math, we hopped onto the second car.
And there we found: two rows of seats in groups of two, with an aisle down the middle.
Hm, I thought, maybe this is another first class car. We headed to the third car, once more finding the electric doors amazingly obscure in their operation. (That's on us; the doors worked just fine.)
In this car there were: two rows of seats in groups of two, with an aisle down the middle.
A quick glance at the fourth car showed the same setup. I decided to look for seats #56 and #57 and just settle in.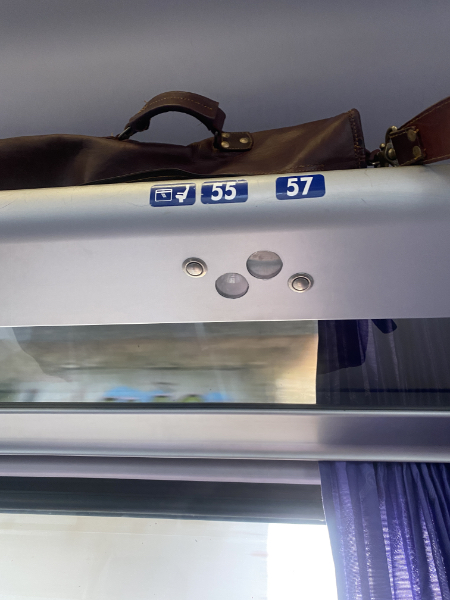 You think that's funny? Across the aisle: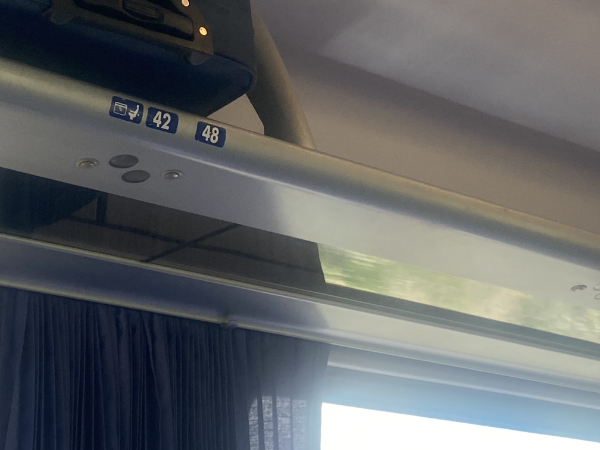 Next to that: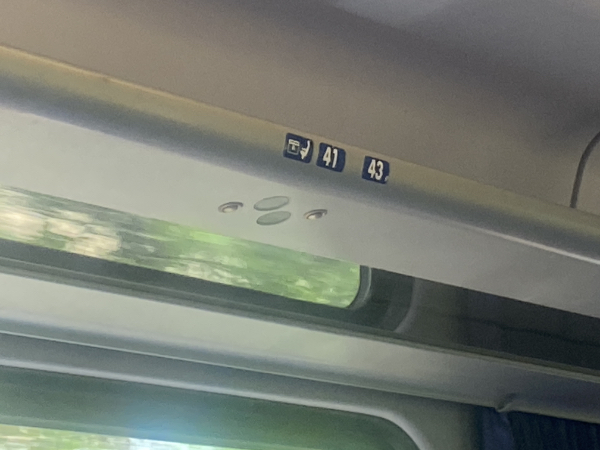 And next to that: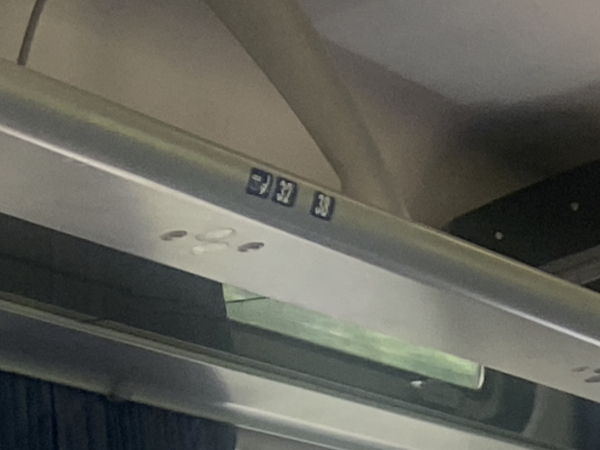 So either the train seating in Greece is an arcane mystery understood only by the natives, or it's actually just a fupping free-for-all. (Place your bets now on which it is.)
We took our seats, resigned to being scolded by the conductor for being in the wrong seats — or worse, by some Greek old lady who spoke no English.
But no one scolded us, the conductor scanned our QR codes, and off we went.
Despite the deshabille of the station, the train itself was clean and modern, though without wi-fi, which is my current excuse for not having posted Day 3 or Day 4. It whisked us the two hours to Athens on a reliably straight path, which was calming and refreshing after the torturous mountain roads we'd experienced in the days just prior.
The Greek countryside is astounding.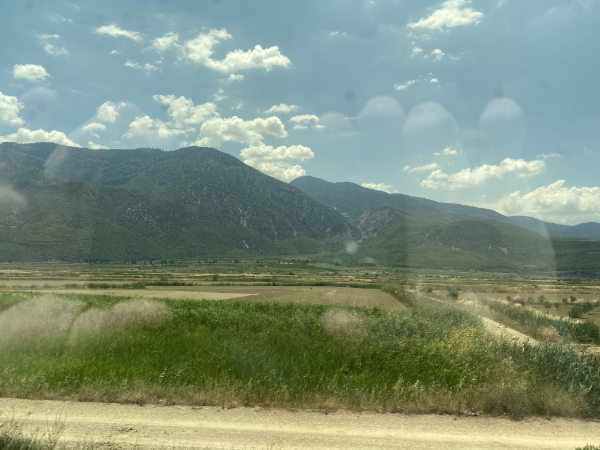 We pulled into the Athens station, unbelievably no more sleek or organized than Lamia; suffered a cab driver to pounce upon us; and soon we were checking in to the Athenian Callirhoe, the 4-star hotel that Gate 1 had found for us. (They made the arrangements; the cost is on us, but I'm here to tell you that it costs less to stay here than in most Hiltons.)
The view from our balcony:

We collapsed, napped, then went out for a stroll. My Lovely First Wife rewarded herself with jewelry; we ate a phenomenal fresh seafood dinner for less than $30; and ended up at our hotel's rooftop bar, where I had a simple gin and tonic because Athens is not a craft cocktail kind of town the end.