Here's my new game: take a recipe from the venerable Savoy Cocktail Book, try it. If it's good, great. If it's not, try to modify it so that it is. If that doesn't work… well, failure is always an option, as we Lichtenbergians say.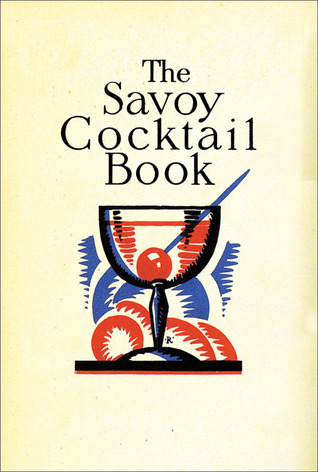 The Savoy is the work of the immortal Harry Craddock, famed mixologist of the American Bar at the Savoy Hotel in London. With the U.S. suffering under Prohibition, Craddock returned to his mother country and cranked it up to 11. He published the book in 1930, and it's still in print. (The fact that he's buried in a pauper's grave is even more disturbing when you see that a first edition of his book is going for $2,763.31 on Etsy. (You can get free PDFs on various sites with free "memberships," or an online version at the EUVS Vintage Cocktail Books website.))
There are 750 cocktail recipes. Some are still famous, some are headscratchers: what is "Hercules" in the Wow Cocktail? Most are probably negligible, just quick swigs for the Bright Young Things inhabiting the bar of an evening the last time we did the Roaring Twenties.
Still, it should be fun to play with.
Here's one I discovered by randomly opening it one day:
Rolls Royce Cocktail
1 ½ oz gin
¾ oz sweet vermouth
¾ oz dry vermouth
¼ oz Bénédictine
lemon peel
It's a riff on the Perfect Martini (most cocktails called "perfect" have both sweet/Italian and dry/French vermouth in them), and the Bénédictine takes some of the edge off that. Lemon peel is essential.
Anway, my game will be to open the book at random, look over the page, pick a cocktail, try it, modify it, toss it, whatever — and then blog about it.
Here we go!
Classic Cocktail
First of all, it takes a bit of chutzpah to label a cocktail The Classic. Here's the original recipe:
1 ½ oz brandy
½ oz orange curaçao
½ oz Luxardo maraschino liqueur
½ oz lemon juice
sugar rim
lemon peel
Rim a coupe with sugar. Shake ingredients with ice, strain into the coupe. Express the lemon peel over the drink and toss it in.
Verdict: Not bad at all. I tried one small improvement and it was better: add ¼ oz orgeat. So…
Classic Cocktail (adapted)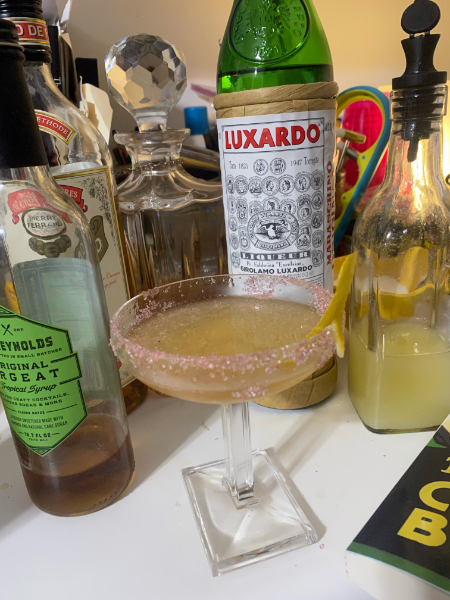 1 ½ oz brandy
½ oz orange curaçao
½ oz Luxardo
½ oz lemon juice
¼ oz orgeat
sugar rim
lemon peel
The orgeat rounds out the sweetness, although to be sure, I used a dry curaçao; the deKuyper stuff would probably be a lot sweeter.
Fun fact: I have about a pint of purple sugar that I got for a signature cocktail I created for my son's wedding reception. The bar ran out of the drink fairly soon — I didn't even get one — and seven years later I still have purple sugar. It made a great rim, iridescent and complementary to the gold of the cocktail.
Till next time!