I'm bored, so I'm taking random cocktail recipes from The Savoy Cocktail Book (1930), giving them a try, and modifying/improving them if  I think it's necessary, and reporting my findings here.
Today's cocktail is the Yellow Daisy. (To be clear, I experiment with these cocktails the afternoon before. I am not day drinking. Yet.)
I should mention here that Harry Craddock's recipes are idiosyncratic, mostly proportions. (The recipe for The Classic, our cocktail yesterday, has proportions of 1/6, 1/6, 1/6, and 1/2.) I'll be converting to ounces as we go along.
Here's the original:
Yellow Daisy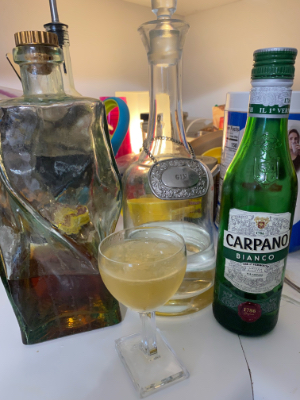 (6 people)
2 glasses Gin
2 glasses French Vermouth
1 glass Grand Marnier
Before shaking, add a dash of Absinthe.
There follows an actual paragraph: Not only the favourite drink, but also the one made famous, if not invented, by Richard William ("Deadwood Dick") Clark, recently deceased…
Okay then.
The Yellow Daisy is still a thing, though perhaps not as famous as it once must have been. As is becoming evident, many recipes in the book are variations on the Martini, and this one is no exception. (I will note that if I saw this recipe without the instructions, I would have stirred it, not shaken it. Apparently this Martini is an exception to the rule of shaking v. stirring.)
I made it straight, and despite the fact that dry vermouth and absinthe are not my favorites, this one was not bad from the start. I would advise going light on the "dash" of absinthe, like 4–5 drops max.
Nevertheless, I tried my hand at modification. Instead of absinthe, what if I used one of the many amaros at my disposal? Here is where my amateur status as a mixologist is an impediment: I don't have each amaro's "notes" in my head, especially the ones I rarely use. I gave a mini-taste-test to a couple and decided to try Amaro Montenegro.
Yellow Daisy variation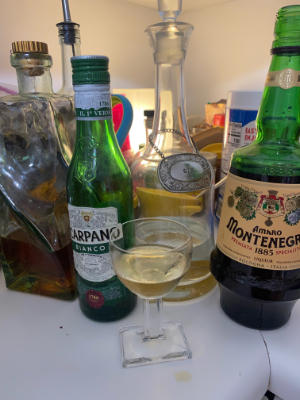 1 oz gin
1 oz dry vermouth
1/2 oz Grand Marnier
dash–1/4 oz Amaro Montenegro
I started with a dash then bumped it up. Honestly, it was OK, but not the improvement that I got with The Classic. I'd stick with the original if I needed this drink for some reason.
Perhaps some other amaro might work, but I don't know that it's worth the trouble. (Let us note, too, that if I were to find that Amaro Ciociaro or Meletti worked, the drink would no longer be a Yellow Daisy. That's a subthread that we'll pay attention to as we go along.)
Shall we keep score? I feel as if we should keep score.
SAVOY VARIATIONS SCORECARD
Savoy: 1
Dale: 1
Sink: 0 <— when neither Craddock nor I create a palatable drink