Here's a tasty new cocktail, the name of which is still unsettled. For the moment I am sticking to my hippie woo gemstones series and am calling it:
The Fire Agate
1.5 oz bourbon
.75 oz sweet vermouth
.25 oz blood orange liqueur
.25 oz creme cacao
hickory smoke
Stir everything with ice then smoke it before pouring. The hickory smoke is not strictly necessary, but boy does it elevate the drink to cocktail status. For fun, put ice in your glass and smoke the ice just before pouring the drink.
Also, I used Salerno blood orange liqueur because I had it, but I imagine most any orange liqueur would serve. (I tried a fancier, more cocoa-er chocolate liqueur, but plain old DeKuyper is better.)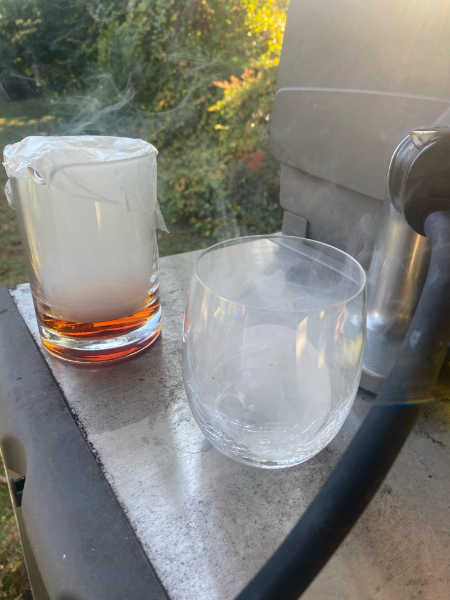 The Smokening™ (r)
This is spectacular for a party, especially at Halloween. I prefer to use the smoker outside simply because it's not a precision instrument and you will find your kitchen/bar/entertainment area filling with smoke. Tasty, tasty smoke, but still.