I'm pretty sure most people who cook have some similar system in place, but just in case you find it frustrating to throw a meal together and have all the components come out ready to serve at the same time, here's how I do it.
I had a soy sauce glaze that I had made (to replace a missing ingredient in a Blue Apron shipment) and wanted to use up, so I decided on sautéed shrimp, roasted broccoli, and rice for the meal. Each element is going to take a different time to prepare, so the idea is to break that time down into chunks and set kitchen timer "checkpoints."
Step 1
(Preheat the oven, of course.)
Get a sticky note and write your elements at the top of the sheet, with the actual cook time involved. (If something requires a long prep, like marinating, etc., you might want to include that as one of your time chunks.)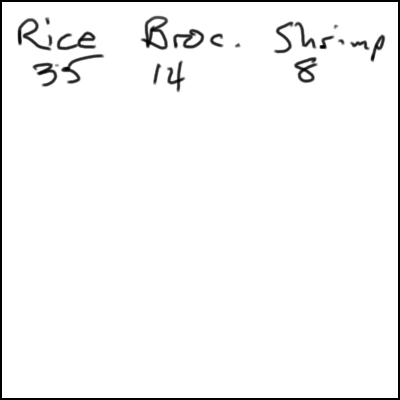 Clearly I will need to start the rice in the rice cooker first.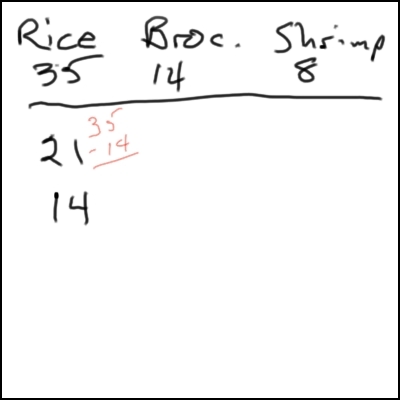 A little basic math, and now we have our first timer setting: 21 minutes before the broccoli has to go in the oven.
Do that again with the shrimp: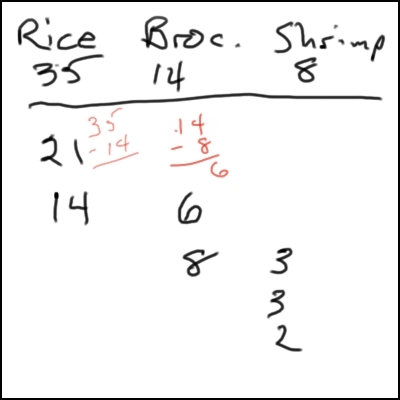 Now we have our timer settings.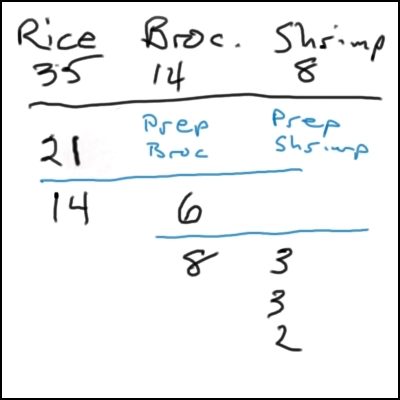 And there we have it: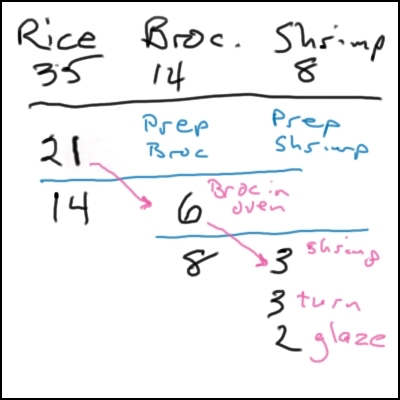 I scribble all of this down and put the sticky note on the counter where I can keep track of it. If this were a set of instructions in a cookbook, it would be like this:
Preheat the oven to 400°.
Start the rice in the rice cooker, setting the timer for 35 minutes.
SET THE OVEN TIMER FOR 21 MINUTES.
Prep the broccoli and the shrimp. Chop the lovage to add to the rice when it is done.
When the timer goes off, PUT THE BROCCOLI IN THE OVEN.
SET THE TIMER FOR 6 MINUTES.

When there are a couple of minutes left, preheat the pan. (You could break up the timer in to 4 and 2 minute chunks, of course.)

Put the shrimp in the pan.
SET THE TIMER FOR 3 MINUTES.
Turn the shrimp
SET THE TIMER FOR 3 MINUTES.
Add the glaze.
SET THE TIMER FOR 2 MINUTES.
Stir the shrimp to coat with the glaze.
And ding! everything's done. Plate and serve.
And that's my good deed for the day.