I was minding my own business, swimming through the hellsite known as Twitter, when someone tweeted about a media specialist in Hampton, GA, begging for bucks on DonorsChoose.org so that her Title I students could each get a book to read over the summer to get a headstart on the Helen Ruffin Reading thing that many schools do.
Sure, I thought, and I headed over to chip in a little. While there, I decided to see if anyone in Newnan had asked for help.
Oh yes.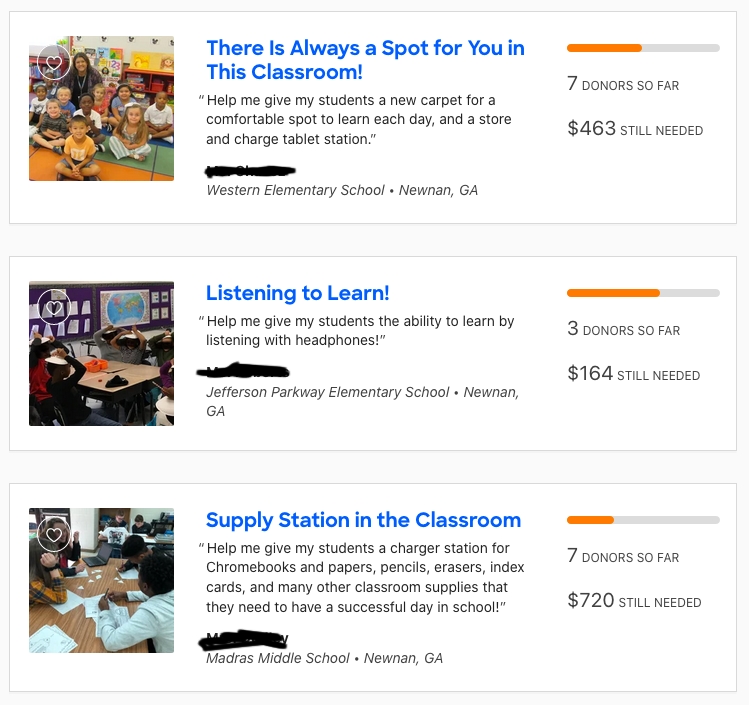 So I chipped in there, too.
Here's the thing, though: WHY ARE TEACHERS HAVING TO BEG FOR BUCKS FOR BASIC CLASSROOM ITEMS?
Every time some conservative grotesquerie rants about being taxed and about overreaching gubmint, I remind them that this is the result. Oddly, it does not abash them. Instead, they froth at the mouth and say that this is RIGHT AND JUST because this way people support our children's needs voluntarily.
To which I reply: screw you. Screw you and your privileged life that had your education handed to you both by well-funded schools and comfortable middle-class parents. (And if that was not the case for you, then SCREW YOU EVEN MORE: you should know better.)
Yes, the government should take your money (in taxes) to fund our nation's schools. They should tax the rich more. (And if you don't understand how marginal tax rates work, go educate yourself. And if you're feeling sorry for the poor billionaires, disabuse yourself of that ignorance, too.)
No teacher should ever have to buy pencils or headphones or books, and no teacher should ever have to beg for others to do so. We as a nation should be paying for all of it.
All. Of. It.
Pro tip: Do not go to donorschoose.org and poke around. It will drive your blood pressure through the roof.