So one of us decided that we needed to visit Quebec City in December. The official excuse was that there was a German-style Christmas Market, but I'm pretty sure it was to make me freeze.
Normally I blog about each day of our travel, but this was just a long weekend, plus I was out of commission for about a third of it, what with an injured ankle and some sleep issues. You are therefore getting just a summary of the adventure.
This was definitely one of those trips where I just packed my suitcase and got in the car; my Lovely First Wife made all the arrangements. I didn't even research cocktail bars this time.  So it was a great delight when we arrived at our lodgings, the Auberge du Trésor on Rue St-Anne, on the Place Armé right across from the Chateau Frontenac.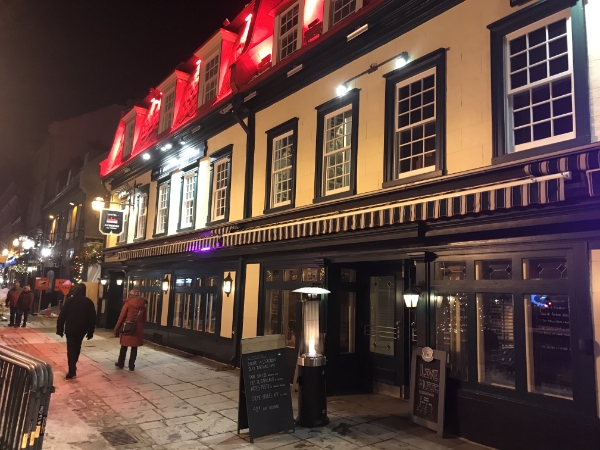 The hotel is located on the top floors; the bottom is the Bistro 1640, a really really good restaurant and bar. It is entirely possible to eat nowhere else your entire trip. Its name derives from the fact that the original building was built in 1640; parts of the foundation wall are still visible in the bar.
Here's the view from our room: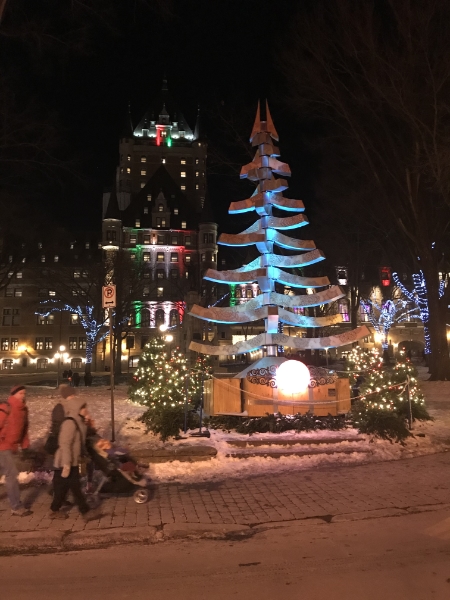 If you've ever wanted to feel as if you're in a Hallmark Christmas movie, Quebec at Christmas is where you want to be. (You would be responsible for your own idiotic plot, and if you're not a single woman with a successful career that you're willing to abandon after a week, you're probably out of luck.)
Besides the glorious holiday decorations everywhere, the highlight of the trip was our visit to the Musée National des Beaux-Arts du Québec.
Dear reader, we walked there through the tundra.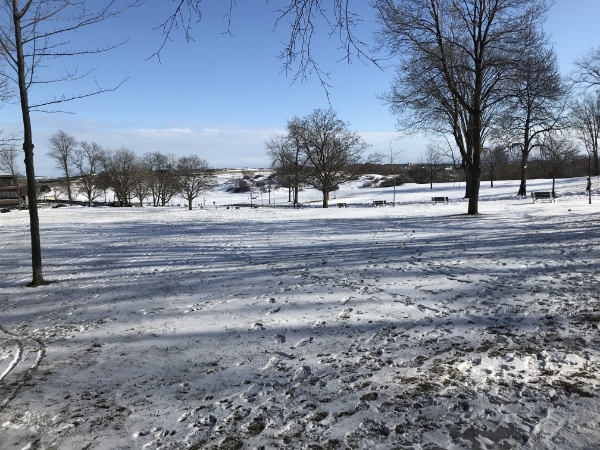 The first thing you should understand is that one of the primary rules of my marriage is never, never, ever set out for any destination with my Lovely First Wife without an exact address. When we finally arrived at the spot she had circled on her Top Ten book's map, there was no fine arts museum anywhere. If only we had a computer in our pocket oh wait… it was another fifteen minutes of walking away. Off we went.
Sculpture outside, the title of which I failed to record, but it was something like Event Horizon: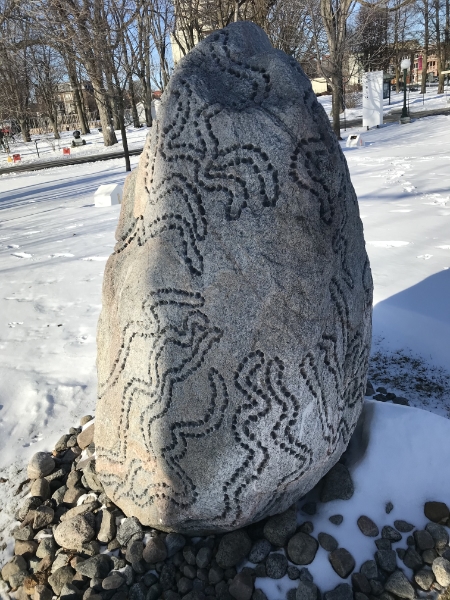 The highlight of the MNBAQ was the main exhibit, COZIC Over To You / From 1967 to Now. COZIC is an artistic collective, and their art has been consistently fun, interactive, and beautiful all at the same time.
In the entrance lobby, there was this piece: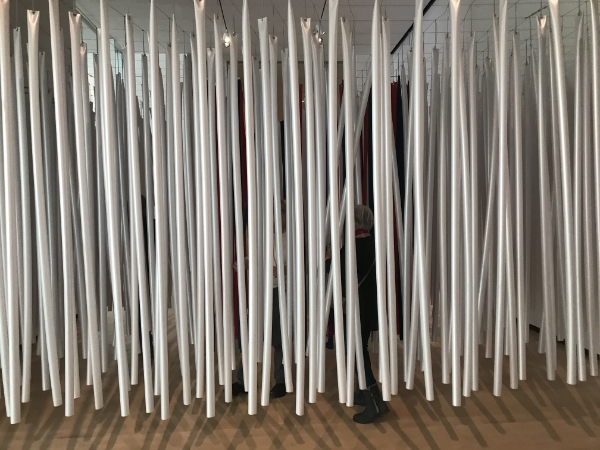 You were encouraged/permitted to explore.
The entire exhibit was exhilarating—I'll be blogging in more depth over at Lichtenbergianism.com in a few days.
After all that walking, my ankle had taken a beating, so we Ubered back to the hotel and I went to the bar to sample the local gins while everyone else went out to explore the Christmas market. The bartender was great: he explained the tenor of each of the five gins he had; I selected two, and he poured a shot into a glass so I could savor the gin's flavor profile. He also provided me with ice and tonic water so I could then finish with a proper gin and tonic. The two I sampled were St.-Lawrent (flavored with seaweed from the St. Lawrence Seaway), very briny; and Menaud, reminiscent of the Desert Sage gin from Arizona.
While sitting at the bar, I was joined by a couple from New York, very chatty and friendly. Talk turned to Christmas decorations, and I commented that my Lovely First Wife had twenty-six (26 tubs, Kenneth!) of decorations. I said she was no longer allowed to mock me for my 12 tubs of camping equipment. They laughed and said they had whittled their camping equipment down to a manageable size because they go to Burning Man.
That's right, a thousand miles from Alchemy I randomly meet burners while sitting in a bar. They were super-interested in the Georgia burn, so I gave them my 3 Old Men business card.
When the gang returned from the Christmas Market, we set out via Uber to L'Oncle Antoine, the oldest bar in North America, for dinner. Alas, on a Saturday night it was not possible to get in, so we set off on foot back up the mountain, Kenneth, to find sustenance.
At least the walk was lovely: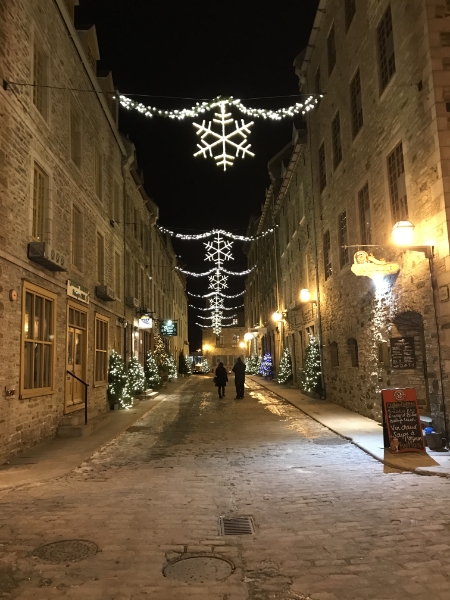 But it was all uphill. Back at the summit, we popped into Chateau Frontenac to try to get into 1608 Wine & Cheese bar, but the "music was too loud," so back we went across the square to Auberge du Trésor for dinner at 1640 Bistro.
The main hallway leading to 1608 at the Frontenac: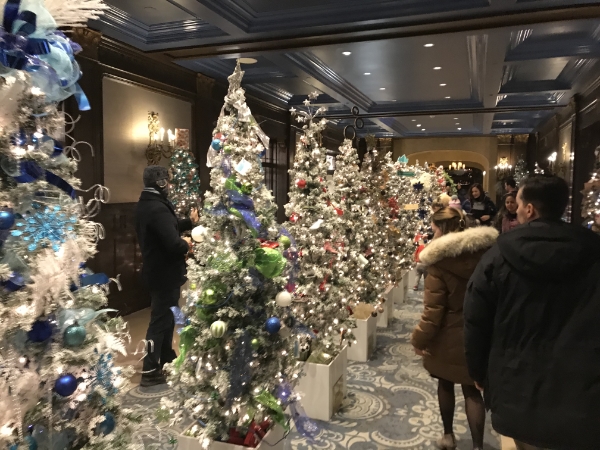 At least I got a great meal and a fabulous dessert (and more cocktails):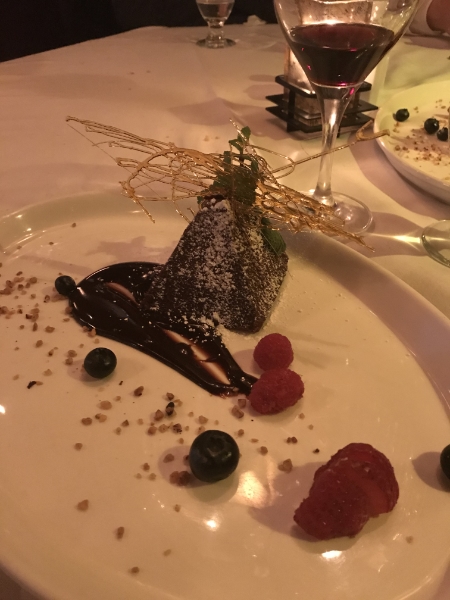 On Sunday, we set out to revisit parts of the Market and the Christmas Boutique—my Lovely First Wife needed more decorations, apparently. I found a SAQ store to buy my gin; after I left the store I realized that although Marie Brizard Parfait Amour (a floral liqueur used in classic cocktails) is very rare in the U.S., it was quite available in Canada. When we retraced our steps, I popped back into the store; they didn't have it, but another store did. Everyone else headed back to the hotel while I trekked all the way down the mountain to the store that stocked it. (We will not speak of my ankle.)
When I finally rejoined the gang, they were seated at a table by the window in 1640, enjoying Caribou, a Canadian hot spiced wine concoction. They were waiting for the appearance of St. Nicholas, who would be visiting the Market that afternoon. Finally he appeared from the Frontenac, accompanied by three Krampuses,[1] a couple of musicians, and an angel.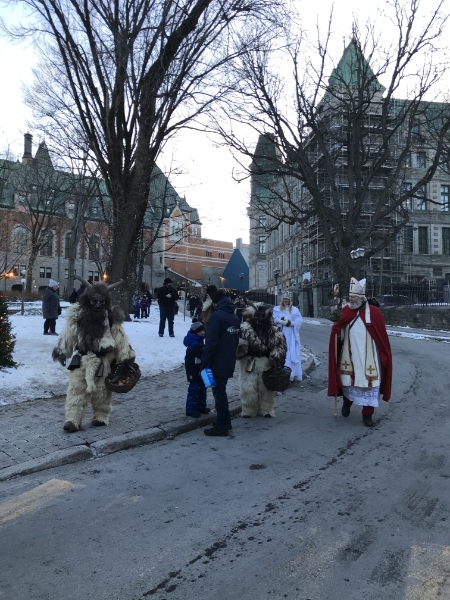 The photo does not convey the absolute delightfulness of this. Have a video:
Everyone had settled in for cocktails and dinner, but I went up the hill to the Frontenac to get a cocktail from 1608, a highly ranked cocktail bar.  Here is the Genie in a Bottle, a sweeter variation on the Aviation: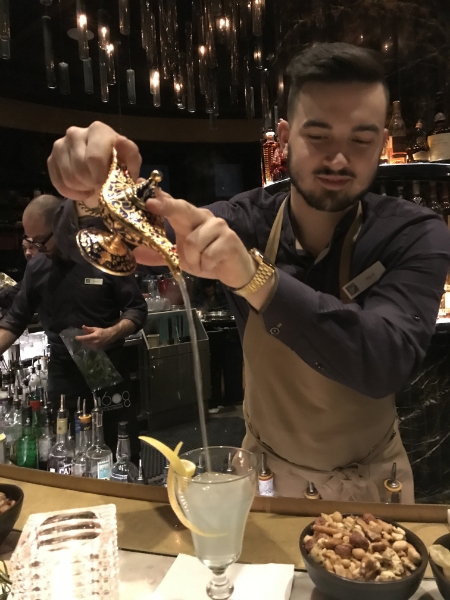 The bartender said he preferred the original, and he was right. Still, a great little bar.
The hotel from the square: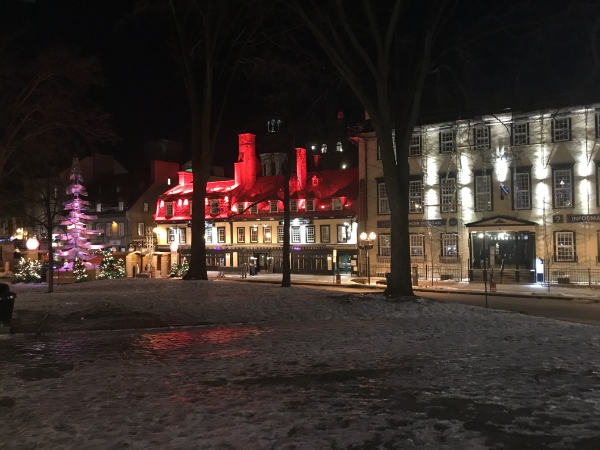 The next morning, we made it to the airport.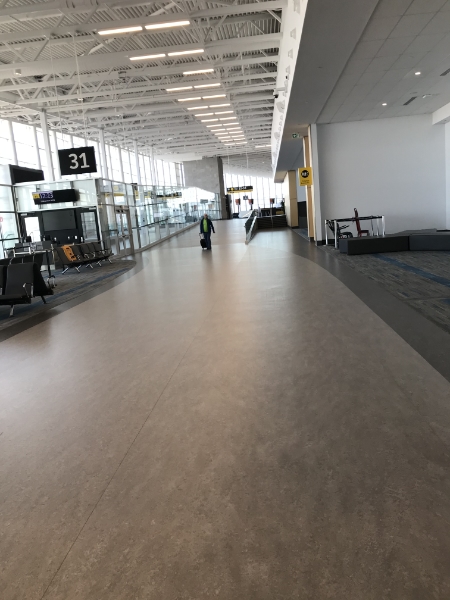 So unlike our dear Hartsfield International. The ticketing desk didn't even open until 10:30.
However, due to the storms pounding the rest of the continent, our flight — originally scheduled to depart at 12:25 — didn't even arrive at the gate until after 2:00. We barely had time in Toronto to make through security and then customs before our flight to Atlanta boarded.
Still, it was a fun trip. Quebec is lovely, and we will go back. Perhaps in warmer weather.
Here's my booze haul: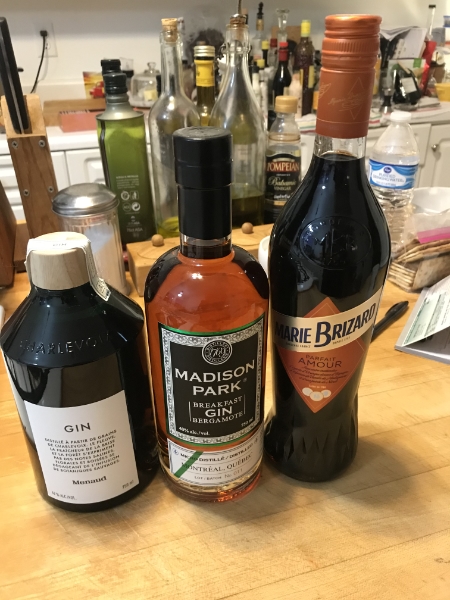 I got the Menaud gin, of course. The Madison Park, with its label of "Breakfast Gin," amused and intrigued me, so I bought it. (It is distinctly floral with its use of bergamot—think Earl Grey tea—and makes a perfect Aviation.) And of course, the Parfait Amour, which had been on my shopping list for six months.
Also purchased, while my Lovely First Wife was in the Christmas Boutique: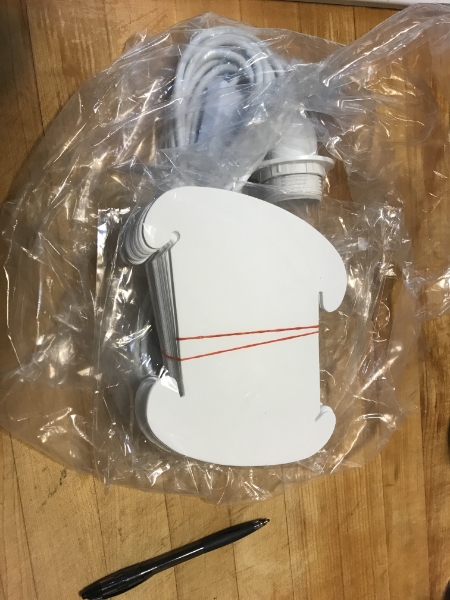 I'm not going to tell you what this is. I'll do another post when it's ready to go in the labyrinth.
—————
[1] No one seems sure what the plural of Krampus is; Wikipedia carefully avoids having to say.