Two things I need to state up front:
We all know made-for-TV Christmas movies are dreck.
I rarely feel the need to dump on someone else's creative work, at least not publicly like this.
However.
Last night my Lovely First Wife and I chose to watch The Knight Before Christmas, a Netflix original. It looked to be nothing more than a typically flaccid, vapid holiday flick, and yet it was so much less. It was horrific. It was lazy. It was an offense to the human tradition of storytelling.
tl;dr: Sir Cole, a 14th-c. knight, is transported by a crone for no good reason to the present day to complete his "quest," whatever the hell that is supposed to mean. He is taken in by Brooke, a high school science teacher who nevertheless lives in a huge home WITH A GUEST HOUSE. I won't spoil the ending for you.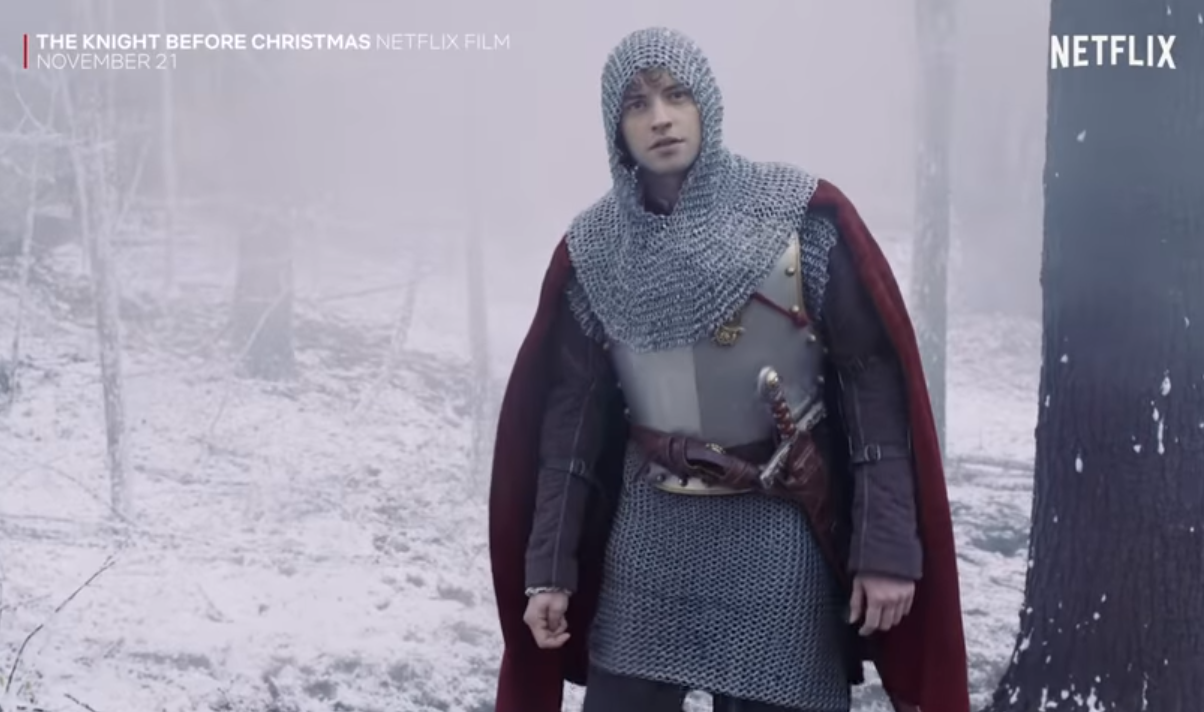 We begin with Brooke confronting a student about the girl's lackluster performance on a "midterm" and being told by the student that she's been distraught because her boyfriend dumped her. Oh, says Brooke, true love is a chimera and although they've been taught by society to look for a knight in shining armor to rescue them, that's a fool's errand.
Hold that thought.
One never expects historicity from these things, but you get the feeling that the scriptwriter and the producers deliberately avoided knowing anything about the 14th century, starting with Sir Cole in all probability not speaking a lick of English, and certainly not modern English, and especially certainly not with a plummy BBC Received Pronunciation accent.
Or glass windows in castles. Or Christmas trees being a 19th-c. fad. Or hogs in tubular steel pens.[1]
Nor did they seem particularly interested in physics, for that matter: after Brooke runs into Sir Cole with her car, he simply bounces off into the snow with no injuries sustained either to him—or to his cuirass. Snow comes and goes depending on the exigencies of plot with no impact on the ensuing action. Cole whacks down a Christmas tree in one stroke, inspiring another, random man to do the same (never mind why Christmas trees are growing in the lot).
Logical human behavior is never a hallmark[2] of these movies, but merciful heavens—within 24 hours of his arrival in 2019, Cole
knows how to wrap himself in a towel after asking for a bath[3]
expresses no astonishment at anything he sees other than a couple of clumsy "where's that music coming from" gags
is seen operating a TV remote the morning after his arrival
apparently picks up enough modern lingo during his one night of binge-watching TV to be able to understand Brooke's 21st-c. code (like "binge-watching")
does not think pants are odd
Brooke's friends express mild concern about her taking in an oddly-dressed and clearly mentally ill man with no identification, but no one makes any effort to get help for him or to find out who he is or where he came from. (On the contrary, Brooke's sister cheerfully provides him with a wardrobe from her "boutique" in the mall.)
Script failures littered the landscape:
Brooke's cheating ex is seen in the background a couple of times, but vanishes from the script without even one snide scene
an icky neighbor is introduced, but is used only once to try to flirt unsuccessfully with Cole
the crone shows up once when Cole first arrives at the Christmas Village, but never again (although I think she's in the background at the big charity event—maybe a victim of the cutting room floor?)
the girls who go outside in a blizzard to practice their "swordplay" who—after being warned to stick close to the house in a blizzard—nevertheless go all the way to a park with a not-quite-frozen lake
Brooke willingly gives Cole the keys to her car (on the presumption that he "remembers" how to drive); he can put it into reverse and drive, but cannot manage to steer it into a wide-open parking space rather than onto the sidewalk
the whole premise that Cole has until midnight on Christmas Eve to "complete his quest" is completely lost; only the occasional date thrown on the screen reminds us that time is running out—for what?
the idea that Brooke assumes Cole has amnesia also vanishes; he's just a cute man who lives in her guest house and meanders through her holiday chores
late insertion of David, the single dad who works two jobs to support his four kids, being the recipient of Cole's (offscreen) fundraising[4] despite being present at Brooke's fupping Christmas Eve fundraiser the express purpose of which is to raise money for people like Dave
And most of all, the entire movie gives the lie to Brooke's advice to her student at the opening. Indeed, Brooke backtracks on the advice near the end when her student bounces up to her and tells her that she told her boyfriend to take a hike.[5]
All in all, the thing was a disaster. It was incoherent, even by the extremely low standards we have for these things, and it gave the feeling that it only took a week to film. The frankly amateurish quality of the script was appalling.
So could this movie have been saved? How about this:
clearly define Cole's need for this "quest" and make it his paramount concern[6]
define Cole's chivalry as solidly of the 14th-c., with all the misogyny involved, i.e., he's cute and he's helpful, but there are limits to his sensibilities
play off Brooke's culturally-ingrained "knight in shining armor" complex to create the romantic tension: she wants to love him, but…
embed Brooke's crappy ex and David the single dad more into the plot, thus giving us three versions of what a man can/should be
end it with Cole returning to the 14th-c. and Brooke realizing that everything she actually values in a man is right there in David, the single dad
Here's my point: if I can come up with a more interesting and still sappily romantic plot on the spot, why is Netflix greenlighting dreck like this without demanding that the entire team go back to the writing table?
—————
[1] Or the bubonic plague. Or Sir Cole most assuredly being shorter than everyone in the modern world.
[2] See what I did there?
[3] To be fair, this was simply to show off Josh Whitehouse's lissome 6' 2" body. I'm amazed we didn't get a bathtub scene.
[4] How?? He knows no one other than the people standing right there around him.
[5] Which I realize is the whole point of these movies. Smash the patriarchy.
[6] No clue what this might involve, since the whole premise is idiotic, but I bet we could come up with something less lame than rescuing a kid from a frozen pond or tackling a pickpocket.