We headed north out of Freeport, determined to stick to U.S. Hwy 1 as we drove towards Bar Harbor, thinking perhaps it would be like California's Hwy 1: we'd whoosh up the coast like in a car commercial, zooming along the rocky coast towards lobster nirvana.
It seems we were misinformed. Hwy 1 will sometimes hug the coast, but it more often resembles a drive through north Georgia. However, the towns are much quainter, New England having invented the concept. (I was driving today, so unfortunately I don't have any photos of all the quaintness.)
You do come across things: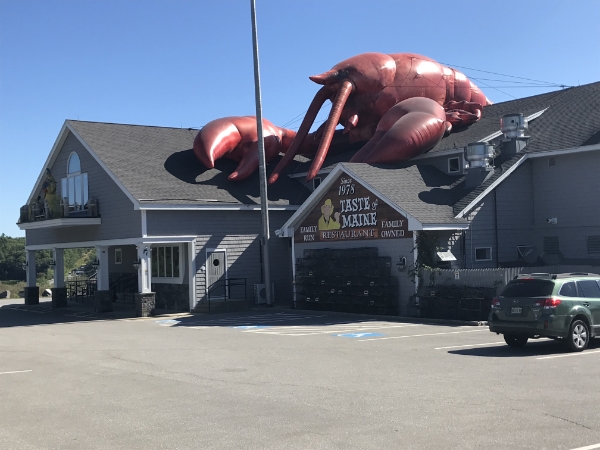 Our immediate goal was the Farnsworth Art Museum in Rockland. This collection was started by the Farnsworth family and is now a city block of buildings and exhibits. Its main claim on our attention was the repository of Wyeth family work: N.C. Wyeth, Andrew, currently living Jamie, and a small flock of other relatives.
But the first exhibit to catch our eye was a small gallery of screens. It was lovely: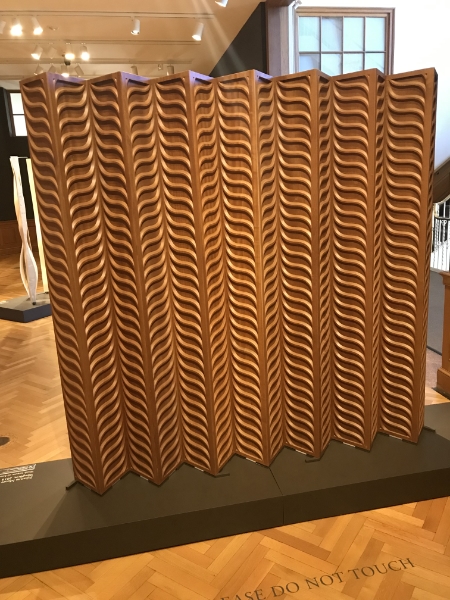 This was a fascinating piece of woodwork, and then you walked around to the other side…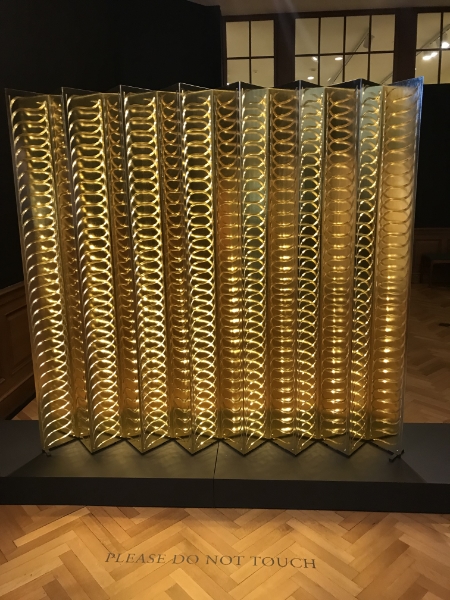 …and found this dazzling, gold-leafed version. If I have time when I get back, I'll share a video of how the surfaces reflected each other as you moved around.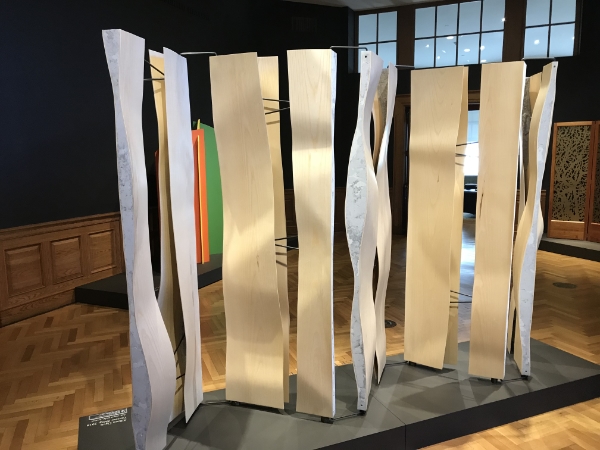 There were a couple of others, all beautifully crafted.
The actual first exhibit we saw was an exhibit of Jamie Wyeth's portraits of his wife Phyllis, who died this past January. She was an avid horsewoman—her horse Union Rags won the Belmont Stakes in 2012—and was known for her independent spirit, despite having been injured in an auto accident in her early 20s. She was a lover of animals, and Jamie painted this "tapestry," as he called it, to celebrate that.
Phyllis is the figure on the right in the red hat, zipping through her farm on her motorized scooter.
Outside the main museum is the Farnsworth complex, including the original Farnsworth homestead…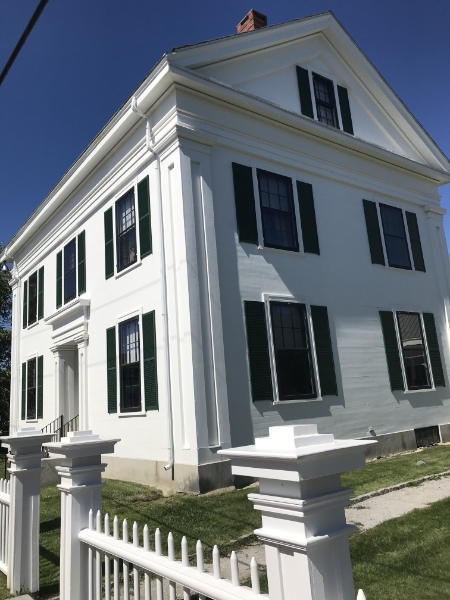 …and the Wyeth Center, housed in a converted Methodist church.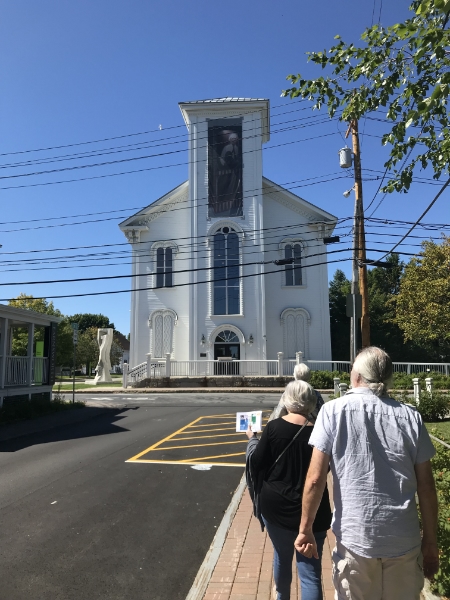 There we found an exhibit of Jamie Wyeth's work, Untoward Occurrences and Other Things. Jamie is, for lack of a better word, a deeply weird artist. We decided that he either consciously or unconsciously decided to be the weird kid, playing off his father and grandfather's reputations as calm, rational, organized, and beloved. He paints with bravura, but the paintings in this exhibit at least present you with some very disturbing narratives.
For example, one of the paintings is of the artist Rockwell Kent, whom Jamie apparently had a big old man-crush on. Kent is standing on a beach, with a fogbound cliff behind him. You don't even notice the vague dark figure plummeting headfirst off the cliff. At first. The fact that this may reference a lover of Kent's who was found dead beneath the cliff is just part of the weirdness.
Worth seeing, the whole museum.
(There will be more discussion of some of the art over at Lichtenbergianism.com next week.
We found a chocolate place, a "beans-to-bar" establishment. The chocolate is good, but on the whole just buy locally: the owner's presentation on how they do it is not as interesting as he thinks it is, and his pronunciation of 'cacao' is odd for one whose business is all pods and nibs.
Here's a fun thing: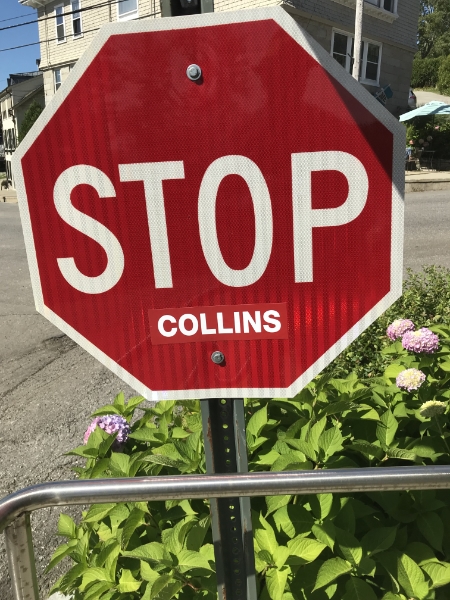 "Collins" is Maine's "moderate" Republican senator Susan Collins, who is renowned for being awfully concerned about her party's shenanigans. She will wring her hands, issue sternly worded statements—and then still vote for the president (who imprisons children)'s agenda. The final straw seems to have been her vote to confirm Brett Kavanaugh to the Supreme Court. At any rate, the voters of Maine are out to get her. Good for them.
Onward. We stopped in Camden for lunch at the Waterfront Market.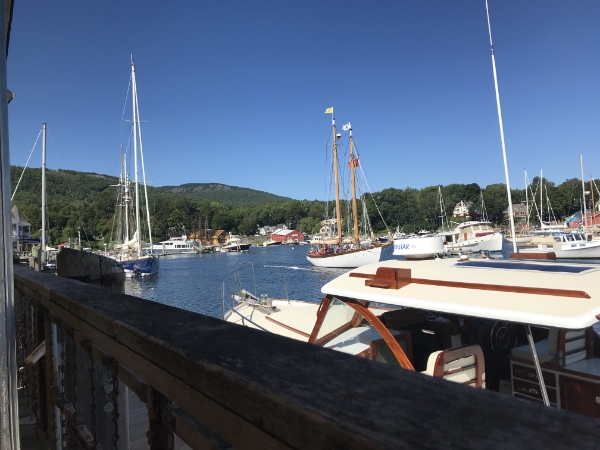 Food was great, and the view couldn't be beat. Traffic was heavy, though, what with one yacht or another heading out to sea.
On up the road to Bar Harbor. We had to swerve off into the overlook area when this appeared:

Hard to see, but it's the tallest inhabited structure in Maine: the Penobscot Narrows Bridge and Observatory, with a 40-story observation deck in the left-hand tower.  It's part of the Fort Knox state park. It was about to close, so we passed it by. Perhaps on our way back?
At lunch, we all whipped out our phones looking for lodging in Bar Harbor. Pricewise, the Edenbrook Motel was acceptable, and it looked charming in the photos. When we got to Bar Harbor, my phone got confused and took us up into the hills to a golf course. When I corrected it, we were led through neighborhoods until we came across what looked to be a seedy, rundown establishment.
I was excoriated for my choice in motels.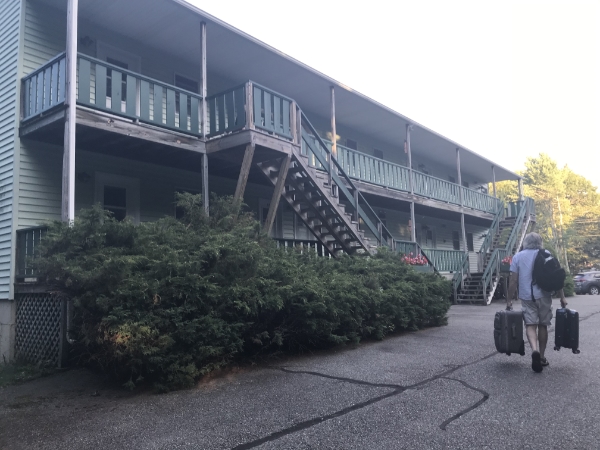 However, the rooms are huge, modern, and clean, and the view: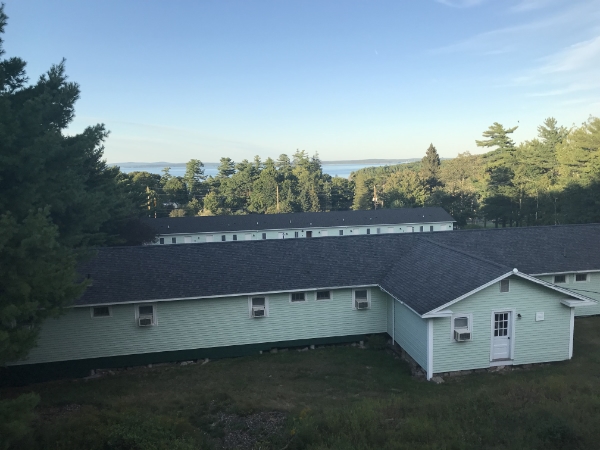 …well, let's just say I was vindicated.
The sunset was nice:
We headed into Bar Harbor proper, found a parking place—which even in the off season is a feat; I cannot imagine trying to park during the season—and looked for a restaurant. We settled on Salt & Steel, and it was the best meal we've had so far. Great bar as well: they not only had green Chartreuse, they had Tom Cat barrel-aged gin as well—I could get a Bijou, and did.
Tomorrow, our last full day, we will spend in Acadia National Park, and then return to Portland.