We awoke in our cozy Chebeaugue Island Inn, which looks like this: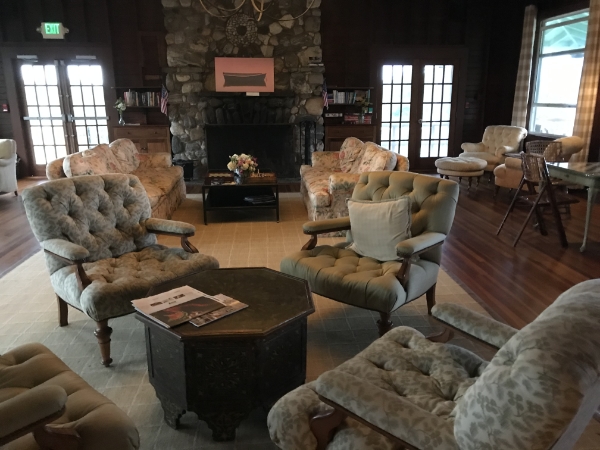 Well, I awoke. Everyone else slept in while I worked.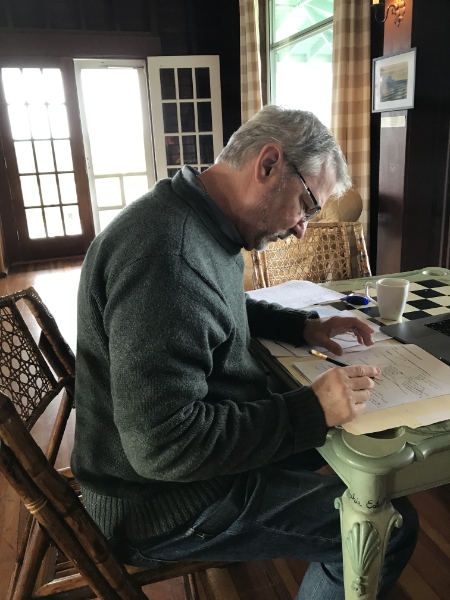 What am I working on?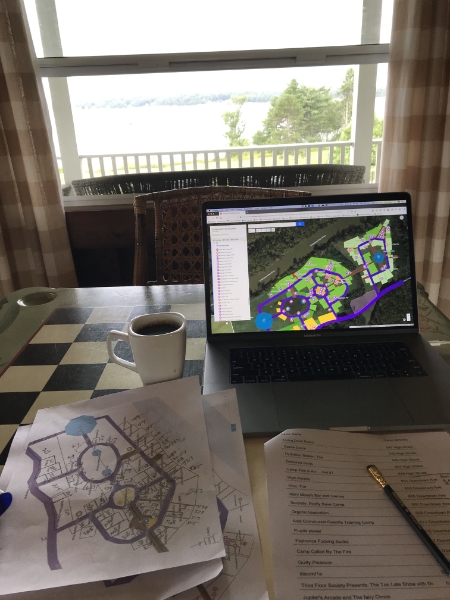 The placement map for Alchemy. Why? BECAUSE HIPPIES CANNOT FOLLOW DIRECTIONS AND ARE JUST NOW REALIZING THEY NEED TO ASK FOR CHANGES IN THEIR PLACEMENT.
DESPITE THE FACT THAT I FINISHED THE MAIN DRAFT OF THE MAP ON SATURDAY BEFORE WE LEFT JUST SO I WOULDN'T HAVE TO WORK ON THIS STUFF.
KENNETH.
Even now, the hippies are squinting and poring and telling their computers to Enhance just to get a sneak peek of where their camp is and who their neighbors are.
Tough noogies, hippies.
My Lovely First Wife took off for a bicycle ride around the island and had a great time. But then she's adventurous like that.
After a late breakfast, it was time to pack and head to the ferry. More about that in a moment. First, here are the treats we found in our room.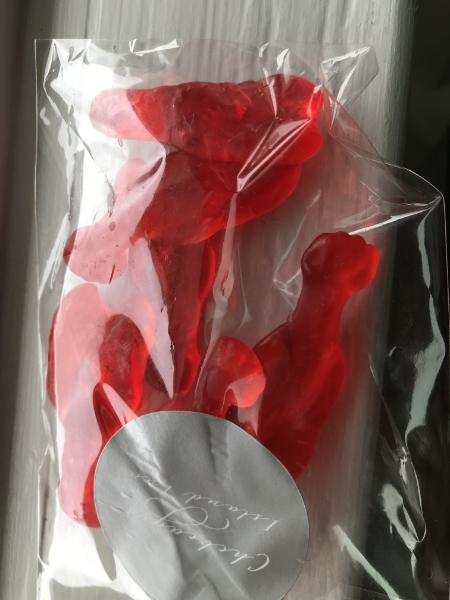 Shame on you! Those are lobsters.
We got to the ferry and waited while all these people poured off and started walking up the hill.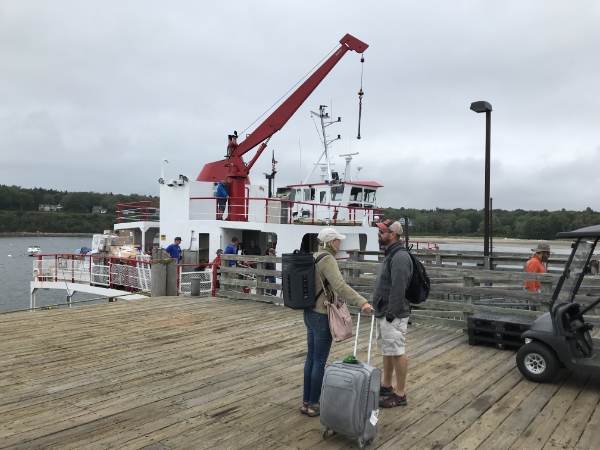 The crew unloaded all the Amazon packages, and then all those people poured back down the hill and back on the boat. Odd, we thought.
Not so odd as we set sail and the captain began murmuring indistinctly over the fuzzy speakers about this island or that: "murmur murmur WWII murmur murmur residents…" It transpired that the ferry is not mainly a transport between Portland and the islands, it is also a tour of Casco Bay—hence the debarking and embarking of all these people at each stop: we were taking the long way back to the city.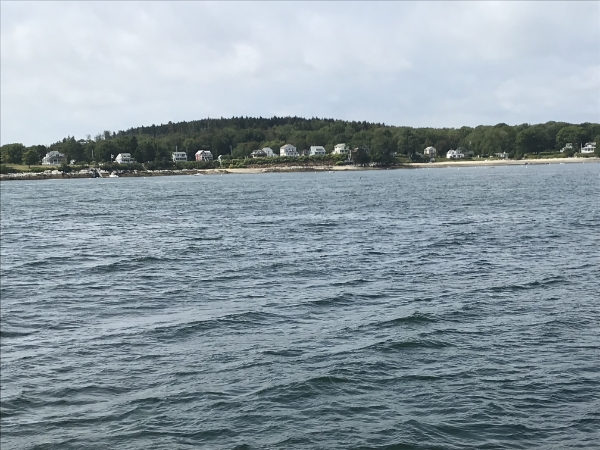 It's always colder on the water, and today was actually nippy, which for me means FREEZING COLD. I was wearing a sweater, a lined coat, a scarf, a woolen hat, and gloves, and I was miserable.
The Lovely First Wife, on the other hand: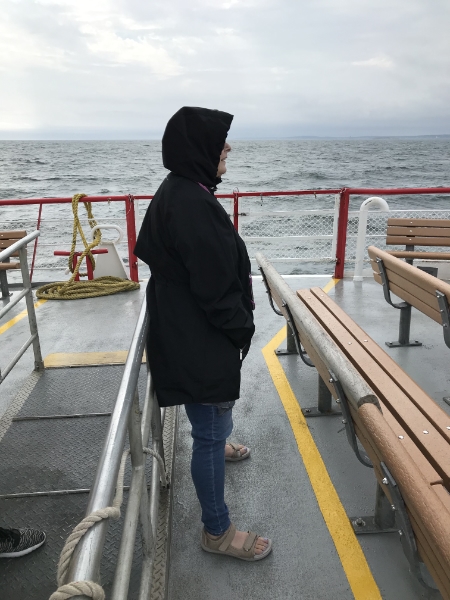 She gave free rein to her inner Golden Labrador and stood on the bouncing prow in the freezing seaspray for the entire ride.
Once back on shore, we retrieved the car and set off for Cape Elizabeth. We needed to see the lighthouses, because that is what one does in Maine.
Here, have a lighthouse: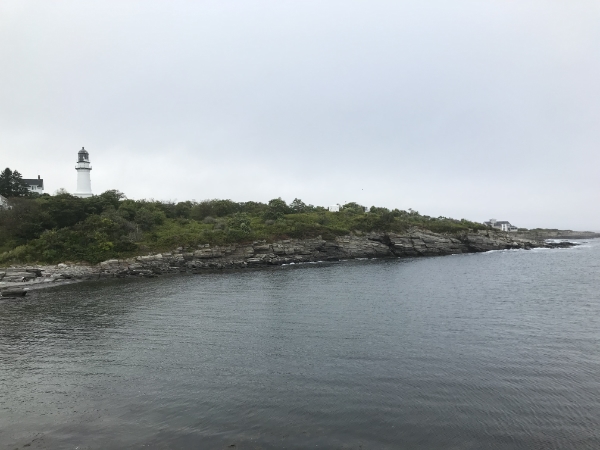 It is indeed picturesque, as is the rocky coast of Maine. (Like the "mighty Colorado," you have to say "rocky coast of Maine," or they look askance at you as if you're not entering into the proper spirit of the thing.)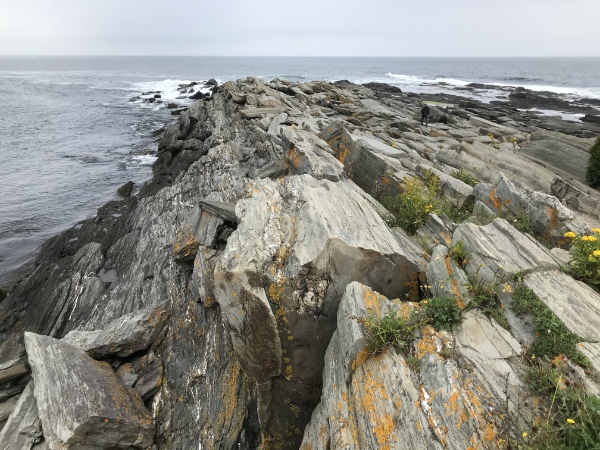 More:

The place is not barren. Just of out camera range, there's a wide variety of plants and shrubs.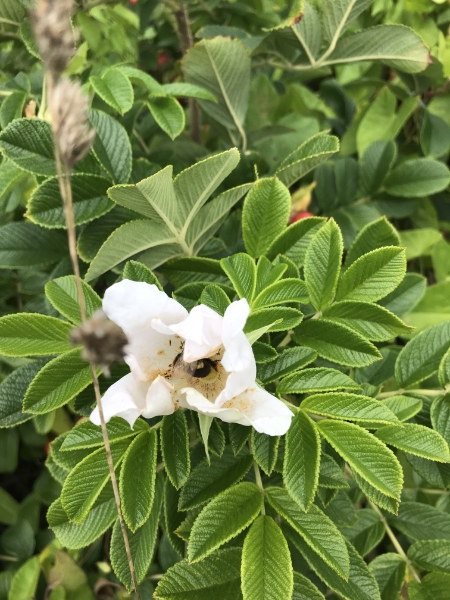 See the little bee? She was just wallowing in the flower, having a great time.
Also there at Cape Elizabeth is a well-known lobster roll establishment. We had been told that these were the best, for a multitude of reasons, by people who know these things.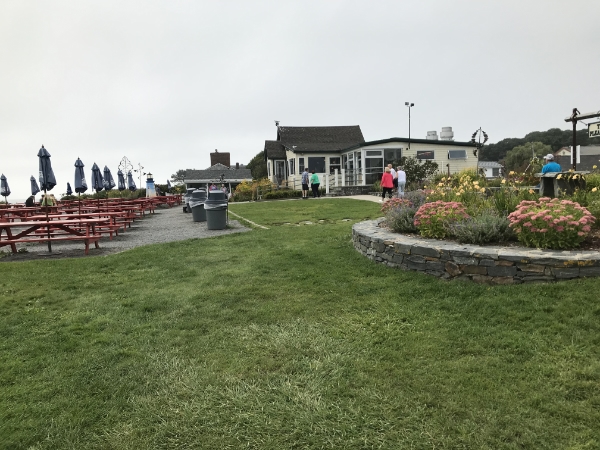 However, we are heathens and were not at all impressed with the concept or the execution. The blueberry pie, on the other hand, was primo.
Then it was back in the car and back up the coast to Freeport. (We did take a quick detour through Fort Williams Park to see another lighthouse, but didn't stop.)
As we pulled into Freeport, we did a hard U-turn to go back and stop at the Cold River Distillery, where we sampled some gin and vodka. I bought the gin, of course. (No photo yet.) I was hoping it was the gin I had back at the Inn, and that I had misheard the name of it: Cold Shore, I thought. As it turns out, I had misheard it, but it's actually Hard Shore, not Cold River. This is what gin will do to you, boys and girls.
We dropped our stuff off at the hotel, then headed back out. One of our company wanted to buy a pillow from CuddleDown, a local concern, because the pillows at the Inn were simply delightful.
Then we headed to the Maine Beer Company, which is a very nice establishment: they pay their workers an extravagant wage, plus three weeks of vacation, plus full healthcare, plus retirement. They donate to all kinds of ecological causes. They support local charities.
And their building is gorgeous:
Out of frame to the right is a pizza parlor. Great place for a date or a get-together.
We moved on to dinner at Tuscan Brick Oven Bistro. When you stop to taste the gin or the beer, ask where the best restaurants are.
And finally, late at night…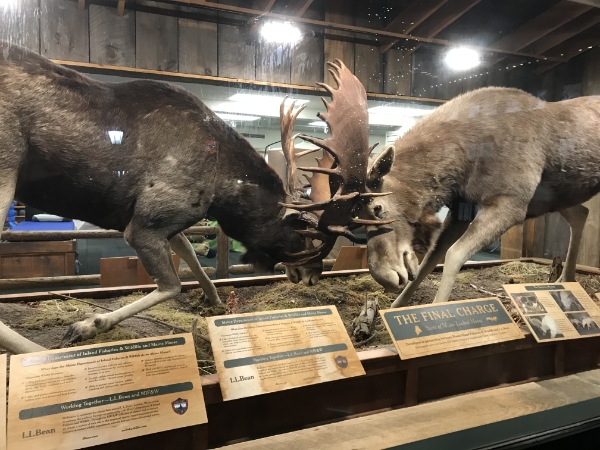 Can you guess where we are?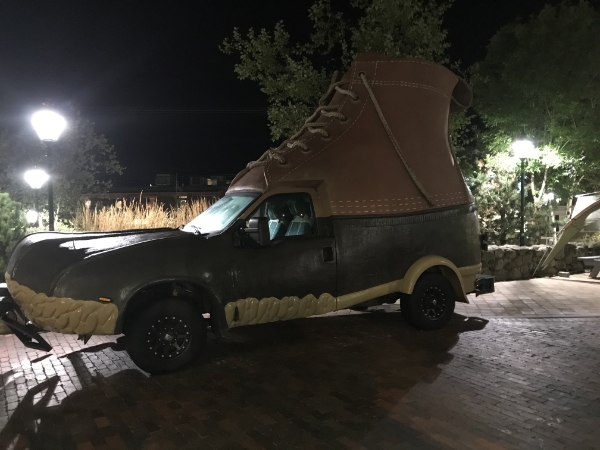 That's right, we're at L.L. Bean.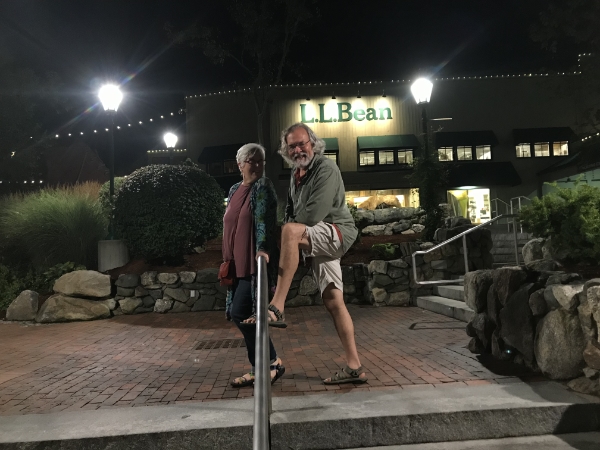 It was great fun to ramble through the enormous flagship store. However, I was really impressed to find that I needed nothing there. After five years of burning, I have everything I need for comfort and safety, although I did buy a "tick nipper" to keep in the first aid kit. Nasty little bloodsuckers—keep your mandibles off my bacon.
Finally, back to the hotel and bed.