As always on the road, there are technical issues.  I did not bring my laptop because heavy, but it probably would have been easier to deal with a lot of the blogging, especially the photos.  My phone is supposed to send all its photos to the Photo Stream, where my iPad is supposed to see them, and from where I can insert them easily into this blog.
This has not happened this morning, and I have a lot of photos.  At the moment I'm trying to upload them to the blog straight from the phone.  The much-vaunted superior internet speeds of Europe apparently do not apply to wifi on cruise ships.  (It doesn't help that we're at the bottom of a lock at the moment.)
So, day 2: Budapest.  We had moored under the Chain Bridge, across from the palace in the Castle District.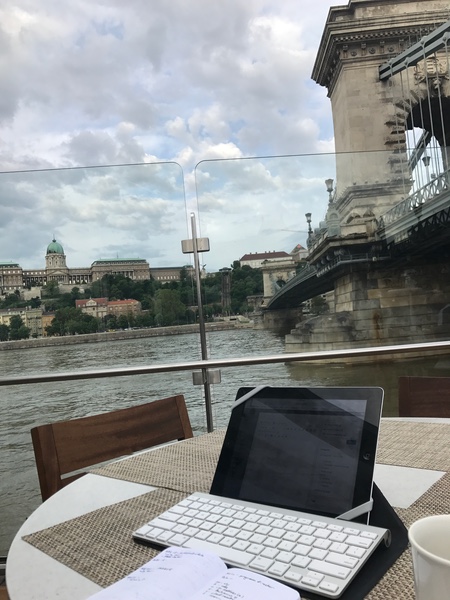 We loaded onto the buses and off we went for a quick tour of both Pest and Buda.  Pest is the western, flat, business/downtown.  Buda is the mountainous residential/palace/fortress eastern side of the river, as seen above.
Our tour guide was voluble and passionate about his country's history, a large portion of which he shared with us.  Constantly.  At an excited pitch.  (We had these nifty little lavaliers that allowed us to hear what he was saying without having to crowd around him and listen to him yell.  He could do it straight into our ears.)
Indeed, Hungary's history is ancient and proud, both conquered and conquerors.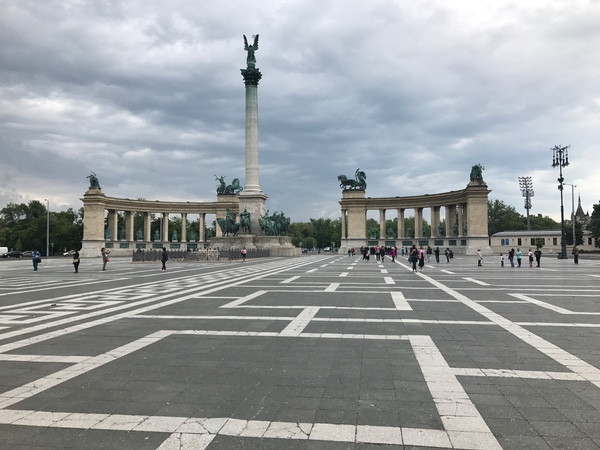 This is Hero's Square, built in 1896 to celebrate the millennium of the kingdom of Hungary.  1,000 years, folks.  You can't see them, but there are statues of all our favorite kings in the arcade, between the columns.  We learned about every single one of them.
After being driven all over Pest, it was time to head over to the Buda side, up to the Castle District.  Our goal was Mathias Church: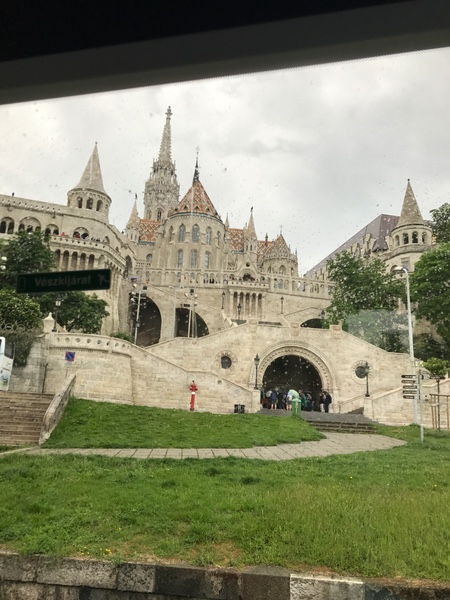 Like much of Europe, Budapest was hit hard during WWII.  Mathias Church was 80% destroyed by advancing Soviet troops, Hungary having made the unfortunate choice to join the Axis.  Everything is a reconstruction of the neogothic cathedral.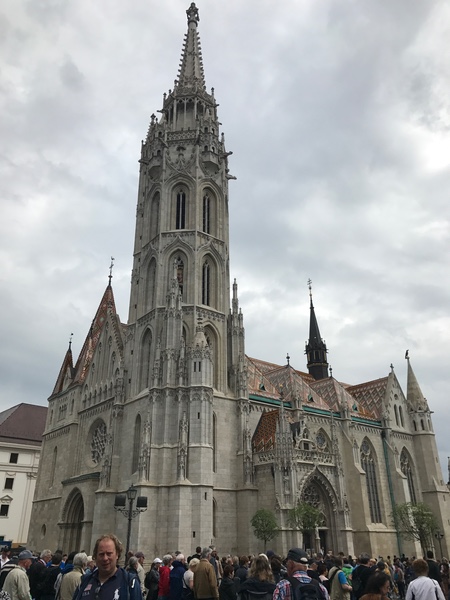 Here's the inside:
Here are two fun details: I liked this window, and I wish that Joszeph had stopped to take a breath so I could ask him about it: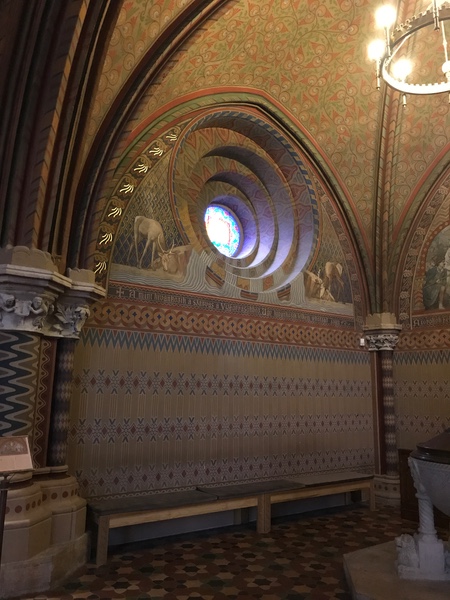 Also, one of the kings— I don't think it was Mathias — had the nickname of Corvinus, i.e., crow, and so one wall has his emblem all over it.
Yes, he has a ring in his mouth.
Here's the outside of the church, on the ramparts build in 1896 as part of that whole 1,000-year-old thing: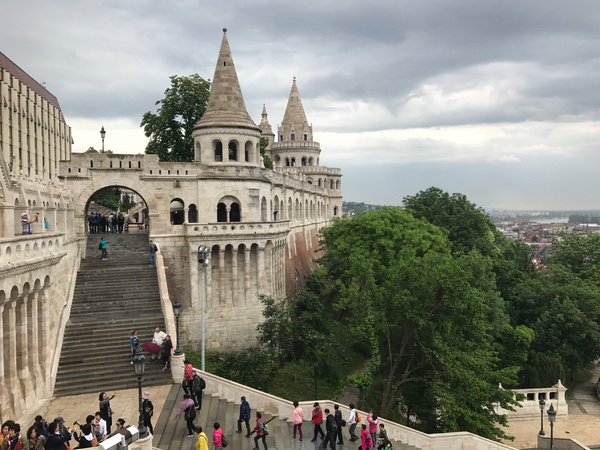 After this we had about an hour to wander around.  Quaint, etc.  Walking up the street to the church, I had seen a sign with an arrow:
LABIRINTUS
So of course we went to find it.
It was not what I thought.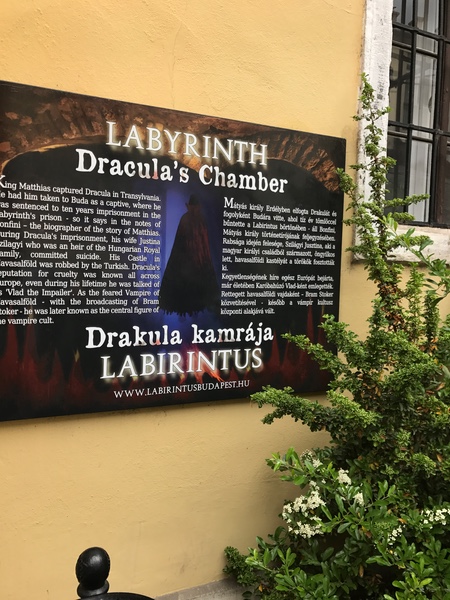 The entire hill is catacombed, and apparently this is their biggest tourist attraction. Oy.
Let me say at this point that as marvelous as the Viking River Cruise is –and it's pretty dang marvelous — it is not traveling.  It's touring.  We did not get see any museums, nor the palace, nor did we really have time to shop.  Because we had to be back at the ship to sail to Vienna, there was no option to get tickets to the opera or ballet, or to shop with any kind of deliberation.
So either spend your whole week impulse shopping, or resigning yourself not to shop at all, because you will not be looping back to pick up that artwork you admired in the first gallery you stopped at.
Since we were spending the rest of the day sailing up the Danube (our longest stretch on the water), Viking kept us busy with all kinds of little activities: an explanation of how the boat works, a lecture on Viennese coffeehouse culture (for the love of God don't order a coffee), a captain's toast, a lecture on Mozart, etc.
In your cabin, the TV gives you the itinerary and the weather, plus all kinds of other helpful stuff, plus there's a daily newsletter of the next day's schedule, placed on your bed during dinner.  There's also a "port briefing" before dinner, given by the always-entertaining Sorin.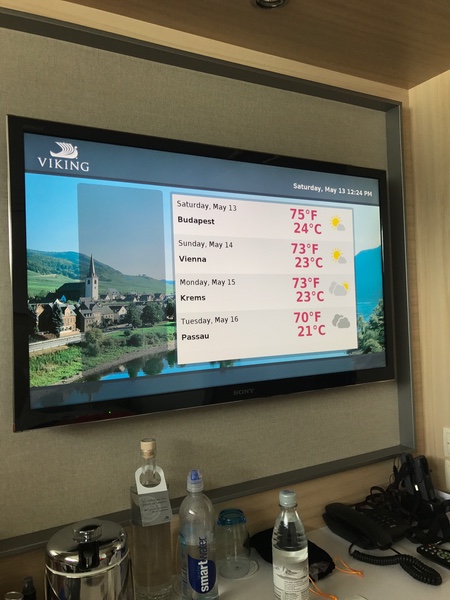 Our cabin is at the water line; no balcony for us.  The first time you look out your window, it's a bit disturbing.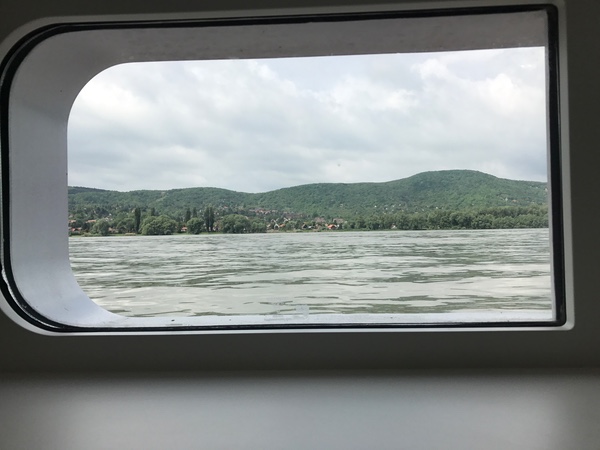 Otherwise, the journey is picturesque.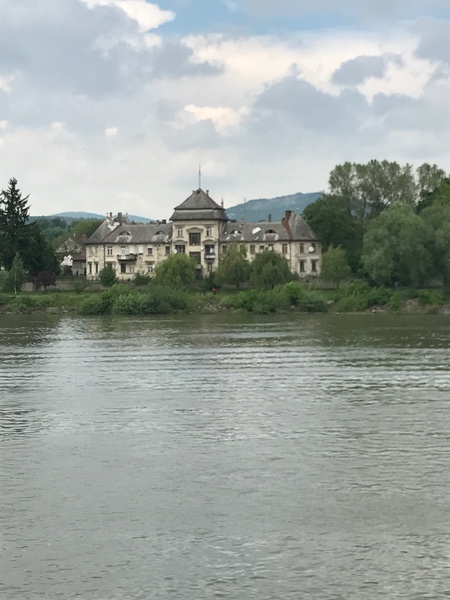 Someone's old estate, now clearly divided into apartments, given the number of satellite dishes sprouting from the walls like so many mushrooms.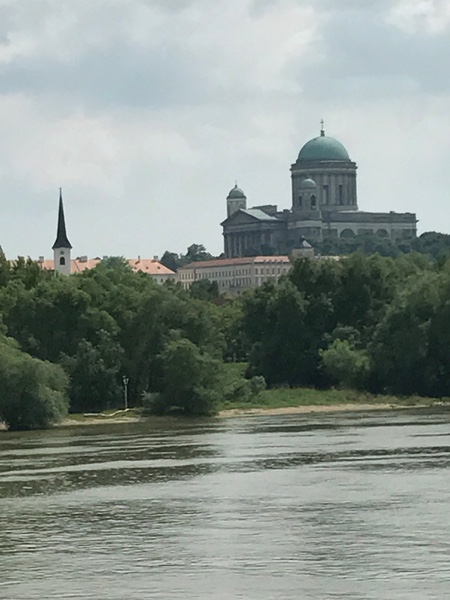 Esztergom, Hungary: the basilica is the largest church in Hungary.
Meanwhile, I'm exploring my inner Eurotrash.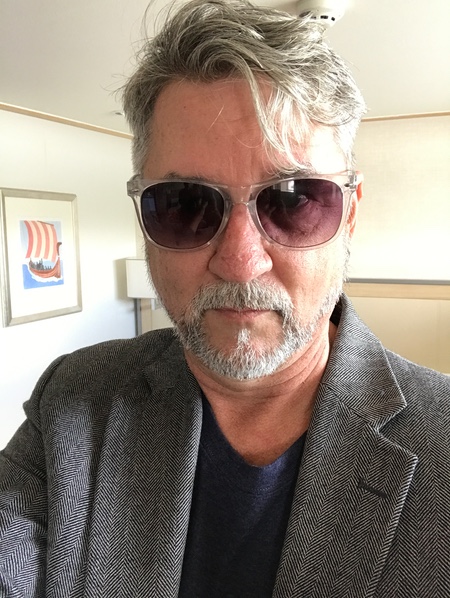 I've always thought that Hans Gruber was tragically misunderstood.
The biggest excitement of the evening was our first lock.  No, I had no idea the Danube was dammed, but it is, somewhere between Esztergom and Bratislava.  We all went up to watch.
It is very impressive.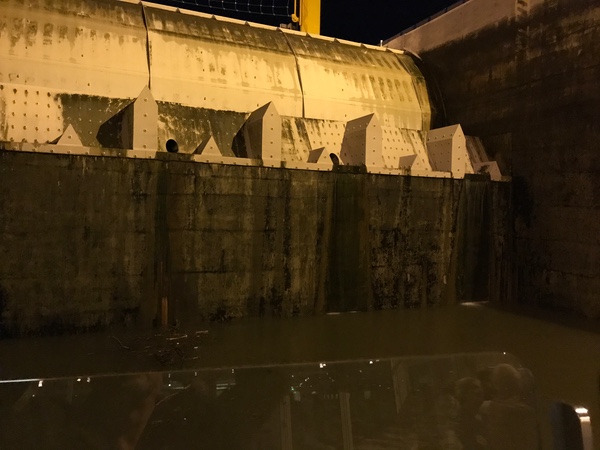 While we stood there and watched, we rose up to the top of that wall.
Mostly we were fascinated by how close we were to the wall.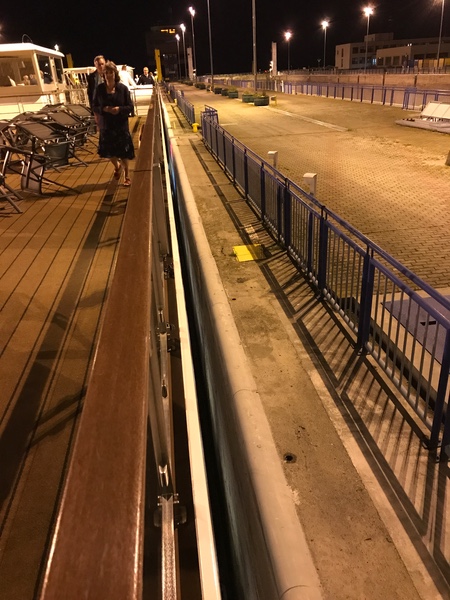 I had happened through the lounge during the nautical lecture, so I knew that the ship has four engines, all rotatable 360°, but it was still alarming to see the captain standing at the rail keeping an eye on things.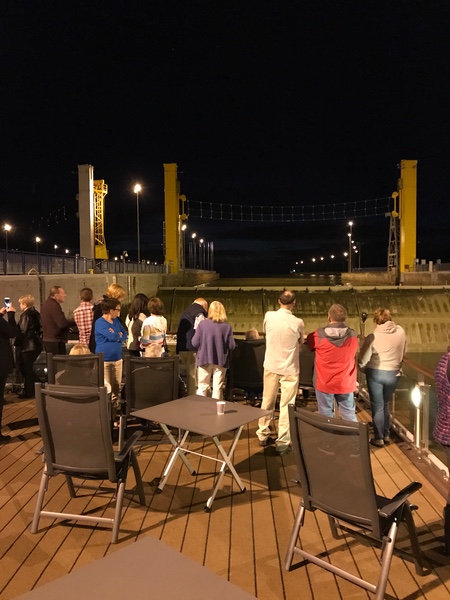 Finally the gate opened, and we sailed on.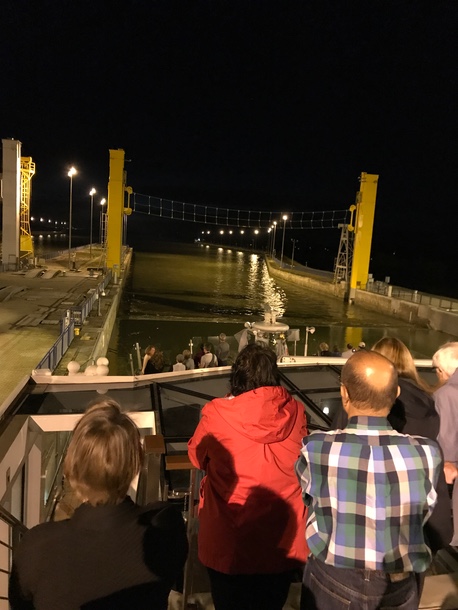 Back in the lounge, the musician got progressively more unbearable — just play your piano, Christo, and leave all the prerecorded trax out of it — so I went up top, where I realized that there ought to be a moon, a little past full.
I finally found it, rising over the river aft.