I swear I thought I had blogged about this two years ago, but either my MySQL database is borked or I am delusional—none of the key words I'm about to write show up in a search of this blog.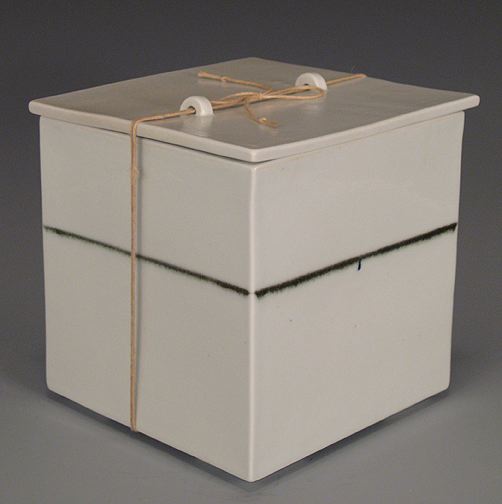 This is a ceramic piece sitting in our living room.  Yesterday an old friend who was visiting noticed it and asked me about it, and since I can never remember the artist's name, I came to the blog to search for it.  As I've said, no such blog post exists despite my bestest memory, so I'll now tell you the story behind the piece.
Two years ago, my Lovely First Wife and I were in Asheville, soaking in the ambience.  We went into Blue Spiral 1 Gallery downtown, looked at all the nice art, went downstairs, looked at more nice art, and that's when we saw this piece.
I should say at this point that the photo here is not mine; I pulled it from a Pinterest page in the UK, of all places.  But it is my piece, although it is secured not with twine but with airplane cable.  Bolted.  Hold that thought.
The name of the piece is Cremains Vessel No. 5.  We really liked it.  We kept coming back to it.  It was within our price range, and besides, it was an investment.
We went upstairs and asked the young men working behind the front desk if the piece were actually a cremains vessel.  They seemed a little nonplussed, finally stammering out that there weren't anyone's ashes in it.
We laughed, which probably seemed odd to them, and I told them that what we were asking was whether the vessel was actually built to hold cremains or was it just, you know, art?  They pretty sure it was an actual vessel.
So we went back to the condo where we were staying and I did some googling and calculating: if we both shriveled a bit in our declining years, plus reserved a cup or so of ashes for scattering/rituals, then we should both fit in there.
We went back the next day and bought it.  I tell people that my LFW finally figured out a way to screw over that whole "till death do us part" thing.

One thing that gave me a frisson was that it was more or less locked shut.  At least one of us would never know what the inside looked like.  Then, on a subsequent visit to Blue Spiral, there was a similar piece by the same artist, and my LFW opened it.  It may be that our piece looks different inside, but I'm thinking the suspense is ruined.

So who is the artist?  We were given a little card with his name and not much more: Don Penny.
I went looking, of course, and was stunned to find that I already knew the man's work. He was the ceramics professor at Valdosta State University until 1990, and I had seen his work in the faculty display case every summer since 1984.
And then I had an inkling that I knew exactly who he was.   After I called a friend in Valdosta's music department to go down the hall and read a plaque for me, my suspicions were confirmed: Don Penny was the artist who created the mural in the lobby of Whitehead Auditorium: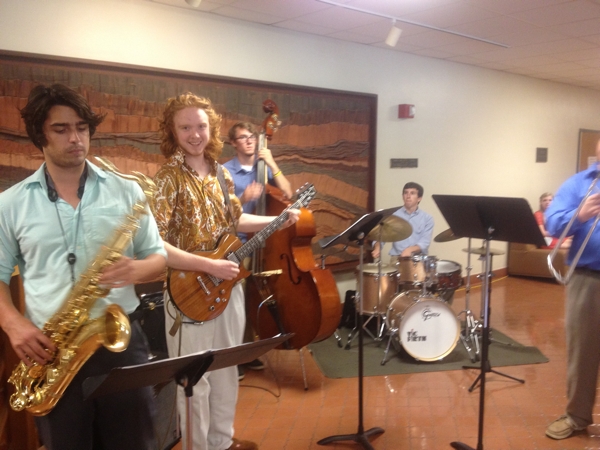 I saw this piece nearly every day of every summer for 30 years.
And in an astounding wallop of synchronicity, I bought a cremains vessel by that very same man, to stick my ashes in.