…Part Three in a three-part series…
In the normal state of affairs, I would have blogged in great detail about this whole thing, because I'm incredibly wonky about process and I would have loved to share every excruciating detail about How I Did It, but in this case there were hippie-feelings involved.  Just posting the first draft of the graph paper map on the Theme Camp Organizer [TCO] Facebook group (to show them that the process was under way) was enough to set off a frenzy of squinting and worrying about where they were.  I learned to blur the map as I teased them with my progress.
So now you're just getting the Cliff's Notes version of How I Did It.  Sorry, future Placement Leads—I'll try to write it all down elsewhere.  It'll be under the third rock on the right after you enter the HeadSpace…
Wednesday, early entry day for those camps who need a bit of setting up before the burn starts on Thursday.  Most theme camps are arriving, especially the big ones.
I am given a walkie-talkie and a golf cart.  Do you know how many years I have avoided being given a walkie-talkie and a golf cart (or their equivalents)?  All of them, Katie.  Oy.
But it was a miracle: only a handful of camps had real issues with their spot—and I had predicted which ones might, in my head—and by the time I tootled up on my cart, each had a solution to their problem that was viable and acceptable.  All I had to do was give my imprimatur and hop back on my cart in a cloud of red dust and gratitude.
In short, it worked.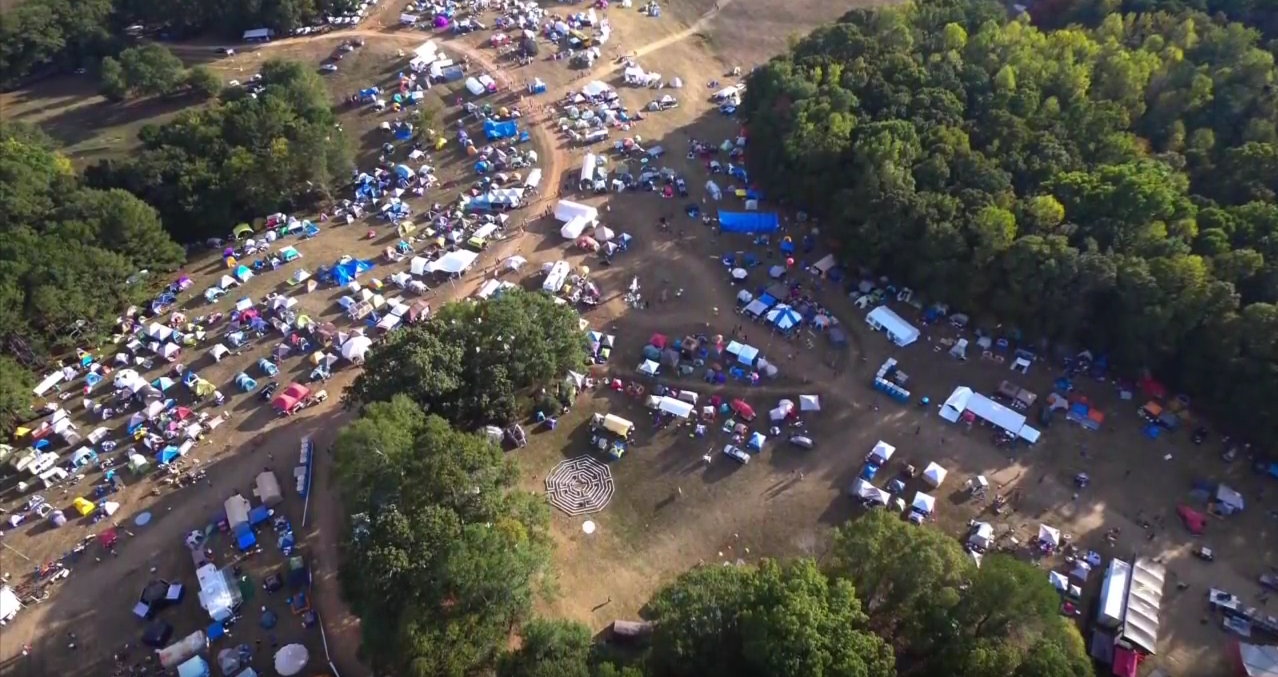 It worked, it worked, it worked!
The photo above is an aerial shot taken Friday afternoon (by Christopher Curzio) when almost all the theme camps (and open camping) were in place.  You can see the boulevards, the art garden circle, the paths—none of which were actually there 48 hours before.
You can also see the 3 Old Men labyrinth in all its splendor.  Doesn't it look swell from the air?  Most impressive.
When I finally got out of camp on Thursday night, I walked the entire burn, and it was working exactly as I thought it should.  All the hippies were happy,1 and the place was alive and humming as if it had always been there.  It worked.
And 3 Old Men?  Have I mentioned we made an improvement this burn?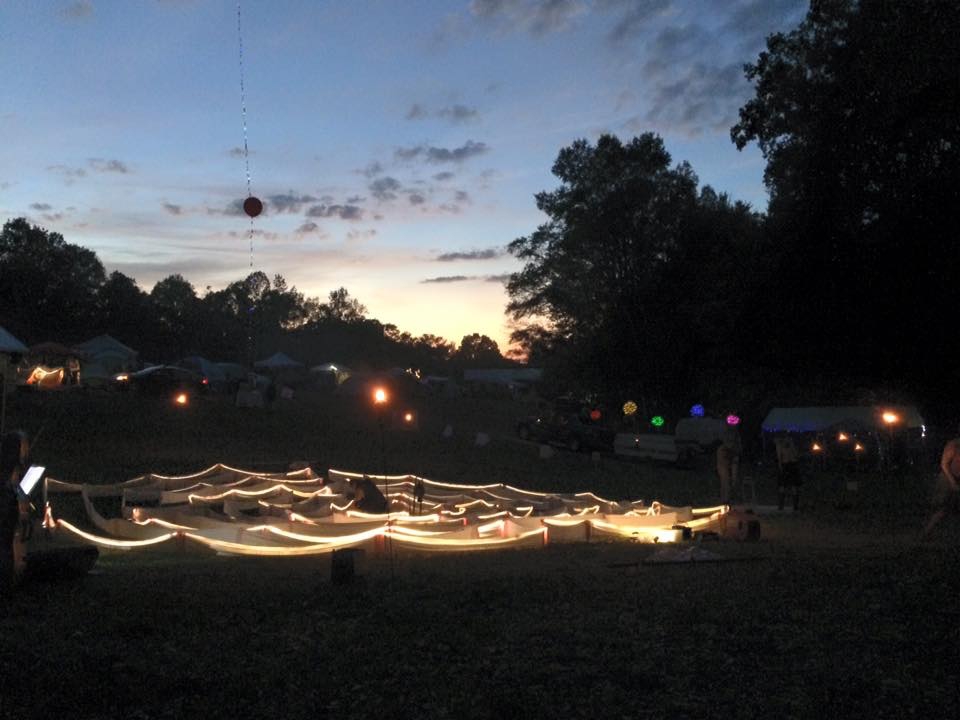 IT LIGHTS UP, KENNETH!  More than that, the strands glow and fade and dance in patterns you can control from your phone, because it has its own little mini-wifi point!  It was amazing.  (Kudos to Old Man Scruffy for the design, construction, and programming of the whole project.) As usual, I will not go into details, since what happens at a burn stays at a burn, but there were spirituality and abandon in equal measure, generosity, astounding creativity, good friends, beautiful weather.  What's not to like?
All in all, a good burn.  I learned a lot about placing all the hippies and of course will do it again, although if we move to a new property again I may have to issue a stern statement of concern.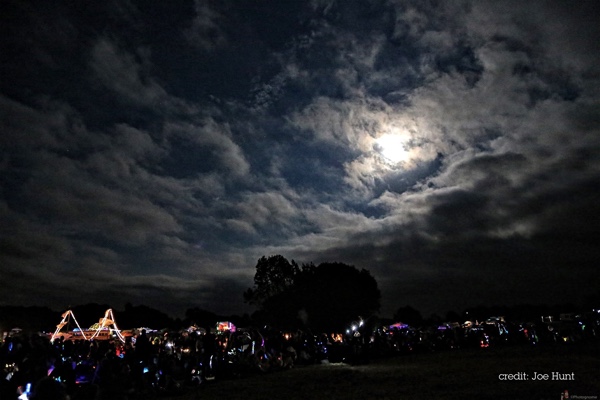 updated 10/23/16 to add: Holy crap, Bubba, I just realized—I have designed the "largest burn in the U.S.," other than Burning Man itself.
—————
1 As far as I could tell, obviously.  I'll do a post-mortem survey of the TCOs next week to find out for sure.  I know there was one camp who was extremely surprised at how small their allotment was, but when I got home and checked, they had requested exactly what they got.  But they were right: it was not enough room.