Part Two in a three-part series
Having organized my thoughts by writing a manifesto on the design of a burn, I began to see how much I could apply to the property.  Since it was less than an hour away, I was able to drive up to the farm repeatedly to walk every inch of it, measuring with my handy-dandy laser rangefinder and making disastrously incomplete notes.  Pro tip: besides a rangefinder, you also need a kick-ass GPS coordinates thingie, one that will give you accurate, precise, and above all repeatable coordinates for any spot you're standing on.  Unlike your phone, for example.
I started a Google map, and on that I began to lay out the main thoroughfares—the boulevards—for the burn.  Pretty simple, actually: other than the existing road, you just draw lines down the middle of the main masses.  Then it was a matter of figuring out where the infrastructure went: Center Camp, the Effigy/Temple, other burnable art, etc.
Then, using my handy-dandy FileMaker Pro database, I printed out little "chips" for each camp: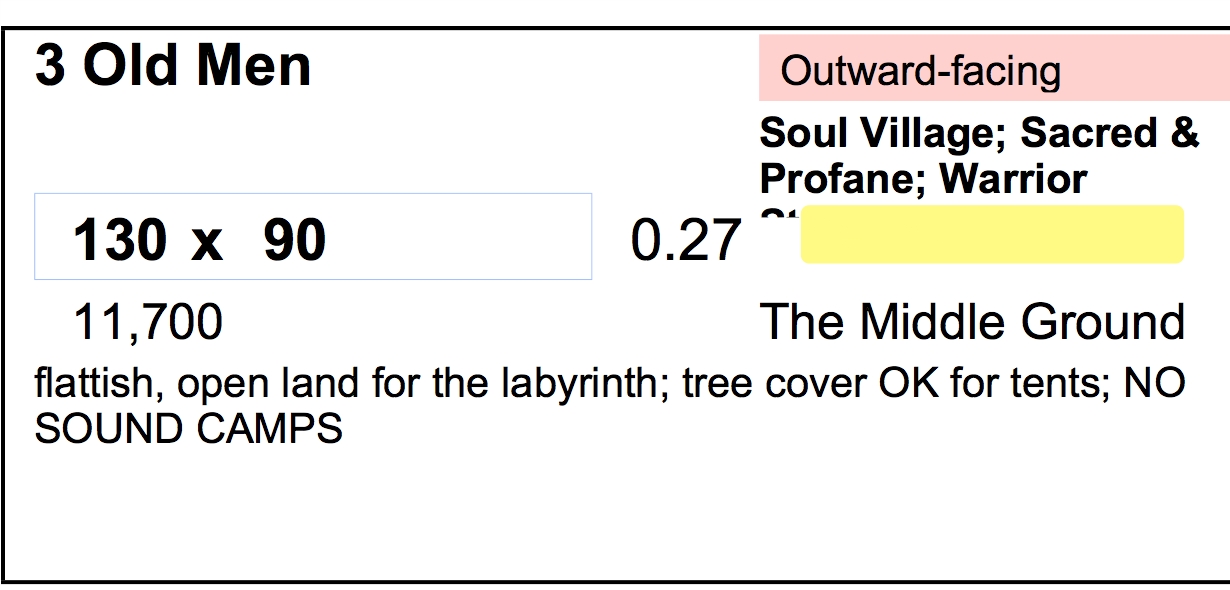 Notice how it has almost everything I need to know about that camp: dimensions, area, acreage (Google maps deals in acreage, not sq. ft.), whether it's outward-facing, inner-, or bedroom (read the manifesto), any village they're part of, and a color code for kid-friendliness.  ("The Middle Ground" is the neighborhood, which in my case I already knew because I'm the Placement Lead and I already know where my camp is going LOOK ON MY WORKS YE MIGHTY…)
There were 109 of these.  (There were 79 additional chips for art projects, but most of those were contained within their camps.)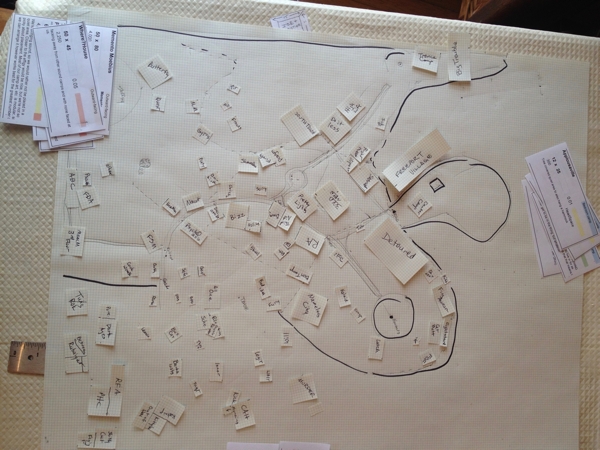 I commandeered the dining room table and drafted a large version of the Google Map on an 18×24 piece of engineering graph paper.1  I then cut out little rectangles for each camp.
Then I placed them.  See?  Piece of cake.
No, it was actually quite difficult.  Sound camps had to be restricted. Not all sound camps could be where they wanted to be. Everyone, literally, wanted "flat, near the trees, on the road, centrally located, away from the sound camps."  Some had contradictory or illusory requirements (e.g., "near the Effigy and Center Camp," or my favorite, "out in the field near a power source").
Corrections ("Did you really mean to request 52,000 sq ft??"), revisions, and unending Successive Approximation, for two weeks.  Done, released into the wild, and done.
Except then it was time to make it real, leading a team of fantastic volunteers through the vision, whacking wooden stakes into dry, brick-hard ground and stringing surveyor's tape between them, and not panicking when the measurements simply didn't work.  Whole camps vanished and had to be relocated.  Space opened up where there had been none.  Open camping areas got smaller and smaller as the theme camps had to be shifted around.
Oy.
That was Sunday.  I retreated from build weekend knowing that I had done the thing, but stressed beyond belief as to whether the thing would work.  I packed 3 Old Men on Monday and Tuesday, and on Wednesday went back up for early entry.
…to be continued…
—————
1 As one does.