Today on the FaceTubes: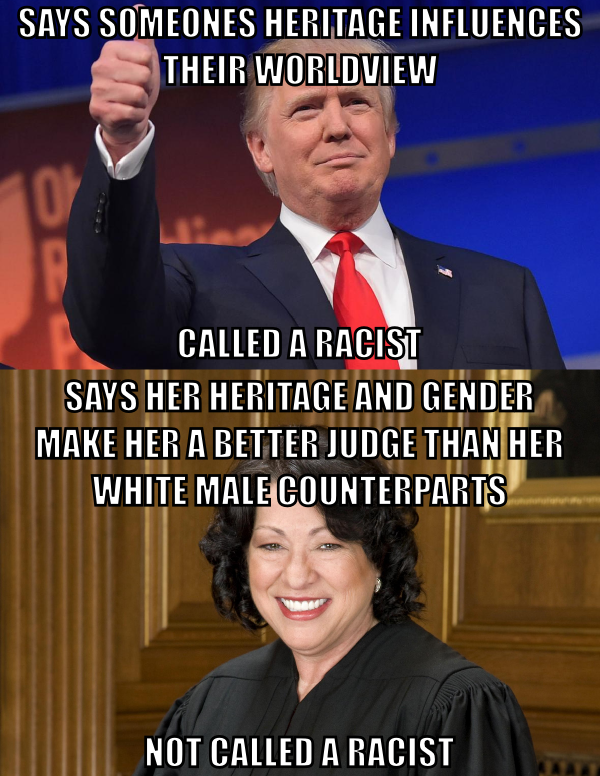 Here's the proposition:
TRUMP IS A RACIST WHEN HE SAYS CURIEL'S HERITAGE COLORS HIS OUTLOOK ON LIFE = SOTOMAYOR IS NOT A RACIST WHEN SHE SAYS HER HERITAGE COLORS HER OUTLOOK ON LIFE
But of course that's not what the truth is even close to, is it?
Trump is not having a serious discussion about how our cultural backgrounds influence our worldview, is he?  He's claiming outright that Curiel will rule prejudicially against him (Trump) because Curiel is "Mexican" and hates Trump's guts because he (Trump) is going to build a wall to keep those damned Mexicans out of here.  That, and deport 11 million "illegals."
Don't believe me?  Go find the recent Trump interview in which Jake Tapper asks Trump 23 times if his statements are racist and Trump just keeps saying he's building a wall, as if it should be self-evident that because of his position anyone of "Mexican" heritage would automatically hate his guts.  (And then go on to claim that the Hispanics love him, or will love him, or something.)
Meanwhile, Sotomayor said during her confirmation hearings that her "wise Latina" remarks —which even at the time drove the howler monkeys to fling poo—simply meant that her experiences as a Latina and a woman had made her more empathetic and more understanding of more facets of life than someone who did not have those experiences.  If one needed proof of the concept, one might look no further than those Republican lawmakers whose opposition to gay rights evaporated the moment they learned their son was gay.  She also semi-apologized for the remarks during her hearing, saying they were "a rhetorical flourish that fell flat," but I don't think she needed to.  I understood what she meant, because I'm not a bigoted asshat like Jeff Sessions.
To recap: Donald Trump disparages a federal judge's impartiality based solely on the man's heritage, while Sonia Sotomayor says that her life experience broadens her understanding of the humans who bring their cases into her court.
So yeah.  Trump gets called a racist.  Sotomayor does not.1  Weird.
—————
1 Except by the "I know you are but what am I" howler monkeys.2
2 Which of course invalidates the meme even from their own perspective, never mind the actual truth.