I post this photo for a couple of reasons.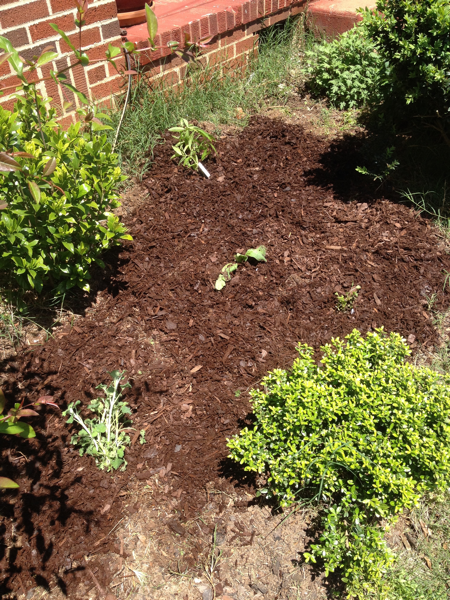 First of all, I'll be gone until next week Camping with the Hippies™, and I really ought to post something before I leave.
Secondly, this is a new section for the herb garden.  I've taken over what used to be a bed of day lilies until some landscaper or other —not me!— replaced it with nothing.  Ugh.
There are four plants in the picture.  At top is lemon verbena, which I have planted before.  It has a gorgeous smell.
At the bottom left is horehound, which I've never planted before.  It's good for coughs, etc.
In the center is borage, which I have planted but it's been a long time.  You can put it in salads—mild cucumber flavor—and its flowers are edible as well.  It repels insects from the garden, and it apparently self-seeds generously.
And the tiny little sprout above the shrub is bergamot, aka bee balm.  I've had it before for the flowers, and here's what my source The Growers Exchange says about it:
Bergamot has a long history of use as a medicinal plant by many Native Americans, including the Blackfeet. The Blackfeet Indians used this hardy perennial in poultices to treat minor cuts and wounds. A tea made from the plant was also used to treat mouth and throat infections caused by gingivitis, as the plant contains high levels of a naturally occurring antiseptic, Thymol, which is found in many brand name mouthwashes. Traditionally used to ease bloating and digestion because of its carminative properties, as well as to treat headaches and fevers, Bee Balm makes a strong and slightly spicy tea, tasting of mint and oregano.
I post the photo because the horehound and borage are supposed to spread wildly, so in a couple of years this patch may look like the Dill Plant That Ate Newnan.
I ordered more from Growers Exchange, and in looking up all the plants to see how high they would get and how I might arrange them, I discovered that all of them are rapacious spreaders, perhaps even invasive.
But all of them (and the ones above) bloom and attract bees and butterflies, and that's my main goal here.  Except for the cardoon (arriving soon). That's for eatin'.