I have not reported on my experience at Alchemy 2015: Amalgamation because I've been busy getting A Christmas Carol on its feet.  Not only that, but as you will guess, it took me two weeks after the burn to get the 3 Old Men's stuff all cleaned, dried, and packed away.
Disclaimer: Many of these photos were taken by other people, and to my shame I did not make any notes for crediting them in this post.  If I can go back and find them, I'll correct that.  If you're reading this and recognize one of yours, let me know and I'll credit you.
Also disclaimer: You will notice a great lack of people in these photos.  The burn community is very protective of its privacy, and I feel a little strange even posting about the weekend, but I think it's worth sharing.  For the same reasons, I will not be giving an overly detailed account of the burn.  Sometimes you have to experience the mystery for yourself.

Alchemy was nearly a month ago, the first weekend in October. I arrived at the burn on Wednesday on "early entry," to set up the labyrinth along with another of the 3 Old Men troupe, who was bringing fire art to our camp for the first time.  Here's our theme camp area: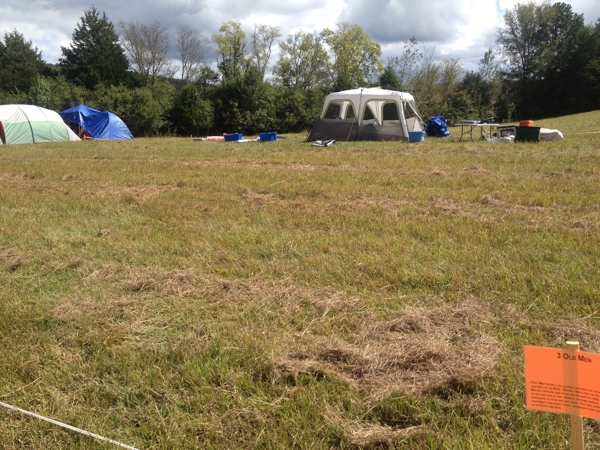 I had gone up the weekend before to help the Placement Team lay out the theme camp areas, so I knew what to expect (which was an area smaller than I had requested and which barely had room for all of us).  First we set our tents up, and then we got to work on the labyrinth.  You will recall that I spent many weeks sewing hundreds of yards of muslin to create the new walls for the labyrinth, and on the whole it looked good.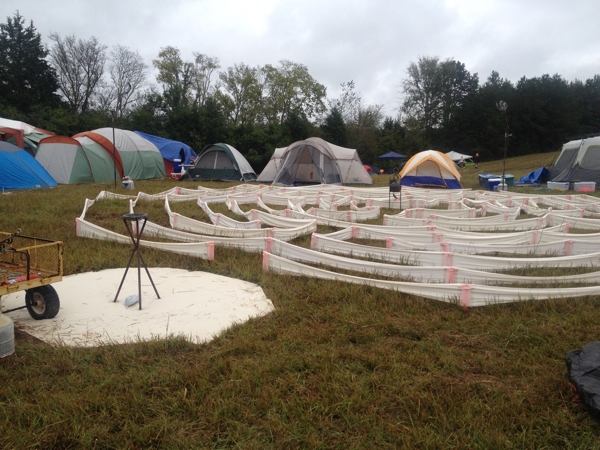 There were still some saggy spots due to some inexplicable errors in my measuring.  Safety pins worked; I'll pull it all out and fix it next April before we hit the road again.  You will also notice in the photo above the octagonal mat at the north entrance, with the tripod holding the bowl of kaolin.
Here's our first test of the new fire thingies—actually called "poofers" by those whose craft this is.  It was very cool: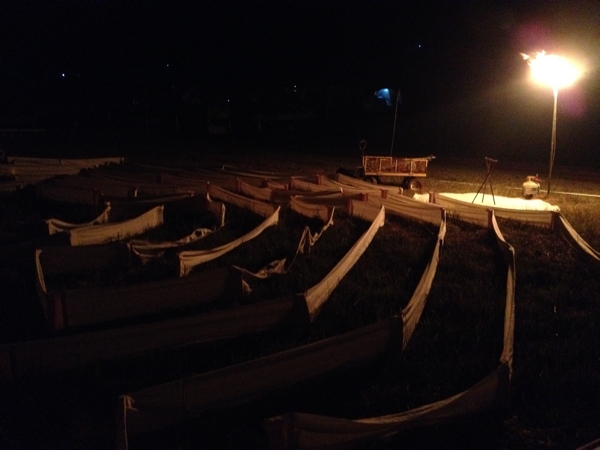 However, the weather was not in our favor.  It was supposed to be pretty all weekend, with a high pressure area keeping a rain front at bay until we were done, but Hurricane Joaquin ruined all that.  It began raining Wednesday night and did not stop until Sunday.  The 3 Old Men generally do four of our labyrinth rituals a day, but at this burn we were barely able to do four altogether.
But boy, we looked great when we did:
It looks like we're holding the flame, but we're not.  We're holding our 8-foot staffs; the poofers were right behind us.  Quite impressive.
For some reason, I own more tarps than necessary, but thank goodness for that.  We were able to fashion a reasonably comfortable shelter from two of our canopies and the tarps.  Here's our kitchen/living room area.  I bought a propane fire pit after last year's experience of freezing half the time—you can see it back with the chairs.  Everyone rejoiced that I had made the purchase: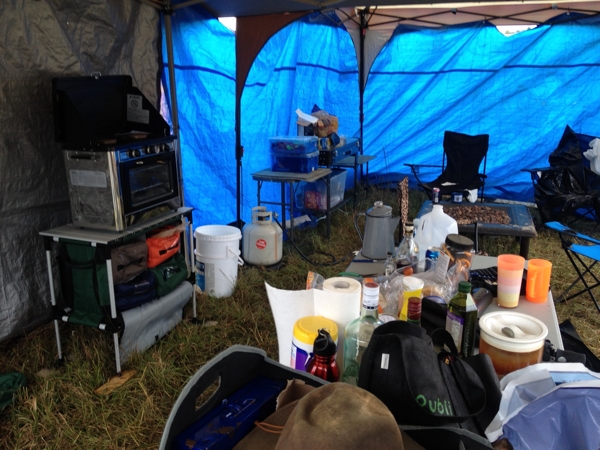 I joked that the number of new structures in our camp was deplorable.  Passersby would have seen multiple Old Men poring over instructions while others helped assemble their tents and canopies.  But we were not alone in that regard, I discovered as I walked about.
It rained.  After so much planning and execution, it was very disappointing that everything you owned was wet and muddy.  Dry socks became a commodity.  The camps became mudpits; the parking lot and roads became impassable: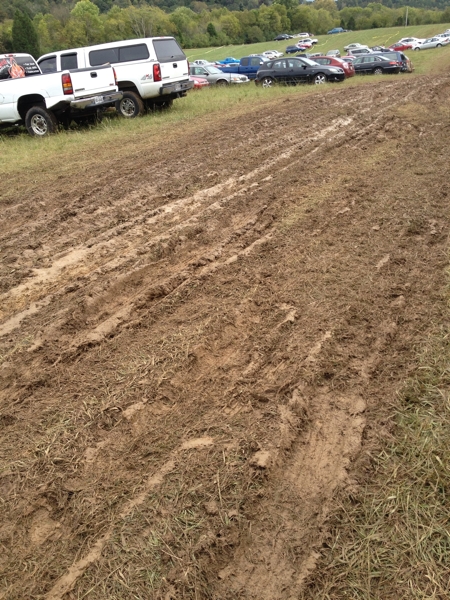 The leadership of the event prevented what could have been a catastrophe with speed and decisiveness.  They closed the gates to keep the parking lot from trapping thousands of vehicles in the mud; had gravel brought in for the roads inside the burn itself; reopened the gates; provided shuttles to get people/stuff into (and out of) the burn; and in general leadership neither played nor slept for the four days of the burn.
This didn't solve all the problems, of course.  More than a few theme camps never made it, and several funded art projects were never installed. Those that did were severely hampered by the weather—a cuddle pit of stuffed animals, for example, becomes problematic when they're all soaked.  It was uncomfortable to travel, so many people didn't get out and about as much as they normally would have.  (My personal goal this burn was to get out and experience more of the burn.  Because I'm a great wimp, I partially failed at that, although I did see more this year than last year.)
In our own camp, three members never made it, and three went  home on Saturday afternoon during a break in the rain.  Because the labyrinth was now a sopping wet, heavy mess, I asked my campmates to help me take it down while they were still there, which they kindly did.
After we got it all down, we found that despite the weather we had had enough visitors to trample the grass into the very recognizable outline of our labyrinth: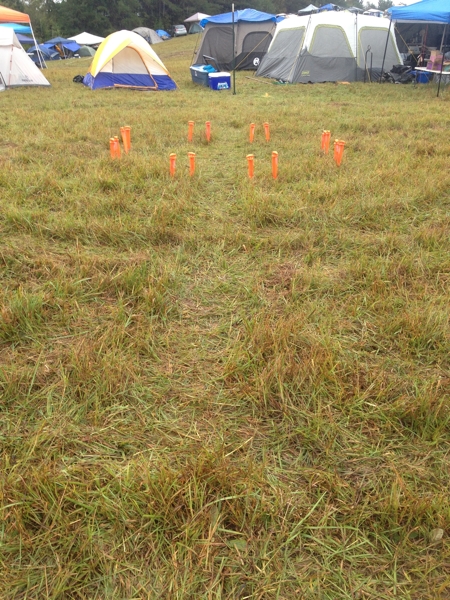 At that point we were grateful that the owner of the property had not mown our area again before we got there.  The trampled grass prevented our camp from being a complete mud hole.
However, everything was still soaked to the core.  I had put my tent where a depression ran through the campsite, and it became a river.  One corner of my tent ended up below the water level, pulling a Titanic and letting water in over the rubberized flooring.  Even after I shored up the corner and then mopped/bailed out the inside, it felt and sounded as if I were walking on a water bed, and after I took my tent down on Monday I discovered why: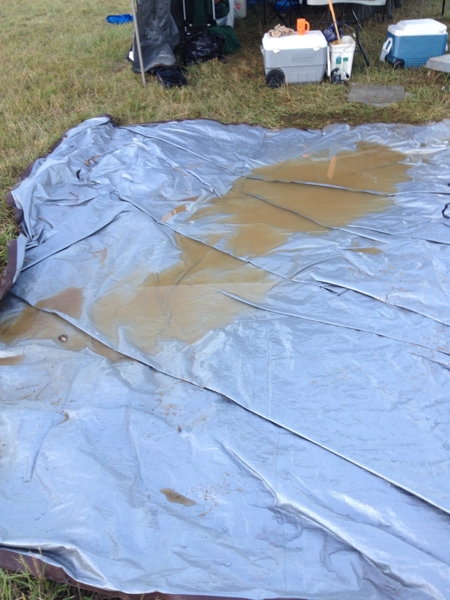 By Sunday afternoon when the rain finally stopped, the three of us remaining had all decided to stay until Monday to let the mud settle a bit and to see if there was less competition to get out of the parking lot.  This proved to be the right decision, and without too much trouble I was able to load the trailer and cross the flooded "dry creek" to get back on the road to Newnan.

Here's the thing: even though my mantra for the entire burn was "I can be cold, or I can be wet, but I cannot be cold and wet," and nothing I owned would dry out, and half my camp either left early or didn't arrive at all, and everything was just wet, wet, and gross, it was still a burn.  It was still full of wonderful people doing amazing things.  Art still went up, food and drink were still served, whomp-whomp music still played all night [I'm looking at you, Discordia…], and stuff was still burned.
For example, here's the Minotaur, a 30-foot tall sculpture by Vermont artists Kim and Chris Cleary:
Here's the Effigy itself, atop the hill: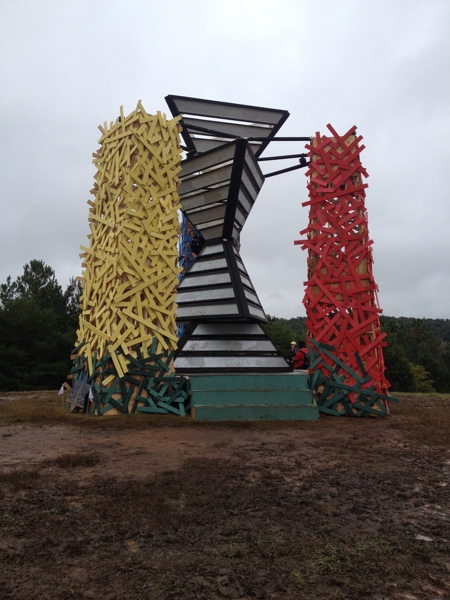 That thing was actually climbable.  Hippies younger than I did that.
Here's the Temple at night, lit from within: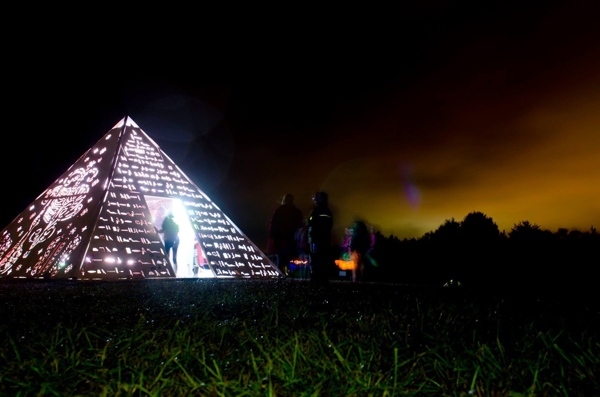 So much more, none of which I have photos of, and which I would be hard pressed to list or describe.  There was a butterfly dome with scores of Monarch butterflies, all released the last day of the burn to find their way south.  There were amazing sculptures of light, programmed to react to the presence and movement of the itinerant hippies.  There were camps to dance in, to sing in, to eat and drink in, to take shelter in.  There were thousands of muddy hippies, ruefully making the best of a terrible situation with good humor and sass; the burn was soon rechristened as "Alchemuddy: Almudgamation."
Because of the Principle of Radical Self-Reliance, Alchemy never threatened to turn into a disaster like TomorrowWorld, which had stranded thousands of unprepared party-goers in similar muddy woods just the weekend before.  (Someone who camped at Tomorrow World told me that for those who were burners, TomorrowWorld was fine.  It was just the "sparkle ponies" who descended into chaos.)
Above all, there was that sense of community which sustains those of us who burn and which lures us back again and again:
That's a shot of Center Camp—information stations, performance space, and art projects—from Effigy Hill.  Does that look like a terrible place to be?  It was not, rain or no.
Here's another shot of the main camping area, taken from Silent Hill: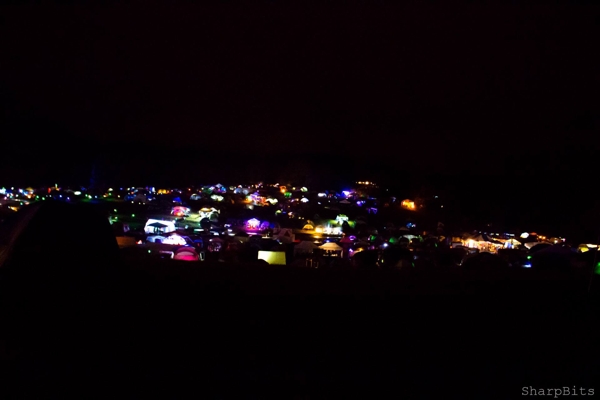 Behind this view is a hilltop covered with more camps, and out of sight to the right and to the far right are three more camping areas.  You never run out of places to go and hippies to meet.
And did the rain stop the hippies from burning All The Things?  It did not: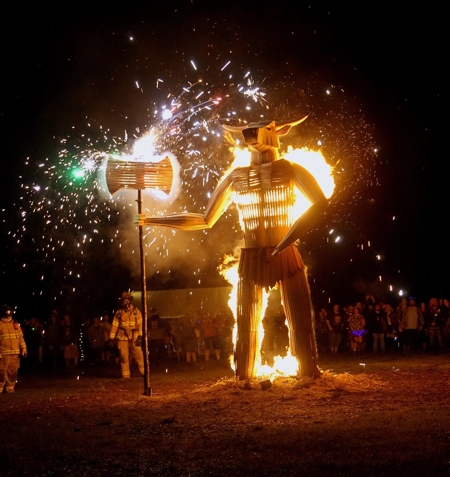 The Minotaur burned—the Effigy burned—the Temple burned.  We cheered, we danced, we sat in silence.  On Sunday, it was very strange to walk around the burn and be aware that the hill was empty: no Effigy, no Temple, all consumed, gone.
And Sunday was just fun.  The burn officially goes through Monday morning, but many people leave on Sunday since they have to work on Monday.  I of course do not have that problem, and now I plan to stay through Sunday night anyway.  The rain had stopped and it was warmer.  My fellow Old Men and I tromped all around the burn—all the large camps were in full swing, and we ended up at a sound camp deep in the woods, watching brilliant fire spinners do their thing and dancing to the DJs set.
So was it miserable?  Absolutely.  Would I do it again?  Without any hesitation.
So here are two photos of Alchemy 2015: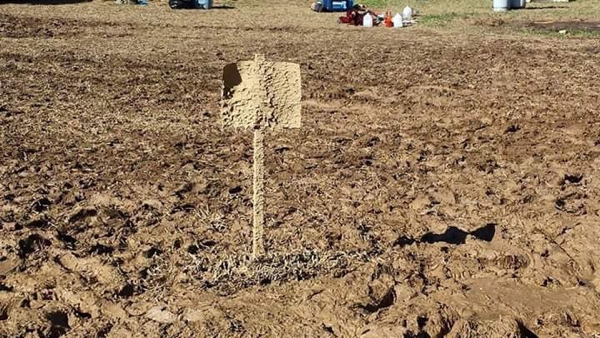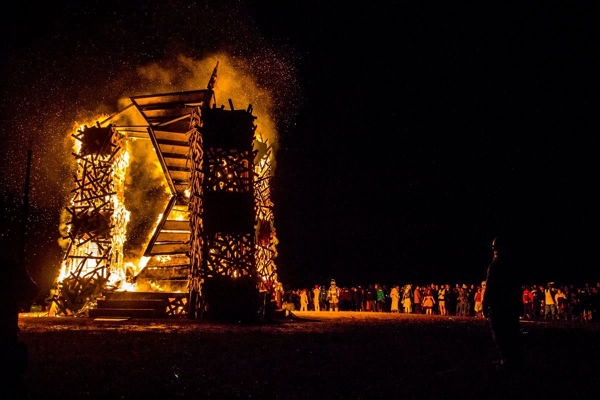 Both are true.