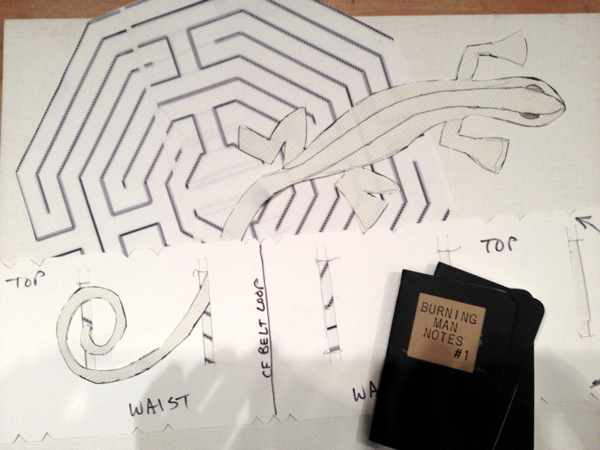 Last week, all the philosophizing, planning, designing, building came to fruition as I packed my car to the max and headed to LaFayette for my first ever Regional Burn, known as Alchemy.
I'm not going to give you a lot of details, because above all Alchemy is a safe space for those who go there and I am not going to breach that implicit agreement we all have that, for a lack of a better phrase, what happens at Alchemy stays at Alchemy.
But what an experience!  As you produce your ticket at the gate, the hippies greeting you welcome you "home"—and while I can't go that far, I will say that I felt an enormous sense of belonging as soon as I pulled onto the farm.  Our assigned campsite was the first one inside the farm on the left, and as I pulled up and started to unload I knew that it was going to be an amazing event.
I put my tent up quickly just so I wouldn't be doing that in the dark, then set about working with the others to get the labyrinth set up.  As in our dress rehearsal, the method for laying it out worked flawlessly, although one of the long ropes was inexplicably six feet short.  We never did figure out why.
Here's a shot of our camp: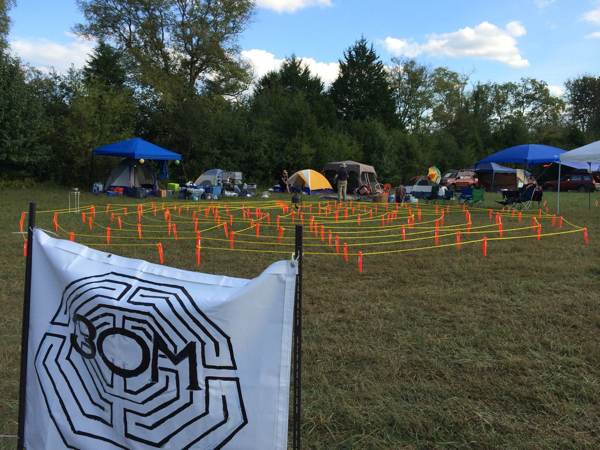 And here's a shot of our canopy with the banners I whipped up last week and didn't even share with you: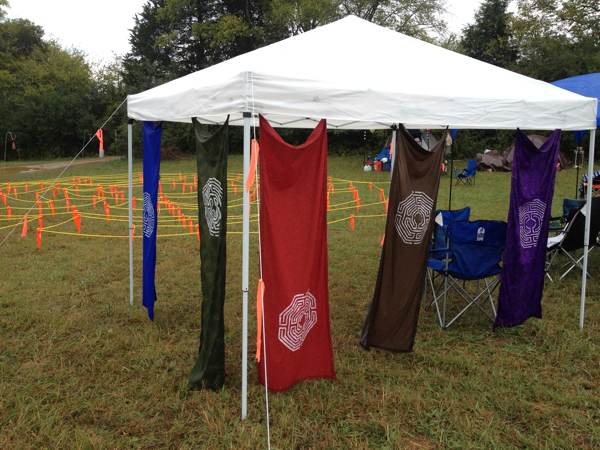 By 6:30, we were ready for our first ritual—we had decided to do sunrise, sunset, an hour later, and midnight, but that almost immediately got changed.  Dawn was going to be too cold or too wet, and as for sunset, well, I misread the sunrise/sunset charts, not factoring in daylight savings time.  Not a problem.  We moved the sunrise session to noon, and just went for sunset and an hour before instead.  (By the time temperatures had dropped into the 30s on Saturday night, we also ditched the final midnight session, instituting the policy that the Old Men don't perform their ritual when the ambient temperature is lower than 55°.)
Here's a lovely panorama shot of the labyrinth, looking across the road to our neighbors, Incendia:

In the center, we placed a small altar for people to leave and to take whatever they wished, and the bell from my labyrinth.  I will share one experience that made me happy: a group of young people entered the labyrinth while the Old Men were in session.  They were happy and giggled their way to the center, mock-racing each other to enlightenment.  Once in the center, they found the mallet and one of them rang the bell, which uttered its usual nondescript clang.
But then one of the young men, in a cowboy hat that lit up, stopped and said, "Hey, listen you guys… " and he struck the bell again and said, "No listen… it shouldn't be doing this… listen…" and he listened—because he had heard the bell continue with its incredibly long reverberation, on and on and  on.  He left in a more contemplative mood than the one he entered with.  (We saw that a lot, actually.)
Incendia.  My oh my.  We watched a team of tawny youths clamber up and up and up building that structure all day on Thursday, and then as night fell, we were stunned and delighted to see: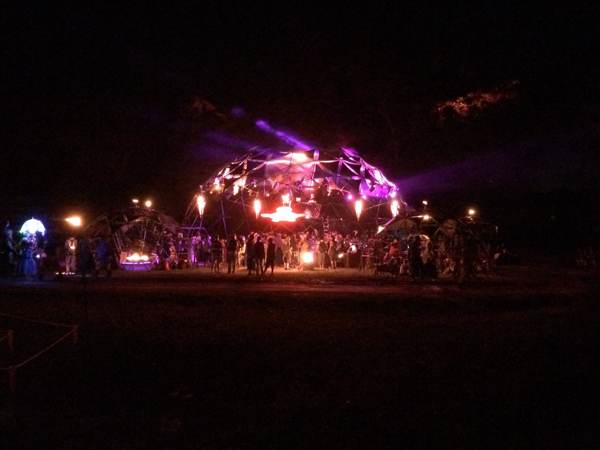 Incendia was the hit of the entire Burn: the large dome was a lounge, with seating, bar, DJ, projections, and fire.  This is what the ceiling looked like: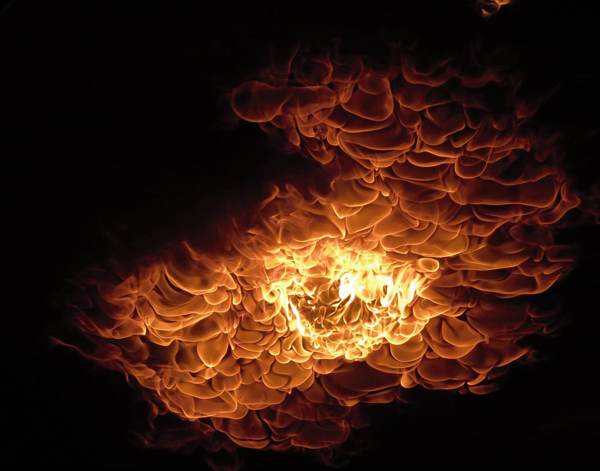 That's spurts of propane billowing out into never-ending clouds of flame, and it's as fascinating in real time as you might imagine.  Each of the smaller domes housed its own fire sculpture, and those ceilings were the same.  It was amazing, and the place was packed until 3:00 or 4:00 in the morning.  (Earplugs were a must on our side of the road.)
So for three days, we did our ritual, answered questions and discussed the impetus behind the project, and sucked up the positive energy all around us.  I will say that I was just a wee bit proud when people were surprised to find that we were all Burn virgins; apparently 3 Old Men gave off the vibe of being old pros at this.  (It also dawned on me that we were freaking selected as a theme camp by Burning Man itself.  Sometimes ignorance of the odds is a great way to develop a project.)
The camp is large: 3200 Burners, two-thirds of them in registered theme camps like us, and the variety therein was impressive.  Art, food, drink, interactive things, games, just a wild smorgasbord of creativity and openness.  Again, details would be over-sharing, but the energy was palpable.
Everything culminates in the Burn itself on Saturday night, in which a two-story structure known as the Effigy is set on fire in the most spectacular way imaginable. I have never been witness to as much controlled pyromania as that Burn, and I found that watching those enormous pillars of flame erupt from tubes surrounding the Effigy, followed by the Effigy itself vanishing in the largest fireball I have ever seen, produces only one possible response: ecstatic, joyous laughter.
It's a very powerful feeling to watch a structure burn that you were just inside and on top of, and on which you've written your own thoughts about life/loss/change.
The next morning, Sunday at dawn, the Temple, another smaller structure, was burned.  Part of my labyrinth was in there: the artist put out a call for frames; I had some in my kindling pile and although I was out of town at the time I sent her directions on where to find them in my back yard.  I ran into her at the Temple and she excitedly told her boyfriend that I was the one with the amazing back yard.

Afterwards, we went back down the hill to the camp, had one final meal together, then broke camp.  By early morning, before most of the rest of the hippies were up and about, we were all gone.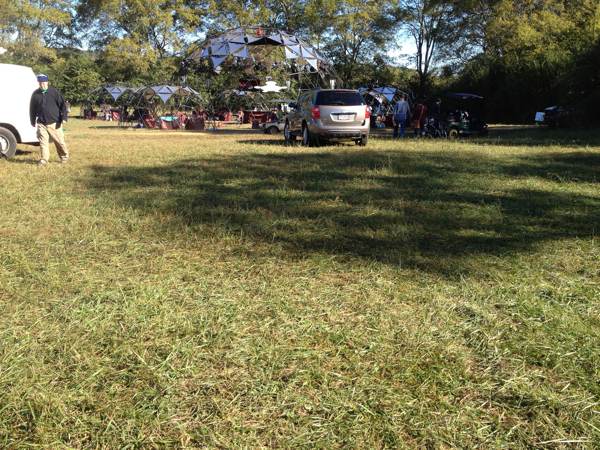 Here's what I learned.  The Burn's 10 Principles are a great way to run an event, and their impact has remained with me. I learned to be more Radically Inclusive of other people, which is sometimes a problem for me.  I learned a lot about Radical Self-Reliance, never having camped before—I like it, at least for Burns!  And Leave No Trace has become a mantra for me; next time I will volunteer as a MOOP* Fairy, part of the onsite volunteer staff.
The guiding philosophy behind 3 Old Men turned out to be exactly correct, and I found—even as I watched beautiful, taut young bodies parade past—that I was proud of me, of where I am and  how I got here.  More amazingly, that was how the taut young bodies responded to me as well.  The ritual was simple and effective, and we had a decent amount of participation in those sessions, although we're working on ways to make it easier for people to challenge themselves to enter the labyrinth.  (Again, no photos, but the 3 Old Men in full regalia—paint, skirt, staff—were imposing to the point of being totemic.)
And mostly I learned that I am made very happy being in a setting where everyone there is free to let their own little freak flags fly without fear of judgment.  I soaked up all that joy like a vampire, and I am committed to continuing this journey with my fellow Old Men.  We're making plans to go to other Burns and to recruit more people to our roster as we go.  I'll keep you posted.
——————
*MOOP = Matter Out Of Place, i.e., whatever was not there when you got there.  I am still worried that our MOOP score will suffer because of the spills of kaolin body paint we left behind.
About half the photos in this post were taken by Roger Easley, photographer extraordinaire and a member of 3 Old Men.